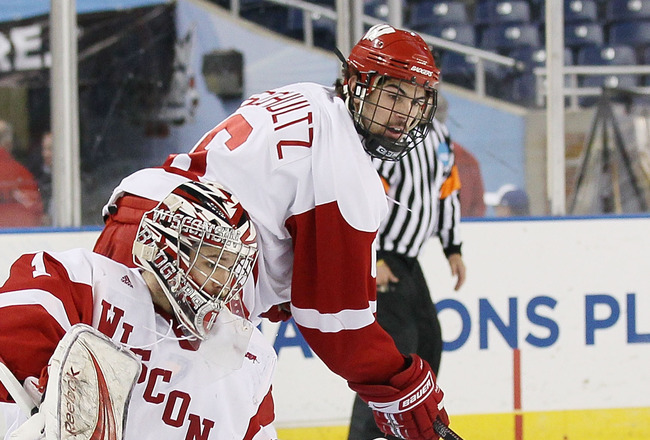 Saying I have very little knowledge about Justin Schultz is quite the understatement. I have never seen him play, until this post I had never looked at a single one of his stats, and ultimately this whole situation seemed reminiscent of teams fighting for the services of Matt Gilroy a few seasons ago (Gilroy was statistically not as good.) The only thing I really knew for sure is that he was Jake Gardiner—s defensive partner at the University of Wisconsin, and based on Gardiner—s performance Wisconsin does alright in the offensive defensemen development department.
On Friday, Bob McKenzie was the first to report that Justin Schultz was officially leaving school:
Justin Schultz, the Anaheim Ducks second-round pick and blue-chip defenceman prospect, has officially "de-registered" from the University of Wisconsin. That triggers a process that will likely make him an unrestricted free agent, perhaps as early as the NHL Draft on June 22.
McKenzie then adds a few other noteworthy points:
there's no logical reason to believe there's any chance of Anaheim signing him now when they could not get it done through most of April and May.
It is believed Anaheim will try to recoup something for Justin Schultz in trade but that option only works if Justin Schultz is prepared to negotiate with the team(s) Anaheim would trade him to.
On Friday the story developed a little further on twitter, when Michael Russo of the Minneapolis Star-Tribune was asked if the Wild had a shot at Justin Schultz:
@Kmae5475 none. He's obviously picked his team. My guess: Toronto

" Michael Russo (@Russostrib) May 26, 2012
While that—s certainly interesting, it does make me wonder how plugged into this situation Russo might actually be. Given his location I don—t doubt that he closely watches the Midwestern NCAA teams and has contacts at the schools, but is his guess of Toronto based in the same logic as ours? Gardiner played with him and Burke drafted him. The SBN Wisconsin Badgers Blog, Bucky—s Fifth Quarter, also posted some of Russo—s comments from a Minnesota Radio Interview that added an unfortunately familiar scenario for Leafs management:
he has his mind set on going to one specific team right now. And whatever that team is, I guarantee you the Anaheim Ducks will go after them with a tampering charge, because the Anaheim Ducks have been building that case for the last couple of months. They have all sorts of e-mails from him basically saying, ˜I'm coming there, I'm coming there,' and suddenly, for some reason, he's not coming there."
Sigh, while this might not be Wilson acknowledging the Leafs' interest in the Sedin twins, or Burke buying a plane ticket to Stockholm, this could potentially be an old friend Jake Gardiner suggesting that might be fun for the two young defensemen to play together again. Personally I don—t know how you prove it, as it is a decision that Justin Schultz could have very much reached by himself. At the time Justin Schultz was drafted he would have been in line to play with Gardiner in the future, and had the chance to develop under a Norris trophy winning coach in Randy Carlyle. He still has that opportunity and holds all the chips. The deal he will be offered will be the same from all 30 teams, it—s really about going where he wants. A situation very similar to when Billy Sweatt chose Vancouver, where his brother played,  over signing with Toronto who held his rights.
Chuck Schwartz, of Bucky—s Fifth Quarter, goes on to add the following comment:
Back in February of 2011, Burke made a trade with his old team in Anaheim sending Francois Beauchemin to the Ducks and acquiring Joffrey Lupul and Jake Gardiner. It's been widely speculated that Burke's original target in the trade was Justin Schultz, not Gardiner. Allegedly the Leafs settled on Gardiner only after being told that the Ducks weren't willing to part with Justin Schultz.
I find this interesting. I wouldn—t have considered there was a bigger jackpot to have than Gardiner, and this certainly has me intrigued now about how good Justin Schultz may in fact be. In fact, in both seasons Justin Schultz and Gardiner played together, Justin Schultz outscored Gardiner. There was also a marginal drop off in Justin Schultz—s scoring in his junior year when Gardiner was already with the Leafs. I admit I am somewhat worried about the effects of this potential tampering on the Burke/Anaheim relationship, as it has been fruitful to the Leafs in the past, and in an attempt to do right by his former club I worry about Burke sending something notable the other way despite Justin Schultz being already set on the Leafs. I—m also still left wondering what to think of Justin Schultz:
@TSNBobMcKenzie. To add a little On Justin Schultz. NHL ready & a player I feel could be like Drew Doughty. Dynamic & controls game. " Craig Button (@CraigJButton) May 25, 2012
Here is his U of W bio that cites him being a two time All-American defenseman and two time Hobey Baker top ten finalist.
As always, take anything Craig Button says with a grain of salt, and from what I—ve been reading I have my doubts that Justin Schultz has as well rounded of a game as Doughty. I—d also suggest that his University might be a little high on him as well. It is interesting to see where Justin Schultz fell on the Hockey Prospectus Prospect rankings (#26) and in the more recent Hockey News prospect rankings (#21.)
So where does all of this leave the Leafs?
Justin Schultz is the realistic option for the Leafs in regards to chasing down UFA defensemen this summer. While Justin Schultz might be more offensive minded than what the Leafs need, he is certainly a player that eliminates the need for a player like Liles, and more realistically it will be Franson who gets his walking papers.
It means that Burke will be looking to deal any defensemen not named Gardiner or Phaneuf this summer, and could be bad news for those of us who still believe Gunnarsson is vastly underrated and will continue to improve.
I would almost certainly assume that Burke will try and send something back in Anaheim—s direction if in fact Toronto is the intended destination for Justin Schultz in order to appease a rightfully disappointed Bob Murray. I wouldn—t be surprised if this happened shortly after the Marlies' year wraps.
Then again, this could all have nothing to do with the Leafs. This is one reporter with no clear connection to the Leafs organization forming theories as we all play the waiting game. It—s just nice to hear the Leafs could be at the top of someone—s list for once.
NON-SCHULTZ LINKS