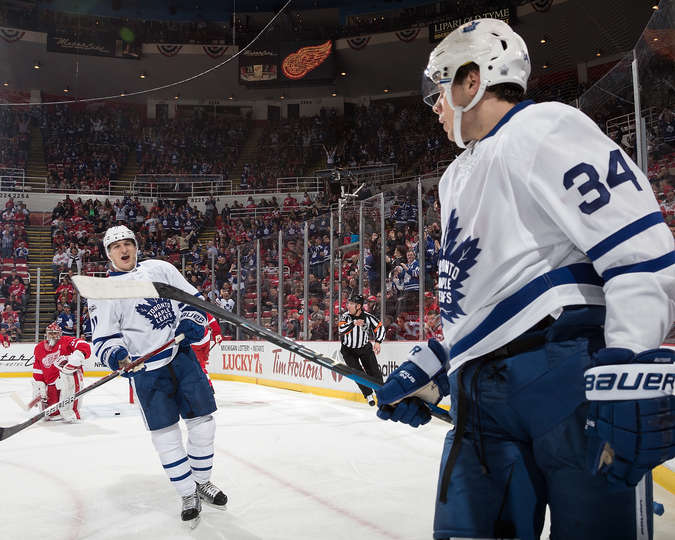 The Toronto Maple Leafs set a franchise record for consecutive points on the road (9-0-2 over their 11 away games) with a 4-0 victory at the Joe Louis Arena on Wednesday night.
Frederik Andersen's shutout streak now sits at 120 minutes and the Leafs have now scored three or more goals in 12 of their last 15 games.
Your game in ten:
1) Auston Matthews opened the scoring with a fantastic finish to a dominant shift. He has now set a Leafs rookie record for game-winners and is on pace to set an NHL rookie record in the same category.
On top of that, he scored the first goal of the game for the tenth time this season. Teams that score first collect a point between 74 and 77% of the time in recent seasons. It's hard to overstate Matthews' impact on this team through 46 games.
2) Matthews initially gained the zone 1-on-5 while dangling past Jonathan Ericsson. His line then put on a possession clinic, displaying the dogged puck retrieval that has made them so successful this season. It culminated with Matthews recovering a point shot in the slot, dragging it through Xavier Ouellet's feet — he's so adept at fishing pucks out of skates — and around Jonathan Ericsson (again, poor guy) before shelving it with a backhand. Worth a watch.
The sublime combination of hands, strength and hockey sense that makes Matthews an elite player in this league — and will for a long time — were all on display in one sequence.
3) The aforementioned first goal was kicked off by a fierce Kadri backcheck on Tomas Jurco to break up a Detroit 2-on-1; one of a couple by Nazem last night. Kadri's two-way game continues to shine — even garnering premature Selke buzz on the broadcast — and it's a testament to Babcock as a motivator that, in the past week, he's both complimented Nazem's burgeoning "complete game" while still reminding everyone that he has room to "get better defensively".
Kadri picked up a secondary assist on Polak's goal in the second period as he continues to pile on the points as well. A big difference maker on that line continues to be the creativity of William Nylander. Prior to Polak's goal, he grabbed a loose puck from the crease and circled the net before spinning to send a pass directly to Kadri in the slot.
4) Another Andersen shutout vaults him into the top ten among NHL goalies in both wins and SV%. He also collected a nice assist on the Nikita Soshnikov goal and continues to show he's a competent and confident puckhandler. This felt like one of those games where he didn't face a tonne of shot volume but still made a bunch of important, tough saves. Natural Stat Trick credited the Red Wings with 27 scoring chances to the Leafs' 20.
5) Quietly, Martin Marincin is up to six points in his last eight games after grabbing a secondary assist on the JVR goal. A few penalties aside, his ability to jump back into the lineup and look up to speed after an extended layoff has been impressive and timely given Rielly's absence. He's moving the puck well, defending well and he has been a match with Zaitsev so far — after the past three games, Marincin is up to 85 minutes of even strength ice time next to Zaitsev this season and they're a 56.5% CF together in that time.
6) Speaking of Nikita Zaitsev, he has stepped up admirably in the absence of Morgan Rielly and is looking fully capable of handling more responsibility to offset the loss of #44. He led the Leafs with 19:22 of ES 5v5 ice time in this game and his dynamite rush set up the JVR goal. He defended Zetterberg really well off the rush on a couple of occasions with good gap and stick positioning. He's such an efficient skater that the extra minutes seem like water off a duck's back.
7) It was good to see Soshnikov get on the board with the fourth goal of the night — that broke a 32-game goalless streak. In his short 11 game stint with the big club last season, Soshnikov rattled off three shots per game while posting five points. He has the same amount of points and just nine more shots in 25 more games this season. Obviously, his deployment is much different with much less ice time (he spent time with Kadri last season vs. Smith/Gauthier and Martin this season, and played 15 minutes vs. 10). That said, he started this season looking much like he did the year prior before settling into a more subdued grinding role. Soshnikov himself recently said that he felt his role on the fourth line was to grind and not to "dangle." In one sense, credit to Soshnikov for being a good soldier and embracing the role. But hopefully he takes some confidence from breaking a horrible scoring slump and starts to use his speed and shot more. He has to be more of an offensive driver for that fourth line if it is to generate any production of note.
8) It has to be noted that the Flames and Red Wings are playing some pretty awful hockey of late, but the Maple Leafs have allowed 27, 26 and 22 shots against in their last three games. Shots against have been an issue this season, but 25 per game on average is the Leafs' best three-game sequence of the season from a shot suppression standpoint.
9) A compendium of stat facts for you: Every single player on the Leafs was at least a plus-one in this game. JVR is now tied for the team lead in scoring with rookies Matthews and Marner at 39 points.  Nylander's assist gives the Leafs six players with 30 or more points through 46 games; only Minnesota has more with seven, and no other team has six. With another loss for the Red Wings, six teams are tied for last at the bottom of Conference. Andersen's consecutive shutouts were the first by a Leaf goalie since Ben Scrivens in 2013.
10) If you didn't catch the game, the score belies the fact that Detroit didn't serve up a softie in this one. They were hungry, played up tempo, and owned their fair share of possession. But when a game is played as wide open as this one was, the odds felt firmly in the Leafs' favour from the start given their depth of speed, skill and scoring, as well as their goaltending. Frederik Andersen handily outplayed the guy at the other end in Petr Mrazek, who was largely to blame on the third and fourth Leaf goals.
Tonight, the Leafs go into Philadelphia to face a Flyers team that put on a similar performance last night against the Rangers last night with the chance to further solidify their grip on a playoff position heading into the All-Star Break.
---
Game In Six
---
Post-Game: Mike Babcock