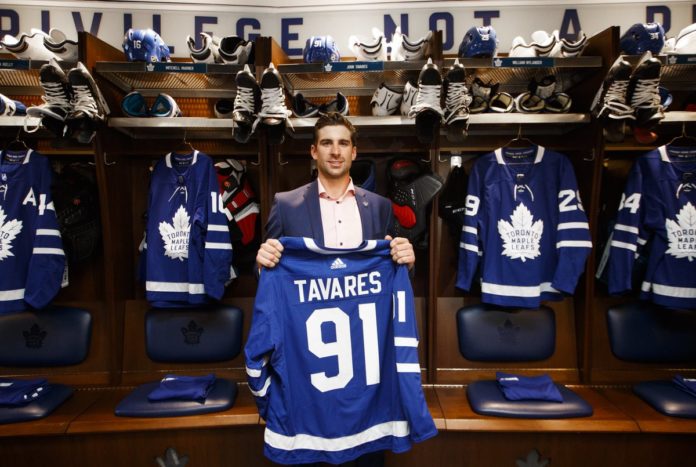 Eric Lindros discusses John Tavares' homecoming and Mike Babcock's role in the recruitment efforts, Marc Crawford offers his thoughts on Auston Matthews' captaincy qualities, and more in the links.
---
Leafs Links
Lindros on Tavares signing: 'Great for anyone who roots for the Leafs' (TSN)
Eric Lindros discusses the addition of John Tavares to the Leafs lineup and what the Toronto market is like to play in.
On the impact of Tavares' addition down the middle:
You look at the lineup they already had, and you bring in a stud like John Tavares… I think he took less to come here, which is a credit to the player, a credit to the coach, and a credit to the players that are already here. He's the real deal. It's going to be interesting. You are going to have him going up against — on the road — the checking line, and you've got Auston Matthews who isn't going to have to face it anymore, or vice versa. And then Nazem Kadri on the third line. You've got a real good one-two-three punch there.
–
On what it was like to come home and suit up for the Leafs in 2005:
I don't think it's comparable, but growing up and being in this environment and seeing the Leafs on TV all the time, you wake up and everything is Leafs around here. I always had a dream of playing here. Unfortunately, it was short lived and later in my career. To see a guy like John, who is still in his prime and has a long ways to go with lots of years left, to come in and have an opportunity to play at the peak of his game, is going to be a thrill. I'm excited for him. I'm excited for the whole group.
On what it's like as a big-name player in Toronto:
I'm sure that the fans here will be terrific to John. But it's a different stage. You wake up the morning after the game and you might stop at the diner to get some scrambled eggs on the way to practice, and pretty much everybody in that diner knows if you had a good one or a stinker. It's a whole different environment than some other cities in the States where it is much quieter. In my eyes, it is fantastic. It keeps things rolling and keeps you on point. People know hockey in Toronto. It's a great spot.
On the Leafs' successful recruitment of free agents the past two summers:
I think what has been kind of passed over and not talked about, maybe, is coach Babcock and having coached many of these guys — Marleau in the Olympics, Tavares knows what he's about from the Olympics — I think that played a huge role in some of the decisions that have taken place here and fallen in the Leafs' favour.
Crawford: One day Auston Matthews will be a captain in NHL (TSN1050)
Auston Matthews' former head coach Marc Crawford joined Toronto Today last week to discuss Matthews' potential as a captain one day and his ability to share the spotlight with other great players.
On Matthews' potential as a captain:
I think he's definitely going to be a captain one day. He is a great person first and foremost. Any time you think about a great leader, that guy usually has to have great interpersonal skills. He has to have real high quality about his day-to-day operations. Auston absolutely has that. He is well brought up by his parents. He's got great knowledge of how to act in most situations. I think as he gets more and more mature, as he continues to grow and understand more about what is happening in the NHL and his own team, definitely he is going to be an option for the Toronto Maple Leafs.
On Matthews' ability to share the spotlight with John Tavares:
The year I had Auston, we had a lot of older players; a lot of guys who were given more limelight in Swiss media than Auston was. I think Auston just played and played well. Once people started to recognize how good he was, he got tremendous notoriety over there. I don't think Auston has ever been about notoriety. He is about winning. All of the great players are about winning. They find ways to make their teams better. I like guys who, when people play with them, they say, "Boy oh boy, is it ever easy to play with that guy." For me, Auston is one of those guys.
Q&A: Marc Crawford on millennials, Matthews, and the Senators (The Score)
"The night he scored four goals against us in Ottawa, I was secretly cheering for him (laughs). I was so glad when we ended up winning the game in overtime because we got the best of both worlds. Now, his team game and his team understanding has gone to a different level, and his puck-protection skills have gone to a new level from when I had him in Zurich."
Mirtle: Gardiner's agent has spoken to Dubas about a contract (TSN1050)
James Mirtle joined Toronto Today to discuss Gardiner's future and more.
I think this new management team with Dubas and Pridham and Gilman is going to try to not lose good players for nothing in free agency. That would either mean deciding right now that you want to sign Jake Gardiner to a contract extension or moving him and getting something back. If you keep walking guys to free agency and then losing them, and you do that year after year after year, you're shedding talent and not bringing anything back in. At the very least, you explore what he wants in an extension and whether you are comfortable with that.

You also explore what he is available for on the market. If you can get something that is equal value to Jake Gardiner — which might be a difficult trade to make, but if you can — then you have to think about it. You don't want to be taking key pieces of your team — and regardless of how poorly he played in the playoffs, he is a key piece of your team — and losing them for nothing.

You look at what Matt Dumba got from the Wild the other day… Jake Gardiner, on the open market, is worth a lot more money than what a lot of people in Toronto think he is.

I know that Gardiner's agent, Pat Brisson, has met with Kyle Dubas and talked about Jake Gardiner's contract. It's on their radar. Management, I'm sure, just wants to know what he's asking for and they can make the decision as to whether they want to meet that price or not.
Maple Leafs goalie coach Steve Briere has a plan (Sportsnet)
If 90 per cent of elite goaltending is mental, why, Briere wonders, do goalies only work on the psychological aspect of the game once their performance flies off the rails? "The problem with that, it's too late," Briere says. "You try to talk to a goalie when he's struggling: He doesn't hear half of what you're saying."
For Toronto's Mitch Marner, it's time to give back (The Hockey News)
The Marner Assist Fund will hold its first major event this week, as Marner and some of his NHL pals will hold a two-day skills event in the Toronto area with money going towards children's causes. "I'm very excited," Marner said. "I've always wanted to do something like this and give back in different ways. I can't wait to see the result."
Maple Leafs depth forwards know earning minutes won't be easy (Sportsnet)
"[The Leafs] don't see me as the player who has had some struggles the last couple of years. They see me as the player in the past who has been successful," Tyler Ennis told Terry Koshan of the Toronto Sun.
What Tavares' season as OHL rookie revealed about his leadership (The Athletic)
"He believed he could carry a team and win a game," former Generals head coach Brad Selwood said.