Well, this year's NHL trade deadline is definitely far from boring.
The strength of the Eastern Conference is incredible, but this Toronto Maple Leafs roster might just be up for the challenge.
Let's dive into some early thoughts on both of Toronto's recent trades.
---
Toronto acquires Jake McCabe, Sam Lafferty, a conditional 5th round pick in 2024 and a conditional 5th round pick in 2025 from Chicago in exchange for a conditional 2025 1st round pick, 2026 2nd round pick, Joey Anderson, and Pavel Gogolev.
---
This trade essentially boils down to McCabe (with 50% retention) and Lafferty for a first and a second-round pick. Anderson just cleared waivers, Gogolev was thrown in just to clear a contract slot, and the fifth-round picks don't have much of an impact on a deal of this magnitude. It's a fairly straightforward deal once we separate the wheat from the chaff.
McCabe has been one of my top targets for Toronto for months. After I saw a few Chicago fans calling McCabe their team's best player this season back in December, I decided to check him out. The more I watched him play, the more I was convinced that he could really help a contender (full disclosure: I've watched him play about 15 games over the last month as I was in the process of writing an article about him prior to giving up on it when the Leafs acquired O'Reilly).
He's not afraid to drop the gloves or throw a big hit — and it's nice to add a little bit more of that — but it's his combination of net-front defense and transition defense that makes me a fan of his game. He's an aggressive stick-on-stick defender who can keep up with top forwards, and while he's nothing special offensively, he's at least competent as a puck mover. If you appreciate what T.J. Brodie brings to the Leafs, McCabe brings a fairly similar skillset to the table.
The Leafs had a clear need for a shutdown defenseman who can play on the right side beyond this season. Morgan Rielly and Rasmus Sandin are offensive defensemen, and in an ideal world, they shouldn't want either player matching up against opposing top lines.
Mark Giordano is 39, and while he's still an effective player, it's tough to pencil him in for the shutdown pairing next season at the age of 40. Brodie is great, but moving him to the left side would just hurt the right side, where he's a good fit to play with Rielly. They needed to add a shutdown defender eventually. It made sense to just do it now.
Dom Luszczyszyn of The Athletic has a model that places McCabe's market value at $4.8 million. Sometimes I watch a player for an extended period and disagree with his model, but that sounds just about right to me. Frank Seravalli of Daily Faceoff mentioned that the price to acquire him at 50% retention was in the first-round pick range on the JD Bunkis Podcast back in late January; that sounded awfully reasonable given the reported asking price for players such as Vladislav Gavrikov.
McCabe is not a star — and he probably won't help the Leafs this season as much as someone like Ryan O'Reilly — but there's nothing wrong with adding a pretty good player on a good contract for three seasons.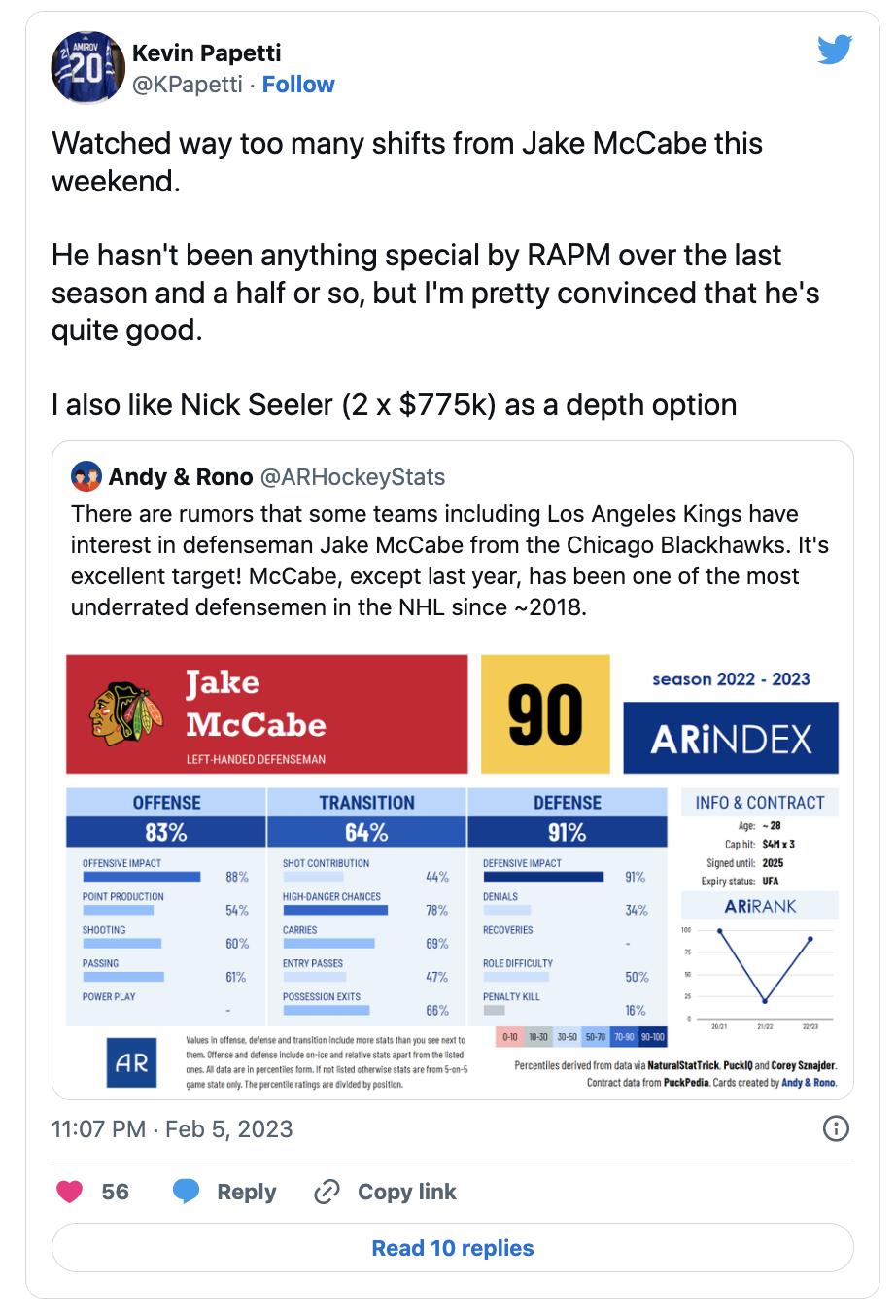 The whole point of draft picks is to try to add good players on team-friendly contracts, but the success rate is far from 100%. Late first-round picks are often overvalued, and the player selected with Toronto's 2025 first-round pick probably wouldn't be able to help them until 2027 or 2028.
I'm not usually a fan of giving up a first-round pick for a rental, but when a contending team can acquire three years of a good player on a team-friendly contract, it's a bit of a no-brainer. Isn't that what you're hoping for from the late first-round pick?
Steve "Dangle" Glynn put it best a couple of weeks ago:
Chicago's asking for a fortune for Jake McCabe at 50% retained because they should.

He doesn't have to be elite. If he gives you competent top four minutes for $2 mill this season AND for two years after because Chicago's eating millions of dollars, that has to cost something.

— Steve "Dangle" Glynn (@Steve_Dangle) February 11, 2023
I didn't want the Leafs to give up a first for McCabe without retention, but I'm surprised the cost was this low. Adding a team-friendly contract for the 2024-25 season is critical; it's when Auston Matthews and William Nylander will earn a raise, and it's the last season that John Tavares will earn $11 million. McCabe and Lafferty, for a combined cap hit of $3.15 million for next season, also carry plenty of value. To wit, adding more expensive players may have hurt their chances of re-signing Ryan O'Reilly.
McCabe can sometimes get caught with his aggression in the neutral zone, but it's better to have aggressive defenders than ones who concede the zone easily. He covers a lot of the ice and uses his long reach to poke pucks away. Patrick Kane scores the goal here, but McCabe starts the whole play with a smart read:
McCabe has spent the vast majority of the season playing on the left side on a pair with Seth Jones, but back in early November, I watched him play a couple of games on the right side, where he looked fairly comfortable. At the very least, he has some experience playing on his off-side if a need arises. He should also help the Leafs' penalty kill and can step up for his teammates when games turn rough in the playoffs.
I'm not sure that I would call him an "analytics darling," but he does grade out fairly well by Evolving Hockey's RAPM over the last three seasons.
Sam Lafferty
I've seen quite a bit of Lafferty, although there were a handful of Chicago games where I only watched McCabe's shifts. It takes about two seconds to realize that he's very fast and his speed makes opposing power plays play more conservatively.
Kane called Sam Lafferty (who scored his 10th goal of the season, and his league-leading fourth shorty) a top-five skater in the league.

Luke Richardson said "He's finally realizing what he is. He's a big man that can move fast. Faster than I've seen a big guy like that move."

— Mark Lazerus (@MarkLazerus) February 18, 2023
Like McCabe, Lafferty is not afraid to throw a big hit or drop the gloves when needed. He's spent a lot of time playing center this season, but given that the Leafs already have Matthews, Tavares, O'Reilly, Kampf, and Acciari, I expect Sheldon Keefe to use his speed and forechecking ability on the wing. A constant breakaway threat, he forces opposing defenders to make quick decisions.
Lafferty is a late bloomer whose taken a while to round out his game. He's definitely not an A+ playmaker; he usually opts for the simple play rather than a Patrick Kane or Mitch Marner impersonation. He's an iffy puck carrier for a player with his speed, but he's a legitimate threat to win a footrace on a dump-and-chase. His speed and physical play are bound to make him a fan favourite.
I was pretty convinced that Lafferty was going to go to the Tampa Bay Lightning with the goal of them finding their next Nick Paul. Like Paul, he can shift to center when needed, which gives the Leafs some flexibility in case Kampf asks for a major raise.
I have little doubt that Lafferty is a legitimate NHL contributor now, even though he didn't become one until his mid-to-late 20s. His game screams, "he can help a contender in a bottom-six role."
There's a good chance that the Leafs will lose a couple of effective and cheap forwards in free agency like Kampf, Michael Bunting, Pierre Engvall, and Noel Acciari, so it's nice to add another one for next season to help replace them.
Ilya Mikheyev, who signed a four-year deal with Vancouver at a $4.75 million cap hit last offseason, was never really replaced in terms of his speed and penalty-killing scoring threat. Knowing the line of Mikheyev, Kampf, and Engvall were excellent together, I'm curious to see if Keefe will try Lafferty there to start.
These are both team-friendly contracts with multiple years of control. Lafferty only has one additional season before free agency — and Toronto's need for him reduced a bit after the trade with the Blues — but he'll carry a fair amount of value next season.
Giving up a second for a bottom-six forward seemed like a tad too much for my taste, but every General Manager of a contender in the league would have given up a third for him, so I was curious to see what the price would be. My guess is that a fraction of the value of the second-round pick that the Leafs gave up is going toward McCabe or that the two fifth-round picks come into play here.
Good account to follow for Leafs fans. ??

I also don't think that Lafferty has enough term to command a first, but a third would be far too light.

I'll guess that he goes for a late second and and a mediocre prospect. Decent player. https://t.co/mNT2pr2e6X

— Kevin Papetti (@KPapetti) February 11, 2023
Early Thoughts on the Ryan O'Reilly Trade
I was on the record as saying that O'Reilly was the only rental who I'd give up a first for. Both Patrick Kane and Vladimir Tarasenko make more sense on a team with a clear opening on the power play.
The Leafs' biggest need was improving at five-on-five, where O'Reilly was the best player available. He played center for Team Canada at a best-on-best competition. Given that he was drafted in the same year as John Tavares and Nazem Kadri, I'm also not too worried about a major decline.
Everyone dislikes giving up first-round picks for rentals let alone a first and a second, but that's the cost of acquiring a legitimate top-six center. If you do trade for a rental, it's best to add either a legitimate difference-maker or someone who's incredibly cheap.
I started to talk myself into O'Reilly on the morning before the trade: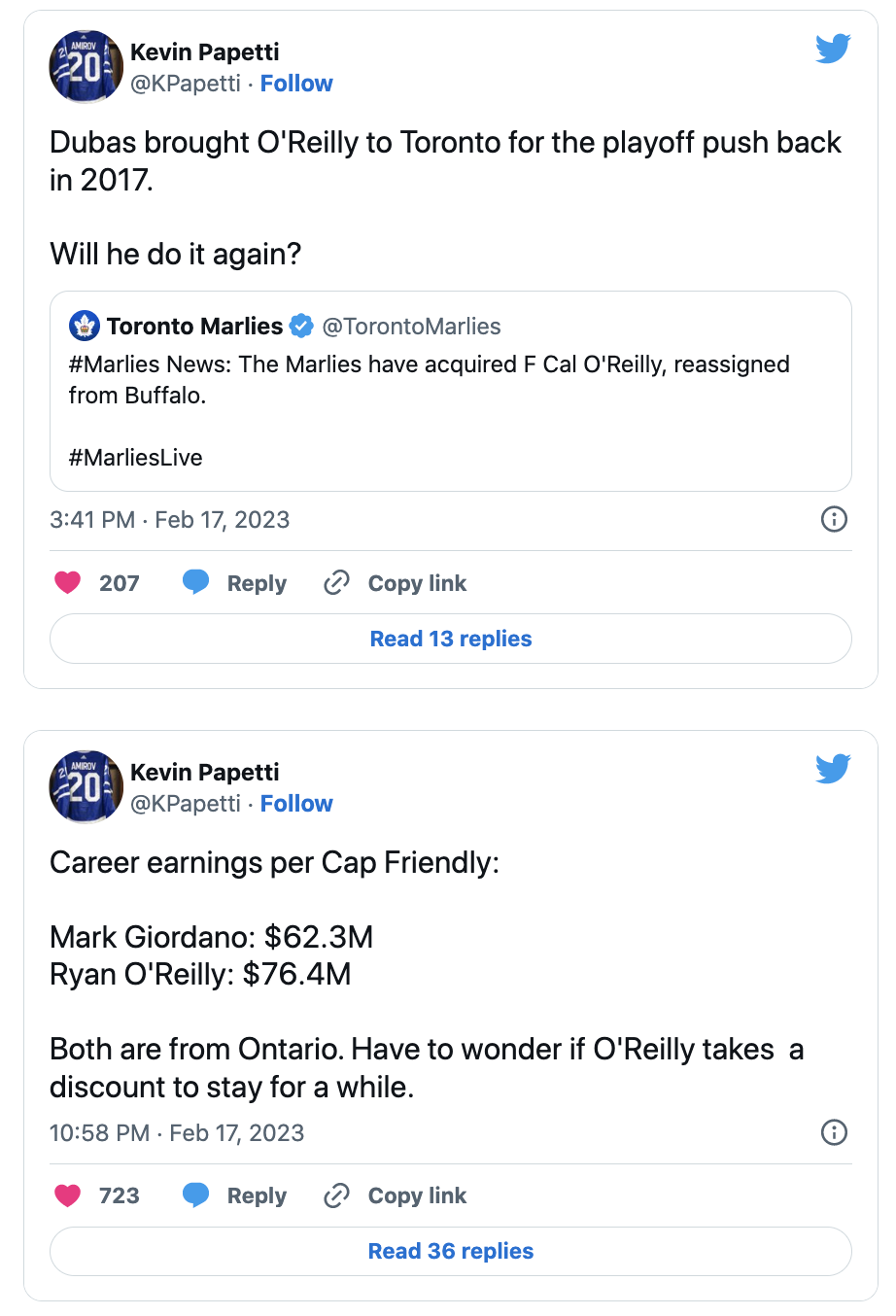 The second tweet is a major reason why. While he's bound to sign for far more than Giordano, I have to assume that he's in a position to take a bit of a hometown discount and stay a while. He made it clear that he didn't like playing for a rebuilding team in Buffalo, and his father Brian provided a fantastic interview on the Fan Morning Show where he detailed how special it was for them to see him on the Leafs. It's far easier to take a hometown discount to play for a contender when you've already made a ton of money.
In terms of the 2023 playoff run, O'Reilly is a near-perfect fit. Other contenders had a clear edge in terms of secondary scoring. He doesn't have to play on the top power play to be successful, and he allows Tavares to either shift over to the wing or play against easier competition.
While he's started off his Leafs tenure in the top six, I expect Keefe to try ROR in the bottom six eventually. It's worth noting Kampf played more five-on-five minutes than Tavares in last year's playoffs. In an ideal world, O'Reilly chips in some offense while shutting down opposing top lines. Kampf should rarely see the ice if the Leafs are trailing while Tavares can play center and feast on opposing third pairs.
Toronto was a matchup nightmare back when James van Riemsdyk and Mitch Marner were on the third line. I don't think ice time will be a huge problem given that Keefe can move players up for the occasional extra shift.
Similar to the Giordano trade last season, it's an exciting but pricey deal if you lose in the first round and he walks for nothing, but it's well worth it if you have a deep playoff run and/or he signs a team-friendly deal.
In terms of the addition of Acciari, I don't have much to say other than that he's been fantastic so far. He seemingly wins every puck battle, and we all know the bottom six needed some extra shooting talent. Everyone will focus on his ability to fight and finish his checks — that has value — but the Leafs had a real need for some more shooting talent on their depth lines. It sounds like the Leafs tried to sign him last offseason but ran out of cap space, so it wouldn't be a huge surprise if he signed a deal to stay in Toronto. Maybe he's tired of moving.
Final Thoughts
This is the best Leafs team I've ever seen. There's a real cost to giving up so many draft picks, but there's a decent chance that some or all of the acquired players remain with the team beyond this season.
As you probably know, unless there's a serious injury before Friday, there's another trade coming to allow the Leafs to remain cap compliant once Matt Murray is ready to return. Kerfoot and Engvall are the obvious candidates; I'd personally opt to move Kerfoot given that Engvall is better at driving his own line. The Leafs could retain salary on Kerfoot to help replace the draft capital that they've lost, or they could use the cap space to make other additions.
Kyle Dubas can now be opportunistic. He's done the heavy lifting, so if prices are high, he can stand pat and do nothing. However, I'm willing to bet that they'll consider acquiring team-friendly contracts with term. They'll have about $2.4 million of cap space if they move Kerfoot, and they can get to $3.2 million or so if they waive Zach Aston-Reese as well.
Apologies for verging into fantasy land here, but to illustrate the point, Rasmus Sandin could even be moved in a big deal for someone like Jakob Chychrun (likely with retention) if the price was right. Trading Matt Murray could even make sense if the Leafs like the price for Karel Vejmelka or Thatcher Demko. The point is: There is no reason for Kyle Dubas to stop looking for team-friendly contracts with term.