Well, that was a nightmare of a game. 
The regulation loss is one thing, but more importantly, let's hope Ryan O'Reilly is okay after taking a shot to the hand.
No update on severity of Ryan O'Reilly's injury. Expect a clearer timeline Monday, says Keefe.

— luke fox (@lukefoxjukebox) March 5, 2023
As head coach Rick Tocchet indicated his team would earlier in the day, the Canucks came out as though this game mattered to them. They always do, especially when the game time is moved to 4 p.m. to accommodate the Toronto market.
At the beginning of the game, the Leafs matched their intensity, but they didn't sustain it all over 60 minutes, and the 4-1 final score reflected that fact.
Your game in 10:
1.   This game started with a bang, quite literally. Right after the puck drop, Luke Schenn blew up Phillip DiGiuseppe, and then DiGiuseppe tried to return the favour but quickly found out it was a mistake.
On the next shift, John Tavares cut in and was fishing for the puck through the middle of the ice when Tyler Myers came across and blew him up with a big open-ice hit.

William Nylander, to his credit, bee-lined right over to Myers. I don't think he had any intention of fighting him, but he engaged the big Canucks defenseman before Jake McCabe – who had every intention of fighting him – came screaming in.
The fight wasn't much, but for years, there has been a lot of discussion about a lack of response from the Leafs in moments like this. To me, this response was A+.

The Leafs then killed the penalty and tilted the ice on Vancouver for a number of shifts before taking another penalty (a weak call on Noel Acciari, I thought).
---
2.    For the rest of the period, the teams exchanged power plays and traded a few chances on them.
William Nylander went on a breakaway, and just as he did against Calgary, he went to his forehand over his customary forehand-backhand move. He again didn't score, although this time he had the goalie beat and simply needed to elevate the puck or wait Thatcher Demko out for an extra second.

He can't do the same move every single time, and a player needs counter moves or else the league's goalies start to figure him out (see Kulemin, Nikolai). Hopefully, this is just a little blip when it comes to Nylander and breakaways.

It was also noteworthy that John Tavares took a second big hit in the game. I can't recall ever seeing a game like this from him where he was crushed twice not protecting himself with his head down looking for the puck in the middle of the ice.
---
3.   The second period really belonged to Vancouver and Matt Murray. Murray made a number of huge saves, most notably on a 2-on-0.
The Canucks spent long stretches in the Leafs' zone moving the puck around and hemming the Leafs in. The high-danger shot attempts were 9-2, which was more indicative of the run of play than the scoring chances (which were 11-9 in favour of the Canucks, too).

There was also an early whistle that took away what should have been a goal for Vancouver. Eventually, they were rewarded with a power play after drawing a penalty on another long shift in the offensive zone. 
On the man advantage, they scored on a good tip which Murray had no chance on. It was just a nice play by the Canucks.
---
4.    At times through the second period, it felt as though the 11-man forward group caught up to the Leafs. They were outplayed for large stretches with no response. They were just trying to figure out who was going on the ice and who played where rather than stringing together good shifts with some continuity.

There has been a lot of change with this group over the past few weeks, and while they did a good job of integrating Ryan O'Reilly and Noel Acciari with firm linemates and roles they can thrive in, the additional changes have thrown the order of things a little all over the place. Every time we look up, there seems to be a new combination or defense pairing.

It's one thing to experiment game-to-game, but shift-to-shift, it doesn't seem to be doing anyone any favours.
---
5.    The Leafs put together a dominant shift to close the second period with Ryan O'Reilly moving up to play alongside Auston Matthews and Mitch Marner. It was probably the best shift Matthews has put together in quite some time. He spent the whole shift demanding the puck and looking to rip it, hunting down shots on net as he should.

Matthews has gone long stretches of the season looking a little disengaged, and as crazy as it sounds, it has largely felt like he has coasted to his 28 goals and 60 points through 56 games now. He needs to start stringing shifts like this together in-game.

There were a few additional notes about this shift. Most importantly, ROR took a Matthews shot off the hand and did not return to the game. There isn't much to say other than to pray he comes back soon.

The other note: The shift ended with a Canucks breakaway after a Matthews shot was blocked. Matt Murray came up with a huge save on that breakaway to keep it at only 1-0 going into the third. That was a game-changing save.

---
6.    The Leafs started the third period with some serious purpose. The first line (with Alex Kerfoot on it) came out and dominated the first shift, resulting in a power play and a tie game.
William Nylander threaded an absolutely beautiful pass to the backdoor to John Tavares.
Dish so Swede you gotta call it a dessert 🤤😎 pic.twitter.com/OmXggxicX1

— Toronto Maple Leafs (@MapleLeafs) March 5, 2023
It was a new-look goal for the Leafs, with Tavares taking the puck on the half-wall and starting the play up top to Morgan Rielly. #44 passed it over to Nylander, who then found Tavares crashing the net backdoor with Auston Matthews in front already and Mitch Marner in the bumper spot. That's a nice wrinkle to keep an eye on.
---
7.   After the Leafs tied it at 1-1, it felt like the game might settle down and the Leafs would do what they are capable of doing, i.e. winning the game handily. That certainly is not how it played out.

While Alex Kerfoot hit the post, so did Andrei Kuzmenko, and eventually, the Leafs went to a power play. I certainly thought this was the time the Leafs would establish control of the game. The total opposite happened.

First, a careless cross-ice pass from John Tavares was picked off for a 2-on-1 from the Canucks' blue line. It was a low-percentage pass that wasn't going to result in much even if it was completed.

JT Miller made a nice pass, and Elias Pettersson almost had a breakaway with the time and space at his disposal as he walked in and scored. The goal was not Morgan Rielly's fault at all, but this is one of the strangest dives I've seen from a defenseman defending a 2v1. He was literally sideways.
---
8.   To make matters worse, Vancouver wasn't done scoring yet on the Leafs' power play. With Morgan Rielly down low, Auston Matthews and Mitch Marner didn't really communicate, and JT Miller took off when a puck was rung around the boards. Pettersson knew it, ripping a beautiful pass down the ice to send for Miller on a breakaway. Miller ripped a shot in and over Matt Murray's shoulder.

There are only so many breakaways a team can ask its goalie to save in a single game. Eventually, they're playing with fire.

There will be lots of talk about the trades impacting the team after this game, I'm sure, but bottom line is that it was a tie game in the third period. The Leafs' top-three-ranked power play went to work against the worst-ranked penalty kill in the league. By the time it was over, it was a 3-1 game for the team with the worst-ranked penalty kill.

A few shifts later, the Canucks scored again on a goal where there is not much to say. Morgan Rielly turned it over on the forecheck, Luke Schenn had a chance to clear it but took too long (leading to a turnover), and eventually, it was a tap-in for Vancouver.
---
9.   The worst part of this sequence of events was watching Sheldon Keefe put all of his top players on the ice just a few shifts afterward. This was an easy opportunity to bench them and send a message that this was simply unacceptable.
Keefe called them out after the Edmonton game, they responded against Calgary, and then the team did this in the final period against Vancouver. But they were all right back on the ice, and they were all out there for a two-plus minute shift to close the game.

Despite dressing seven defensemen – which has never really made any sense – it was Mitch Marner on the ice playing defense at five-on-five with under four minutes left. What is the point of having Erik Gustafsson in the lineup if it's not to play in offensive situations? Otherwise, just dress Zach Aston-Reese and run four proper forward lines.
---
10.  I saved this note to discuss Michael Bunting. He has really struggled as of late. The puck is continually dying on his stick, and he was bumped down the lineup in this game. He responded by doing very, very little over the 60 minutes in Vancouver.

Bunting is not physical and most of the league appears to no longer be fooled by his antics. He's certainly not going to engage with anyone when challenged. At one point in this game, Dakota Joshua pushed him after the whistle, and Bunting responded by raising his gloved fist like he was going to punch him, seemingly in an attempt to get Joshua to flinch. It was completely bizarre.

This is becoming a noteworthy story. The Leafs are counting on Bunting to be a top-six forward, but he's struggling and quietly has been for a while, even if the point totals say otherwise.
---
Heat Map: 5v5 Shot Attempts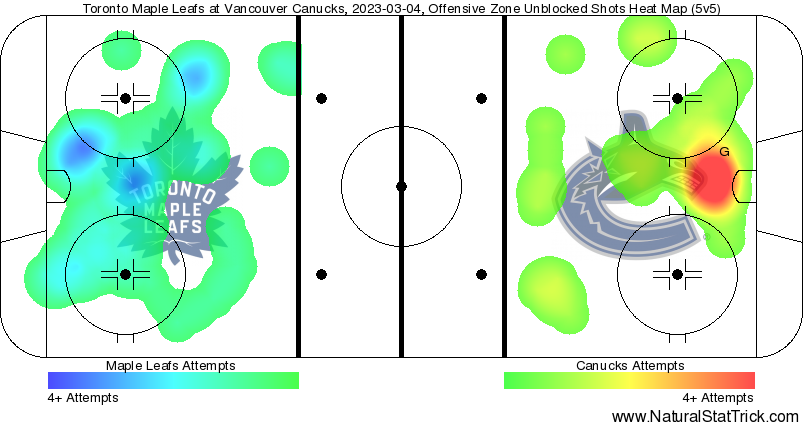 ---
Game Flow: 5v5 Shot Attempts