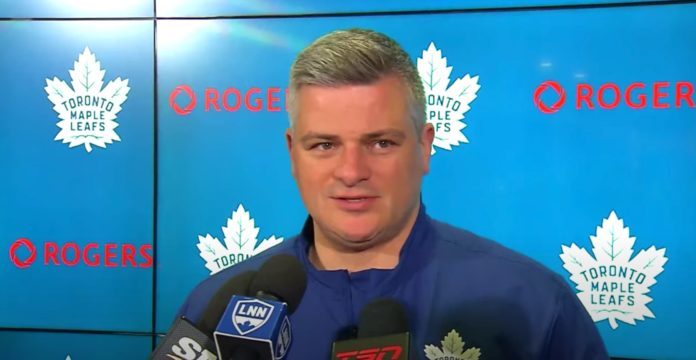 After practice on Monday, head coach Sheldon Keefe discussed Noel Acciari's status for tomorrow's game against the Islanders, Ilya Samsonov's consistent performance level this season, and William Nylander's play cooling off a little as of late.
---
Practice Lines – March 20
Leafs lines at practice

Kerfoot – Matthews – Jarnkrok
Bunting – Tavares – Marner
McMann – Lafferty – Nylander
Aston-Reese – Kampf – Acciari
Simmonds

Rielly – Gustafsson
Giordano – Holl
McCabe – Liljegren
Timmins – Schenn

Samsonov
Murray
Woll@TSN_Edge

— Mark Masters (@markhmasters) March 20, 2023
---
Does Noel Acciari look like he is in a position to return?
Keefe: Yeah, he looked good on the ice. I know he has had good days since he left the game the other night. All signs point to him being available tomorrow.
How has Luke Schenn settled into playing, practicing, and settling in with the group?
Keefe: Yeah, I think he has done a good job. He has been through a lot and it has been a big adjustment. I am sure there is a lot of nostalgia at the same time. It was good to get him in two games on back-to-back nights like that. He has had some practice time and things like that to get into a bit of a rhythm.
For those reasons, I think it works out well for him in terms of the fact that he played back-to-back nights. You just kind of flush everything and get back into a regular routine.
When you have your top scorers on three different lines, what does it do for you?
Keefe: It presents some challenges for the opposition in terms of how they are going to manage that. Really, for me, at this point, it is more just looking at getting different lines going. The loss of O'Reilly, in terms of some of the different looks we would want to be looking at this time of year, means we are not able to do that.
There are some things that we can still try. At the same time, outside of some good nights from Matthews and Marner and getting them going, I don't think we have had a lot from there. John and Will haven't played with the same results that they have had through most of the season here. They have cooled off a fair bit.
We are just wanting to help them get themselves going, whether that is Mitch going with John or Will just on his own. I don't think he is skating to the same degree as he was earlier in the season when he was a dominant player for us. We need to get him back going that way.
Playing him with guys who are going to skate and move their feet, knowing he can be the guy that really drives things, is really the idea. It is nothing much beyond that.
In what ways can Nylander skate better?
Keefe: He and I have talked about this. I find when the puck is hitting his stick, his feet are not moving to the same degree. He is not attacking. There is a lot more perimeter. There is a lot more getting rid of the puck.
I want him to hang onto it. I want him to challenge. I want him to be on the attack. I want to see lots of pace from him. That is when he is at his best.
That is really it — just get back to doing that. It has been too long since we have seen that consistently from him, but as we have seen through most of the season, it is certainly there.
With Ilya Samsonov set to become a dad, how does it factor into planning the week in net?
Keefe: It presents some challenges for sure. We are just going to take it a day at a time here for now. He is going to play tomorrow. He is going to travel with us. Certainly, as we can all imagine, he is on edge here a little bit with making sure that things are taken care of for him to be a first-time dad and making sure his wife is taken care of.
Giving him the day the other day there was both an opportunity for him to rest and deal with the things he has been dealing with himself medically but also just be there for his wife and all of that. I think it is important right now.
He will travel with us and will prepare to play tomorrow.
After Luke Schenn and Ilya Samsonov, is there anybody else on the team with babies on the way?
Keefe: Lafferty has one on the way as well.
What do you think has allowed Samsonov to have a bounce-back season?
Keefe: Right from the offseason, Curtis Sanford and he really set out a good plan and got to work. They have been really consistent with it. His demeanour and consistent approach that he takes every day — he doesn't get too excited when things are going great, and he doesn't get down or rattled when things aren't. I think he is just able to transfer that onto the goaltenders to just be very consistent in their own approach and focus on what they can control and just get out and after it every day.
That has allowed Sammy to sort of settle in. He has had some bumps along the way. He rectifies that really quickly, which is what you are looking for. No goalie goes through an entire season without some bumps along the way. The difference between the top-end goaltenders and everybody else is that they do it more consistently. They are able to bring it back.
That is what we have seen from him and both of our goalies. That has been really good. It is a credit to them for putting in the work. Curtis has done a good job with them.
Do you foresee using Erik Gustafsson on the top power-play unit down the stretch at all?
Keefe: We will see. I think it is important — as you would all the time — to sort of have an understudy there that is working with the second group and making sure you have somebody ready.
In Washington, he has taken that responsibility and was excelling in that role. We are mindful of that. We just want to make sure that he is up to speed in terms of what the other guys are doing.
Do you think the shootout winner is going to help Alex Kerfoot's confidence just seeing one go in and the reaction in the building?
Keefe: Yeah, I think it can only help in terms of confidence and swagger. It is a big goal at a very important time. It wins the game for us. When you come through like that for your team, it can only help you feel good. I know the guys really made sure he know how happy they were for him.
That is one thing that can come out of shootouts and things like that. It is not just him. Michael Bunting, too, saved the game for us by coming in there and keeping the game going. That is a huge goal for him as well. It is another guy where something like that can help him.
When you go that deep into a shootout, are you strategically planning it out or just rolling the dice at that point?
Keefe: You are pretty much just going off of feel for me. We have a pretty good sense of some career percentages and such for guys, but when you get deep into it, it is really just more on the feel. Obviously, choosing Bobby McMann is solely on feel. I have seen him skate down the ice and shoot a lot of pucks in the net at the AHL level, whether it is shootouts, penalty shots, breakaways, or whatever it is.
In that moment, it is a chance for his first NHL goal. It is a pretty big moment. You just kind of go with it. But you are really just working your way through the bench at that point and trying to get a sense of who might respond well in that moment.
You will see Pierre Engvall tomorrow. Have you been following what he has been doing in New York at all?
Keefe: I have seen he has had some success there. It is good to see from him. He is a guy who put in a lot of years and a lot of time. He really developed with our organization.
With me specifically, he helped the Marlies win a Calder Cup and came a long way there. He played a lot of important minutes for us.
It is good to see him go to a spot and a team that is still hungry and competing to beat in the playoffs.