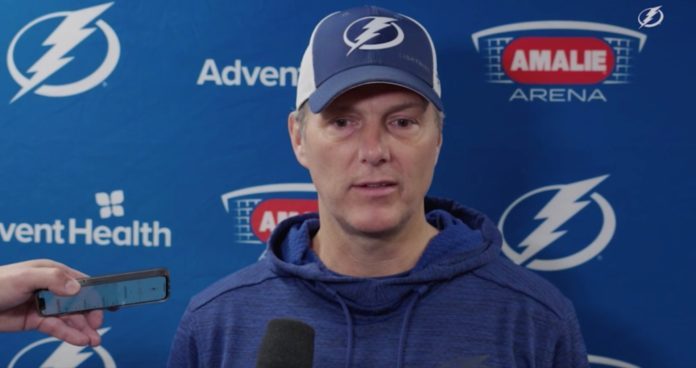 After practice on Wednesday, Tampa head coach Jon Cooper discussed former Lightning assistant coach Derek Lalonde's comments on Sportsnet (suggesting there was a study that found Andrei Vasilevskiy is one of the worst goalies in the league at tracking point shots) as well as the uphill climb his team is facing to get back into the series.
---
You mentioned that you thought the team would have a more positive mentality or attitude after a day of rest. Did you see that on the ice in practice?
Cooper: I like everything about today. The guys had pop and jump in their step. I think the day off did us well.
We are not going to win a series in our next game. We just have to win one game. We have done that ample times this year.
The attitude — guys came in here feeling refreshed and pretty good, so it was a good day today.
Do you look at as a series that could easily be 3-1 in your favour?
Cooper: It could be, but you can't look at it that way. It's not, but there are positives to build off of. If we were sitting here down 3-1 and we'd been tattooed all series, now you are in a whole different mindset. But we haven't felt that way.
That is something to build on. Again, you can't leave anything to chance now. You can't take the six minutes off that we did when we gave up three goals. You have to play this one through to the end and make sure that we come out on top.
The team was 28-1-2 with a lead in the third period this season. 
Cooper: Yeah, well, what is it now? 28-3-2. We have to make sure that we turn that 28 into a 29 tomorrow night.
Did you catch what Derek Lalonde said about Andrei Vasilevskiy?
Cooper: I heard about it. Listen, Sportsnet is paying him well to go give an opinion, so he has to make something up about that kind of stuff.
We are playing, so we can't watch what is going on. He is there because he was an assistant coach on this team. He is trying to offer insight and give the fans something. He should be doing that; it's just making sure it's accurate in what he is saying.
Is it too much insider information that was given out?
Cooper: Well, it's got to be accurate before you say it. That's my only thing.
You talked about wanting the team to tie up better in front of the net. How much of a mindset does there need to be to make sure the Leafs can't get sticks on pucks in front of your goalie?
Cooper: It is skill, too, but those are battles, and you have to win those battles.
Part of it is not just that. It is us getting out to the point. It is us making sure we are trying to rush plays they're making and not giving them all of this time and space.
When you are doing that, it makes the battles in front harder because you have to last a little longer.  It is a five-man unit thing, not just a one-person thing.
What have you made of the special-teams part of the series?
Cooper: In Game 2, they rolled in and scored in the first few seconds on the power play, but especially in the last game, we did everything we wanted. It's not like we are giving them a whole bunch of chances in the zone. The ones they're shooting are going in. Those are tough.
For the most part, we like a lot of what we have done.
You have had a lot of contributions from a lot of different players in terms of goals, points, and assists. As you get further along in the playoffs, how critical is the depth scoring to success?
Cooper: You need depth scoring all the way around. Scoring, for us, hasn't been an issue in the series. It has been keeping the puck out of the net.
That is the one thing that in the end, doesn't take a whole lot of skill. It is a lot of determination, battles, being in the right spots at the right time, and not cheating in your own zone. When you do that, it will help the goalie out.
Hopefully, the offense will just continue where we are going.