Maple Leafs Hot Stove launched on September 3, 2008, and for the first time ever we can officially write the words:
The Toronto Maple Leafs hockey club has advanced to the second round of the Stanley Cup playoffs!
Your game in 10:
1.   As we speculated after Game 5, Sheldon Keefe decided to run 11 and 7 for this game. Zach Aston-Reese and Sam Lafferty each played under seven minutes in their last game and both have generally struggled all series. On defense, Justin Holl got turnstiled for a goal and had a poor gap on another. All three sat, and Michael Bunting, Timothy Liljegren, and Erik Gustafsson all drew in.
This gave the Leafs added flexibility to bump John Tavares to the top line (which they did), shift around winger combos, and play their top players a bit more. On defense, they spread out the responsibility a bit more and had some specialized roles like using Gustafsson on the second power-play unit. Lots of people hated running 11 and 7, but it has its place on occasion. 
I don't want to say that it full-on worked tonight based on the way the Leafs played. But in terms of winning, it worked.
---
2.   Over the six games, the Leafs started well just once. This was another case of Tampa pretty well just tilting the ice from puck drop. The Auston Matthews line, with Matthew Knies on it, started the game and was instantly hemmed in. After the Ryan O'Reilly line went on next, it was just more of the same.
We talked a lot about how passive the Leafs were in the neutral zone throughout the series, running a 1-2-2, but one thing that really stood out as the series went on was just getting pucks out. The Leafs got jammed up the walls constantly and tried to force passing plays instead of chipping pucks out and creating races.
Tampa had the edge on shot attempts, scoring chances, and expected goals in the first. The Leafs really struggled to contain them. The only break was that Tampa took some penalties to alleviate the pressure.
---
3.   For all the talk of point shots in this series, it was noticeable that Tampa sent three players to challenge up top on the penalty kill. The Leafs only had two power plays and didn't create that much from them. Tampa pushed a player up on Rielly and a player up on each of their half-wall players.
If the Leafs got another power play later on in the game, I'd imagine they would have worked Tampa down low, but in real time, they didn't really adjust. They were trying to set things up from the top of the formation — as they have done throughout the series — and Tampa snuffed it out. There were down-low 2v1s to be had, but they didn't capitalize on them enough. On one penalty, Tampa created the best chance, turning back a quick 2v1.
---
4.   Not to be overlooked is that Tampa had two power plays of their own and the Leafs killed them off. It helped that Ilya Samsonov was so good, but the Leafs' penalty kill was a bit more aggressive on Tampa, not allowing them to just snap around the puck and tee off. The Leafs went 2/2 on the penalty kill.
It should be noted, too, that without Justin Holl, both Luke Schenn and TJ Brodie took penalties and the Leafs still killed them off. Jake McCabe led all defensemen in shorthanded time on ice — which is not something that normally happens — and all of McCabe, Brodie, Timothy Liljegren, Mark Giordano, and Schenn all played notable minutes on the penalty kill and did well.
Stamkos did get some one-timers off, which Holl did a legitimately good job of blocking and preventing, but Samsonov was there (plus one assist to the post).
---
5.   I thought the Leafs were much better to start the second period in that the game was more about exchanging chances rather than spending it in the Leafs' end. Both teams came out and had early chances.
In a span of 13 seconds, Auston Matthews blasted three shots. On the third one, it finally went through and it found the back of the net. TJ Brodie did really well to walk the line, square up his body like he was going to shoot, and freeze the play for just a brief second, buying enough time for Matthews to slide over and open up for a one-timer.
Mitch Marner did really well to screen the goalie, and Matthews simply tee'd off, blasting it in.
POW PAPI! 💥 pic.twitter.com/LRQhKB9k9J

— Toronto Maple Leafs (@MapleLeafs) April 30, 2023
It made me think of how far that one-timer shot of Matthews' has come over the years. It wasn't really a weapon for him early on in his career, but he really worked on it over the years and here he was one-timing home arguably the biggest goal of his career.
---
6.   Tampa came out in the third period hunting for the tie. The Leafs didn't create that much, only mustering four shots on net, while Tampa recorded 11.
All things considered, Matthew Knies has had a really strong playoff showing. He came straight from college and played three regular-season games where the team was in cruise control waiting for the playoffs. It's hard to ramp up in that environment, even though he was coming in hot from college hockey. He was healthy scratched in Game 1, got into the lineup in Game 2, and hasn't really looked back from there.
Offensively, Knies is another weapon, but defensively, he really struggles to get pucks out. That is typical of lots of young players. He holds the puck and tries to make plays in his zone instead of ensuring the puck simply gets out. On the tying goal, he simply lost the battle along the wall. The puck just went through him. Tampa got the puck on the point, threw a puck to the net on a shot that was clearly looking for a tip or rebound, and it bounced right to Stamkos, who easily shot it home.
To me, that's the coach putting a young player in a really tough spot on the Leafs' top line and asking him to break out cleanly when he was struggling most of the game to do so. Up 1-0, there was a chance to change up that line, but they kept running it. Afterward, they started turning more to Tavares on that wing.
---
7.    After Tampa tied it, they kept coming looking for the win. Rather quietly, Mark Giordano made two huge plays: 1) getting his stick on a Nick Paul shot in the slot, and 2) poking it off Brayden Point in the slot. Both of those plays had all sorts of trouble associated with them, and Giordano snuffed them out.
After the hit he took last game compounded with his age, I'm sure Giordano is hurting, but he gutted it out. I would expect nothing less from him. He took less to stay. He knows the opportunity here.
Giordano has never been to round two of the Stanley Cup Finals. Until tonight.
I also feel the need to note that the Leafs did get away with a high stick to end the period. It felt like some karma considering the Leafs got called for a pair of debatable high sticks in Game 6 in Tampa last year that led to the Lightning tying the game and eventually winning in overtime.
---
8.   Ilya Samsonov was incredible tonight. This was, without question, the Ilya Samsonov game. He looked nervous in Game 1, did not have to do too much in Game 2, and in Games 3 and Game 4, the team had some late heroics to claw out wins. In Game 5, there was a goal or two he probably would have wanted to have. Not tonight!
If we listed out all the big saves he made, we wouldn't have any room to write anything else. He was phenomenal tonight. Over this run of first-round exits, the Leafs have always had the worst goalie in the series. In some series, the gap was not even particularly close.
In this one, I can unequivocally say the Leafs had the better goalie in the series. The gap wasn't massive, but Samsonov was better.
This game was really the icing on the cake. He straight-up stole it. Tampa put 32 shots on goal, but that didn't tell the whole story. Samsonov thwarted them all night and gave the Leafs a chance to win. Eventually, they did.
---
9.   For years, we have been saying this: Playoff hockey is not pretty. It is about getting pucks to the net, and it is about getting traffic in front to make the goalie's life uncomfortable. The checking is too good in the playoffs to get clean looks with any sort of consistency.
There was nothing pretty about the overtime winner except the fact that it went in. John Tavares is a horse below the top of the circle, and while he struggled throughout the game, on this play, he cycled the zone up high and sent it in the corner. Matthew Knies (this time) won the battle and chipped it below the net back to Tavares.
Tavares shielded the puck, came out from below the net, and Morgan Rielly drove the net. Again, the same theme: a screen! Tavares turned, whipped the puck to the net, and the Leafs got a bounce.
Series over.
THE PASSION BABY!!!!! pic.twitter.com/V5bfoFgExa

— Toronto Maple Leafs (@MapleLeafs) April 30, 2023
---
10.  Enjoy this, everyone. This was a long time coming. Some of you have been visiting this site for over a decade. Some of you possibly even started reading today. You, the fanbase, make this all worth it and for many years the Leafs did not reward us back. Tonight, they did.
This is just one series but you have to start somewhere. One down, three to go.
We will worry about Boston or Florida when the time comes. For now, enjoy winning this round.
---
Game Flow: 5v5 Shot Attempts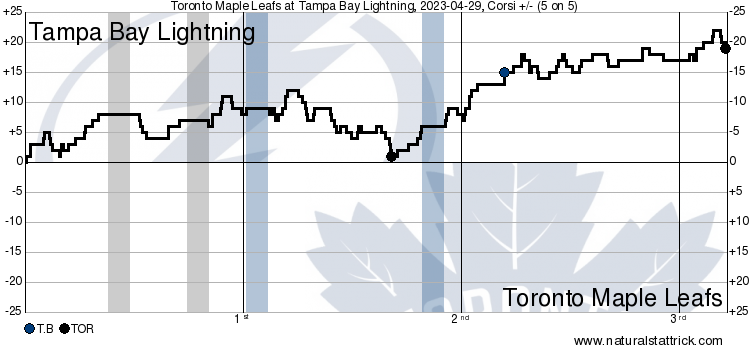 ---
Heat Map: 5v5 Shot Attempts
---
Auston Matthews' parents react to the OT winner and then Matthews and his dad share a moment after the game pic.twitter.com/i1eMMR1Jqt

— Kevin Michie (@KevinMichie) April 30, 2023