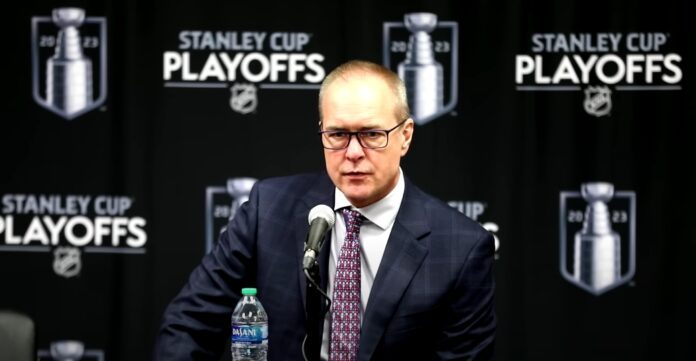 Paul Maurice addressed the media after his team's 2-1 loss to the Toronto Maple Leafs in Game 4 of the Eastern Conference semifinal series.
---
On the low-scoring game:
I thought the first period was fast by both teams. It was pretty good. We slowed ourselves down a little bit. We put the refs in the wrong part of the ice a couple of times. That caused us some problems. We got in the penalty box there a little bit. We will see if we can fix that.
On the Leafs digging in and playing a committed game defensively:
They played hard, but I think they had their three previous. Shot blocks are a big part of it, right?

Each team will look at the things they did well and the things they need to do better. The offensive part of the game is where we will try to make some corrections.
On whether his team needed to make it tougher on Joseph Woll:
No, no. He is a rookie goalie, so we just kept talking about that before the game. We wanted to make him feel comfortable in the league.

Listen, they played well. They played hard. There were parts of the game I didn't love.

Shots were 25-25. We might have had 20 blocked and blocked about nine of theirs. That is probably the difference in the game.
On the concern of allowing the other team to have life in the series:
The opposite part of that idea is that you would expect a team with 112 points to have no life in the series, or if you just did what you could easily do, this would be four. I don't think anyone would have predicted that.

At the start, we'd go to Game 7 smiling. We lost a game today. That happens in the playoffs I think to everybody so far. We're good. We're okay.

We get to play the next one. I think we are all good with that. It wasn't so fabulous of a win that they aren't going to let us play the next one.

Keep [the questions] coming; just try to hide your glee [laughs].

… I am f*** with you. Relax, for f*** sake! Come on. F***!
On the importance of winning a game in which Sergei Bobrovsky still played well:
It is better when you can just blame him [laughs]. Can't blame him.

Nah, he was good, right? Solid. It was important.
On the importance of Bobrovsky continuing his momentum even though it was a loss for the Panthers:
I would have complete faith in Sergei even if he hadn't [played well]. His best game of the playoffs was possibly Game 2 [vs. Boston] or maybe Game 5 when he came back in. He has great rebound ability. He has great confidence.

For Sergei and for the hockey team, I think there would be no legitimate expectation of seven straight games in the playoffs.

I am not talking about as the wildcard team. If you were the Boston Bruins, you would not have that — that it would all go that smoothly and nothing went wrong.

Our goalie is good. Both of our goalies have been good in this playoff. They were good tonight.