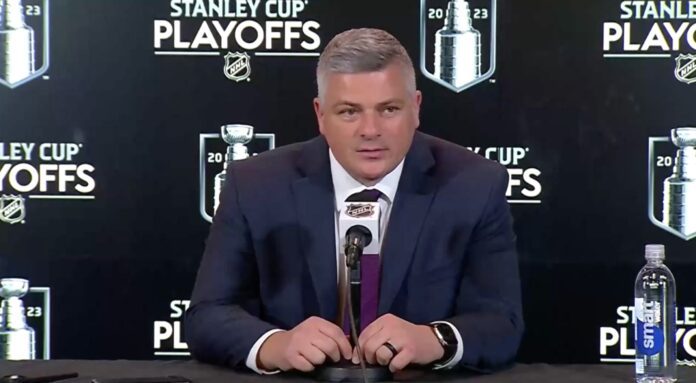 Sheldon Keefe addressed the media after his team's Game 4 win over the Florida Panthers in the Eastern Conference semifinals.
---
On the team's increased urgency:
From an effort standpoint, I think it was our best effort of the season all the way through from start to finish. There was no real letup. Obviously, it is a very close game, but our competitiveness defensively — and our urgency defensively — was the best it has been all year. It was an unbelievable job by our guys tonight.
On Joseph Woll's impressive composure in the game:
Our team in front of him gave him every opportunity for success today with how they competed in front of him with the number of blocked shots we had today and keeping the puck away. But on anything that did get through, he looked really confident and in control.

I was asked a question yesterday if I considered Matt Murray for this start. I gave a very short answer of no. I wish I had elaborated at the time. It isn't a reflection of how we feel about Matt Murray. It is more about how we feel about Joe Woll and his development over the last year.

It is well above what we had anticipated in terms of the timeline, especially for a guy who missed training camp, lots of his offseason, didn't get to train, didn't get to play his position, was behind the eight ball with us, and was behind the eight ball with the Marlies. For him to play the way that he has and the way that he did in the last regular season game against Tampa, and to play the way that he has when he has come through the net here in the playoffs, is why we had no question that he would be able to go today.

He did a tremendous job. I loved how the guys took care of him, too.
On what the efforts of William Nylander and Mitch Marner proved in the game:
A lot of different things. The first thing is that they care. They care deeply. Because of that, you give that type of effort. They didn't want to go quietly. That is what we have been talking about. We were going to leave it all out there today.

Of course, from the coaching side of it, you look and say, "This is the standard." That is where we have been trying to get to. That is what is required. We can't have any letup in that regard.

I thought everybody played hard today. It is another close game. It turns out that Willy and Mitch end up getting the goals for us, and that is huge. No matter who ends up putting the puck over the line, we have to play a team game. I thought we did that here today.

Florida played hard again. There is not a lot happening either way. There are very thin margins out there. Our effort and the response of our guys — and the way they were playing together as a group — is a great response, but it is one response. It is the required one today. It is the only one on the schedule. Now we have another one on the schedule.

We wanted to bring this thing back to Toronto. We are thrilled that we did that.
On whether the team can enjoy this win in the circumstances or if the focus is straight onto Game 5:
You certainly enjoy it in the room, but by the time we come out here and get on the bus, you know this is just one. We have a long way to go here. We are certainly not satisfied. It certainly won't get any easier.

The job and the challenge that we had here today, the guys met it and got it done. Now, we get to bring it back to Toronto. We have to have another same type of effort. The challenge is to bring it back here [to Florida].

We wanted to build positive momentum. We think we did that tonight. We want to bring it back to Toronto and make the opposition a little bit uncomfortable. They have to pack their stuff and fly to Toronto tomorrow. We have done that. Now we need to work towards bringing it back [to Florida].
On William Nylander's performance:
I thought Will, like a lot of our guys, just dug in a little bit more. It is not a huge difference, but whatever the percentage you want to throw out there, it is just a little bit more. Everyone has a little bit more to give. Will is no different.

Sometimes it is in terms of your effort. Sometimes it is just your attention to detail, playing your position, your line change details, your shift length, and all of these kinds of things. Our guys were really dialed in on it here tonight. Will certainly was.
On how well the team closed the game out after the Panthers made it 2-1 and he called a timeout:
I thought we were playing a really good period to that point. We took the penalty, and then we give up the goal. It was really just to give our guys a breath and let the crowd settle a little bit.

I didn't have to say much during that timeout. Our bench and our guys were really good today in terms of encouraging one another, saying the right things, and going out and doing it. I wanted to give our guys a breath, let the game settle just a little bit, and get back to it.

It was a tremendous third period for us in a lot of ways. With the season on the line, the guys just dug in and did what we needed to do to get the win. I loved that we got the second goal, of course, and how we got it. And I loved the response once they made it 2-1.

There was no panic. We just went out and finished the job.