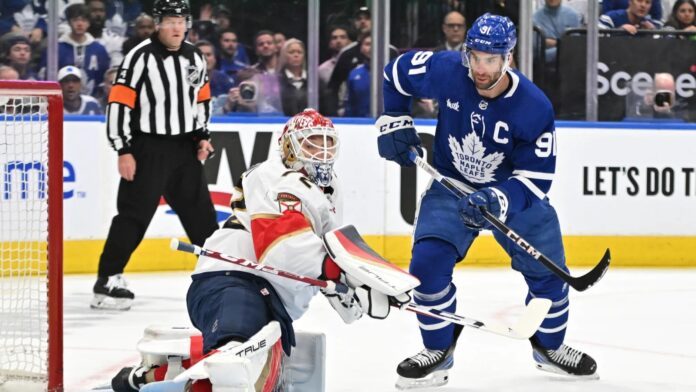 At the Maple Leafs' end-of-season media availability, captain John Tavares discussed the disappointing end to the playoffs, the changes coming in the organization this offseason, whether he would consider waiving his NMC, and if he would be open to a full-time move to the wing position.
---
What have the last couple of days been like as you have reflected on the season?
Tavares: It is obviously disappointing that we are not still playing and not building off of a big win for us against Tampa, what that challenge presented, and getting to the next opportunity.
There was still a lot of growth in the group and a lot was accomplished this year. It continues to build the desire and the fire to get to the ultimate goal.
With all of the uncertainty surrounding the team, what do you think the future holds for the group?
Tavares: A lot of it is above me, but I think there is a continued belief in our group here. With the standard that we have and what we are trying to accomplish, we are continuing to push for more.
Winning is extremely difficult. We are continuing to find our way through that and do what is necessary to win the Stanley Cup.
The first five years of your contract have now passed. As you reflect, are you anywhere near where you thought you would be when you first arrived in Toronto?
Tavares: Coming here, I had an extremely strong belief — as I still do — in wanting to win the Stanley Cup and what is being built here with the foundation throughout the organization and with the guys that we have here. That is still the same — that same belief.
To try to project or think you know the way the journey is going to go or the challenges you are going to face… You are never going to know. You just continue to take them head-on as best you can, learn from them, and grow.
You would love to win the Stanley Cup every single year, but I still have an extremely strong belief in our group here that we can get to where we want to get to. We are continuing to grow and get better, challenge each other, and find our way.
You have a No-Movement Clause set to kick in. Roster changes are coming. Teams, from time to time, will approach players with NMCs and feel them out. What would be your response if that happened in your case?
Tavares: I love it here. I made a commitment here for seven years to be a Leaf. I want to be here. That is how I feel.
I love being captain and take that responsibility very seriously. I feel really fortunate and still think there is a tremendous opportunity here for our team in the near future and in the long run.
How do you feel your own playoff performance went?
Tavares: I think there were a lot of good things with my game. I got rewarded well in the first round and was a little snakebitten in the second round, but I still thought there were a lot of positives with my game, whether it was creating opportunities or just being good without the puck.
No doubt, there are always things to work on and things you want to be better at. You take responsibility, playing the role that I play on the team, to be better and to do more.
You reflect on that, use the time now to continue to see where you can be better through conversations today as well, and get back to work.
You spent some time on the wing this season. Do you think that might be something that will happen more next year? Do you still see yourself primarily as a center?
Tavares: I am open to whatever. I want to continue to evolve my game, find ways to get better, and adapt. Guys that play for a long time are able to do that. They adapt their game while still making their strengths really consistent and strong.
It is something I take a lot of pride in, being versatile. When I signed here, I knew as I get later in my contract and as I am getting older, those possibilities were there. At the time, I looked at the big picture of things and really had the mindset of continuing to be versatile and continue to be ready for that challenge and opportunity.
You likely thought you were going to play the Bruins in the second round. Going from playing a big favorite to an underdog, was there anything to it where maybe the team didn't take the Panthers as seriously?
Tavares: We definitely didn't overlook them or not take them as seriously. They just beat the best regular-season in league history. Also, how they did it was extremely impressive.
In the first few games, we kind of let them get away from us. We had plenty of opportunities to win those games. We were in control of Game 2. It put us in a tough spot heading to Florida.
It just shows the margins are so small, how detailed you have to be, and how well you have to execute in the Stanley Cup playoffs to ultimately be the last one standing.
When you see the Bruins, Tampa, Toronto, Edmonton, and the Rangers out, does it underscore even more how difficult it is to win the whole thing?
Tavares: Through my experience and being in the league as long as I have been now, I think you know it is extremely hard. That is just evidence of it. Any team that gets in has an opportunity to win.
How small the margins are, how hard you have to work, how disciplined you have to be, and how well you have to execute to be on the right side of those over a two-month period, even with the things that you accomplish all year long and build your game — it's clear how difficult that is.
It continues to be an evolution. We will use it as a learning experience for our group to get better from.
How much time do you take off before you get back on the ice, and what sorts of things will you work on in the summer?
Tavares: It is kind of different year-to-year depending on how you are feeling health-wise or maybe have other things going on at home as well. Traditionally, as I have gotten older, I have gotten back on the ice quicker and quicker. What you are working on — or what the focus is — is much different when you start than once you get close to training camp.
I don't anticipate taking too much time off. Obviously, I will get healthy, get feeling good, get back to baseline, and be ready to start my offseason program.
Were you healthy throughout the playoffs?
Tavares: Yes.