With Justin Holl and Luke Schenn set to hit the open market if they're not signed before July 1, Jake Muzzin's hockey-playing career likely over, and TJ Brodie and Mark Giordano entering contract seasons, it's time to take a look at some UFA options who could fill a need for the Leafs on the blue line for this season and beyond.
UFA Defense Options
---
LHD Dmitry Orlov – Let's start with the crown jewel of the defense market, veteran Russian D Dmitry Orlov. He was a marquee trade deadline pickup of the Boston Bruins back in February and played very well for the Bs, notching 17 points in 23 regular-season games before adding eight more in the seven-game defeat with Florida. His time in Boston showed off what Orlov does well: drive offensive play and munch minutes in a top-four capacity. He was a key piece of Washington's defense back when they won the Stanley Cup in 2018 (he played 24:12 per game in those playoffs) and still looked up to that task this season.
All of the above makes Orlov an attractive and logical fit for a Maple Leafs club that struggled defensively to push offense from their back end in the playoffs outside of Morgan Rielly. With Orlov in tow, they could have two pairs in the top four that both have a LHD capable of making things happen offensively. In my view, his defensive game has never been incredible, but he's not the massive eyesore at times that (regular-season) Rielly can be. There's no doubt Orlov is a very good player at this moment in time.
The question is how much longer that will be the case, especially when Orlov is rumoured to want a long-term contract. He turns 32 this summer, and although defensemen do generally age better into their 30s than forwards do, that's not ideal. Term was reportedly the issue in negotiations with Washington, leading to his trade, so the question here is how many years are you comfortable giving out?
Contract projections have Orlov pegged for five years at $6M, a deal that would cover his age 32-36 seasons (and Orlov may want more than five years). On a team that already has an older defense, is it a wise idea for the Leafs to splurge on that?
I tend to think not personally. Signing Orlov would be a rather short-sighted, extreme win-now move unless he ages remarkably well. It would be a gamble and a half for Brad Treliving to take, even if Orlov is a good player and would certainly help in the near term.
LHD Ryan Graves – The mammoth Graves is likely on his way out of New Jersey, who need to free up space for two blue-chip D prospects in Luke Hughes and Simon Nemec. The Devils already offloaded Damon Severson to make room and an exit for Graves is probably step #2.
Graves was a member of the Avalanche back when they entered their contention window — a young defenseman who led the league in plus/minus with a +40 in 2019-20. He was an expansion-draft casualty in 2021 when the Avs traded him to New Jersey knowing that Seattle was going to select him, with Colorado opting to get something in return rather than nothing.
Graves logged two seasons with New Jersey, taking on a legitimate top-four workload at even strength and a heavy role on the PK. Despite his low point totals and lack of PP time, Graves has consistently posted above-average offensive impacts, while his defensive grades out closer to the mean. Graves' most notable attribute is his 6'5″ size, but he isn't known for having a massive mean streak (only 28 PIM this year after recording 24 last year).
All of this is a reason to think that Graves could be a fit for the Maple Leafs, especially with Brad Treliving at the helm. Treliving's track record in Calgary suggests a strong emphasis placed on size on defense, and it's hard to get much bigger than Graves. With Mark Giordano on his last legs and Jake Muzzin fully out of the picture, there is a hole on the left side of the Leafs' blue line. Graves could step in and take a large load at 5v5 and the PK, allowing the Leafs to play TJ Brodie a little less and giving Toronto a new size dimension to its D.
Daily Faceoff has Graves projected for 5x$5M, which is a sizable deal, but that's the going rate for a top-four defenseman on the open market. He also just turned 28, so unlike Orlov, you're not buying up significant time into his mid-30s. While I think Orlov is the better player than Graves and likely the better fit for what the Leafs need, Graves also checks some boxes and would likely be a much smarter investment given his age profile.
RHD Scott Mayfield – The Leafs have some uncertainty on the right side of their defense in the long term. Justin Holl is likely out the door this summer, TJ Brodie showed durability concerns and signs of age this past season, while Timothy Liljegren and Conor Timmins are both young and not completely proven. All of that means that a trusty RHD could be of some use to shore up the uncertainty on Toronto's right side.
Here we find Scott Mayfield. The 30-year-old defenseman has been a rock-solid piece of the Islanders' defense for the past five years and now may be on his way to hitting the open market.
Mayfield would be an obvious Holl replacement except larger/meaner and a bit more penalty-prone. He's not the undisciplined mauler of Radko Gudas, but Mayfield did have 83 PIM this past season, and he weighs in at 6'5″ and 220 lbs. Similar to Graves, those traits are likely desirable to Treliving.
Mayfield's skillset is similar to Holl's: a RHD who can play heavy minutes at 5v5 and the PK and grades out well defensively with very little offensive touch. I am not sure much of that is due to the system in which he played in New York, but he does lack the offensive juice of an Orlov. No PP time will be in the future for Mayfield.
Daily Faceoff has Mayfield projected for three years, $3.75M. That's perhaps a tad high for a cap number, but it's nothing crazy. Turning 31 in the fall, three years is probably okay. You'd like to see the contract terms be negotiated downwards a bit from that projection, but it's in a reasonable realm for what you'd be getting for Mayfield: a legit top-four defenseman, but only in the sense that he's a pure number four just like Holl was for the Leafs. There's likely going to be a tax paid on his size and handedness, but if the price is reasonable, Mayfield fits a need.
LHD Carson Soucy – A theme of this piece has been big boys and Soucy is another one at 6'5″, 208 lbs. After ending up in Seattle via the expansion draft from the Minnesota Wild in 2021, he's been a regular for the Kraken over the first two seasons of franchise history and now is heading to UFA during the summer when he turns 29.
Size is the main calling card for Soucy, who is otherwise a generic third-pairing, defensive defenseman. A left shot, Soucy has the ability to play the right some as well, which may be attractive to some teams.
Of all the players listed in this piece, Soucy might be the most milquetoast to me. He's… fine. By no means is he a liability, but at his age and with 250 NHL games under his belt, he is likely not going to emerge as a top-four D. With that in mind, you're dealing with a third-pair D and those sorts of players are largely interchangeable, especially those that shoot left like Soucy.
Paying for Soucy is simply an indicator of the extent to which you value size over replacement. Treliving may well value it highly and those choose to sign Soucy over other options to play on a third pair, but the level of performance added from Soucy likely won't be anything special.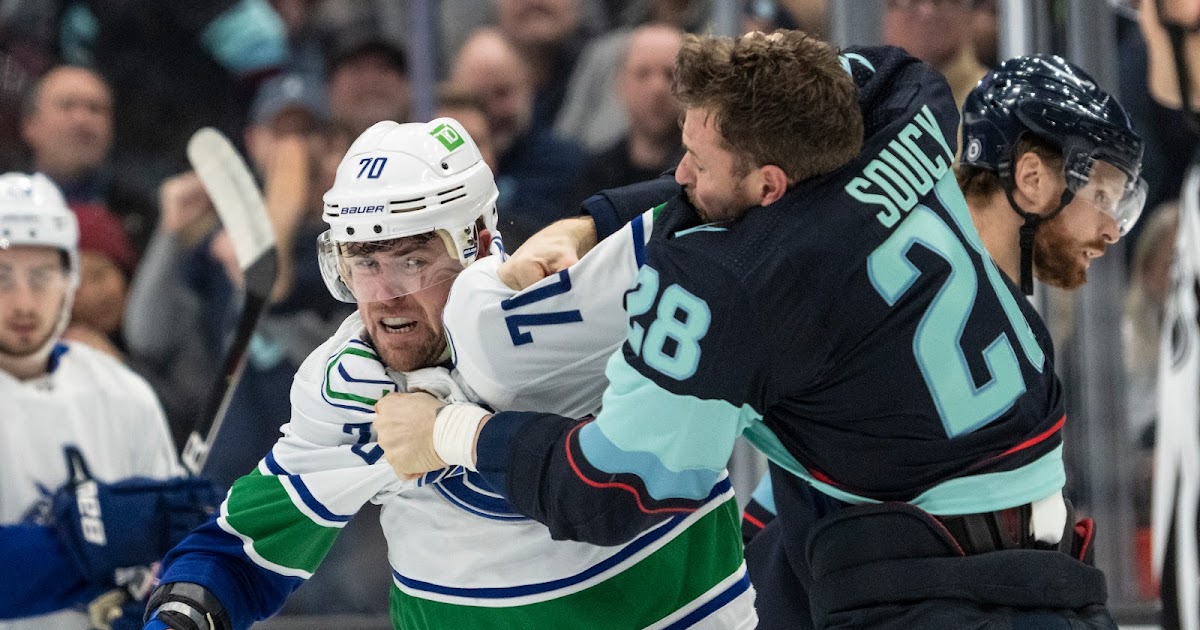 RHD Radko Gudas – If you want to pick a free agent signing from the team that knocked the Leafs out in the playoffs, Radko Gudas would probably be your guy. Gudas impressed a lot of people in the playoffs with his hard-nosed, physical style and he would definitely make the Leafs' defense meaner. Gudas is a hulking beast, plays the right side, and has plenty of playoff experience. His ability to leverage his size was evident in the way the Panthers were able to prevent screens from popping up in front of Bobrovsky. That particular trait would represent an upgrade over Holl in this comparison and is perhaps a reason to be intrigued.
Reasons to be less enthused about Gudas include his age (33) and the term that he may desire (contract projections suggest three or four years), especially when heavier players tend to magnify aging curves. Also, the role is important to remember when thinking about contract terms. Gudas is a 17-minute-per-night defenseman, not a 20-minute one, and that's a considerable difference. In 2022, when Florida possessed a deeper defensive group, they opted to play Gudas only 14.5 minutes per game in the postseason.
Given his age and possible aging curve, in all likelihood, you're signing a third-pair defenseman, not a top-four one if you ink Gudas to a contract. For me, three years, ~$3.5M is far too high for a third-pair UFA, especially when his value is sky-high after the playoffs.
RHD Connor Clifton – If you want to shore up the right side of the Leafs' defense with a buy-low, third-pair type option who is much younger than Gudas, Connor Clifton could be a possibility. The Boston Bruin was a fringe piece for the team for a few years before becoming a regular this season (78 games), although he was bumped out of the lineup in the playoffs (appearing in only three of seven games).
Clifton doesn't add the size through either height or weight that most of the options on this list would, but he played nearly 18 minutes per night this past season on the NHL's best regular-season team. That's attractive, as is his right-handedness. Squint at Clifton from a distance and you can see a player who can grow into a Justin Holl replacement for cheap.
If the Leafs have an interest in perhaps trying TJ Brodie on the left, he could be an option. Or if Timothy Liljegren is bumping up to the second pair full-time, Clifton could anchor the third pair from the right side. Perhaps my biggest question with Clifton as a Leafs target is what the plan for Conor Timmins is. If Brad Treliving does not see a real role for Timmins, Clifton would be a good buy. But if Timmins is an option for the third pair, I think there's a decent amount of overlap and such a pickup wouldn't make much sense.
Three puck-moving options: I will not devote whole sections to the following names because I don't think they are great fits for the Leafs' needs, even if they add offensive juice. However, here are the short summaries:
Matt Dumba: There's a decent amount to like about Dumba — a RHD with offensive ability, still in his 20s — but we're a fair bit removed from his 50-point year in 2018. The impacts have fallen off considerably in the meantime. With Dumba reportedly seeking a sizable deal, I don't think there's a fit in Toronto.
John Klingberg: The once-great Klingberg's star has all but burned out at this point. Klingberg is still a decent puck mover and can still play on a PP, but he's not as electric as he once was and his defense is so catastrophic that it doesn't make sense for a contending team, especially not one with Morgan Rielly on the roster.
Shayne Gostisbehere: Another player who was once more highly-regarded than he now is, Gostisbehere spent some time exiled in Arizona before he was dealt to Carolina at the deadline. He also has the offensive ability of the other players here. I think he may be the best fit of the three, but it's still tough to see the Leafs pursuing him given the redundancy with Rielly.
***
Further Reading