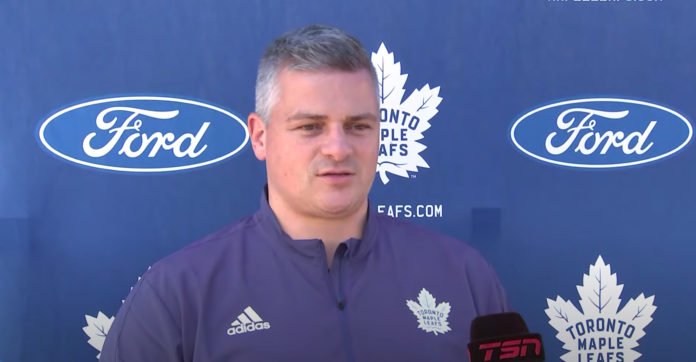 After Wednesday's practice, Sheldon Keefe discussed Tyler Bertuzzi's skill set, the faith the organization has shown in David Kampf, and the plan for Ilya Samsonov's workload in preseason.
---
Mark Giordano is going to be 40 this season. What have you seen from him in camp, and what does he have to do to keep him?
Keefe: Gio has looked good. In terms of taking care of himself, I think this is the best shape I have seen him in from a conditioning standpoint. That bodes well in terms of him being able to fight off father time a little bit.
Early in camp, he has been his competitive self. He has defended well. All of those things are great.
Regardless of what the number is, he was a top-four defenseman for us for what was a really good team in the regular season. He played a huge role for us — bigger than anticipated because of the number of injuries that we had. Up until the trade deadline, he was playing a ton of minutes for us against the other team's best players and doing a remarkable job.
Early on, he doesn't seem to have taken any steps in the wrong direction.
What is the key for Tyler Bertuzzi in order to click with Matthews and Marner?
Keefe: I think it is just getting familiar with the pace they want to play with. I think he knows who he is. He plays with good players. He meshes with them well.
If you track how things moved through the playoffs and the end of the regular season in Boston, he seemed to be finding himself alongside either Marchand or Pastrnak pretty consistently. Any time he was moved away from there, he seemed to find his way back.
A lot of times, those kinds of things aren't necessarily coach-driven. They are player-driven because the coach is getting some knocks on his door. That is what we think we have: a guy who is going to pair well with any players we play him with, but certainly, he is someone the best guys want to play with. He has great assets.
He doesn't get enough credit for his ability to make plays. If you go through the points that he accumulated in Boston, I don't know how many times he is finding seams and setting guys up for one-timers and open nets.
There are a lot of intangibles that come with Bertuzzi and Domi both, but to me, their playmaking ability is what I am most excited about. They make a lot of plays that can enhance their linemates.
David Kampf received a vote of confidence with his four-year contract. What have you come to appreciate most about his game?
Keefe: Reliability is the biggest thing. If you are a young player out there who aspires to have a career, find a role, and be a pro, work on being reliable first. Every coach or every team needs that. He is very consistent.
He wants to add different elements to his game offensively and he wants to grow that way — we, of course, would like him to as well — but he doesn't sacrifice who he is and what he is for our team in order to accomplish those things. It brings great value. It doesn't always get acknowledged. It doesn't come with great accolades.
It was nice to see him get rewarded with some security in a contract like that. He certainly is a valued member here.
What have you learned about Auston Matthews' ability to get better when he is already at the elite level?
Keefe: It is just a drive to be the best. He has got great athletic ability, obviously. Part of that is the ability to have something to focus on, work on through the summer, and apply it in-season.
From what I have seen over the years, he has been able to do that as well or better than anybody I have ever worked with. If you give him something or he himself feels something that he wants to improve on, he focuses on it and works on it through the summer.
He has had a good offseason in terms of his health. He hasn't been disrupted as some others have the last couple of years. Certainly, his ability to continue to improve — and most importantly, the desire to improve and not just settle — is a great asset for him.
Is there something you've noticed he has improved on in particular?
Keefe: I know there are a few things that he worked on. I don't know if it sticks out here yet. We have only seen one game. I just think he is skating really well.
He is also getting older here. I think he wants to fast-track this preseason and get playing for real. I think a lot of our guys feel that way.
From what I have seen from Auston, it has nothing to do with his on-ice play or anything like that. It is just that he is really focused and determined to lead our team. That is exciting.
Auston downplays the individual accomplishments publicly, but do you think it bothered him going from 60 goals to 40 goals?
Keefe: He didn't show it to me. I think this is an important thing. We have great players who are capable of great numbers; Auston is the MVP and all of these things. I really do think that our players individually know the responsibility they have.
They know they need to produce for their team. That is part of their job and part of their role. They are also just really focused on helping the team win — helping the team win in the regular season, helping the team to be great, helping the team stay present and value each day, and ultimately, helping us win in the postseason.
It is not just him but all of our players. I see a really focused and determined group. It has nothing to do with individual pieces. It is about helping the team win.
What is TJ Brodie's status?
Keefe: He is ramping up here. I could see him getting in on Saturday. We will take tomorrow off and then there will be another practice day. As long as he is feeling good at that point, it is looking like Saturday for him.
Brodie and Rielly together is almost a no-brainer for you probably. What do you like about that pair?
Keefe: Just reliability. They have been good together. We like the way the other pairs shake out as well. We have that pair that we can put out against anybody while we work on the chemistry with McCabe and Klingberg and Gio and Lily. Timmins and Benoit are still going to factor in here as well with lots of runway for them. We just like how those things shake out to start.
Ilya Samsonov said you sat down together and mapped out a plan for him prior to camp in the early going. What do you think the benefits are of getting him more individual work with the goalie coach?
Keefe: It is helpful. The goaltending position is such a technical thing. The more time they can spend together making sure that they can spend working together — making sure that they build them up in terms of the reps, the strength, and getting up to game speed before we put them in games — there is great value in that.
Because we play so many exhibition games, we don't feel like we have to rush him in there. There are so many minutes still remaining here in preseason. He had practice yesterday and today. We will take it from there. I think he will get in one of the games in Monreal this weekend and lots more next week as well.
What is Curtis McElhinney's role with the organization?
Keefe: I will leave that to [Brad Treliving] to speak to. I have talked with him a little bit. It seems like there is going to be an opportunity for him to get involved in some facet. I expect it is going to have something to do with goaltending, likely [laughs].
What is Dylan Gambrell's status?
Keefe: He has been diagnosed with a concussion. He is going to be out. You never know with those types of things. We will just take it a day at a time and see how he is. We don't expect him to be available in the near future.