Preseason is thankfully on the back nine, and the real NHL hockey is going to begin shortly.
Before then, there will be roster cuts, potential signings (hello, Noah Gregor), and a trade is always possible. Not only are the Leafs still sorting through cap issues, but they have an extra goalie and other teams (Tampa Bay) need real help between the pipes.
Here are some thoughts on what we have seen so far broken down by player tier:
Prospects
---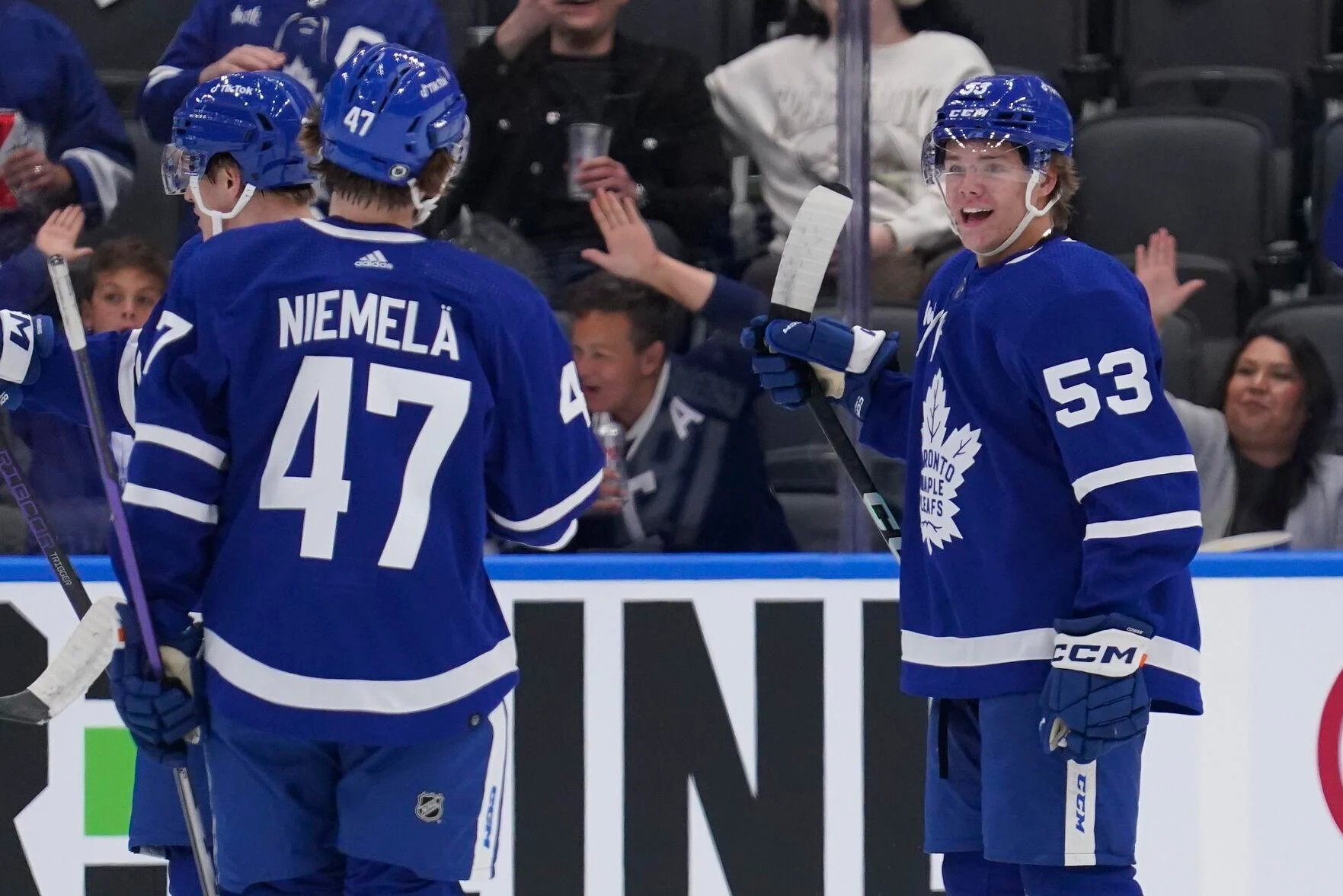 – We'll start with Easton Cowan, who has clearly been one of the Leafs preseason stars. He was always known for the skill and feistiness in his game, but what has leaped off the page is his speed. He has beaten defenders wide multiple times, including drawing a penalty shot. He did not look out of place on the penalty kill against actual NHLers vs. the Canadiens. He already has a deceptive stick-checking move to retrieve pucks.
If nothing else, this should quiet some of the chatter that erupted after the Leafs "surprisingly" drafted him in the first round. A good preseason also means little in the big picture, but it's worth repeating now what we said after the draft: Cowan was a late birthday in this draft class and got progressively better last season in London, culminating in a big playoffs. He's skilled and produced when it mattered most. That is a player worth betting on.
It's also noteworthy that he has been playing center and did not look out of place. I wasn't sure he had it in him (playing C), but he has shown well there. That has been a pleasant surprise.
– Fraser Minten also turned in a really nice preseason and will also have at least one more opportunity to show what he can do. He looks bigger than the listed 6'1 out on the ice and patrols the middle of the ice as a center should, battling low and using his body to win pucks. He went from 55 points in 67 games to 67 points in 57 games over the last two seasons. You'd like to see him take a step up from there and dominate offensively. He was third on team scoring and two players ahead of him will be graduating, so the floor is his. He did score in preseason on a 2v0, but he wasn't threatening much from distance with his shot or beating defenders off the rush. That's the next step, but overall it's been a promising showing. He showed some nice chemistry with Knies. 
– It was nice to see some youth flash promise in the preseason, and it's also a good reminder as to why you'd like to see the organization do a better job of managing/balancing draft picks with their mission to win right now. They simply haven't drafted much lately, selecting 11 players of the available 21 allocated to them over the past three drafts combined. The organization should be trying to win – I have advocated for as much over the years – but when you have one playoff series victory to show for it and not a lot of depth in the pipeline, it's a tough pill to swallow.
Toronto Marlies
---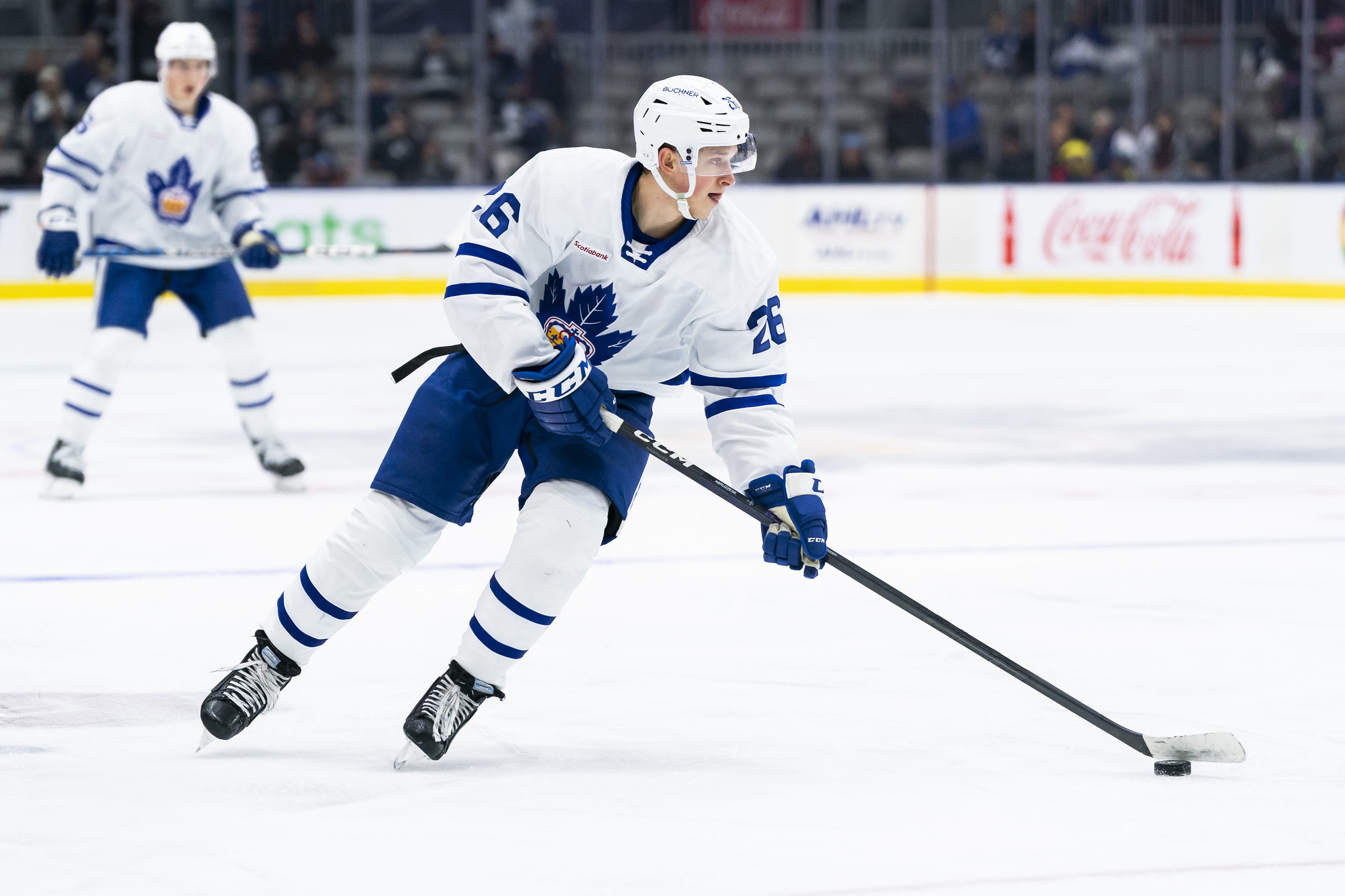 – The most notable prospect on defense for the Leafs is probably Topi Niemela, who I am putting in this bucket instead of the prospect one since he has already played with the Marlies and has been sent down. He definitely flashes skill with the puck and walks the line well. He has a fake shot play that was nice to see, and he even got involved in a few skirmishes after the whistle while trying to assert himself.
Niemela needs time on the Marlies, though, to work on his defensive game. He is on the smaller side and looks like he uses a short stick to make plays, so he doesn't have much for a reach and had trouble handling players in tight on the wall and in front of the net. We will see how some time in the American league will develop his game.
– Roni Hirvonen stood out when he got some power-play opportunity and there was more time and space for him to work with, but at 5v5, he struggled to really create much or get the puck to the dangerous areas. It is often the hardest adjustment for shorter players, especially those used to playing on bigger ice surfaces in Europe when it comes time to play in the NHL.
– Nick Abruzzese made a few plays and certainly looked comfortable in the preseason with some NHL games under his belt, but it's tough to work out what exactly he is. He is reasonable defensively and made some plays with the puck (including an area saucer pass to Conor Timmins, who ripped it off the bar), but nothing about his game is really above average. It is very difficult for that type of player to stick in the NHL. You need to have something in your game that separates you.
– Similar sentiments apply to Alex Steeves.  
– It's been a nice camp for Mikko Kokkonen, who has put himself on the map with the coaching staff (Sheldon Keefe called him the surprise of camp). Unlike at forward, it doesn't take a standout skill to perform well on defense. He has generally been solid. He's made good reads with the puck, and he hasn't been caught out of position too often. He's even tried jumping into the attack a few times. He played games in the ECHL last season and is sticking around NHL camp. That's great growth, but now he needs to put together a full, strong AHL season.
Bubble Players
---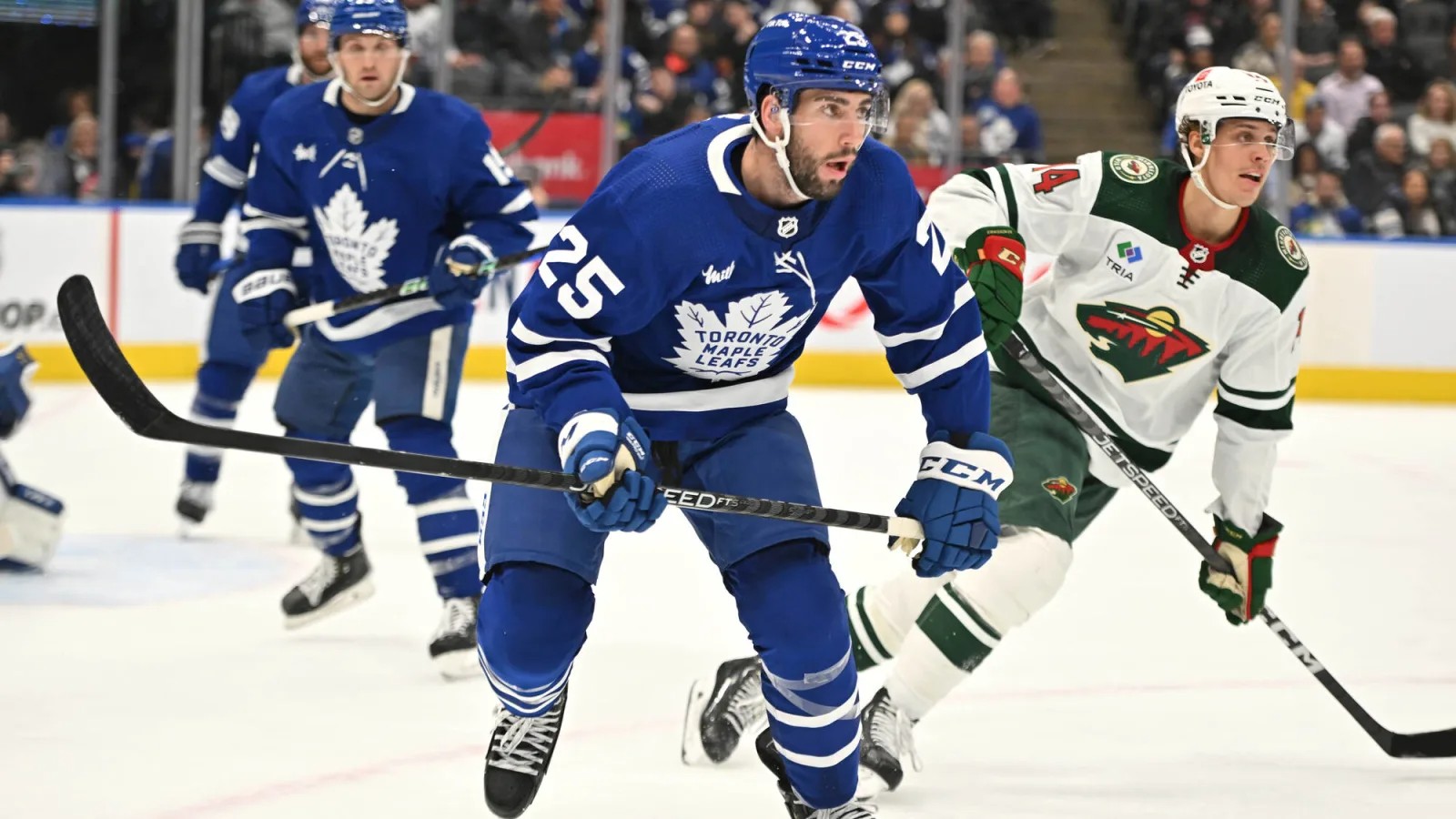 – I am including Matthew Knies here because technically he is waiver-exempt, but he has left no doubt. It's been a great preseason from Knies, who flashes real power-forward moves. He has a great stick lift, but I hope he doesn't revert to it vs. taking the body. 
– When I wrote about keeping Conor Timmins in the summer, I was surprised at some of the responses I received that were all too happy to risk losing him on waivers. He is in his mid-20s, but he has barely played. The size and skill are evident. The Leafs were finding him up for set plays to tee up his shot. He was obviously very productive before getting hurt, but once again, he got injured and when he played, some of his defensive details needed work. The best ability is availability, and he hasn't shown it. But he's clearly a worthwhile project. That is very obvious, even if it's just preseason and the type of setting in which we would expect him to excel (there isn't much defense being played).
– It's been back-to-back good preseasons for Nick Robertson, who took 20 shots on net to score a goal this time around. He is constantly hunting shots and creating. His skating looks improved; he is not hunching over nearly as much. His goal was a thing of beauty in terms of how he drove the net and protected the puck. If everyone is healthy to start the season, he almost certainly won't have a spot, but Robertson as the first call-up and half a forward group that can capably play center makes for really nice depth.
– Noah Gregor should clearly be signed to a contract for the season. His speed stands out and he fits as a depth player who can forecheck and make some plays with the puck. He has at least flashed on the penalty kill. Good on him for coming into this camp and leaving little doubt. Hopefully, this can be sorted contractually. 
– I mentioned it already, but it's been a very vanilla training camp for Pontus Holmberg. There is nothing obviously bad in there, but there's also been nothing that has declared that he should be here and take someone else's job. I imagine we will see him in the NHL at some point. Can he produce like something more than a depth center?
– I don't mind Simon Benoit – he plays within his limits – but in his two games against the Habs, he was not exactly banging the door down for an NHL job. I will mention that this is the type of hockey that does not do him any favours – wide-open, low-intensity preseason hockey. Jordie Benn jumped into the lineup at one point last season and looked good on the Leafs' blue line.
– Martin Jones was never going to push Joseph Woll to the waiver wire, but he has still put in a good preseason and been a true pro. He is an ideal third-string goalie with legitimate NHL experience. In a perfect world, he's in the organization, but looking around the league, we have to imagine someone will want him. We will see how Brad Treliving plays it.
The NHLers
---
– The top nine is oozing talent, but there's one player in the group that stands out as not necessarily a skill guy: Sam Lafferty. So far though, he looks completely fine in that role. His speed is his biggest weapon. He's made some nice small-area plays with Knies (who makes it easy – he is so good in the corners) and can keep up with him off the rush. He had a nice breakaway finish against the Sabres, too. This is a big opportunity for Lafferty.
I should also note there were times defensively when Lafferty was playing center and Tavares was playing wing. It could help Tavares in that department. It's not that Tavares is bad defensively, but less responsibility allows him to push a bit more for offense.
– I don't mind William Nylander at center at all so far. It's a good challenge for him. Max Domi gives him a legitimate playmaker to make plays with and play off of. The offense might dip slightly, but I find him more engaged in the game in the middle of the ice. 
– The Tyler Bertuzzi – Auston Matthews – Mitch Marner trio is obviously good and can be mesmerizing. If anything, it just feels like they've gotten too cute at times, but it's also preseason, so I'm willing to shrug that off until the real games start. It also feels like they are trying to sort out who goes where in the zone. 
– I like what Jake McCabe brings defensively and as the Leafs' only defenseman with some snarl, but he really struggles with the puck and making reads on the breakout. 
– I would like to see Timothy Liljegren pushed into a top-four role. He has flashed promise in a matchup role and alongside Rielly in spurts, but at some point, they just have to ride it out in its entirety. The ability is clearly there.
– It doesn't ever really seem to get enough love, but John Tavares looks as dangerous as ever now playing with Knies and Lafferty. He has had a few seasons now in Toronto where he started hot and fizzled a bit during the grind of the season, but maybe they will be able to lower his ice time this time around with the newfound depth (it seemed to be the goal last season, but they started slow, there were injuries, etc).
Spare Thoughts
---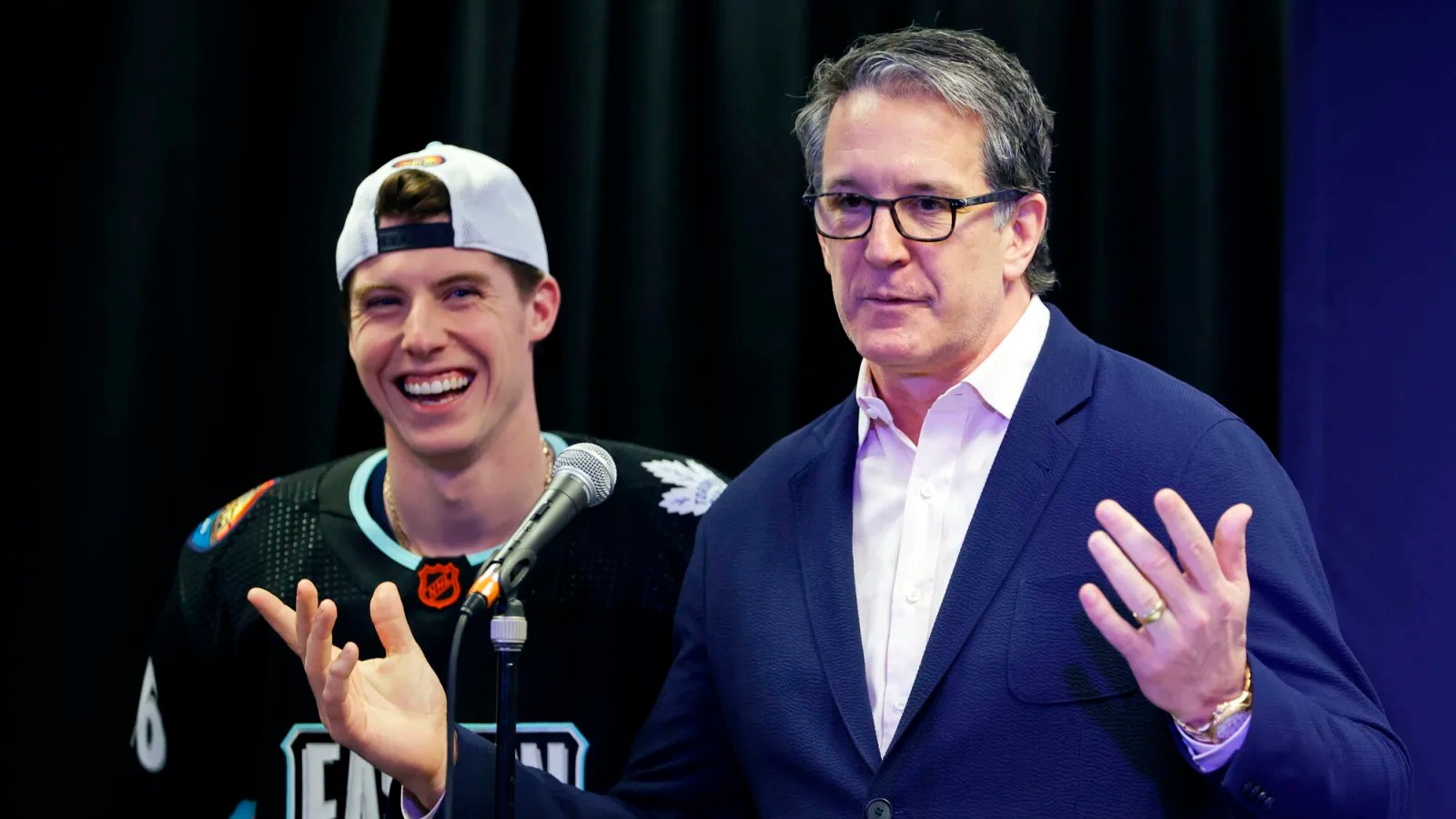 – I don't think it was nothing that Brendan Shanahan was in the press box watching the Leafs vs. Habs game alongside Brad Treliving. Shanahan was notably absent last season, and we all know how it ended. For all the talk of some mass exodus that would follow Kyle Dubas out the door or the dysfunction to come in the fallout of his departure, this has been a very nondescript preseason. There hasn't been any drama. It has been business as usual. I'm surprised we're still hearing loose references in the media about this team teetering on becoming a clown show.  
– This looks like the deepest Leafs forward group assembled in recent memory with the way Knies is performing. That would give the Leafs eight of their top nine forwards who are legitimate "creators" (can score and make plays). It gives Keefe legitimate options that he has never really had at his disposal before. It's no longer a conversation about playing a Pierre Engvall, Alex Kerfoot or Ilya Mikheyev should top players run cold.
Those conversations have always been about the principle of the matter (i.e. if player doesn't have it on a given night, go with someone else, even if they generally can't create much). Now there are options such as Domi, Knies, or Bertuzzi. All are capable of getting hot in a game and taking it over. All are skilled enough to justify riding with them for bigger minutes if need be. In fact, if those forwards are going, it would be hard to justify sitting them. It will be interesting to see how Keefe manages all of it. 
– The other point worth mentioning in this regard is managing all the skill and balancing it against playing good team defense. Last season, Keefe really got his forwards to buy into checking. They were a driving force in the Leafs' strong defensive numbers (seventh in goals against per game). Do they do the same this year or open it up a bit more offensively? They were ninth in goals per game last season, for reference.
– This team should possess a three-line attack that comes in waves followed by an annoying, energetic fourth line. If they can find a groove, it should be three lines capable of controlling play, building off of each other, and creating chance after chance.