After pulling the game from the fire against Montreal on Monday, the Maple Leafs are looking to clean up the individual mistakes (i.e. three ugly turnovers leading directly to goals) when they welcome the Minnesota Wild to town for the first Saturday night HNIC matchup of the season (7:00 p.m. EST, Sportsnet/CBC).
Statistically, the Minnesota Wild played the single worst game of the young NHL season so far in terms of their five-on-five performance: shot attempts were 58-27 (!), shots were 28-11, and scoring chances were 27-14 in favour of the Florida Panthers in their season opener on Thursday night.
The Wild won the game 2-0.
Quietly one of the best goalies in the league last season by the numbers, Filip Gustavsson was sensational in turning aside all 41 Panther shots for the shutout. A seeing-eye point shot from 57 feet away on the edge of the blue line by Brock Faber — in his third NHL game — stood up as the game-winner, and a power-play goal from Joel Eriksson-Ek provided the insurance marker.
If the Wild have their way with their preferred style of play, this game will be played much differently than the Leafs' frenzied battle against Montreal on Wednesday — less rush opportunity, a harder grind getting to the opposition's net.
The Wild were one of the league's best defensive teams and worst offensive teams at five-on-five in 2022-23, limiting even-strength high-danger chances against more effectively than anyone except the Carolina Hurricanes and posting the second-best save percentage in the league at five-on-five behind only the Bruins.
There have been public statements from the Wild brass about wanting to find a happy medium between the more offensively vibrant team of 2021-22 that scored 3.72 goals per game but conceded over three per game and the 2022-23 iteration that scored just 2.91 (23rd in the NHL) but kept pucks out of the net at an elite rate. Personnel-wise, so much landed on a few key scorers last season (Kaprizov, Zuccarello, Eriksson-Ek, Boldy), only one of which is an elite goal scorer (Kaprizov). The Wild had just four players score more than 40 points in 2022-23.
It's difficult to see them suddenly scoring in the top half of the league without something along the lines of another monster (healthier) year from Kaprizov, Boldy taking another big step forward in his third NHL season, 2020 top 10 pick Marco Rossi finally piecing it together at the NHL level (just one point in 22 games), and rookie Brock Faber upping the offensive contribution from the defense.
On the Leafs' side of the matchup, no lineup changes are expected after Wednesday's season-opening shootout win. In the last meeting against Minnesota, Toronto managed to grind out a 2-1 win in overtime (winner from William Nylander) on home ice in a game in which the shots were 25-24. Early season games are unpredictable, but if a similar type of game is in store, it could prove to be a good test of how well the Leafs are able to dial into their structure and stay patiently offensively early on in the season — even if it wouldn't make for the most thrilling first Saturday night HNIC of the year.
---
Game Day Quotes
Wild head coach Dean Evason on his team's performance in its season-opening win over Florida:
We played against a really, really good hockey club that put a lot of heat on us and had a lot of good opportunities. What we were encouraged with reviewing the video is that there wasn't that second and third opportunity. We found sticks. We found bodies. We got people away from our net.

[Gustavsson] smothered a lot of pucks. You're able to do that because they are not bouncing around. You see everything, and he has a lane. Our group did a real good job — not just the defense but the forwards as well — of getting sticks and bodies away from the front of the net. We have to continue to do that.
Sheldon Keefe on the challenge presented by the Wild:
They play hard. They get on top of you quickly. They forecheck well. They defend hard. I expect it to have a different feel from the game the other night, but we will be prepared for that.
Keefe on the message to Fraser Minten and Matthew Knies as they continue to acclimate to the league:
Just continue to progress. Through preseason, both of those guys looked really comfortable and confident. As things build and the more [the media] talk to them, you can understand that more gets into their head aside from just playing. That is natural.

With more time, that stuff should settle. We had another practice day yesterday with a chance to clear their head and just get back to it.
Keefe on the key for Max Domi finding success with the Tavares-Nylander duo:
It is just learning more about them. I have talked to Max a little bit about that. Max, a lot of times, can be a puck-dominant guy. He has the puck, he is a playmaking guy.

When you play with Willy, in particular, he is a puck-dominant guy. He is going to have it a lot. Now, you have to find your space on the ice and find your role on the ice off the puck in the offensive zone for sure.

There are a lot of ways we will see those two guys — Domi and Nylander, specifically — connect on the rush. I don't expect there is going to be a whole lot available on the rush against this team we are playing tonight, but I expect that is where we will see those guys really connect.

The offensive zone stuff is going to continue to take time.
---
Head-to-Head Stats: Maple Leafs vs. Wild (2022-23)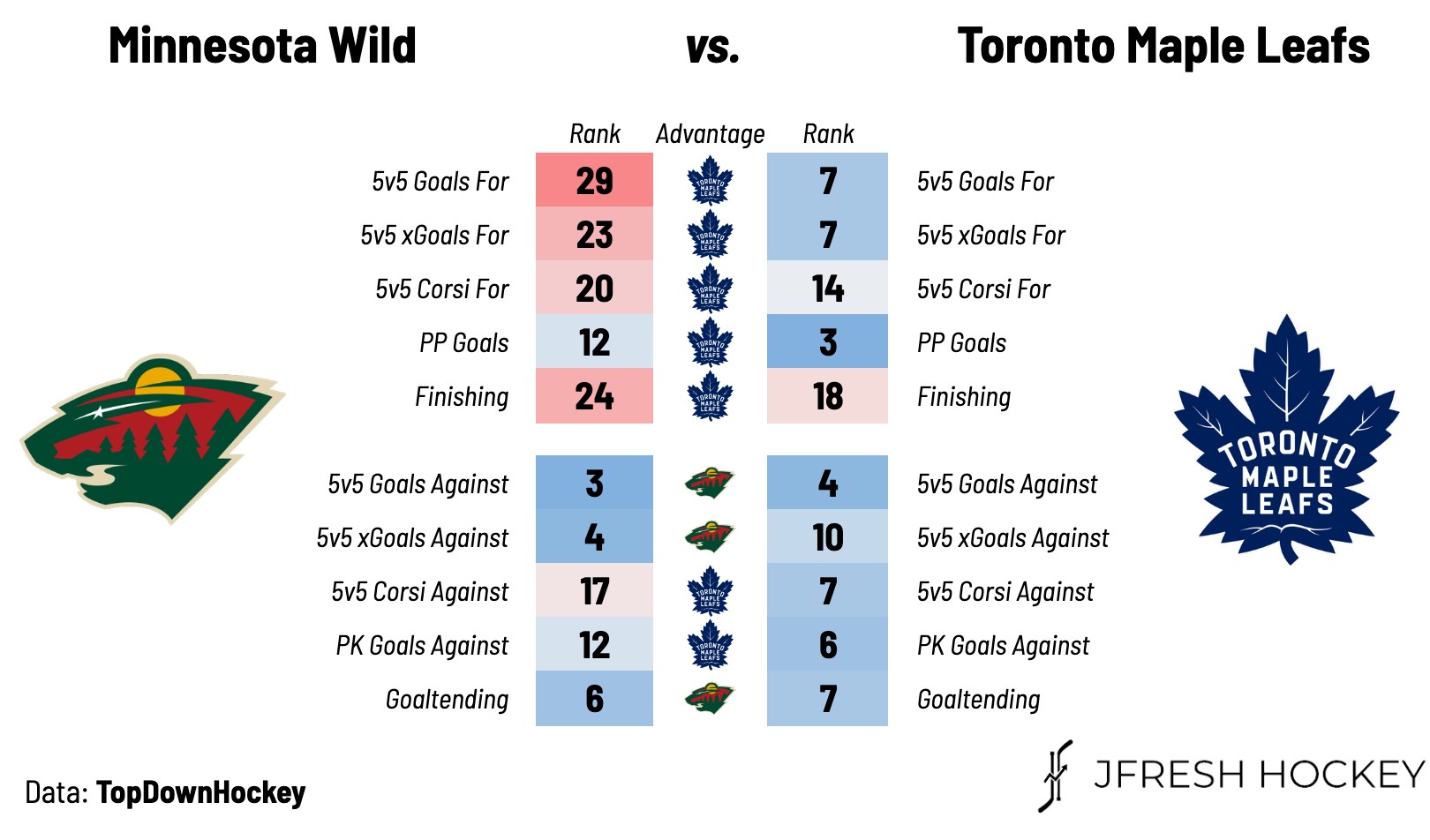 ---
Toronto Maple Leafs Projected Lines
Forwards
#59 Tyler Bertuzzi – #34 Auston Matthews – #16 Mitch Marner
#11 Max Domi – #91 John Tavares – #88 William Nylander
#23 Matthew Knies – #39 Fraser Minten – #19 Calle Jarnkrok
#18 Noah Gregor – #64 David Kampf – #75 Ryan Reaves
Defensemen
#44 Morgan Rielly – #78 TJ Brodie
#22 Jake McCabe – #3 John Klingberg
#55 Mark Giordano – #37 Timothy Liljegren
Goaltenders
Starter: #35 Ilya Samsonov
#60 Joseph Woll
Scratched: Simon Benoit
Injured: Conor Timmins
---
Minnesota Wild Projected Lines
Forwards
#97 Kirill Kaprizov – #38 Ryan Hartman – #36 Mats Zuccarello
#90 Marcus Johansson – #14 Joel Eriksson Ek – #12 Matthew Boldy
#17 Marcus Foligno – #23 Marco Rossi – #89 Frederick Gaudreau
#20 Patrick Maroon – #26 Connor Dewar – #21 Brandon Duhaime
Defensemen
#25 Jonas Brodin – #7 Brock Faber
#5 Jacob Middleton – #33 Alex Goligoski
#4 Jon Merill – #2 Calen Addison
Goaltenders
Starter: #32 Filip Gustavsson
#29 Marc-Andre Fleury
Injured: Mason Shaw, Jared Spurgeon