It is tempting to write a lede that involves the Leafs, Halloween, and this game turning into a horrifying performance, but the truth is that this type of night was a little while coming.
The Leafs have been a middling five-on-five team so far this season. Tonight, they played a high-end team and it did not go well.
Toronto has yet to find a proper rhythm rolling their lines, and the top line of Auston Matthews and Mitch Marner has been less than impressive. The Leafs' special teams have helped them on many nights, but in this game, they actively hurt them across the board. Add in the 5v5 struggles, and it's not exactly a recipe for success. 
The end result was a 4-1 loss really lacking in energy.
Your game in 10:
1.  It was a sleepy start to this game for the Leafs, who didn't really come out looking to impose their will on the game or dictate play on home ice. There was a half chance for John Tavares in front created by a William Nylander centering pass, but there was a defender on Tavares, who missed the puck. The Leafs' other three lines spent most of the time in their own end.
The Kings didn't create much of anything at the other end of the ice. Toronto caught an early break as Kevin Fiala took a needless penalty in the neutral zone on a nothing play, giving the Leafs an early power-play opportunity to take the lead (an area they've excelled in to start the season). Tonight, though, the power play wasn't particularly dangerous.
Nylander's one-timer that missed the net was about the extent of it. The Leafs didn't put a shot on net. There was some perimeter passing and a clearance followed by the second unit struggling to gain the zone. That turned out to be a real issue…
---
2.   With the penalty expiring, the Leafs were attempting to break into the zone as Morgan Rielly hit Calle Jarnkrok with a pass before Jarnkrok tapped it over to Max Domi, who was at the blue line. Rielly kept going after making the pass, skating into the zone while presumably expecting the puck to be chipped to him.
Instead, Domi stopped up and tried to make a play at the blue line, turned it over, the Kings went up ice, and Tyler Bertuzzi closed on Dubois on the backcheck. Dubois chipped it to Andreas Englund, who put a weak attempt on his backhand to the net that deflected off of Mark Giordano's stick and in as Giordano went down to the ice.
There are two things to note here. The first is Domi making a high-risk, low-reward type of play at the blue line. He has to recognize Rielly is jumping in deep there and make a real play with the puck instead of trying to be cute as a Hall of Famer in Anze Kopitar bore down on him.
The second is Giordano going down to the ice. I was surprised he was even on the power play over Timothy Liljegren in the first place, and then he played what was basically a 1v1 rush against a journeyman defenseman by leaving his feet. What was he concerned about? If he lets Englund backhand it on net, it's a free faceoff.
---
3.  The David Kampf line went out on the ice after the goal and Matthew Knies was trying to make things happen, but he didn't have the linemate support to create. After some empty-calorie shifts on both sides, the Kings put out the Phillip Danault checking line for an offensive-zone faceoff.
Keefe tried to counter by squeezing in a fourth-line shift, but Noah Gregor's stick broke. When he went to grab a new one — many teams will tell their forwards to just fetch a new stick, especially when it's in the first or third period and they aren't on a long change — Trevor Moore spun off Timothy Liljegren and found Danault at the backdoor for a tap-in.
Liljegren over-committed on the play, leaving way too much space for Moore to spin off of him and create a free lane to the net, even if he was on his backhand. On the broadcast, Mike Johnson mentioned Ryan Reaves regarding the missed assignment on Danault, but it was really on Pontus Holmberg. No team is asking their far-side winger to be down at the crease covering the backdoor play. That's not how defensive-zone coverage works.
Holmberg was in the middle of the ice and was caught trying to play the puck instead of covering a man. His head snapped back immediately after the goal. He knew.
There was still plenty of time in the period after the Kings went up 2-0, but the Leafs didn't create much. The Kings ground on them in their own zone and made it difficult for them to create anything off the rush. Their best chance was a William Nylander solo effort involving a nice toe drag.
---
4.   The Leafs started the second period with some jump. Tyler Bertuzzi had a good shift early with a chance in front and a nice tip on a Mark Giordano shot. Matthew Knies just missed connecting on a one-timer pass from Max Domi. Auston Matthews and Morgan Rielly worked a nice give-and-go that Rielly fired too high.
At the other end, Joseph Woll made a huge save on Arthur Kaliyev to keep it a two-goal game. Shortly afterward, the Leafs went to a power play, and again the effort with the man advantage was meek.
The power play has been their lifeblood so far this season, but tonight, it really let the Leafs down. They had one shot on net — a Tavares shot at the top of the circle with nobody screening the goalie and tons of space in front of him to skate in for a better play. John Klingberg had another good opportunity to shoot afterward but once again saw his shot deflected wide.
The second unit has produced some nice moments this season, but they were a nonfactor in this one. There are good players on the second unit — which is why they have created some offense — but they have no real identity as a unit. I'm not really sure what a second-unit power play goal is supposed to look like other than individual players cashing in.
---
5.  Of course, when the Leafs didn't cash in on their power play and shortly afterward took a penalty of their own, the result felt rather predictable.
The penalty on Tyler Bertuzzi was a particularly poor call. It was a one-handed tap above the knee. Either it's a dive where the ref takes both to the box or it's nothing, but it's not a trip.
As for the goal itself, there wasn't a ton to it. After the Kings put it in deep, Timothy Liljegren was the first man in and lost the battle. He looked hesitant around the physicality of the play. Matt Roy rocked him a few shifts earlier, and he was already coming home hurt from the road trip.
All Liljegren needed to do was chip it behind the net to Morgan Rielly, who was wide open to clear it. Instead, the Kings grabbed possession and the puck worked its way to Kaliyev, whose calling card is his shot. He ripped one off the post and in to make it 3-0. Joseph Woll was dealing with traffic in front of him and appeared not to see it cleanly.
---
6.   Right after the 3-0 goal, the Leafs went to another power play, and there was some real urgency to score on this one.
For really the first time of note this season, the coaching staff moved Morgan Rielly back to the top unit. Immediately, the Leafs created a great scoring chance as the puck was worked to John Tavares on the goal line, where he walked in untouched for a great chance that he would normally bury. They didn't score this time, and then a second unit with John Klingberg and Timothy Liljegren on it came over the boards. They produced their best shift of the game, but they still weren't able to break through.
The Leafs really needed the power play to come through at this point. They were halfway through the game, down 3-0 on the scoreboard, and 0/3 on the power play. Additionally, one of the LA goals came immediately after a Toronto power play, and the Leafs gave up a power-play goal to the Kings to boot.
---
7.   Sheldon Keefe responded as he usually does by putting together a top line of William Nylander – Auston Matthews – Mitch Marner. Immediately, Marner took a poor angle on a puck — he tried to go under the Kings forward instead of angling him off — which led to a Kings 2-on-1. The puck went back down the ice, where Matthews and Nylander worked a nice give-and-go for a scoring chance.
The line shuffle created a second unit of Tyler Bertuzzi – John Tavares – Calle Jarnkrok, who were totally dominated by the Kings late in the second period. The fans at the SBA booed and Bronx cheered when the Leafs finally got the puck out of the zone. They spent over 2:45 straight in their own end to finish the period.
---
8.   To start the third period, the lines were a bit all over the place. The best scoring chances the Leafs created were a Matthew Knies saucer pass to David Kampf down low (Kampf finished tied for the team lead in shots on net with five, which is a problem in and of itself) and a John Klingberg shot that actually made it through traffic.
It didn't really feel like the Leafs were going to make much of a push, and an undisciplined penalty by Max Domi made it even more unlikely after he gave Matt Roy a few jabs and was called for roughing.
It looked like a frustrated player who committed a bad giveaway leading to a goal against; a player who is not creating much offense much less actually producing.  At that stage, Domi should get his money's worth, get in a fight, or don't do it at all. It's just a terrible penalty to take.
The Leafs killed it off, went to a power play of their own, and quickly scored as John Tavares walked in with a ton of space. William Nylander was standing in front, but Cam Talbot had a clean look at it. He simply got beat by a great shot.
---
9.   The goal gave the Leafs some life and the crowd was into it for a few consecutive shifts for seemingly the first time all night. The William Nylander – Auston Matthews – Mitch Marner line remained intact. Interestingly, the second line was Matthew Knies – John Tavares – Max Domi. Keefe started double-shifting those two lines, although I'm not exactly sure what they did to deserve it.
The Matthews line then conceded a goal to ice the game. John Klingberg lost it on the wall, Matthews did a flyby, and at 4-1, it was all but over.
Even after the 4-1 goal, the next line out was Noah Gregor – David Kampf – Calle Jarnkrok, so Tyler Bertuzzi was effectively benched, although I didn't see anything egregious enough to believe he was the one who should be singled out tonight. I have no issue with Bertuzzi getting benched in general, but the double standard is tough to swallow.
---
10.   William Nylander put five shots on net in this game and was the only Leaf who really created much of anything. John Tavares recorded four shots on net and led Leafs forwards in ice time. Auston Matthews made a few solo attempts but received little support and played 18:43.
Mitch Marner played one less second than Tavares at 19:24 and truly did not accomplish anything. This was a very sensible situation in which to bench him, plain and simple. The fact that he picked up an assist after this game was all but over was honestly infuriating more than anything else. He didn't deserve the ice time much less the point.
Marner is a lot better than he has played this season, and at some point, he will pop off. In the meantime, he shouldn't be trotted out without any form of accountability when he is playing well below the expected standard. Apparently, though, #16 is immune to a benching.
---
Game Flow: 5v5 Shot Attempts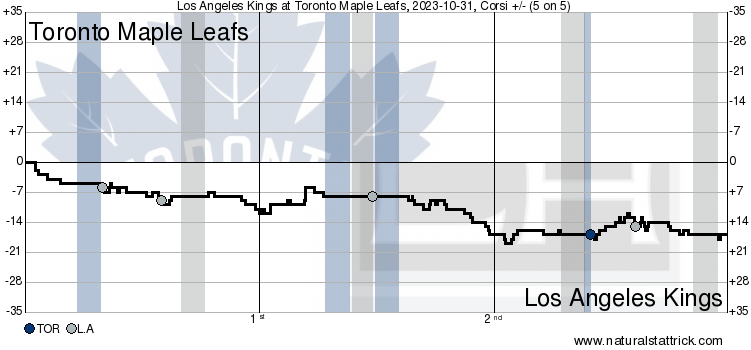 ---
Heat Map: 5v5 Shot Attempts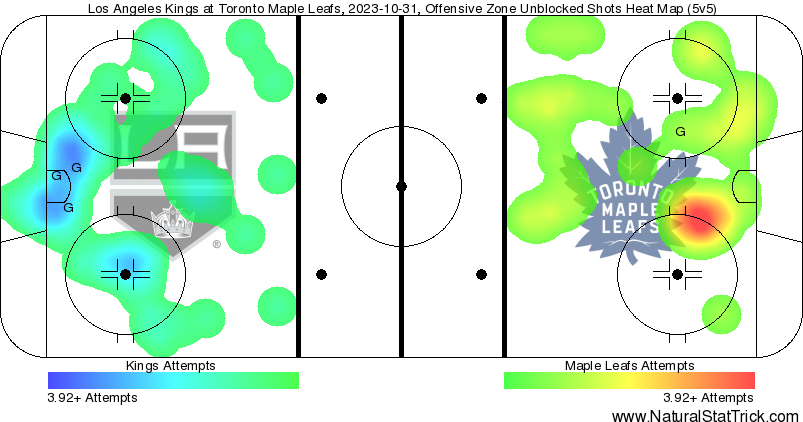 ---
Game Highlights: Kings 4 vs. Leafs 1