Nothing like back-to-back wins before a week off to quiet down the Toronto market. 
Much more significant than the wins, though, was the recipe that started coming together in the process. A third line emerged. The second line is a real threat, led by a 15-game point streak to start the season from William Nylander. For one game against Vancouver, even the fourth line showed signs of life. 
On defense, Jake McCabe returned, and while there are still issues on the blue line, his return alongside the surprisingly strong play of William Lagesson and Simon Benoit has at least somewhat settled the situation down. 
This Leafs team has traditionally started slow, but after losing to Ottawa, Sheldon Keefe was right to point out, "This is different than some of the things we have gone through in the past. The group has to really pull together here."
There was real urgency to respond in the next two games. Not only did they respond, but there were clear signs of a formula coming together that could be carried forward for sustained success.
Extended notes on that and more below.
Notes
---
–  Tyler Bertuzzi hasn't boasted the eye-popping numbers many fans anticipated so far, but he has really started to gel with John Tavares and William Nylander. It is becoming a formidable trio.

At five-on-five, they have outscored opponents 5-3, but they are tilting the ice heavily with nearly 58 percent of shot attempts, just under 59.8 percent of expected goals, and 64.4 percent of scoring chances. They are doing it while only taking just two more faceoffs in the offensive zone compared to the defensive zone, with Tavares currently taking his lowest percentage of offensive-zone faceoffs as a Leaf.

In each of the last two seasons, the most common linemate for Nylander and Tavares was Alex Kerfoot. Back in 2020-21, it was actually Alex Galchenyuk (followed by Kerfoot). In both of those seasons with Kerfoot, they were ultimately dead even in goals scored and allowed. With Galchenyuk, they actually outscored opponents 11-7, but for a litany of reasons, it never passed the smell test (the futility of the all-Canadian division, Galchenyuk's general ineptitude).

Even though we could somewhat argue the early success of the line is on the back of Nylander's lights-out start, Bertuzzi has another offensive gear to reach to balance it out (plus, Nylander is a star, and this is what stars do). 
---
–  Against Vancouver, Tyler Bertuzzi made a number of simple little plays that often go unnoticed.
On William Nylander's goal that went off Tyler Myers and in, Bertuzzi gave Myers a shove; I'm not entirely sold Myers wanted to go down on his knees to block that puck, but even if he did, Bertuzzi certainly helped him on his way. Sheldon Keefe has started using this line to open periods – the top line is not particularly good at it – and on the first shift of the third, the puck went below the goal line as Nylander wrapped it down the wall. Bertuzzi out-muscled Hronek, freeing up the puck for John Tavares to swoop in for a good wraparound chance. Up one, on the first shift of the period, Bertuzzi created a chance with his size and strength.
In the same game, there were some in-zone possessions where Bertuzzi rimmed passes around the boards to Nylander on the other side of the zone. It's a little thing, but it's something Nylander loves to do for spacing. Bertuzzi is starting to understand how to play with his two linemates, and he opens space for the other two to create when he's winning a lot of pucks and keeping plays alive. From there, he goes to the net and creates havoc.

Kerfoot brought speed, but he couldn't produce, and he definitely wasn't going to outmuscle opponents and win battles in the trenches. Long-time readers of this column will know I have argued against the Tavares-Nylander pairing for quite some time – on the whole, it just wasn't a particularly strong line that tilted play in the Leafs' favour consistently – but it's different with Bertuzzi there. He is skilled enough to make plays with them and command the respect of defenders, and he is strong enough to create space and pose a real problem on the forecheck and in front of the net. This type of second line coming together is a significant development for the Leafs.
---
–  The other big offseason signing at forward, Max Domi, is easily coming off of his best week as a Maple Leaf. The shift to center has forced him to move his feet more – a real strength of his game – and he looks far more comfortable with the puck on his stick in the middle of the ice compared to along the wall, where he routinely struggled to break out.

The Leafs have largely deployed a checking third line under Sheldon Keefe, making this a notable shift in approach. A third line with Domi and Nick Robertson is not going to be trusted in a checking role, but they can produce as they have been since Robertson was called up (Robertson has four points in four games). Domi's comfort at center and pairing him with a real triggerman in Robertson has changed the complexion quite a bit.

Even after the loss to Ottawa, Keefe was fairly positive as the third line scored and generally looked great for the second game in a row. There was almost a sigh of relief from the coaching staff; they finally have a real third line capable of contributing.
---
–  Against Calgary, Nick Robertson came down his off-wing late in a tie game, curled a puck in, and ripped it off the crossbar. His shot has always been his calling card, but in his first 31 games in the league over parts of three seasons, he scored just three goals. There were mitigating circumstances (such as his linemates), but he also needed to develop his game and use his teammates more (early on, he would shoot pucks with blinders on).

Through four games this season, Robertson has nearly doubled his goal total and his confidence with the puck to create and use his teammates is promising. While he'll come down to earth at some point, the production and confidence are positives early in the year. It's easy to forget that he's just 22 years old. 
---
–  Speaking of those two lines excelling, it's noteworthy to point out that the Leafs won back-to-back games while Auston Matthews and Mitch Marner were held not just scoreless but pointless. Matthews played a season-low 16:35 against Vancouver, which is a mark he was below fewer than five times last season. Options are good! 
---
–  Part of the reason the Leafs could play Matthews so little is the presence of a strong fourth line in that game due to Bobby McMann's callup. On David Kampf's first goal of the season, they strung together three straight passes after McMann carried the puck through the neutral zone and into the offensive zone, leading to a shot that was tipped into the net. It might have been the first time the fourth line strung together three straight passes all season.
---
–  A lot of the focus has been on Ryan Reaves and the subsequent strong debut by McMann, but one of the bigger stories should really be about David Kampf.
The Leafs invested real term and dollars in him this offseason but were not setting him up for success early in the season. He has either been centering a fourth line with Reaves on his wing – basically, a line where they hope Kampf can cover for Reaves (which hasn't been working) – or he has played with Domi on his off-wing and Matthew Knies, who Kampf is not skilled enough to support. His purpose was to be a defensive conscience for both of them, but it was not helping any of them when such polar opposite players were paired together.

Kampf has excelled with checkers over the past two seasons, and it's no coincidence that he produced a strong game after he finally played with two of them on a line with a clearly defined role. Not only do the Leafs owe it to Kampf to give him those linemates considering the organization paid him, but they also owe it to the coach to give him the type of roster he wants to coach. Keefe has always sought to create a checking line he can trust in order to free up his skilled players. It remains to be seen if this trio of Gregor – Kampf – McMann could truly be one, but it's the closest thing they have right now. 
---
–  The penalty kill was a real strength last season, but so far, it's no secret that it has really struggled. They aren't cohesive and opposing power plays are constantly whipping passes right through them, seemingly creating whatever they want.

The most egregious example was against Tampa Bay when Nikita Kucherov easily one-timed a goal. Look at David Kampf's stick below; it is taking away a board pass, but Victor Hedman is in the middle of the ice. Kampf and TJ Brodie are also both focusing their attention on one player while already down a man.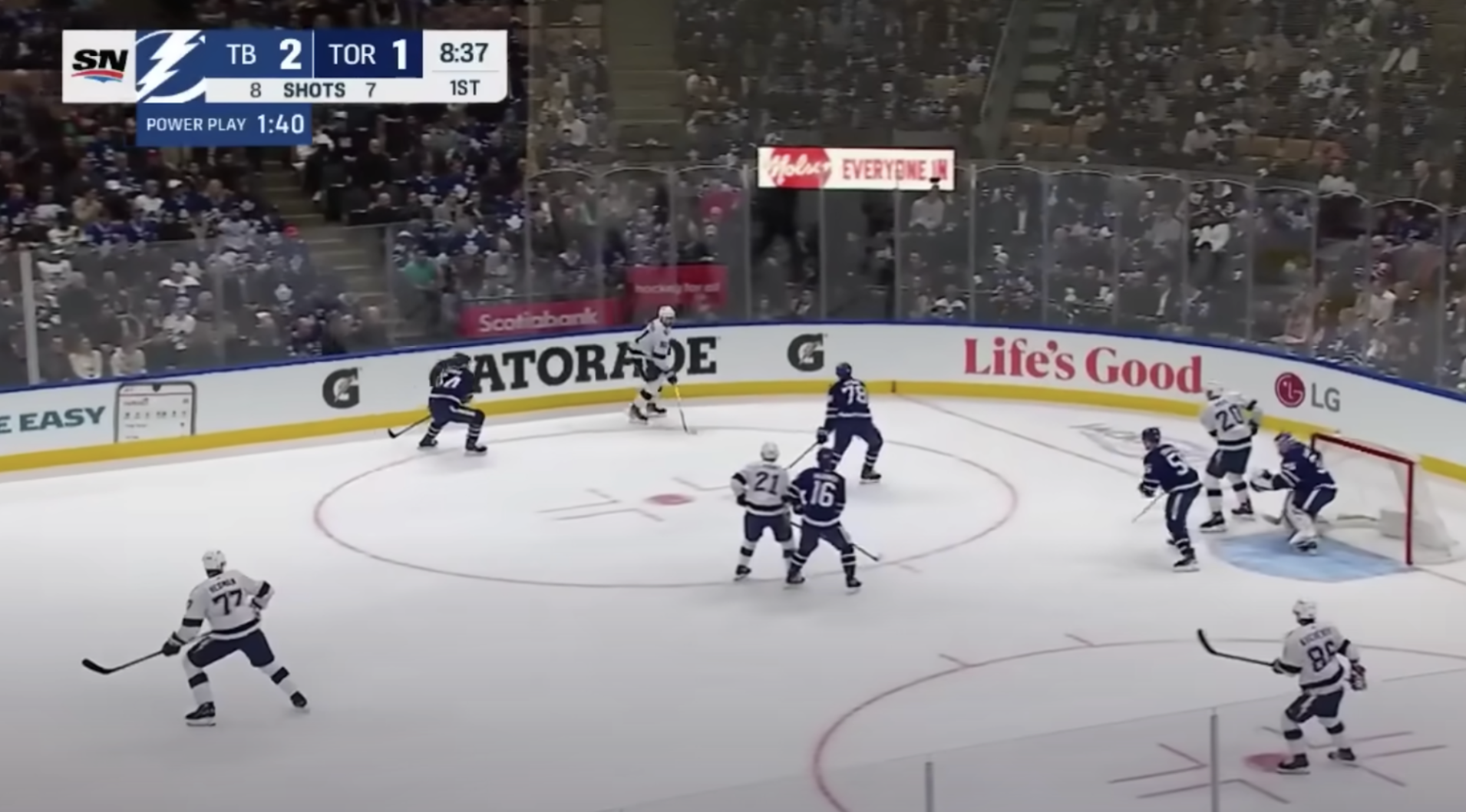 They often look like strangers killing a penalty together – sometimes two PKers pressuring the puck, sometimes none. The penalty kill has given up 14 goals in 15 games.
---
–  When the Leafs signed Simon Benoit, I mentioned that it's possible to glean value from players leaving bad teams knowing it can be difficult to evaluate them due to a number of circumstantial factors. It's only been three games for Benoit, but he has been on the ice for three goals for and none against, the shot attempts are over 62 percent in his favour, and his defensive-zone start percentage is 64.3 percent.

Benoit keeps it simple with the puck, but where he really shines is with his physicality and ability to end cycles. At 6'3, he has the reach to make plays. Against Calgary, he produced a shift on the penalty kill and broke up a play in the corner before clearing it to kill a good chunk of the clock.
Quotes
---
"I didn't know that, but hearing that is pretty cool. The league is so great. There's been so many great players. The league has been around for a long time, so to move into that position is pretty awesome. I've done something right here over the last few years (smile)."

–  John Tavares on entering the top 100 in NHL scoring
Since joining the Leafs, John Tavares has recorded 370 points in 375 games, which ranks 23rd in the league, slotting him only four points behind Alex Ovechkin and just ahead of JT Miller, Sebastian Aho, and Jake Guentzel, among others. 
Of course, he's also been among the top 10 highest-paid players per season since signing in Toronto and was the second highest-paid player in the league in his first season (he scored 47 goals that year). It's a shame players are largely judged against their cap hit in this league because Tavares has been remarkably consistent and productive.
"Kampf is going to be fine. He just needs some of the swelling to go down on his face from the 'clean' hit to the head that he took."

–  Sheldon Keefe on Kampf's absence from practice two days after the game against the Canucks
Happy to see Keefe take a shot at the officiating/league, but the reality is that it's not nearly as effective two days after the fact compared to immediately following the game. It somewhat falls on deaf ears except for the media and fans who are really dialed into the team. 
The Leafs took two instigators in a game after hits that resulted in David Kampf's face bleeding and Nick Robertson requiring stitches (four to five by his ear). AKA, they were high hits. 
In his day, Pat Quinn was really good at calling this stuff out, and it wasn't necessarily done to try to tip the scale in the Leafs' favour to get more calls. It was to create this "us against the world" mentality that the team really bought into. The disparity in officiating in the league, particularly when it comes to suspensions, has been well documented (see the Matthews two-game suspension). It's out of their control, but they can channel it into fuel.
"Sometimes guys like that in that position can start panicking and come down and start screaming and yelling and throwing stuff, but he's been pretty even-keeled and I think it's keeping us even-keeled in here."

–  Ryan Reaves on Brad Treliving's demeanour after an uneven start to the season (before their back-to-back wins over Calgary and Vancouver)
This is a nice glimpse into Brad Treliving's management style. It would have been easy for him to be fuming after the Boston game, with basically all of his signings off to slow starts and the team showing some really concerning signs early on.
Tweets of the Week
---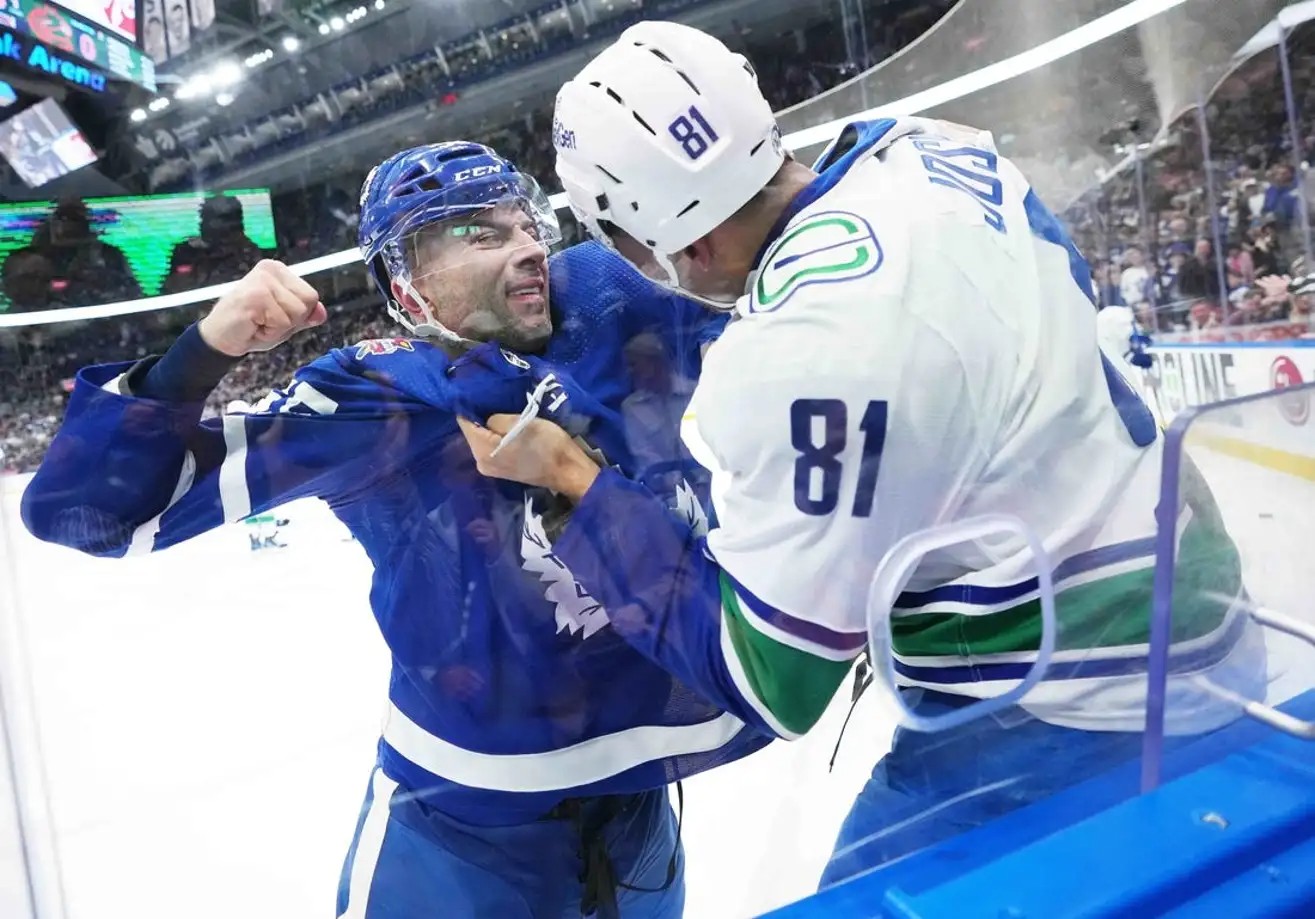 Mark Giordano (40 years, 39 days)

Oldest player in Maple Leafs history with a fighting major; 19 days older than Tim Horton in 1970.

— Sportsnet Stats (@SNstats) November 12, 2023
Early in the season after a game against the Panthers, I mentioned that Mark Giordano came out with some real emotion to try to swing the game, throwing a huge hit and laying out for a big shot block.
Against Vancouver, he stepped up with a huge fight. Sometimes a player will grab their opponent in a fight and wrestle a little bit at best. Giordano did not do that. He was throwing haymakers and fought with some real passion and emotion.
The team should have killed the ensuing penalty, but they had to win the game after this fight, and they did. He has clearly lost a step or two, but Giordano finds a way to contribute and is a real emotional leader on the team.
Noah Gregor skates so well, if you could convince him just to take pucks from the left circles across the front of the crease, I'm convinced he's got a 15 goal season in him. It opens goalies up, gets them down, and creates rebounds/chaos when you don't score. Take it across! pic.twitter.com/zbZ9IkGjwk

— Justin Bourne (@jtbourne) November 13, 2023
This is a good collection of clips clearly demonstrating when Noah Gregor settles for shots from distance instead of dropping his shoulder and taking it to the net. Not only will he score more in general doing more of the latter, but he'll disrupt goalies and create more for his linemates by taking it to the net.
Gregor has a good shot – he scored a great goal against Thatcher Demko, who is a very good goalie – but even then, he received a pass in a prime shooting location. Most of these examples are a little more wide toward the boards and not the result of someone setting the table for him. Drive the net!
Leaf D William Lagesson grateful for timing of his call-up, a bonus trip home to Sweden. Parents are taking the train from Gothenburg three hours away to see him. Swedes could bring Toronto-based families but Lagesson says it's a no go for him with a 9-month-old baby and a dog.

— Lance Hornby 🇺🇦 (@sunhornby) November 13, 2023
William Lagesson has been a pleasant surprise so far. He's turning 28 in February – he's not exactly young, and he's played all of 68 games in the NHL – but he has been physical, he has avoided big mistakes defensively, and he has stood up for his teammates (including going after Nazem Kadri after a whistle for crashing the net hard). At 6'2, he's used his reach to disrupt plays defensively.
A lot of the Leafs' troubles defensively have been self-inflicted, and Lagesson has generally been able to avoid getting in his own way, which has helped settle some of their play down. It is early, but so far, it appears Treliving has been able to bring in some capable NHL depth on defense.
Five Things I Think I'd Do
---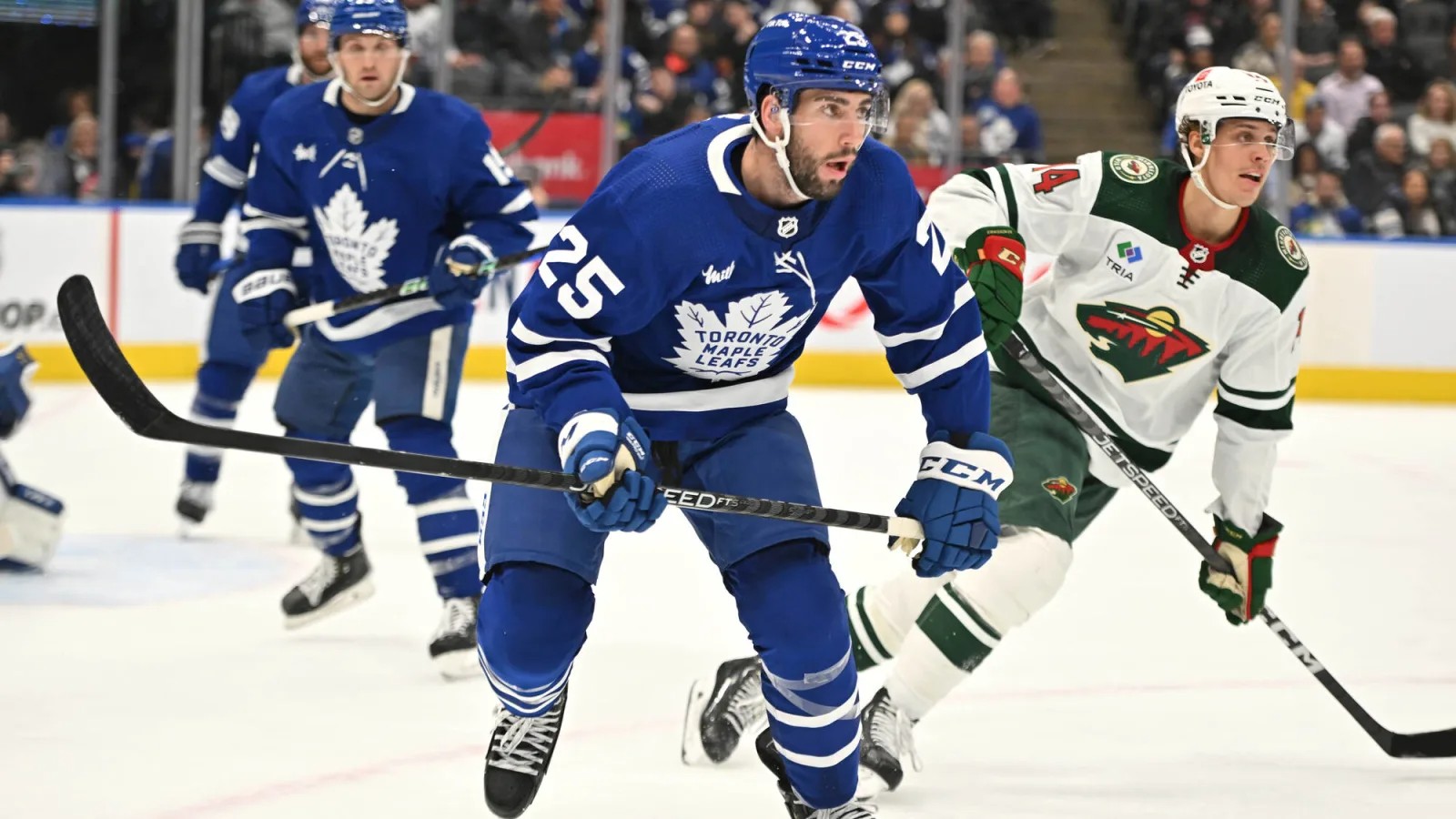 1.  With Conor Timmins close to returning, I think this is the question on defense: Who can round out the top four? Morgan Rielly, TJ Brodie, and Jake McCabe are currently locks. Mark Giordano has been holding the fort, but the big minutes coupled with his age have led to up and down results.

Ideally, Timmins makes a real run at that top-four spot in Timothy Liljegren's absence, but he's missed a lot of game action and will need time to re-acclimate himself. William Lagesson and Simon Benoit have been pleasant surprises, but banking on either for consistent top-four minutes would require a big leap in faith. John Klingberg should not be trusted with big minutes at this point in time.

I would consider a few games of running 11 and 7 to spread out the minutes and attack it by committee. It might also allow them to rest Giordano for the odd game, which should be in the back of their minds, too.

Ultimately, I'm not sure what the answer is just yet, but I'd be looking to try a number of options beside McCabe to see if anything sticks.
---
2.  In terms of the penalty kill, I think the six forwards should be David Kampf, Mitch Marner, Calle Jarnkrok, Noah Gregor, Auston Matthews, and Bobby McMann.
I think there's a real opportunity for McMann to carve out a role as a penalty killer; he has the speed to close lanes and the strength to win battles to get pucks out. If he's not in, I'd give William Nylander some run toward the end of penalty kills; he is great through the neutral zone at denying entries, creating turnovers, and transitioning it up ice. I'd rather a rookie in Matthew Knies strictly focus on producing and forechecking.
The other five have all been regulars this season, and while the penalty kill has been awful, they need continuity. They are missing assignments and are not cohesive. The coaching staff continuing to change the pairings around would only compound matters. Lock in some pairings and commit to it. 
---
3.  I think the forward lines are obviously working as is, but more importantly, the foundation for the top nine is in place for the coaching staff to be versatile and make adjustments when players run cold now.

The top three centers are set with Max Domi showing well at center. There are three right-handed right-wingers and three left-handed left-wingers. They could feasibly and justifiably put any three of the left and/or right-wingers on any line, and in theory, it could work. There is no combination among those set positions that clearly makes no sense.

This is kind of the situation we've wanted this team to find itself in for years. It will be on the coaching staff to mix and match depending on how the individuals and lines in question are performing.
---
4.  I think I like the second power-play unit consisting of Tyler Bertuzzi, Max Domi, Matthew Knies, Calle Jarnkrok, and a defenseman of choice (usually Morgan Rielly). It is a tough spot for Nick Robertson; there are nine forwards on the team capable of playing on the power play but only eight spots are available. He will eventually receive his opportunity to stick there, but for now, the unit has been putting together good shifts (including a big goal on Saturday).

I wouldn't be opposed to starting the second unit on the odd power play/yanking the top unit if they are struggling. With Bertuzzi, Knies, and Jarnkrok always hovering around the net, it's giving them a bit of a different look to throw at teams – more about crashing the net versus snapping it around with elite shooters and passers on the top unit. 
---
5.  I think I'd give each goalie a start in Sweden. Ilya Samsonov played well in his last game, and I think he'd appreciate the nod to go first given his up-and-down start. Even if Samsonov earns a shutout, I'd give Joseph Woll the next game.