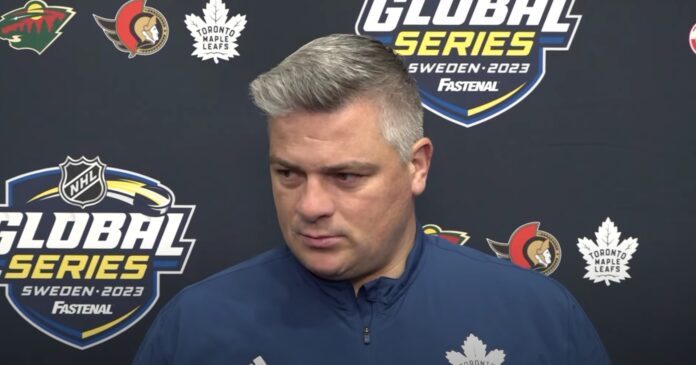 After Tuesday's practice in Sweden, Sheldon Keefe discussed the adjustment to Central European Standard Time, the experience in Sweden, and William Nylander's remarkable start to the season.
---
How was the flight over?
Keefe: It was great. Still adjusting, though, of course. Going to have a good sleep tonight.
Some of the players mentioned only sleeping about three hours. How cognizant of that are you on the ice for practice?
Keefe: Very. We can't do much today. It is really about firing the engines a little bit just to kind of keep them awake through the day. That is really it. We are trying to keep them away from the hotel and keep them away from being able to nap or have their body shut down just because tonight's sleep really is vital to set us up for the week.
Getting them to bed at a decent time and being able to sleep through the night is really the priority for the day. The skate was just about kind of firing the engines and getting a sweat.
What do you think the trip can do from a team-bonding standpoint?
Keefe: I think it can only help. It brings the group closer the more time you can spend together, whether it is the flight last night… Granted, the lights were out pretty quickly, but just being here and particularly staying in one spot allows us to kind of settle in, spend time together, and enjoy the experience while also recognizing that these are important games.
Because they are important games, these days — such as today and the adjustment to the time zone, taking care of the body, and all of those kinds of things — are really important to get right.
How do you keep the focus on the fact that there are still two regular-season games to be played?
Keefe: That is going to be a big part of our discussion tomorrow. I don't think any of us were really interested in hearing too much about that today. It is hard to focus on anything today, quite honestly.
We will get through the fog today and get the guys really focused tomorrow. We talked before coming out here about enjoying the experience but not getting caught up into it to the point where we don't give ourselves a chance to compete in these games that are just as important as any other game back home.
Have you ever been to Sweden?
Keefe: I have never been to Sweden. I haven't been to Europe in 30 years.
Is there anything you are looking forward to doing?
Keefe: Just looking around and moving around, trying to see as much as I can. At the same time, I am just excited to see an old building like this, a different culture, and all of that kind of stuff. Even the hotel and the lunch that we had today — we had a quick pit stop at the hotel for lunch… Just trying to experience what I can.
I coach a lot of European players. I have never been able to experience what life is like for them. It has been fun to talk to them and for them to give me a few tips, perhaps, on where I should or shouldn't go and spend my time. I am just trying to take it all in like anybody else.
Do you have any tips that Timothy Liljegren, William Nylander, or Calle Jarnkork shared with you?
Keefe: Willy is the one I have talked to the most about it. As you can imagine, Willy is pretty chill. He just kind of said, "Oh, you know, walk around and take in the sights." That was really all that he had to offer.
It sounds like Willy himself has a pretty full plate while we are here. I am sure he is excited to be here. Knowing Willy, he likes to keep the focus on the hockey. He will get his obligations out of the way and all of that.
I know all of our Swedish guys will be excited to play on the weekend.
What has it been like to witness Nylander's 15-game point streak?
Keefe: The point streak is one thing. Sometimes, there is some luck involved in these point streaks and such. Whether the streak continues, that is not the point. He has just played terrific hockey. He has been a catalyst for us offensively. His effort away from the puck defensively has really matched the effort is putting forth on offense.
He just looks like he is really focused on having a great season, which is building upon last season. I thought he took a big step in his overall game last season. He has taken another one this year.