Mislav Jantoljak
Prior to this one, the Habs lost only four regulation games this season, but two of those loses have come at the hands of the Maple Leafs, including the 6-0 shellacking handed to them in the Bell Centre. The 6-0 win also featured physical dominance by the Leafs so this one was expected to be a fiery affair. The Habs added Michael Ryder and PK Subban to the lineup just to make things more difficult. [more…]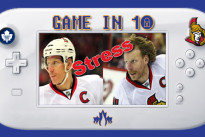 The second edition of the Battle of Ontario. Last time these teams met (Feb. 16th), the final score was 3-0 in the ACC. Now, last time the Sens were simply missing their top line C and last year's Norris Trophy winner. Tonight, that list included one of the season's best goaltenders, Craig Anderson. Fair to say that this was another winnable game. Not to be as the Leafs fall 3-2.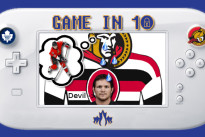 'Twas the first of four match-ups between these Northeast Division rivals, the season's first edition of the Battle of Ontario. The organization honored the 50th anniversary of the 1962-63 Cup winning team. With Spezza and Karlsson out, it was supposed to be an easier game against a division rival that's hurting right now, but it's not like the Leafs are at full strength. [more…]
On some days it does actually feel great to be a Leafs fan. Such an occasion was February 9, 2013, a Hockey Day in Canada when the Leafs utterly dominated the Habs. Final score: 6-0 Leafs.
Looks like Toronto will remain sexy until 2018.
As per James Mirtle:
"Leafs sign Lupul to extension until 2018."
More details on the deal as they become available.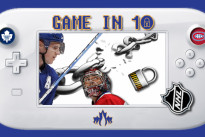 Boxscore | Carlyle Post Game | Game In Six
So it appears that we can all enjoy hockey once again. There's nothing Leafs Nation enjoys more than a convincing win over the Habs. That's exactly what happened on this HNIC Saturday evening.
Welcome to the first game day thread of the new Leafs season. How good is it to finally be talking Leafs? Find out by talking Leafs in this GDT. Leafs.
[more…]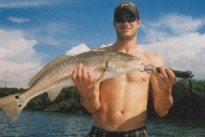 Watching the Marlies this year partially feels like watching a clock turning its hands back. It was on the first day of training camp that a brand new name appeared on the roster. While roster changes aren't exactly an AHL novelty, seeing Paul Ranger's name on a hockey jersey makes one take a quick peek towards the calendar.
If you did turn back the hands of time, Ranger would be a 25-year-old defenseman playing for the Tampa Bay Lightning. With a promising career ahead of him, he suddenly left the game many of us would pay to play. Personal reasons or a different motive entirely, it wasn't quite clear why he left hockey only to find him himself coaching his hometown's bantam team in Whitby, Ontario. [more…]
The plan? First make peace with the fact that the NHL latest work stoppage will become a reality. Check. Watch as much non-NHL hockey as I could get my hands/eyes on. Check. During these couple of months I've watched the KHL, AHL, SM-liiga, Elitserien, Czech Extraliga, OHL, QMJHL, EBEL, NCAA, and the CHL vs. Russian selects Super Series.
All of this gave me more insight about our beautiful game as well as new appreciation of both the NHL and hockey in general. Here are some of the things that stuck with me as I video traveled across the international hockey stage. [more…]
In case you haven't noticed, there is a lockout going on. As the league continued to chop of more bits from the 2012-13 NHL season the fans are getting increasingly frustrated. During work stoppage, those frustrated people tend to talk about various things. One of those things is pending expansion. As Ken Campbell wrote in the latest edition of the Hockey News, the league has gone 12 years without expanding, making it the longest expansion drought since it grew to 12 teams.
Sure enough, there are plenty of reasons in favor of not expanding. The league needs to control its suffering markets before it can ever think about adding teams in new ones. It also needs to accept that appeasing the fan bases deprived of hockey to lessen the negative impact of the lockout isn't really a solid motive for expansion.
This list is long and could go on for another few paragraphs so let's end it here.
Nikolai Kulemin, 2011-12: 70 games, 7 goals, 21 assists – 28 points. Numbers far below his NHL caliber.
"If you have no confidence in self, you are twice defeated in the race of life."

- Marcus Garvey
Lockout. KHL, Metallurg Magnitogorsk with Evgeni Malkin. Nikolai Kulemin, 2012-13: 17 games, 6 goals, 5 assists – 11 points. Average ice time: 18:37.
I don't know about you, but I've always been one to look on the bright side of things. The aforementioned trio ("Magnitka", Malkin and lockout) could turn out to be very bright for Kulemin's future. [more…]