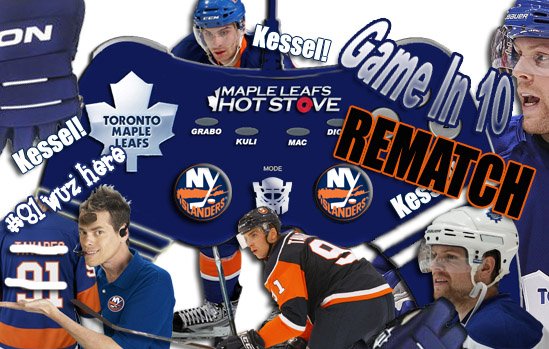 This was an Islanders rematch and the final game prior to the All Star break. Kessel, Lupul and Dion needed to take care of business in NY before heading off to Ottawa. They did just that.
1 — The Leafs are 25-19-5 and Mike Myers was representing yo!
2 — Ron Wilson ties Mike Keenan for games coached. Forget Iron Mike, congratulations I-Ron!
3 — Sloppy work by Grabo in the corner, which led to a Leafs turnover and Isles capitalize. You know that #91 guy we shut down last night? Yeah, he scored.
4 — Pretty slow start by the Leafs, but it picked up after the goal as the boys put good pressure on the Isles defense, creating some good chances.
5 — The first period was a fun period of hockey. Unfortunately, that meant a lot of turnovers on the Leafs end. Our boys in blue only managed four shots on goal. 14 shots through two periods of play.
6 — The physicality ramped up in the second period, which didn—t sit well with us, some free shots taken by the Isles, most notably Tavares on Komisarek, Hamonic on Kessel, MacDonald on Kessel. Orr would be helpful here, but truculence doesn—t have to be an either or(r) kind of thing. Orr doesn—t need to be in the lineup for the team to respond properly. Lupul did that towards the end of the second when he plastered Tavares.
7 — As Josh Bailey scored a shorthanded goal I was wondering, why can—t we get both special teams going at the same time?
8 — C-Mac shrinks the Isles lead to 1 as he buries a good pass by Grabo who had a great shift on that play. Worked tirelessly in the offensive zone and created the play by being tenacious. Grabo was very good tonight and gets rewarded by a fluky goal. Another weird bounce tied it 13 seconds from time. Invest in better infrastructure!  Grabo then collected a fantastic assist on the last play of the game. 4 assists on the night!
9 — Jake Gardiner scored his first goal in his NHL career and it was a shot through traffic after some good crosschecking work by the Isles defense in front of Montoya—s crease.  The Lupul hit really sparked the team.
10a — Tremendous response by the boys after getting surprised by a more physical Isles team pretty much throughout the first two periods. The boys didn—t respond with fisticuffs but they got fired up, started taking liberties as well and responded with goals.
10b — This Leafs team is a bubble team. Burke has already shown he isn—t interested in trading assets for the type of player that can just barely help to push us into the playoffs as a short term help. He—s interested in building. If a trade does happen, I think it—s going to be for a player who is a long term help and makes us better for longer. If that deal isn—t on the table, I—d rather Burke stays pat. Trading for a veteran goalie if the price isn—t too steep makes sense, because it not only increases the odds of making the playoffs but stabilizes our goaltending situation for the playoffs. However, it could turn to be a waste of relatively high pick as Gustavsson is on the road to proving he can handle the load.