I mostly watched this one with my eyes half glazed over, dozing in and out of consciousness, with a smell of burnt toast lingering, symbolizing the end of the Randy Carlyle era (fell asleep with something in the toaster.. BOBBY!). This was a dead team skating, one not worthy of much analysis on this night.
Phaneuf and Gleason together on a pairing looked about as we expected before the night (not good), while Carl Gunnarsson moving to the right side seemed to only exacerbate his recent struggles (he backed right off and didn't seem sure with his stick on the 1-0 goal by Johnson). When Carlyle could get his match ups, with Dave Bolland out of the lineup, he went with the top line head to head against the Stamkos line. It wasn't pretty. Whether against the top line or not, Stamkos was left alarmingly open on several occasions, including the shot that led to Tampa's 2-0 PP goal (they sealed it with an empty netter).
The Leafs for their part were shut out, but not for a lack of Phil Kessel scoring opportunities. Kessel couldn't bear down and his body language looked utterly defeated.
Carter Ashton played fairly well in this game, bringing some energy on the forecheck and cycle, with one decent jam-play scoring opportunity from the side of the net that nearly led to his first ever NHL goal. It would be nice to see Ashton stay in the 12-14 minute range in the final two games to see if he can get himself his first goal before joining the Marlies for the playoffs. Kadri, Clarkson and Ashton as a line had a few moments and is worth leaving together next game, but we'll see what Carlyle does.
Nazem Kadri was the only forward of note among the regulars on this night. There was visible jump in his step and he led a number of good breakouts and zone entries on his own, looking generally dangerous throughout.
Jake Gardiner and Morgan Rielly both dazzled at points, trying to press for some offense. In the end, though, the Leafs went silently into the night along with any remaining playoff hopes.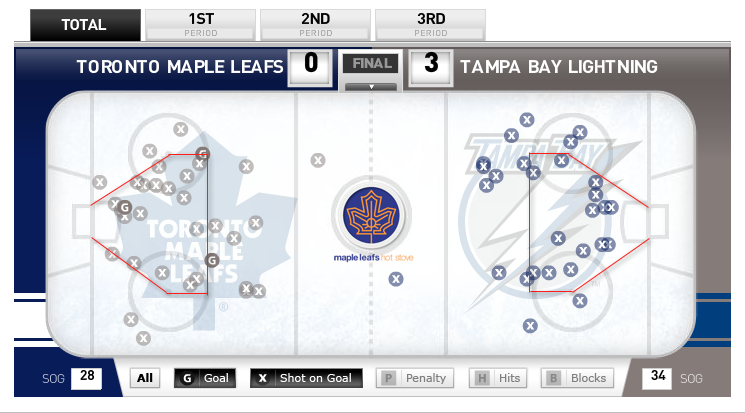 Toronto Maple Leafs vs Tampa Bay Lightning Boxscore
| TAMPA BAY |   |   |   |   |   |   |   |   |   |   |   |   |
| --- | --- | --- | --- | --- | --- | --- | --- | --- | --- | --- | --- | --- |
| | | | | | | | | | | | | |
| GOALIE | DEC. | SHOTS | SAVES | SAVE % | MIN. | | | | | | | |
| Ben Bishop (37-14-7) | | 3 | 3 | 1 | 5:43 | | | | | | | |
| Anders Lindback (6-12-2) | W | 25 | 25 | 1 | 54:17 | | | | | | | |
| | | | | | | | | | | | | |
| PLAYER | G | A | TOI | +/- | SOG | PIM | FW | FL | HITS | BS | TAKE | GIVE |
| Eric Brewer | 0 | 0 | 21:47 | 1 | 1 | 0 | 0 | 0 | 2 | 1 | 0 | 0 |
| J.T. Brown | 0 | 0 | 13:43 | 0 | 2 | 0 | 0 | 0 | 0 | 1 | 0 | 0 |
| Ryan Callahan | 0 | 0 | 16:50 | 0 | 4 | 0 | 0 | 0 | 2 | 1 | 1 | 0 |
| Matthew Carle | 0 | 0 | 24:28 | 0 | 2 | 2 | 0 | 0 | 0 | 1 | 1 | 0 |
| Valtteri Filppula | 0 | 0 | 17:03 | 1 | 0 | 0 | 18 | 6 | 0 | 0 | 0 | 0 |
| Radko Gudas | 0 | 1 | 22:26 | 1 | 3 | 0 | 0 | 0 | 6 | 1 | 0 | 1 |
| Victor Hedman | 1 | 2 | 25:13 | 2 | 2 | 0 | 0 | 0 | 3 | 3 | 3 | 0 |
| Tyler Johnson | 0 | 0 | 18:18 | 1 | 4 | 0 | 7 | 10 | 0 | 0 | 0 | 0 |
| Alex Killorn | 0 | 0 | 15:08 | 1 | 1 | 2 | 0 | 0 | 2 | 2 | 0 | 1 |
| Nikita Kucherov | 0 | 0 | 12:35 | 0 | 3 | 0 | 0 | 0 | 0 | 1 | 0 | 0 |
| Ondrej Palat | 2 | 0 | 17:44 | 2 | 3 | 0 | 0 | 0 | 1 | 0 | 2 | 1 |
| Richard Panik | 0 | 0 | 10:56 | 0 | 2 | 0 | 0 | 0 | 0 | 0 | 1 | 0 |
| Teddy Purcell | 0 | 0 | 10:45 | 0 | 2 | 0 | 0 | 0 | 0 | 0 | 1 | 0 |
| Tom Pyatt | 0 | 0 | 11:47 | 0 | 0 | 0 | 8 | 5 | 1 | 0 | 0 | 0 |
| Sami Salo | 0 | 0 | 7:51 | 0 | 0 | 0 | 0 | 0 | 1 | 2 | 0 | 0 |
| Steven Stamkos | 0 | 1 | 16:06 | 1 | 3 | 0 | 2 | 2 | 0 | 0 | 1 | 0 |
| Andrej Sustr | 0 | 0 | 18:10 | 0 | 0 | 2 | 0 | 0 | 0 | 1 | 0 | 0 |
| Nate Thompson | 0 | 0 | 13:10 | 0 | 2 | 0 | 4 | 5 | 1 | 0 | 2 | 0 |
| | | | | | | | | | | | | |
| TORONTO | | | | | | | | | | | | |
| | | | | | | | | | | | | |
| GOALIE | DEC. | SHOTS | SAVES | SAVE % | MIN. | | | | | | | |
| James Reimer (12-15-1) | L | 33 | 31 | 0.939 | 59:07 | | | | | | | |
| | | | | | | | | | | | | |
| PLAYER | G | A | TOI | +/- | SOG | PIM | FW | FL | HITS | BS | TAKE | GIVE |
| Carter Ashton | 0 | 0 | 12:14 | 0 | 1 | 0 | 0 | 0 | 3 | 0 | 0 | 0 |
| Troy Bodie | 0 | 0 | 13:36 | 0 | 1 | 2 | 0 | 1 | 2 | 1 | 0 | 0 |
| Tyler Bozak | 0 | 0 | 23:30 | -1 | 1 | 0 | 9 | 13 | 1 | 0 | 0 | 1 |
| David Clarkson | 0 | 0 | 19:25 | 0 | 1 | 0 | 1 | 0 | 2 | 0 | 0 | 0 |
| Jerry D'Amigo | 0 | 0 | 5:07 | 0 | 0 | 0 | 0 | 0 | 0 | 0 | 0 | 0 |
| Cody Franson | 0 | 0 | 20:28 | 0 | 0 | 0 | 0 | 0 | 3 | 1 | 1 | 0 |
| Jake Gardiner | 0 | 0 | 23:57 | -2 | 5 | 0 | 0 | 0 | 1 | 3 | 1 | 0 |
| Tim Gleason | 0 | 0 | 15:53 | 0 | 1 | 0 | 0 | 0 | 2 | 2 | 0 | 0 |
| Carl Gunnarsson | 0 | 0 | 17:35 | -1 | 0 | 0 | 0 | 0 | 2 | 1 | 0 | 1 |
| Nazem Kadri | 0 | 0 | 18:06 | -1 | 3 | 0 | 8 | 10 | 0 | 1 | 1 | 0 |
| Phil Kessel | 0 | 0 | 23:19 | -2 | 3 | 0 | 0 | 0 | 0 | 1 | 0 | 0 |
| Nikolai Kulemin | 0 | 0 | 13:32 | 0 | 0 | 0 | 2 | 7 | 1 | 0 | 0 | 0 |
| Jay McClement | 0 | 0 | 8:45 | 0 | 1 | 0 | 8 | 8 | 0 | 0 | 0 | 0 |
| Colton Orr | 0 | 0 | 4:24 | 0 | 0 | 0 | 0 | 0 | 2 | 0 | 0 | 0 |
| Dion Phaneuf | 0 | 0 | 21:18 | 0 | 1 | 0 | 0 | 0 | 1 | 1 | 0 | 0 |
| Mason Raymond | 0 | 0 | 16:08 | -1 | 3 | 0 | 0 | 0 | 0 | 0 | 1 | 0 |
| Morgan Rielly | 0 | 0 | 20:49 | -1 | 1 | 0 | 0 | 0 | 0 | 1 | 0 | 1 |
| James van Riemsdyk | 0 | 0 | 22:40 | -2 | 6 | 0 | 0 | 0 | 0 | 0 | 2 | 0 |
Toronto Maple Leafs vs Tampa Bay Lightning Boxscore