Mike Babcock speaks to rumours of him joining the Toronto Maple Leafs as Head Coach.
---
How's life?
Life's good, I'm in beautiful Val'D'or, Quebec. Couldn't be any better.
Checking out Anthony Mantha?
Absolutely. I watched him play last night, he actually scored his 19th and 20th goal of the playoffs. I always like guys that can score goals. So that'll be nice.
20th goal of the playoffs?!
Can you believe that?
That's what the Wings do, right? The Wings draft these guys and they go to World Juniors and they set the World on fire and then they go into the playoffs and they score 20 goals, and everyone asks: "How does Detroit do this every single year?"; they do it all the time, right?
I don't know about all the time, I've been here 9 years and we've never had a prospect like this in the 9 years I've been here.
Is he that good?
Well, you know, it was interesting; they're playing a game against Kids, so you're a man playing against kids, but his instincts, his hands, his ability to knock down pucks is unbelievable. His pace—don't get me wrong, he's a great skater—his pace is going to need to improve. What I found with most talented guys, is that you put them with the big guys, they play at a pace because they want to play there, so it will be interesting to see. I don't think we'll really know until the fall whether he'll fit in, whether he needs a have year in Grand Rapids or whatever; I just went to Grand Rapids this past weekend; I wanted to see them before I came here just to see how far away he was (talentwise), because we're moving so many kids into our group that obviously he has to compete for a top 6 job or at least a top 9 job. I don't know if he can do it or not. We'll know over time.
Ya, 57 goals in 57 games in the regular season and now 20 in 20 (in the playoffs); he knows how to bury it would seem, for a guy that's what: 6'5?
That's what it says on the sheet! 6'5, 204, now even if he's 6'3 and 199, it doesn't much matter to me, he's a great big guy out there protecting the puck; like I said to you, unbelievable hands and instincts, I was impressed with him.
So, how happy were you with the team at the end of the year? I mean you have the injuries, you put up a fight, but that was probably the earliest you've been out of the playoffs for a while…
[quote_right]"I'm more moveable now. I'm going to work somewhere." – Mike Babcock[/quote_right] I guess what I'll say to you is this: every time you're out of the playoffs and everybody—well, I guess they're 8 teams playing, it's not a great feeling. We've grown accustomed in Detroit to being in things for a long time and yet we've had a real changing of the guard. When you look at the group, we always used to have veterans team, veterans on our team will include Datsyuk, Zetterberg, Kronwall, Fransen and it should be kitty court after that. So, its a big change that way. I really thought the playoffs were an eye opener for us, I thought our team got in and did a great job getting in, played with great structure, really competed hard, found ways to get it done and then I thought in the playoffs, we'd be a tough out, we weren't a tough out and in my opinion, it wasn't even a series and so, we have to be better and part of that is the guys seeing it for the first time and understanding how hard it is and how hard you have to play to have success.
Mike, what is it in Detroit? You always have expectations, you always have a competitive team, you're always in the playoffs, you make the most of what you got, but is it pressure, as well? I feel like it's a lot of expectations, but a little less pressure, does that make sense?
Well, I don't know about that; to me, pressure is what you put on yourself, the expectations in our community are a lot. When I'm walking around town and people see me, it's "Hey Coach, lets have a better year next year, lets build a better team this summer". I mean, they just know we're not in and you can hardly blame them. So how are we going to make sure we get a least a final 4 run. To me, any time you're in a final 4, you've put your logo, your brand in the marketplace for a long enough period of time for people to have respect for it and when you're not there on a regular basis, I just think you have to find a way to get better and ideally over a period of time we've drafted and developed enough kids; we've got a really good coach in Grand Rapids, in Jeff Blashill, who's done a really good job; I was down there the other day, we have 4 Dman that are ready—I don't know if they're ready at the start (of the season)—but they're puck movers and we want a puck moving back end, so, we have a goaltender who won the Calder Cup as a rookie—he's 6'1, not 6'5, though.. so is that an NHL guy—only time will tell, and then forwards we had this year and a couple more. But we have lots of kids that are real good players. I don't see Pavel Datsyuk or Henrik Zetterberg there, though.
I want to ask you about, again, it's a couple of years removed now, but the loss of Nik Lidstrom—and you would think, "OK, we're going to lose the best defence man in the game", but even as a everyday defenceman, how can you not lean on that guy and as prepared as you were to be without him, did it go even further than you could have expected?
We didn't realize how good he was on the power play. That's been the biggest thing. Nik Kronwall has been a heckova player for us and a heckova leader and yet he doesn't shoot the puck from the blueline anyway like Lidstrom does, and he's more of a passer. We have been looking for a shot on the backend for a long time. Now, it just so happens we have a 6'4 right handed defence man in Sproul in Grand Rapids; he doesn't quite look ready yet, but he has an absolute bomb and we're hoping that he can arrive here sooner than later and really help us with that. Nik is a fantastic player, I mean he's a generational player; you're not going to have another one probably, and in saying all that, we also had a great supporting cast around him. Our supporting cast has suddenly got very young, but we really feel the growth of Danny Dekeyser, who we signed out of College, we think he's a great top 4 D, who really gets the puck going. Brendan Smith, who we drafted in the 1st round I don't know how many years ago, has really started to settle in and play and move the puck for us. So we put him with Kronwall, and big Ericsson—we call him big E—he missed basically the last half of the year with a hand injury, never played in the playoffs, he's a 6'5 dman who can move the puck.
When you look at that, suddenly, you add Mattias Backman, who played in Linköping. He can really move the puck, he's a 6'2 guy, I think our backend is really going to move the puck again next year, which is so important to have success.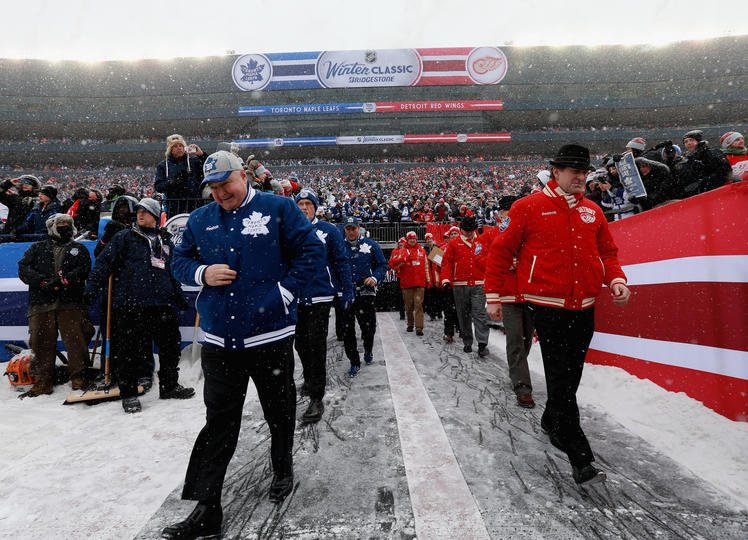 I liked watching you get all fired up on HBO 24/7, kicking everyone out of the room; you seem so mild mannered, Mike.
I'll you what, though, they ambush you there. I talked to a guy nicely walking off the bench, I said, I handed him my microphone, I said: "Keep the cameras out", I hadn't asked them once the whole time (the series was being recorded), the next thing I know, they're in the room, so my wires touched a little bit, but I think that's a reasonable request, you're the head coach, you ask them to stay out, they don't stay out and then I thought the reaction was appropriate. Now, I got to tell you, I haven't watched 1 second of that. I got a little feedback from people I know on the outside. I haven't watched 1 second of it. Obviously, the NHL thinks it's really great for promoting the game, I think it's really hard on the players and the coaching staff. Sometimes as a coach or a player, things that happen, you probably don't need in the public eye, but that's the new world we're living in!
What do you think of all the coaching changes? You've been around it, you've had to go through it, seems like a big group this summer. What do you think about trading coaches?
You know it's interesting, that's something I'm not sure isn't going to happen one day. The other thing I'd say to you, is that when you develop a whole bunch of people, and then the other organizations get to take them, I think there's going to be value in that. So when I look at our group here in Detroit since I've been here. Todd McLellan, Paul McLean, Jim Nill has moved on to be a GM, Steve Yzerman has moved on to be a GM, Pat Verbeek is Director of Player Personnel for the Tampa Bay Lighting… I'm trying to think of who else we've lost. Maybe it'll be Jeff Blashill out of Grand Rapids next. It would be nice if you could get something for the development you've done. I think that would be a positive thing. Second thing, as far as this coach goes, I think now with the way the new collective bargaining agreement from 04-05, I think every owner believe their team should be there winning. And when they're not, I think there's a ton of pressure that goes on the coach and the manager. Is it right? I don't know the answer to that. That seems to be the way. When you're out there, and you have a coach and you decide to fire him all I think is you should do is to make sure you have a better guy to hire. Just removing him doesn't necessarily make you better; you better have a plan.
I don't want to get to heavy, because I really appreciate you coming on and I don't want back into a corner here, but your name flying all over in Toronto. I don't know how a guy with a contract is being brought up as it is. So much is being made of of the fact that you have just the 1 year left, that there is no extension, what's your feel on your name being on the middle of things for the Toronto Maple Leafs job that is still owned by Randy Carlyle and the fact that you are still the Detroit Red Wings coach?
[quote_right]"If you're thinking of moving, you better make sure the grass is greener on the other side."[/quote_right] Well, that's not right for Randy Carlyle, so lets get that straight. The second thing is: I'm really comfortable in my situation. I've been working for an owner (Mike Ilitch) and a General Manager (Ken Holland) for 9 years. We have a good relationship. When I went to the media and that asked me about my contract, I was actually a little bit surprised, I made it very clear, I said: "I'm real comfortable"—and I am, totally. When you've been there as long as I have, if they don't want you, they shouldn't employ you. And I'm totally good with that. When you get a new job, you go in and sign a 4 year deal. I think it's a lot easier for a team who is starting with you and giving you a 4 year deal. When you've been there for 10 years and you're asking for a new 4 year deal, I think that makes it hard on them. I don't want anyone to be forced to have me. I'm going to work somewhere, and I'm not concerned about that. I love what we've got going on in Detroit I think we're really building a program, I also think as a Head Coach and you're looking at opportunity out there, if you're thinking of moving, you better make sure the grass is greener on the other side. What I've found in life, is that it's usually not. So, we like the program we've got going in Detroit, Ken Holland likes to work, likes hockey, I have a good relationship with him, the owner gives us the resources and basically gets out of the way—pretty good situation. My kids are all done high school, I'm much more movable, my wife likes it. I have a good place to waterski, and good places to hunt, I don't know why I'd move.
I was just going to say, the grass is finally getting greener in Saskatchewan. When are you going back and when are we going fishing?
I'm going back here on—I always drive a vehicle home, I got to get the docks in and then I'm actually not getting back until the end of June, I just have so much going on. But I'll be other there in July and August for sure, look forward to seeing all my friends from Saskatchewan at the lake.
Click below to share this post on Twitter, Facebook and Google +.