In a wide-ranging interview ahead of the opening of training camp, General Manager Kyle Dubas

sat down with Bob McKenzie

to provide a state of the union ahead of the much-anticipated 2018-19 Toronto Maple Leafs season. The full transcript is below.
Dubas on the captaincy: "I want to get into it day to day with these people and see who is best to handle that if any"
---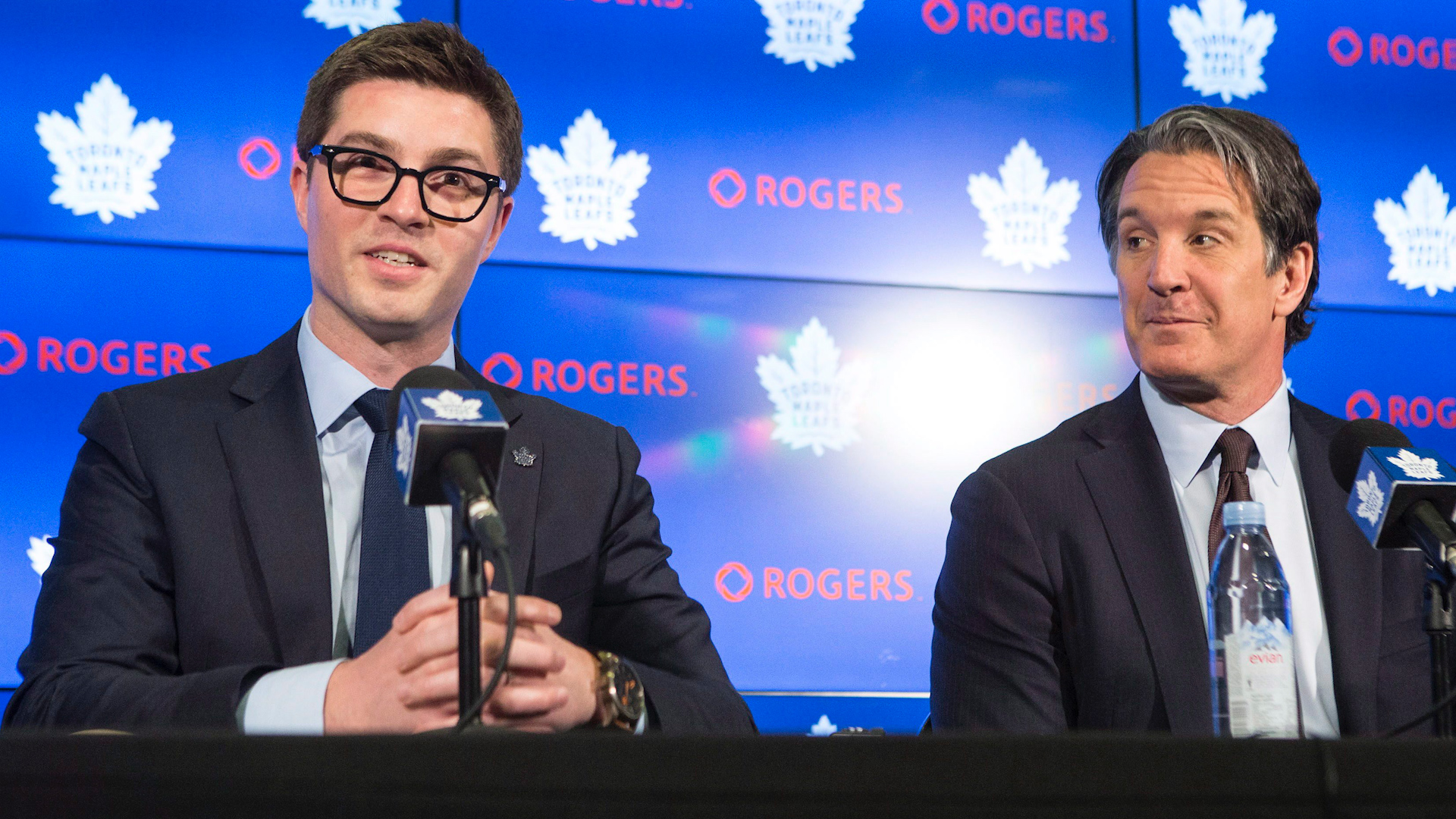 The Toronto Maple Leafs didn't have a captain last year. Will they have one this year?
Dubas: Not from the outset, I don't think. It's a very important honour, I think, to be the captain of the Toronto Maple Leafs or any team that has a strong history. For me, although I've been in the organization – this will be my fifth year – the way that I look at it is that I want to get into it day to day with these people and see who is best to handle that if any – if we do determine we need somebody to handle that. If we feel a void in leadership because we don't have a formal captain, that is something I think we can address.
I do think we have excellent leadership in the room. Patrick Marleau and Ron Hainsey are the veteran-most leaders, and adding John Tavares certainly helps. He has experience as a captain, as does Patty. We hope that all of our young players – whether that is Morgan, William, Jake Gardiner, Auston or Mitch – can continue to evolve as leaders as well. I don't put a huge amount of emphasis on it. I've always thought that, in studying teams, they were always best when they were patient in naming their captain and not rushing to name somebody and then having to make a move later to take it away, and all of the drama that can come with that.
When you said not from the outset – does that mean you will be starting the season without a captain and likely finishing without a captain, unless there are extenuating circumstances where you feel like it was important to do it?
Dubas: I think what we'll do is continue to evaluate it as the season evolves and as we go through the ups and downs of a season and see how the players – each of them individually – handle the daily process of a season. When things are going well, how do our guys handle it? When things are going poorly, how do people handle it? You're going to have that in any season. Even if you have the season that you all dream of and everything goes great, you're still going to have stretches where you don't play well or games where you don't play well.
There was a situation last year, very publicly, where Patrick Marleau stepped up in Ottawa between one of the periods and got the team going and helped the team to a win. It is various things like that that I want to go through in my first year as manager in conjunction with Brendan and Mike and our staff, and really evaluate it. It is an important decision, and not one that I think can be rushed whatsoever.
Dubas on his relationship with Mike Babcock, evolving view on character/intangibles
---
In the OHL and AHL, you've only ever hired two coaches. Now you inherit Mike Babcock. You are a young first-time GM. Mike is a veteran headstrong head coach. A lot of people are going to be watching that dynamic. How do you foresee the dynamic of the relationship between yourself and Mike?
Dubas: Well, I know how it's gone so far from the day that I started. Mike and I will speak on a daily basis – usually at the same time – and just kind of go through what's happening. I think the term that Mike uses repeatedly with me is that he doesn't want any surprises. That's more than fine with me. I don't want to surprise the coaching staff with anything as far as what my expectations are or various different elements.
What I have seen from Mike in the summer from working with him: He's very open to any ideas. He goes out of his way to try to learn more from everybody on our staff and what they are doing and then incorporating that into his larger, day-to-day routine and picture. He is very focused on where we can continue to improve as a team.
We just continue to have that dialogue day in and day out. I think I can learn a lot from Mike and I think I can help Mike with a lot of things, similar to what I hope I've been able to help Sheldon with both in the Soo and with the Marlies in terms of helping our group, whether it's my relationships where I can help with the players or his staff, or what I see from the way that we are playing or the way that different guys are playing.
It won't change the way that I've been whatsoever. It might not be for everybody, but it's been somewhat effective for me. I don't expect Mike to change the way he's been, either. Together, we just have to make each other better throughout. It's exciting for me for sure.
Mike called you a rockstar and said you're two decades smarter than he is. Are you and Mike in simpatico in how the game should be played and how the Maple Leafs should be playing the game, or does it even matter so long as the team wins?
Dubas: I don't know if any manager and any coach are ever truly in simpatico on the way that the team should play in my experience observing others and learning from others. But I think we've had a lot of very good discussion about the way the team has played before. Mike has ideas about how he wants to change and different variations we want to make to, "What is our defensive zone coverage," or areas of individual player development we need to key in on and help them with early in the year, and so on and so forth.
In the end, the goal of the team is to produce an environment, and within that environment is the system we play and the expectations of the players, whereby the players can reach their individual potential. If I am doing my job of acquiring talented players and keeping talented players, I think that is what will help the coaches and players to have success.
I don't think that that pressure falls onto Mike and the coaching staff. I think it always falls on the manager to make sure that I am doing those things to make that environment come to fruition.
All of that said, if you look at Mike's tenure in Toronto, he has put a premium on players like Leo Komarov and Matt Martin and Roman Polak. I wouldn't pigeon hole you and I wouldn't pigeon hole Mike and say those are the only players he likes, because he obviously likes more than that. I wouldn't pigeon hole you and say you don't like some of the qualities they have. You had Rich Clune on the Marlies, even though he didn't play a lot in the playoffs. That'd be a testament that you understand intangibles and these other various things.
The perception would be that you want more speed and more skill and to push the pace and the tempo, and those players mentioned – Roman, Leo, Matt – are no longer here. What do we make of that? Is that a case where the GM says, "I'd prefer other players, so I'll just make sure the players he might want to lean on aren't here"?
Dubas: I don't think I ever looked at it that way. Leo and Roman were both free agents and had a chance to explore that and they did, in Dallas and New York, respectively. In Matt's case, he wasn't playing at the end of last season. He's an excellent character person and did a lot for our group in the two years. We made the playoffs both years and we hadn't before. A lot of people are quick to say, "Well, what would he really add to the team?" But if you're in it every day and you're with a group every day, you see the impact he had on young players when they came in.
I think you can't truly quantify that and that becomes a big argument in hockey currently. But I also think that anyone who has worked anywhere – when you're a new person in a workplace and you have somebody that has been around for a while, even though they might not have the talent that you have, they can teach you how to operate day to day and that's going to help you perform. I don't discount that whatsoever.
There was a time, perhaps early in my tenure here and certainly in my tenure in the Soo, where I would have foregone some of those intangibles in lieu of very objective end points in terms of a player's output. Over time, I have certainly had to… At the end of every season, until last season with the Marlies, it was always looking back on, "Okay, why did we fall short?" Last season with the Marlies it wasn't a team that was built to have it purely be all about the typical things you hear – character, intangibles, and all of that – but there certainly was a focus on guys that could be good veterans for the group. They were good players, but in terms of how they treated young players and their role in our development model – I think that stuff is important.
That's why I really value having Patrick Marleau, Ron Hainsey, Curtis McElhinney here in his role with Freddy, and then adding John Tavares to the group will be very positive for our young players. Those players have been through a lot. It's like with me, having an opportunity to work with Lou. It was a great opportunity for me and one I am thankful for because I was able to accrue a lot of great knowledge and experience in that time that I think will help me. I obviously still have to prove myself, and you always have to prove yourself in this role no matter how long you are in it, but it'll help me, certainly, adjust to it.
Dubas on signing Tavares, making the cap & ice time work
---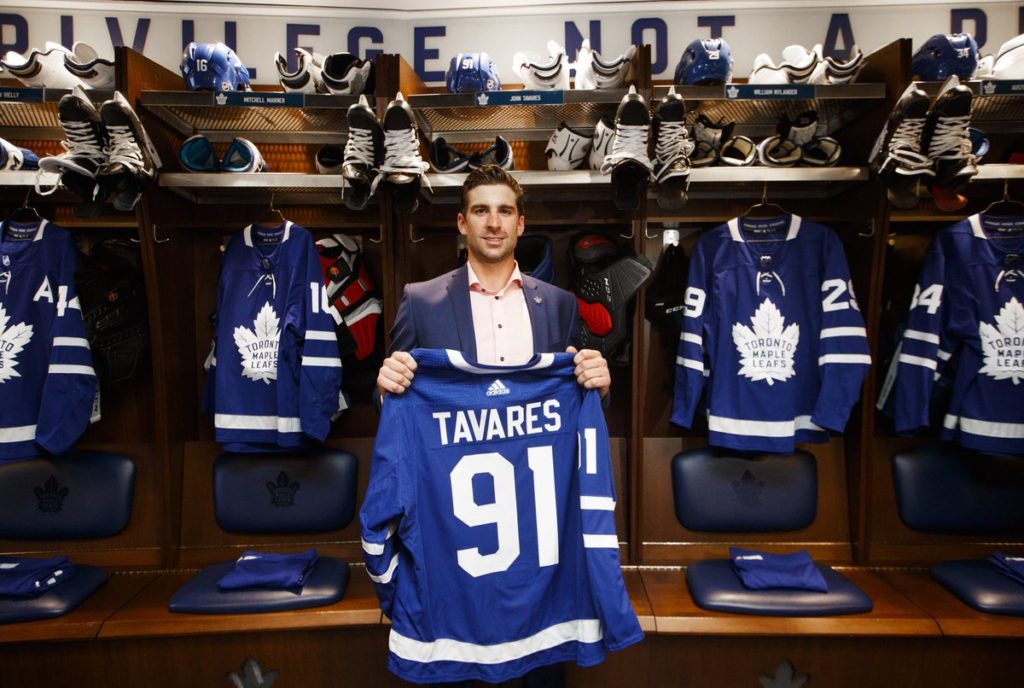 Let's talk John Tavares for a minute. Why did you take the plunge?
Dubas: I think it was an opportunity to add an elite player to our group. In addition to his ability and talent on the ice, it was who he is as a person and what we know he can add to our locker room and the impact that I think John can have on our group – not by changing a single thing when he is in Toronto, just by continuing to be himself with how he lives each day and his process that he goes through to give himself the best chance to have success on a daily and nightly basis in the NHL.
Obviously, he's been one of the top producers in the league now for the entire time he's been in the league. When you bring that in addition to his character to our group, it was a no brainer for us. If we could get him to the room to present, we were going to do it and put our best foot forward.
We just thought it would be an excellent fit for him as our younger core of forwards continue to grow. He can help them and guide them in addition to Patty and our others. When he kind of rounds third and is heading home in his career, those guys will be at that same stage and they can hopefully propel him along as well. We just thought it was a perfect fit that way in terms of the alignment of the group.
7 years, $77 million. You guys believe that signing Tavares doesn't prevent you in any way from keeping Nylander, Marner, Matthews and Rielly and keeping the core of young guys together long term, but there are a lot of Leafs fans and some in the media who fear that you can't keep all of those people together. Does something have to give somewhere along the line?
Dubas: I didn't think it would be prudent to go down the course where you are adding John but you're subtracting somebody else in addition to the players that departed in free agency. In the end, we want to be taking steps forward. We went through a very strenuous plan of looking through it deeply and thoroughly and making sure we wouldn't be sacrificing any of the players there. I just didn't think it would be smart business practice for the team to be doing that, to basically have this one year and then you're taking a step back to subtract somebody.
We went through that. I know that people will never be fully assured. I can say whatever I want today to you, they'll never be fully assured until we announce, in time, all three players. But I can assure that our planning and our process that we went through internally was a good one and we are confident in our ability to move ahead with all players.
A lot of people – some fans, some in the media – at times last year would freak out a little bit because Auston Matthews wasn't playing 20 minutes or 20+ minutes a game like a lot of star forwards do in the NHL. With Tavares coming in, and you've got Auston Matthews and Nazem Kadri as a potential third-line center, along with Marner and Nylander, is there enough ice time to keep everybody happy? Do you have to go to them and get buy in from them on the fact that maybe things are going to be even more balanced than last year – and they were pretty balanced last year?
Dubas: I'm remiss not to take into account that the decisions you make as an organization affect everybody individually in a different way within an organization. If you want to build the organization and the environment that we are planning to here where the players, in the end, we hope will take collective ownership and propel it to something that is memorable and exciting, we had to get their buy in and thoughts as well.
When we spoke to those players about the potential of adding John, we made sure they were excited and on board as well. To a man, they all were. To a man, they all brought up to us that they know it may not result in them playing the minutes you mentioned, but it will make the team deeper and give the team the ability to win. I think that was one of the most exciting parts of starting here so far – hearing that from the players. I think that's a big testament to Lou and the job Brendan and Mike have done here over the last number of seasons. The players already had that mentality, which was that if we add him, that adds a better player and that helps us have success individually and collectively. They were fully on board with it. That was nice to hear for sure.
Dubas on The Big Three Contracts
---
William Nylander, restricted free agent, doesn't have a contract and training camp is a week away. What's the latest?
Dubas: There are a lot of players in the league and a lot of teams in the league that have players in this situation stills, and we're continuing to work towards a solution to it. I'm confident we'll get there. We're not going to, of course, get too deep into our situation with any player that we have and their contract status. We'll have some news on that when we have it.
With or without a contract, do you expect him to be here to start training camp?
Dubas: At this point, I haven't put too much thought into it. I would think, like most players, if training camp were to start and there were no contract, the player and his representative would elect not to attend, but I haven't had that discussion with them at all. I'm just surmising based on history.
With a player like Nylander, and obviously we can talk about Auston Matthews and Mitch Marner as well, is a bridge deal, a long-term deal, or either one a possibility or preference from your end?
Dubas: I think the mechanics of it relative to the salary cap are always important. On a longer term deal, the players are giving up more of their bargaining rights in terms of UFA years, and that is their pay goes higher relative to our salary cap. So we have to always keep that in mind and realize how it fits into our puzzle. On all of them, we envision – regardless of their contracts in the immediate sense – that they are all long-term parts of our team and will be here for their whole careers, and we continue to work towards that.
The next logical question, obviously: Auston Matthews and Mitch Marner have a year left on each of their contract. They are eligible for an extension now. What is the likelihood that one or both of those guys will have a multi-year deal in place before the season starts?
Dubas: I wouldn't say it's all too likely. We've had good discussions with all of them, with Mitch and Auston and their people. These are the types of things, because there is no real immediacy to it – they both have another year of their contract and everyone is excited for the season – it has been a very patient process on all parts. That is more from the team than it is from the players. I believe that if a player is going to commit to a team on a long-term agreement, we want them to be very comfortable with what they are getting into. That is the approach that we've taken with them and we've had good discussions with Judd Moldaver and Darren Ferris, respectively, on Auston and Mitch.
If it doesn't get done before the regular season begins, does it push off until the offseason, or might it be something that could be done in season?
Dubas: We've got great people on staff here. I don't think we're of the type that would say, "No, we can't focus on it during the season." I understand when players say that because they want to focus on day in and day out. Our job is, of course, to manage the day to day of the team but also keep one of our eyes, at least, on the long term. With Brandon Pridham and Laurence Gilman here, plus myself, we've got a good amount of resources that we can continue having those discussions. I would understand totally if those players would not want that distraction, if you want to call it that, in-season or not want to deal with that element. They're both young players. They've both had an excellent two seasons for us so far and hopefully they'll continue to take steps. We're just trying to build that environment to help them both reach their potential.
Dubas on rising expectations and "The Process"
---
Let's talk a little about the team and expectations this year. There is raging optimism, especially when you signed John Tavares. Right away, for a lot of fans, that was it – Cup contenders if not Cup favourites — and some media people as well. What do you think is the reasonable or unreasonable expectation for this team in your eyes?
Dubas: I think the goal is that we want to come in and focus every day on how we play and continue to improve our process that way. That would be very positive. Right from day one, we want to be a team that has the puck, of course, and is able to sustain it in the offensive zone. That is the type of thing, when I talk about process, it's that we are leaving our own zone effectively and efficiently and using our talent to its utmost potential. Those are the types of things I focus on the most.
When I focus on the at-large, "where do you want to be at the end of the-year?"  I tend to focus a lot of my time on our division. Last year, we finished behind Tampa and Boston, so we want to position ourselves over the 82 games where we hope to challenge them. Tampa is an excellent team and Boston is an excellent team, so it is going to be a difficult challenge for us. That is really where I focus a lot of my time: How can we, throughout the season, continue to evolve and improve and try to challenge those teams a little bit more?
On the other side of it, you have Florida, who charged last year late in the year, who are going to be coming for us. You have Buffalo who have made moves to make a push, and you have some very storied franchises and then another team that was one win away from the Stanley Cup Final two years ago. They're starting to push as well. We have to continue to improve on that. I always think that if we can focus on our division, because of the way the playoffs are formatted, and position ourselves in our division and one day get through that, we will be happy.
With a team that went from 69 points to 95 points to 105 points but had back-to-back first-round losses, the conventional wisdom would be sprinkle in a playoff round win or two before you start talking about the Cup. But what happened in Vegas last year kind of blew that all to hell. Why not you guys, right?
Dubas: I think that's the belief we want to focus on. I think the messaging internally to our players is, "Listen, expectations are continuing to increase when you add a player like John to a team that had 105 points." We've also had some players make that transition from being a lottery team to making back-to-back playoffs with 95 points and 105 points – I don't discount the fact that when you have guys like James van Riemsdyk, Tyler Bozak and Leo Komarov depart the group, we need other guys to fill in as well. A large part of our fortune this season… of course, having John is a big benefit and will make us very strong down the middle, but alternatively, it is going to be, "How can we build an environment where our young players can continue to thrive and step into those roles and continue to produce and improve?" Both the guys that have already been on the team and the players that are going to be challenging to become full-time NHL players, whether it's a Kasperi Kapanen, a Carl Grundstrom, Andreas Johnsson, so on and so forth.
Morgan Rielly said of you, "He has a really specific idea about what he wants to do." What is this really specific idea?
Dubas: I think it's important that the players know what our expectations are of our team as a whole and of them as individuals. When I met with Morgan, I just tried to communicate that. Especially him – Morgan is 24 years old now. He had a career year last year in terms of output. He plays on our top pairing. He plays in all situations for the team. For him, it's continuing to take steps forward and what I thought his role within that could be. I don't think we've reached his full potential yet, either.
What I communicated with him about the team is a lot about what I said previously. Our focus is not forgoing our daily process and what we are doing as individuals and as a team on a day by day basis, starting next Thursday when we begin, by getting focused on the long-term stuff. I think that is where teams tend to falter and trip themselves.
Especially in our situation here, we'd be remiss to ignore the fact that because we are in Toronto, there is a lot of coverage and there are a lot of people that have a lot of questions about the team and there are a lot of people that have a lot of interest in the team. We are very fortunate to have that. As a result, expectations can rise, and I think it can allow our players and our staff – me included – to get a little bit beyond what we need to do every day to help the team reach its ultimate goal. That is what I have communicated to Morgan and all others.
On your Twitter feed, there is a picture with you and your grandmother with the Calder Cup and you're wearing a T-shirt that says, "The Process vs. Everybody." If you go through your Twitter feed, you see various references to the process. What is your version of what the process is in a reader's digest version?
Dubas: I think there are two forms of it. It is a term that has become very commonplace in sports and in all facets of life, but early in my stint in the Soo, I had a book given to me called, "The Score Takes Care of Itself" by Bill Walsh. In that book, and in talking to the many great people around hockey, the more you talk to people and you have a chance to study successful people and ask them questions or sit by them in GM's meetings or whatever you may get to do, you get to learn very quickly that the most successful people have a very specific process that they follow. It keeps them unemotional and keeps them on task.
When it comes to running a sports organization, there are two sets of processes. We have to have a process when we are scouting, acquiring players, negotiating contracts, signing contracts, and when we are hiring people or setting our style of play. And then there is an individual one for the players, which is what they do every single day and what their habits are, and how that contributes to them maximizing their potential and developing. That is what I would say is the process: It is the sum of every individual action you take towards reaching your goal.
Each individual process creates the culture of the group, is how I have come to look at it. With everything that I've done, I've tried to stay as focused on that day-to-day process and not get too tied down. When I was early in my career in the Soo, I'd become very emotional with the wins and losses. Reflecting back, I realize it made me a very ineffective manager of our coaching staff and our general staff and of our players. I've had the fortune to learn, sometimes the hard way, that when you focus on your process and improving it daily and yearly and reflecting back on it, it can make life far more efficient and effective.
Dubas on goaltending depth and a possible trade
---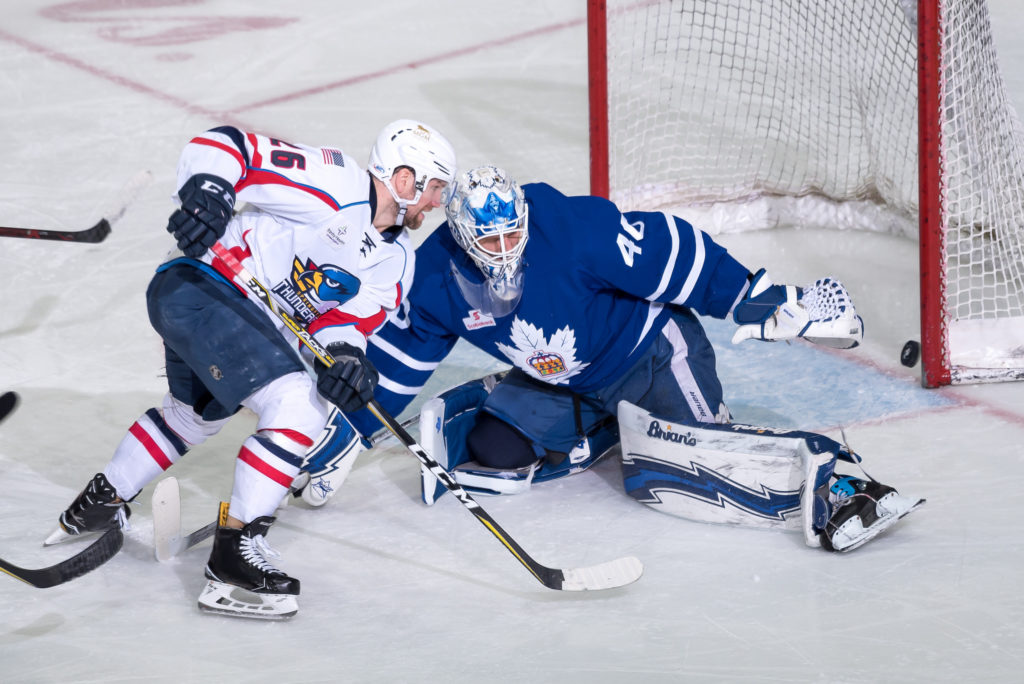 Let's quickly zip through the current roster and kind of rapid fire this a little bit. Freddy Andersen is obviously a number-one goaltender. You've got the veteran in Curtis McElhinney who has a year left on his deal. Garret Sparks led his team to the Calder Cup with the Toronto Marlies. He needs waivers this year. He is a young guy – 25 years old. Is it the best backup wins, or is it because Sparks is 25 years old, he's got an innate edge over a guy like Curtis in the short term?
Dubas: We've also got Calvin Pickard there as well, and Kasimir Kaskisuo coming as well. He finished in the top ten in the American league. I think we are very fortunate to have the depth in goaltending that we do. We'll let the goaltenders figure it out here in training camp and exhibition. I think every team in the league also knows we have a surplus of guys there.
Is there any chance you make a trade?
Dubas: I think there certainly is a chance. You can only have two on the roster. Freddy is going to be on the roster. One of the other three is going to be the other guy.
Can't you start with three at the beginning?
Dubas: I wouldn't expect it, but I would never say never. We'll give the goalies all an opportunity. They're all acutely aware of the situation. It doesn't have to be expressed to them; they can look around the room and see it. We'll see how it plays out. All of those factors are always taken into account. But it's exciting for us and we're fortunate to be in the position that we are.
Dubas on the state of the defense: "I am excited about the group as a whole"
---
When you were named GM, one of the first things you said to a lot of people was, "I am a lot more bullish on our defense than a lot of other people." As your defense is currently constructed, do you believe that is a Cup contender defense?
Dubas: I think it's so interesting how that narrative has evolved. It's the thing I get most frequently when I am walking the street or in any conversation, people say, "When are you going to do something with the defense? When are you going to add a top defenseman?" And then on the other hand, you have people that say, "It's hard. There is really only a handful of those really top, top guys, and they're not easy to get. They're certainly not cheap to sign and not cheap to trade for. A lot of them are picked quite high in the draft." And then there is the alternative mindset, which is that you look at the teams in the Cup Finals or that have won the Cup in the last number of years, and they don't have one of those guys, either.
I have a lot of faith in Mike and DJ Smith and the development staff to continue to develop those guys. They all, at times last year, had their various injuries. Zaitsev missed a lot of time. Looking at him today as he arrived from Russia yesterday, he looks good. He looks healthy and is healthy. I expect him to take some strides this year. It's his third year over here now.
I am excited to see him and Morgan and Jake. I've got a lot of faith in both of them as well. And then you've got Ron there as a veteran, stabilizing guy. You've got Igor Ozghiganov coming over from Russia. We have Dermott there as well. I've spent a lot of time with Marty Marincin, Justin Holl, Calle Rosen and the like. We've got Timothy Liljegren coming.
I am excited about it. I like the way that that next group plays, as well – Rosen, Borgman, Holl can all skate and move the puck. In Holl and Marincin's case, they were the top pair for the Marlies team last year that won. I think that that certainly counts for something as well. I am excited to see them in camp. I know it doesn't really blow anybody away in terms of name brand value, but I am excited about the group as a whole and the way that they can play.
Of that group, most people are familiar with the vast majority of them, but Igor Ozhiganov, the Russian you signed, what is the scouting report on him? In your mind, is he likely to start on the NHL roster or does he have to prove that in camp?
Dubas: Jim Paliafito, our senior director of player evaluation, did a great job identifying Igor. It has become a competitive market there in Europe in recruiting them and building a relationship with them. He has been over here since early August, voluntarily coming to our facility every day. First one there, last one to leave. Excellent work ethic. I am excited to see him in action.  He has left a lot in Russia to come here. Though he hasn't been over here playing like the rest of them, because of that sacrifice on his part, we would be remiss not to give him a great opportunity.
You have Connor Carrick here as well and he's given our organization two good seasons. We made the playoffs both years. He led the Marlies in scoring – the whole American league in scoring – the first season with us as well. We've got guys that will make for great competition in camp. I think that's always exciting.
Dubas on the forward group: Line combos, Josh Leivo's future, the 4C competition
---
Up front, is it likely that Tavares and Marner will start together?
Dubas: It's Mike's lineup card, as they say. I think he's been very overt in saying we've got William and Auston, who have good chemistry together after the last two seasons. It is easy to check down and say it will be Tavares and Marner to start.
Marleau playing with them?
Dubas: We'll see. It's up to Mike. We've got good options there, whether it's Tyler Ennis, Patrick Marleau, Zach Hyman, Josh Leivo, Andreas Johnsson. I just try to, if we can, find as many players and then let Mike and the staff sort them out.
With the departure of some wingers who ate up some minutes – JVR, Leo and others — obviously, a much bigger role for Andreas Johnsson and Kasperi Kapanen [this year]?
Dubas: I think they're ready for it. Johnsson, as he's settled in here when he got recalled last year, played well. Kasperi finally in the second half of last year settled in and was full time really from the midpoint of the season on and played very, very well for the team in the playoffs.
He's only 22 years old and Johnsson is only 23. Johnsson being the MVP of the Calder Cup playoffs – he was outstanding for the Marlies. I think they are both capable of becoming excellent players for us and continuing to evolve and work their way up the lineup. They will have to certainly earn it. They will have to earn it because there are very good players ahead of them. It's going to be exciting to see how they come into the city and the condition that they're in and then to get them on the ice here next week.
Carl Grundstrom – NHL ready, or another year in the American league?
Dubas: He came over and played on the top line for the Marlies in the playoffs with Johnsson and Miro Aaltonen and was outstanding. He is just 21. He's not even 21 – he'll turn 21 in December. He is a young man still and we need to properly develop him. All of that said, if he shows that he's ready, he brings an element that we don't really have a lot of in that he is a stronger guy that can win puck battles but also has talent to make plays off the rush or from offensive zone sets. I am excited to see how Carl has evolved. He is an excellent worker and a great young man. We'll see what he does in camp and we'll give him every opportunity.
What is the projection for a familiar face in Josh Leivo and a new face in Tyler Ennis?
Dubas: I think in Josh's case, you root for Josh. We had him with the Marlies for the first two seasons that I was there – the first two full seasons. He is an excellent person. Two years ago, I felt like he was right on the verge with nearly a point per game in the 13 games that he played, and then he was out of the lineup. Last year, he just never really got on track. The key from my perspective is that we've got to give him an opportunity. He's worked extremely hard again in the summer, as he has the past number of summers, and he looks great. He continues to try to adapt. I think most players would be really negative and down coming off of those two years playing less than 30 games. He elected to come back on his own, so you want him to do well. If it's not going to be a fit here, we want to accommodate him and make sure he is in a good spot. But I think it will work here for Josh based on the work he has put in and our belief and want for him to succeed here because of what he has given the organization since being drafted.
Ennis — we looked at out depth and thought, "Where we can use a bit of a boost?" Right after we signed John, we had a litany of veteran players that were willing to come here on shorter term deals, and then Minnesota bought out Tyler. He would say himself he was not thrilled with how the year last year went. He had the injuries the previous year in Buffalo and has spent a lot of time coming on his own to Toronto to work with our medical staff and our performance staff to make sure that he is ready to roll for the year. He is obviously a guy that a lot of people in Canada know from his exploits with Team Canada and the start of his career with Buffalo. He has a tremendous amount of talent. As Mike and I kind of looked at the players available, we both thought this was someone that would fit our team very, very well because of his ability, his quickness, his ability to make plays. We are excited to see him. He's got a lot to play for this year. He is coming off of a buyout and I think he has a lot of incentive. We are looking forward to giving him an opportunity to get his career back rolling. He has put in a great amount of work this summer, so it should be exciting.
The fourth line center has been a bit of a revolving door each of the last few trade deadlines – Brian Boyle, Tomas Plekanec, Dominic Moore. We thought that Miro Aaltonen might be that guy. We now start the season with Par Lindholm coming over and Frederik Gauthier still in the mix. How do you see the battle for the fourth line spot shaking out?
Dubas: You've nailed it – we've got Freddy, who has played games in that role for the Leafs. He needs waivers. Freddy — every team he plays for seems to win. And he'll tell you that, too, if you really get to know him. He is awesome. I've really enjoyed my time getting to know Freddy.
Par Lindholm is another guy that Jim Paliafito put a lot of time into recruiting. There was a lot of competition for him after his year last year in Sweden. Both of them will come over and battle for the spot. We've also signed Adam Cracknell, who has played that role with various different teams in the past and was excellent last year when he moved over to Laval. We have him there and then we have Adam Brooks as a young player. He made big strides in the second half last year and then in the playoffs with the Marlies. We hope that he'll continue to show more and challenge in camp as well.
Between those three and hopefully Brooks as it gets rolling, we will have a solution there for the quandary that has been the fourth line center.
Kyle Dubas on Lou Lamoriello and the future of "Lou's Rules"
---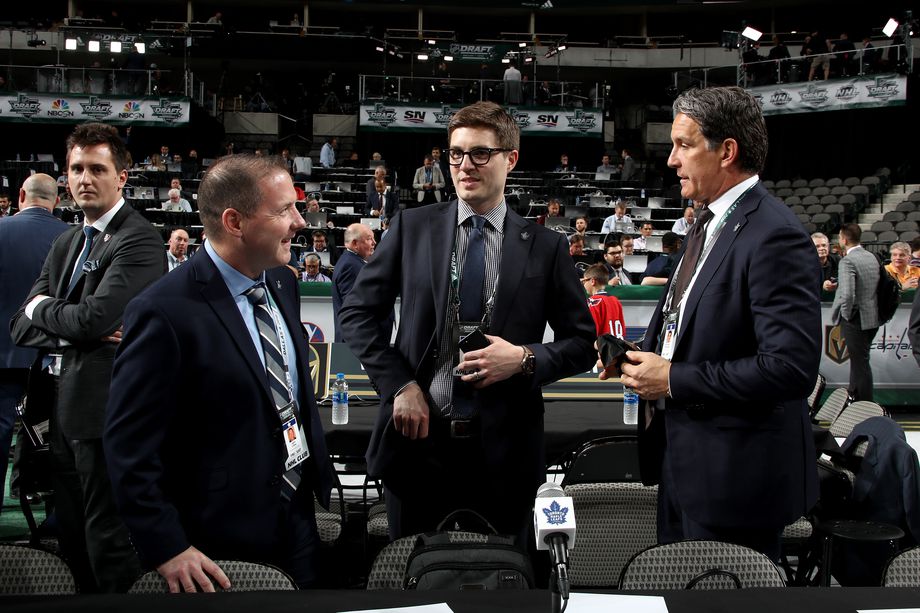 Lou Lamoriello – you and he really became close over the last year, didn't you?
Dubas: Yeah. That's certainly more than fair to say.
Friend? Mentor?
Dubas: It's still strange to say when there is a large difference in age, but even now, our joking back and forth is very friendly. But I would say it was a friend and mentor – probably a friend first, but his role as a mentor was immense to me. I think there have been times when what Lou taught me was that you can never be so certain about things you don't know. Whether it's my time here or my time in the Soo, I think I've been guilty of getting too far ahead of myself and where I thought our respective teams were at. With Lou, it really helped me to refine that – to look at things with more of a broader lens than the one that I looked at it with, and to learn a lot from him in terms of the experiences he had not only with the Devils, but going back to his days in college and the way he handled younger players, as I was tasked with handling young players with the Marlies and our development model under Lou.
I learned a lot. He'd say that one day, when he is on the beach smoking cigars – it wasn't like he was going to move to the Islanders – "Where people go wrong is when they try to imitate the person that they're succeeding." Lou is Lou and there is only one of him. There will only ever be one. That follows for everybody. If I try to be Lou, I would be a cheap imitation of him. What I try to do is take the many lessons that I learned from him, apply them to the way I have been in my whole life, and hope to have success. If we do have success here, or I personally do in the long run, I'll owe a lot of that to Lou and his mentorship over the three years here.
When Lou runs a team, he's got his rules. Everyone knows – no facial hair, no long hair, no media on the charter, and things like that. It's not like just because Lou is gone you're suddenly going to take the culture and turn it upside down and throw the baby out with the bathwater. But when you were in the Soo and ever since then, you've been an outside-the-box thinker who encourages people to be yourself, show your creativity, and show your individuality. Is it a safe assumption that, without making it look like you're undoing things that Lou did, if Leafs show up with a beard or a little bit longer hair, it's not going to be an issue?
Dubas: It's something that I go back and forth on. It's been interesting having those discussions with the players. The players aren't going to make the decisions, but I do think that, especially as you are growing as a group… And you want to create an environment with what we are doing here and you want to create a situation where the players, in the end, make this about something greater than themselves and even greater than just the Toronto Maple Leafs and their logo. They have to build something within the group and foster that environment.
I don't discount the impact that the players having a say and an opinion has, so when we make that decision finally – which I go back and forth with, frankly – what I'll do next week is meet with our veteran group of players and we'll incorporate some younger players into that as well, and see what is meaningful to them. I'll voice my thoughts on both sides of it, and Mike and Brendan and everyone will have a say. Sometime in the future it'll be apparent to everybody what we have moved ahead with as the Toronto Maple Leafs.
Dubas on the hiring of Hayley Wickenheiser and Noelle Needham
---
You hired Sheldon Keefe in Sault Ste. Marie at a time when a lot of people wouldn't have hired Sheldon because of some history that he had in the game. You gave him a chance. You just recently hired two women – Hayley Wickenheiser as part of your development staff, and Noelle Needham as an amateur scout. We shouldn't be surprised because you were quoted once as saying, "Hockey is far too reliant on heterosexual males." Why do you believe that it's important to make diversity hirings, realizing that, of course, you think these people are obviously qualified?
Dubas: I think it's important just in studying different organizations. It's not trying to think outside the box or anything like that. It's just trying to study different organizations, not only just in sports but certainly in basketball, baseball – they've been more diverse in their hiring. You look at the organizations that have had success, and they all draw from a much wider depth of people with the type of people that they hire. You talk to Masai here and he'll say bluntly, "Hire women. It just benefits the organization so much." The benefit to the way that you think when you have a different perspective is so immense. It's not just a male or female thing. It is the cultures and the places we are hiring people from, I think, that can help.
You get beyond hockey and sports and you just look at business in general, and it is studied and factual that the benefit to being diverse in your hiring is beneficial in the long run to your organization. That's what we've tried to do. We've not foregone hiring the best people. The best people, in these two cases with Noelle and Hayley, have been women. We've just executed the hirings and moved ahead.
Dubas on his thirst for knowledge and his three defining traits
---
Some of the traits that people who know you say really define you is, 1) Your quest for knowledge and that it is never ending. Good to Great, Ego is the Enemy – all these books that you talk about. Is there any one for you that is the bible?
Dubas: It changes. I try to read a lot and try to learn a lot. Really, we are in a hyper competitive business and a hyper competitive field. I'm just starting out, so I think I have miles to go to catch up to the others. You sit beside Steve Yzerman and he's had great success as a player and great success as a GM. You get to sit next to Lou for three years and you realize you have a long way to go. I think I owe it to the organization to try to be learning all the time and improving my knowledge base all the time. Hopefully I can pass some of that on, if I think it is relevant, to our players and our staff.
The book I mentioned earlier by Bill Walsh – The Score Takes Care of Itself – I read it at the perfect time and now I re-read it any time things change. When I first came to Toronto and when I took this job in May, I read it again just to kind of go back and reset where you are at. If you have strayed away from some of the things you thought were important, you can kind of get back to them.
Another book that I find has been great for me has been Thinking Fast and Slow just in terms of your thought process and recognizing some of the biases that you have and the things that can affect your judgment and decision making in hopes of eliminating some of the common mistakes that people make with our team.
The second thing that people said really defines you is that you are very much a people person, especially that you try really hard to connect one on one with people. Jack Drury, who was drafted this past year not by you guys, was talking about you after an interview with you. He said, "Their new GM is on point. I like going back and forth with him. He is one of the smarter men that I met this week." Can you really quickly tell me what you did for your Toronto Marlies players on Mother's Day last year?
Dubas: We just let them go home to see their moms. I didn't think it was anything all too special. I got feedback from the mothers and the players. To me, they earned that. We finished the series in the second year against Syracuse on a Tuesday, and we weren't starting the next series against Lehigh Valley until the next weekend.  A lot of that credit should also go to Sheldon because most coaches, at that point in the season, would say, "No, we've got to practice. We can't let the foot off the gas. We can't do any of that." The players had earned some time off.
I just thought that it was Mother's Day. I am a big believer that a lot of these people – everyone, in media, everyone – when you sign up to start a year, it's September 5th right now and the Marlies season went until June 14th. You're talking about a nine-and-a-half-month journey. It is not just the player or the manager or the media relations director or the broadcaster or the insider that goes along for the journey; your whole family goes with you, too.
That is a huge component to me. If we can build that environment and make sure that the players and our staff know that is important to us, the families are more in on the journey as well. I just thought it was a simple thing that the players had earned because of their play in the first two rounds, and it was easy to do.
The third element that people say defines you is family. Obviously, you have a wife Shannon and a one-year old son, Leo. You obviously have a very special relationship with your grandparents. Walter Dubas Sr. passed away six years ago and meant an awful lot to you. And there is Grandma Dubbie, who is quite a Twitter personality. She is giving it to the OHL referees on a consistent basis and is even saying, "Come on Tavares, you know what you want to do," which tells me we need to get her in on free agent frenzy day because she obviously called that one. Can you talk a little bit about your bond with your grandparents, both living and past, and what it means to you and what Walt Sr. might be thinking seeing you sitting in this chair now?
Dubas: Yeah, it's tough. Without my family and without my grandparents and their influence and the habits instilled within me, and the things that they would do for me… when I was growing up working for the Greyhounds, I was still playing hockey. They would be there every day after school to drive me to the Soo Memorial Gardens to work for the team, and then my parents would be back at seven o'clock to take me home to do my homework or go to practice, or whatever I had to do.
My grandparents, notoriously, would wait for me after games. You know what that can be like until the coaching staff and trainers are done. It can be hours after the game. They were always in their same spot in the lobby at the Soo Memorial Gardens waiting to get me fed and get me home and make sure that I got on my way. Without that commitment from all of my grandparents in general… you need so many people to help you along the way and you need that fortune, and people who really believe in you.
When I look back at the whole thing, as I have been able to reflect on it – especially this summer – the key thing that they did was always believe in me. When Dave Torrey offered me the Soo scouting job when I was 17 going away to Brock, the pay was $1,500 and I had to take my expenses out of that. People said, "You're nuts. You're going to lose money doing that." They always believed that if that was what I really wanted to do, I should just follow through on that and to look at it as an investment in yourself. You look at those different things along the way and how they helped you get where you are, and without them, I wouldn't be here, for sure.
In these interviews and in your job in general, you project an image of calmness, professionalism, all of that. A lot of people believe that if you really want to know the real Kyle Dubas, get the video of you receiving the Calder Cup, and that's the real Kyle Dubas. Fiery, intense, over the top.
Dubas: It was definitely over the top. I would say that I am always very passionate and very intense. What I think I've tried to learn about myself is that early in my time, I was overt with it. The influence when you are supposed to be managing the team and leading the team, if you are that way, it can make everyone else uneasy and have a negative impact on the group. I've tried to really focus on that – not for myself, but for the impact it has for the others around you.
The Calder Cup celebration – a lot of those people that were on that team, it was a very special group with the environment that was there. A lot of the people that I had worked with there I had been together with from really the start in the Soo. They were either trainers or coaches or assistant coaches. I think you now see this from time to time, whether it was about the Soo or about me. A lot of people, until you've won, they always doubt whether you can win. And then you do it and it goes away.
Though that's not the ultimate level where we want to win, it was the ability to win with that group that had been doubted from time to time and had been on that journey for a number of years. Because I had moved on to a different role, it was our last chance to really do it together. I think that emotional side of it and everything that had kind of gone on just led to me being very excited. I think if we ever get to that point again, I'll be as excited or more and I won't apologize for it, either.
Final question – big wrestling fan?
Dubas: Perhaps. Haha. I don't hide it. I am a wrestling fan. I am not going to dance away from it. "Athletic theatre," not wrestling.
In the spirit of being a wrestling guy, do you want to make any bold proclamations like, "I am guaranteeing right now that the Toronto Maple Leafs are going to win the Stanley Cup this year?"
Dubas: I will never do that. I would be the most boring wrestling manager or wrestler ever. That is why I just enjoy watching it. I think if you went up as a wrestler and said we are just going to focus on optimizing our process every day, Vince McMahon wouldn't put you on too many shows. I'll just stick with this and I'll continue watching wrestling, and we'll go from there.