Editor's Note: We're pleased to welcome Kevin Papetti (@KPapetti) to the writing staff at MLHS. Kevin will be providing weekly analysis of the Leafs and Marlies going forward.
With a couple of days off for both the Toronto Maple Leafs and Toronto Marlies, it's a good time to reflect on some early-season developments within the organization.
This week, we'll take a look at the two Swedish youngsters on the Marlies blue line as well as Travis Dermott and Jeremy Bracco's starts to their respective seasons.
Despite a Few Rough Shifts, Rasmus Sandin Looks Like He Could Stick in the AHL
---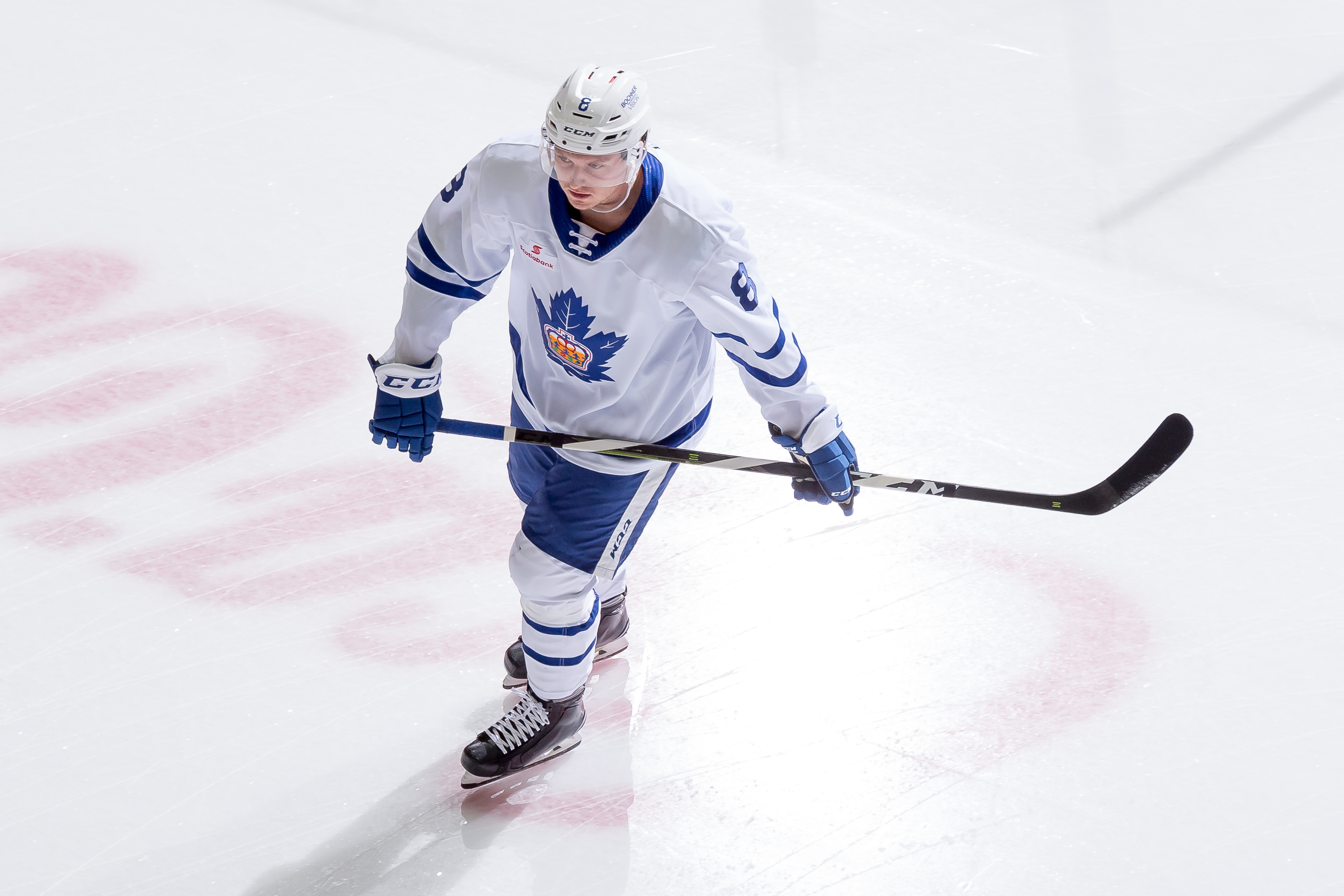 After a strong showing in the preseason, Rasmus Sandin continues to stand out with the Marlies. The 18-year old defenceman boasts two goals and one assist in his first two games, and while this type of scoring production is clearly unsustainable, he continues to make everyone forget that he's only 18.
There have been a few blips along the way, as he was danced around at the blueline for a highlight reel goal last game and had himself an awfully rough first period. However, despite his small stature, he plays a heavy style and regularly puts an end to opposing cycles. His patience with the puck constantly stands out, and he's terrific at eluding opposing fore-checkers in order to create time and space. This skillset makes him a zone exit specialist, and he keeps a pretty tight gap when defending opposing forwards in transition.
When Sandin goes into a battle in the corner, he's usually the one coming out with the puck:
Rasmus Sandin is a little bit undersized, and he's the youngest defenceman in the AHL, but he sure doesn't have a problem winning puck battles: pic.twitter.com/PDi38N6Ih7

— Kevin Papetti (@KPapetti) October 27, 2018
Rasmus Sandin is where cycles go to die. He is much stronger than he looks pic.twitter.com/SUQgiBt0JF

— Kevin Papetti (@KPapetti) November 2, 2018

 
That's rare for such a young player, but he leverages his body well to get the most out of his 5'11" frame. It remains to be seen if he will start receiving significant minutes on the power play, but he's strong enough as a puck mover to quarterback a second powerplay unit at the NHL level someday, even though he is not gifted with a heavy shot.
Sandin looks like a near lock to make Sweden's World Junior team, and while he won't captain the team as an 18-year old, he has a chance to do just that in next year's event. He formed a dominant top-pairing with Adam Boqvist at the U-18 tournament a year ago and made an impact in all-situations. While his style of play isn't particularly flashy, he certainly produced at a strong level in junior:
Here are the OHL leaders by points per game as an under-18 player. I went back since Doughty's big season in '06-07. I believe Vande Sompel may have spent some time at F.

Merkley and Sandin are impressing this year. pic.twitter.com/WzHUsOhl95

— Kevin Papetti (@KPapetti) March 6, 2018
He does not have the same top speed or hard shot as Liljegren, but he's less mistake-prone and does the little things well in tight spaces. The whole is greater than the sum of its parts in terms of Sandin's skillset, and he always seems to be his coach's favourite player at every level. All in all, it's been an encouraging start for Toronto's latest first-round pick, and it looks like he has a chance to stick around with the Marlies this year.
Patience is Required With Timothy Liljegren's Development
---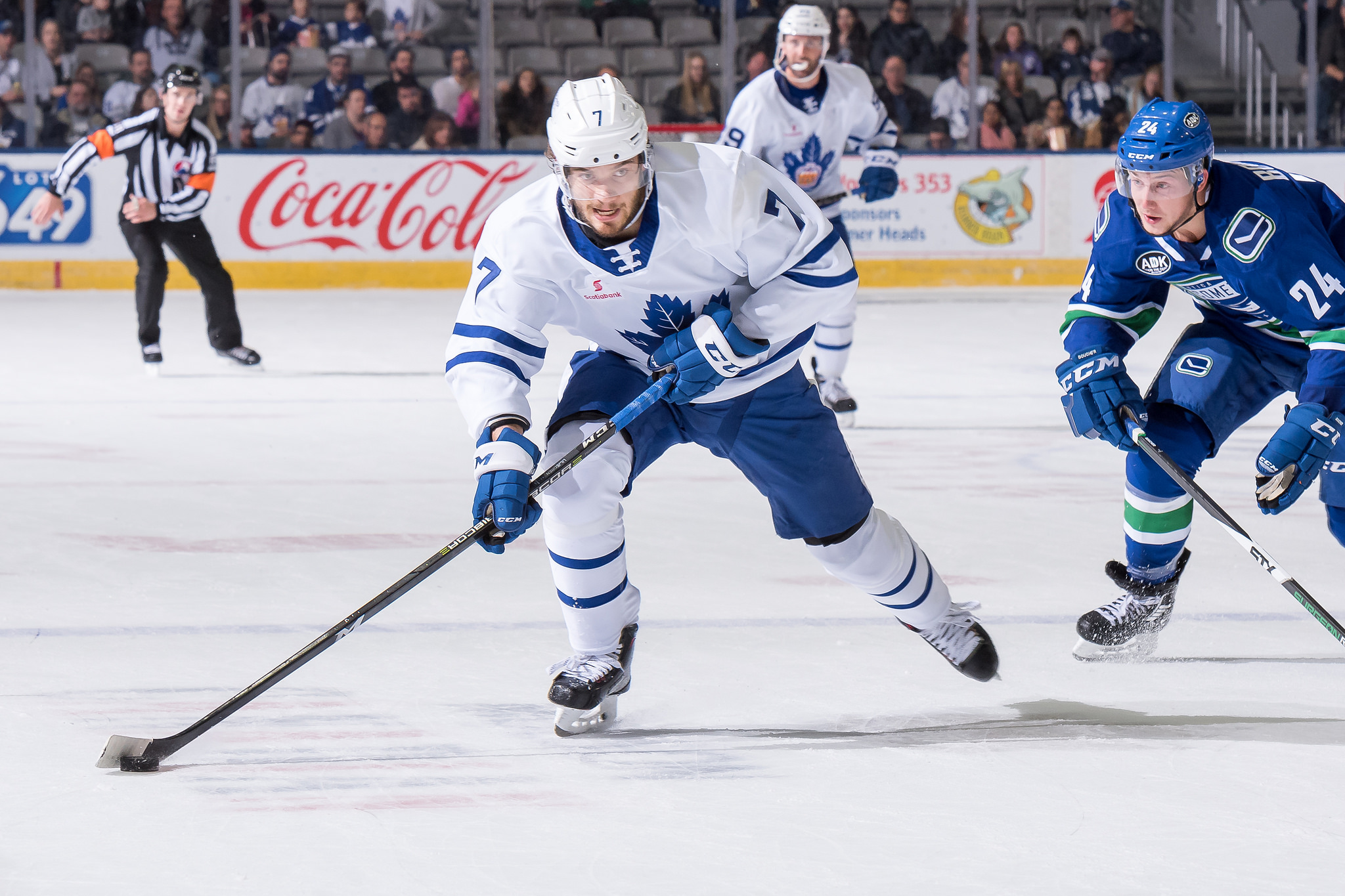 Toronto will have to be patient here, as he's been rather mistake-prone this year, and he's not yet one of his team's best two defenders. P.K. Subban and Jake Gardiner were also ridiculed for being mistake-prone back when they were prospects, and neither player made the NHL in their teenage years, so let's not panic just yet.
His lateral quickness is impressive, but he's simply not a high-end puck mover at the AHL level at this point. He needs to play a heavier style if he's not going to light the world on fire offensively, but that's a common issue for many teenage defencemen. Liljegren owns a strong lower body, so it might just be a matter of time until we start seeing him win more battles.
On the bright side, the Marlies last game was a 7-6 shootout loss to Cleveland, and Liljegren was not on the ice for a goal against. He also created a few nice scoring chances in the process:
A nice rush and pass from Liljegren here, but Bracco can't buy a goal. pic.twitter.com/aPllbfyOJE

— Kevin Papetti (@KPapetti) November 2, 2018
A nice move and pass from Pierre Engvall leads to Jooris' goal.

Timothy Liljegren's point shot gets tipped in by Sam Gagner: pic.twitter.com/hsRC8ByWVO

— Kevin Papetti (@KPapetti) November 3, 2018

Nice pinch from Liljegren here to start it all off. pic.twitter.com/RWnsSvhSEM

— Kevin Papetti (@KPapetti) November 3, 2018
Deployed on both sides of special teams, he's learning how to kill penalties and he's carrying the puck more on the power play. While he's not as polished as many of the other players from his draft class, the Leafs knew what they were getting themselves into. Selecting the most NHL-ready prospect is how you end up with Noah Hanifin or Lawson Crouse over Mitch Marner.
At this point, his expected ETA is probably towards the middle of the 2019-2020 season, although a lot can change during this time. It sure would be fun to watch him form a pair with Rasmus Sandin at the World Juniors, but I will certainly settle for a Brannstrom-Liljegren pairing. His lateral quickness certainly remains above average, and he should score a handful of goals this year thanks to a hard wrist shot, but he's clearly not a finished product quite yet.
Travis Dermott's Top-Pairing Chances
---
After using Corsica's adjustment for score, zone, and venue effects, Travis Dermott was the NHL's best defenceman last year in terms of relative five-on-five shot attempt differential among players with more than 500 minutes played. He's the leader once again this season, and while he does not typically play against tough competition, the results are simply too impressive to ignore.
With Morgan Rielly and Jake Gardiner also on the left-side, the Leafs are using Dermott to dominate the easier competition, and it sure is working. The Leafs' strength on the left side resembles the old St. Louis Blues trio of Alex Pietrangelo, Colton Parayko, and Kevin Shattenkirk a little bit in that the Leafs have a strong puck mover on the ice at all times. Whether or not Dermott actually plays in the top four, there's little doubt that he's a top-four calibre player as of today.
The question now becomes: Can he be a top-pairing guy? He's still 21 for another month, and he's well ahead of where many other top-pairing defenders were at the same age. He carries the foot-speed, strength, and puck-moving skill to have a long career. I don't think his development should convince the Leafs to part with Jake Gardiner, but it at least helps to take the pressure off if his asking price is out of control. The Leafs could look awfully dangerous come playoff time if Dermott can strengthen the top four, as Toronto has plenty of capable third-pairing options at the NHL level to help back-fill his current role.
Mike Babcock could go with a third-pairing of Ron Hainsey and Igor Ozhiganov and use them heavily during defensive-zone starts. Alternatively, Calle Rosen is off to a strong start with the Marlies, and he could be a call-up option towards the end of the year if he keeps this up. Babcock previously praised Rosen's body of work during last year's Calder Cup run, and although there is not much of a role for him at the NHL level right now, that could change if someone moves over to the right side. Rosen is a solid puck-mover who could succeed at 5-on-5 in sheltered minutes.
Jeremy Bracco Faces An Uphill Battle
---
Whenever Jeremy Bracco creates a high-danger scoring chance this season, no one can ever seem to capitalize. His stat line of three points in ten games is misleading as a result, and it's only a matter of time before he starts to rack up points on the powerplay. He's going to be a high-scoring AHL forward, and he needs to be if he ever wants to be considered for an NHL opportunity.
Here's the problem: He's not excelling in terms winning battles, creating takeaways, or driving possession. He's shifty, but he's not particularly fast, so he's not as strong in transition as someone like Mitch Marner or William Nylander. He doesn't catch many opposing puck movers from behind, and he loses plenty of battles in the corners.
His calling card is his playmaking ability, particularly on the power play. The Leafs clearly have plenty of weapons on the man advantage, and while Bracco could help run a second unit, it's tough to see him being a major upgrade over another skilled player like Kasperi Kapanen. He's still only 21, and both Trevor Moore and Andreas Johnsson have taught us that there's still plenty of time to earn an NHL call-up, but it looks like he will face an uphill battle in terms of creating a role for himself with the Leafs.