Goaltenders: can't win with them, can't win without them.
Sometimes I wonder why we pour so many hours into this stupid sport when all that actually matters is which goalie had the higher save percentage. It's the most important and volatile statistic in hockey.
The Toronto Maple Leafs controlled the majority of the scoring chances against the Vancouver Canucks again on Tuesday night. Their reward: a 6-3 loss because their netminder couldn't make a save.
Hockey people are conditioned to never blame the goalie for an individual loss, but if my objective with this post-game column is to be as accurate and honest as possible in my analysis, we all know it's the truth tonight.
Emotions are probably running high for most fans right now after such a frustrating loss, so let's all take a deep breath and try to break things down rationally.
*Angry mob begins to light their pitchforks*
You know what? I don't care, come at me. The Leafs played well in this game and I'm going to explain why. It's time for some report cards.
5 Stars
Game Puck: William Nylander (RW, #88) — Talk about answering the bell.
After showing up late for a team meeting yesterday, it was looking like Nylander might be scratched for tonight's game. In the end, Sheldon Keefe & Co. decided to play him, knowing these last 11 games are crucial for the Leafs to get themselves into playoff form.
Nylander responded to his wrongdoing with one of his best games as a Leaf, absolutely dominating the puck on the cycle in the offensive zone. He did a great job using his body to shield the puck from opposing defenders, which allowed him to wheel his way around the zone and find open teammates.
On PP1, Nylander dropped below the goal-line as an outlet, opening up a few extra passing options for Toronto's power play. He also helped set the screen for John Tavares' snipe from the left dot.
Nylander picked up an assist on Tavares' other goal as well, scooping up his own rebound and getting the puck to his captain on the doorstep for an easy tap-in.
John Tavares (C, #91) — That clip above really does speak for itself. Tavares was able to walk in from The Matthews Spot and pick the corner. It helps when you get a nice screen, but there's a reason Tavares has averaged 34 goals per 82 games throughout his career.
As Justin Bourne likes to say: "He shoots the puck in the net" – it's such a simple saying, yet you'd be surprised how often we overlook that aspect of the game.
Tavares added another goal, bringing his tally to 16 on the season. More importantly, this latest stretch of play has been his best in a long time.
John Tavares: 14 points in 9 games.

— luke fox (@lukefoxjukebox) April 21, 2021
Call me crazy, but I think this might have something to do with Not Jimmy Vesey playing on his left wing.
Rasmus Sandin (LD, #38) — We've all been waiting for Toronto's top prospect to get back into an NHL game. It's been a rough year or so for Sandin, battling injuries while failing to stick with the big club.
Since the pandemic changed everything back in March 2020, he's played two NHL games. The first was on February 8th, 2021. The second was tonight — and he looked excellent.
Sandin was consistently beating the other team's first forward (F1) on the breakout, giving his teammates plenty of open ice to work with. Sometimes it's a simple backhand saucer pass; other times it's holding onto the puck for that extra half-second to draw in the other team's forward.
Here's a great example of how patience in your own end can reap benefits 200 feet down the ice.
Sandin sends Brock Boeser flying here, quickly leading to a 4-on-3 with Nylander as the puck carrier. There's that Swedish connection again.
My favourite shifts tonight were the ones Sandin shared with Nylander. The two seemed to play off each other well, using their passing ability and confidence with the puck to create numerous chances for the Leafs. They outshot Vancouver 10-2 in their 6:30 together at 5v5.
Sandin will obviously need to keep getting stronger so he can win more battles in front of the net, but we could say that about every 21-year-old defenseman. The biggest storyline for me coming out of tonight is that Sandin looks like he can play at this level, both at 5v5 and quarterbacking a power-play unit.
4 Stars
Alex Kerfoot (LW, #15) — Here's a fun stat for you courtesy of Natural Stat Trick.
Kerfoot with Nylander: 56 percent of 5v5 scoring chances
Kerfoot without Nylander: 46 percent of 5v5 scoring chances
It's so weird how effective Kerfoot is on that Tavares-Nylander line and just how ineffective he is on literally any other line. You could make the argument that anyone would look good alongside $18 million linemates, but we've seen enough players in that 2nd line LW spot this year to know that isn't exactly true.
Kerfoot looked great tonight, using his speed off the rush to get his teammates into open space with a little drop pass, which is how he picked up his assist on the Tavares goal. Kerfoot was also retrieving pucks on the forecheck, getting his tiny frame into those "tough areas" and somehow coming out with the puck.
I know we all expect Nick Foligno to play alongside Tavares-Nylander, but if we're talking about "fit" this year, the evidence shows that Kerfoot really only works on one line. Maybe that's something to consider when we're all making our dream playoff lines for Toronto.
Auston Matthews (C, #34) — Evaluating Matthews after every game is both a blessing and a curse. We've come to expect so much from him that you want to set the bar high — to an almost unrealistic level. After all, how many guys are 6'3, 220lbs and can do this with the puck on their stick?
Watching him use his other-worldly puck skills to transport the puck more often over the years has been a nice development in his game. His passing is another area that tends to get overlooked. He was looking to set up his teammates tonight, completing a few high-leverage passes through the middle of the defense.
My one nit-pick is that he seemed to be turning down a lot of quality shots, at least by his standards. We're used to seeing Auston Matthews walk into the slot and let one rip, but tonight, he looked hesitant on those occasions.
That could be stemming from his wrist injury that isn't quite 100% healed yet, or maybe I'm just micro-analyzing things. After all, that is what we do in this market.
Mitch Marner (RW, #16) — There are nights I won't have too many notes next to a player's name, then I'll check the box score and see he led the team in shots, chances, and play-driving numbers at 5v5. Tonight, that player is Marner.
I'll admit, my eye test isn't perfect, especially when I'm trying to keep tabs on every Leaf. Hockey is a chaotic sport, so anyone who thinks they're catching everything in real time is probably lying to themselves.
You don't put up numbers like that without having played well. Toronto's top line dominated play at 5v5, but it was at 4v5 where Marner made his most impactful play.
You can call it Marner Magic, Marner Mania, or heck, just a really good pass. These are the kind of plays that can break open games, and it's why Kyle Dubas was willing to pay his star winger so much money, even though his comps on the market settled for less.
3 Stars
Adam Brooks (C, #77) — Toronto's fourth line had a rough go tonight, but I actually liked Brooks' contributions. He obviously tapped in that shorthanded goal we just showed above, although it was his 5v5 play that impressed me the most.
Brooks is a much better puck transporter than you typically see at 4C in NHL lineups, using his speed to move play up the ice in transition. I doubt we see him in the playoffs because of his limited utility on special teams — Toronto has better options on the PP and PK when healthy — but that isn't to take away from Brooks' performance tonight.
He played well.
Alex Galchenyuk (LW, #12) — The attribute that's separated Galchenyuk from other options the Leafs have tried at LW in their top six is his ability to make the "next play" when the Leafs are moving up the ice as a unit. I didn't love him in that regard tonight.
There are going to be games where passes are bouncing over your stick in the neutral zone, which seemed to be happening to him a few times in this one. It doesn't mean he's a bad player, but when you've notoriously been a weak defensive player throughout your career, you need to be making plays offensively to make up for it.
Coaching Staff — There were a few decisions I really liked tonight. For one, going with Sandin was a great idea. He gives the Leafs a dynamic passing option that could force them into a tough decision come playoff time. Keefe also decided to run with Nylander tonight, which I think was ultimately the right call.
With respect to the D pairings, we'll dive into them in more detail below, but I like the fact that Toronto is at least trying a few different looks. You have 56 games to figure out what works and what doesn't, so why not experiment a little bit in a season where home-ice advantage doesn't really matter?
2 Stars
The Muzzin-Brodie Pairing — I'll admit I was pushing hard for this when the TJ Brodie signing was announced. He has a long track record of positive results against top competition, so pairing the smooth-skating RD alongside the defensively-minded Jake Muzzin would appear to make a lot of sense.
We're only two games into this experiment, but it looks clunky so far. They haven't been able to move the puck out of their end effectively, which is obviously an important part of playing good hockey in the year 2021.
We'll see if they get another game or two together to sort things out, although Rielly-Brodie and Muzzin-Holl are probably going to be the playoff pairings.
Zach Bogosian (RD, #22) — It was funny seeing Bogosian in wide-open ice with some of the passes Sandin was giving him. He was able to make some positive plays in those situations, most notably on the 4-on-3 leading to the Tavares goal.
Unfortunately, Bogosian took a nasty spill into the corner and did not return.
We'll know more about the injury over the next few days, but it didn't look great live. If he's out for a significant amount of time, does that mean Toronto goes with a Sandin-Dermott third pair? Does Ben Hutton enter the mix? What about Timothy Liljegren?
Joe Thornton (LW, #97) — It's hard to get a good read on a forward who's playing with two struggling linemates. Tonight, Thornton was on a line with Pierre Engvall and Wayne Simmonds. Neither player was able to accomplish much at 5v5.
With that in mind, I didn't think Thornton was the weak link on his line. Frankly, I didn't think much about him at all during this game, which has been a concerning trend for the veteran lately.
Believe me, I know how much everyone on this team loves the guy. Heck, he might be my favourite human being on the Leafs.
one year ago, we had tiger king and the last dance.

one year later, we have auston matthews and mitch marner with a naked joe thornton. pic.twitter.com/KiXXlxkV1H

— Nick Barden (@nickbarden) April 20, 2021
The tough part here is that we all know resting the 41-year-old will maximize the Leafs' chances of winning a cup. Thornton might not want to come out of the lineup, but very few professional athletes do.
Patrick Marleau didn't want to when he was a Leaf — and it drastically hurt his performance. Thornton looked way better to start the year, so I hope the Leafs eventually make the right call and find a way to get him a few nights off down the stretch here.
As Dubas would say (or cryptically tweet), it's the difficult but right decision.
1 Star
The Rielly-Holl Pair — Me, an idiot: "Hey why don't they try a Rielly-Holl pair?"
You, smart: "Because that's dumb."
Watching Justin Holl try to figure out where he's supposed to stand when Morgan Rielly is buzzing around the offensive zone as the fourth forward has been an interesting experience. Playing most of his NHL career with Muzzin, it's a very different playstyle alongside Rielly, and as such, forces Holl into very different responsibilities.
I still think he's a great rush defender who has the ability to eventually figure it out, but the two of them didn't exactly gel at 5v5 tonight. They got out-shot, out-chanced, and outscored. You'd obviously like an extra save on some of those shots, but when you're running around in the DZ, bad things are going to happen.
The Spezza-Robertson "Pair" — Brooks flat-out outplayed these two at 5v5, which is why I have Jason Spezza and Nick Robertson ranked near the bottom here. Spezza was a major liability defensively, particularly on the PK, where he got stuck out on the ice after losing the draw. He wasn't moving his feet to take away passing lanes, which allowed Vancouver's power play to work the puck around for one-timers, eventually beating David Rittich.
Robertson had a pretty quiet night. He did make a great play defensively to prevent a partial breakaway, but his skill set is one you'd expect to make an impact in transition and offensively, which wasn't the case tonight.
Wayne Simmonds (RW, #24) — Much like Jumbo Joe, I'm rooting so hard for Wayne Simmonds. I want him to succeed. When I do these grades, though, I have to try my best to be objective and evaluate what's happening on the ice.
When Simmonds is out there, plays are still dying on his stick. He's icing it when there are other options available; he's skating himself out of a 2-on-1; he can't complete a pass in the neutral zone.
We all have a tendency to overreact to one-game sample sizes, but it's been multiple years since Simmonds was a positive impact player at 5v5. I really do wonder if he's in your top 12 with a healthy roster. There are going to be some tough decisions for Toronto come Game 1 of the playoffs.
Pierre Engvall (C, #47) — Sticking with my "fanalyst" opinions here, I want Engvall to succeed. At 6'5 with his raw tools, he should be a much more effective NHL player than he's been lately.
Injuries have allowed him to get another game with the Leafs, but he appears to be blowing his opportunity right now. Neutral zone turnovers, missed shots that would make Cody Ceci jealous, puck "battles" where he extends his arm instead of throwing his weight around — these are all reasons Keefe is fed up with Engvall, and frankly, I can't blame him.
0 Stars
David Rittich (G, #33) — Not one, not two, but three absolute stinkers got past him tonight. This is nightmare fuel for goalies.
I could show you the other two, but that might be overkill.
---
Heat Map
Here's a quick look at where each team's shots were coming from at even strength, courtesy of Natural Stat Trick.
This is the part where I tell you Toronto controlled 57 percent of the scoring chances and 60 percent of the expected goals at 5v5 but got goalie'd. Does it make you feel any better?
Didn't think so.
---
Game Score
Game score is a metric developed by The Athletic's Dom Luszczyszyn to measure single-game performance. You can read more about it here.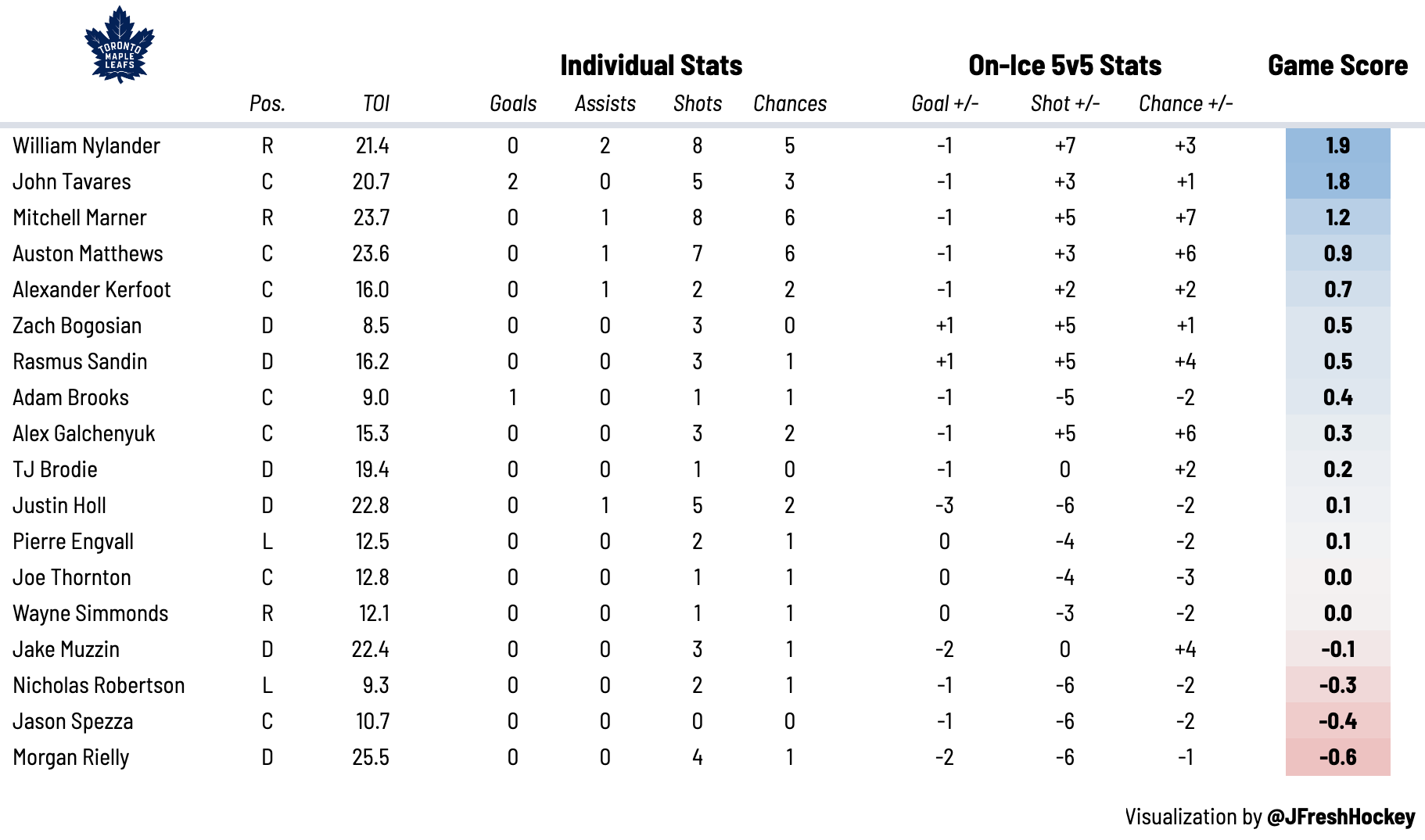 ---
Tweets of the Night
Just so we're clear:

They're about to lose five straight, including two against the Canucks after a month off and after going all-in at the deadline and their last win was a 6-5 OT mess against the Sens. But we're not worried? We're not worried. That's what we're going with? OK.

— Steve "Dangle" Glynn (@Steve_Dangle) April 21, 2021
Goaltending is voodoo.
If you out-chance your opponents with consistency at 5v5, which the Leafs have done all season (they currently rank 2nd in the NHL behind Colorado), you are going to win more hockey games. We have decades of evidence to prove this.
I will admit, though, nights like these make it more difficult to #TrustTheProcess.
Not worried https://t.co/wOhTQBpqD7 pic.twitter.com/OpjBRjAdTq

— MoneyPuck.com (@MoneyPuckdotcom) April 21, 2021
Nice.
The #Canucks can pick up their 69th all-time win over the #LeafsForever tomorrow on 4/20.

— Brendan Batchelor (@BatchHockey) April 19, 2021
Also nice.
Gotta think Keefe will be hesitant to start Rittich against the Canucks in Game 1.

— Jason Brough (@SadClubCommish) April 21, 2021
Have we reached the point where "The Leafs Miss Frederik Andersen" is a headline you'll be seeing in the near future? Nope, because it's already happened.
---
Players' Final Grade: A
Goalie's Final Grade: F