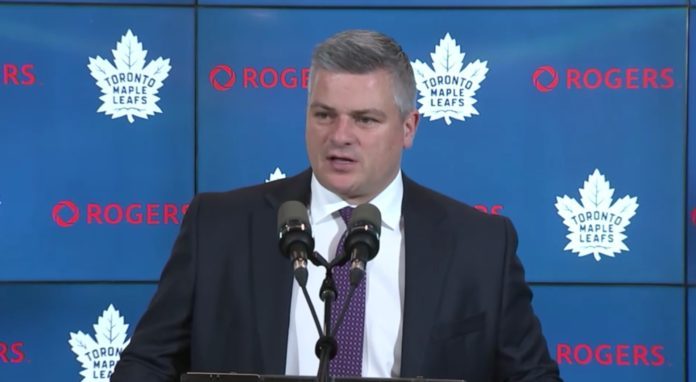 Sheldon Keefe addressed the media after his team's 3-2 overtime loss to the New Jersey Devils that dropped the Leafs' record to 9-5-4.
---
On the difference in the game:
I thought the difference was that we beat ourselves at times and gave them free goals. They didn't beat themselves at all. That is how you win 11 in a row. You don't beat yourself.
On whether "beating ourselves" is a concerning theme so far this season:
I am concerned about it. I think we have shown here lately that we can win games and beat really good teams. This is the best team in the NHL right now. Despite the fact that we didn't play a great hockey game, we still got a point. We were right there. That shows what we are capable of.  But we have to start beating ourselves.
On whether the team is still gaining traction in the last eight or so games regardless of the result tonight:
I think we have had a fair bit of success, yeah.
On Matt Murray's performance through the last two games:
He was strong. He keeps them at two through regulation. He is a big reason why we get the point.

He's looked good in both games. He has given us a chance to win. He has done his job. A big part of the reason why we got a point tonight.
On whether New Jersey is the fastest team the Leafs have played:
They are right there for sure. Vegas has a lot of pace to them as well. There are a lot of fast teams. They have the ability to skate with a lot of speed and yet still execute and make plays inside of it.

I thought we managed that quite well tonight, to be honest. I don't think it was a very fast game at all. I thought both games defended pretty well. I don't think there was much happening on the rush for either team.

When I watched them on video, I thought they looked a lot faster than they did tonight. I think that is a credit to the fact that we did defend really well tonight as a group. The issue is that all three goals that we scored, including the OT goal, were big mistakes by us — whether it is with the puck or defensively. We didn't make too many of those today.

On the flip side of it, in addition to them being the number one team in the NHL on offense, they are a very, very good team defensively — right there at the top of the league in defensive play. I think that ultimately is a big part in the game. We couldn't generate anything really — at five on five, especially.
On the decision to start Tavares and Marner at three-on-three OT:
It is a bit of a feel thing. I wanted to give John a chance. He didn't get a chance to get out on the ice in our most recent overtime. Auston and Will, in particular, had played a lot down the stretch at the end of the game, obviously.

I thought we were doing a pretty good job in overtime there, to be honest. We lost the faceoff — which doesn't help because you don't get the puck — but I thought we defended well. With the way I remember it, we didn't even get a shot or anything like that.

We got the puck back, and we gave it right back to them. That can't happen.
On the power play's one-for-five night:
It scored us a huge goal in the first period, and then after that, it was not nearly good enough. The way that they kill is very passive. They settle back into that diamond. It forces you to make a lot of really good decisions, find lanes, and make plays. We didn't do a good job of that.

With them being passive and kind of settling into that diamond and taking away shooting lanes, we played into their hands in terms of forcing it to covered people. We just didn't have enough urgency.

It kind of slows down the pace of the power play naturally. We didn't pick up the pace the way we needed to.