The Maple Leafs will forge ahead without Auston Matthews as they host the Ottawa Senators in the second game of the Battle of Ontario season series (7 p.m. EST, Sportsnet).
The silver lining to Matthews' injury absence is that the Leafs will play just 11 games in the next 30 days. Over the next few weeks, the mission for the team should be three-fold: 1) Make sure Matthews is only coming back when he is 110%; 2) Use the time to assess the depth of the forward/center group more intensely in the buildup to the trade deadline; 3) Don't sink too much in their points pace with Tampa nipping at their heels in the battle for home-ice advantage (note that both teams have been equally dominant on home ice and pretty mediocre on the road).
The other reasons to believe that the Leafs won't fall off significantly without the 2021-22 Hart winner: They're Leafs 31-16-2 all-time without Matthews and 8-3-0 in the last two seasons, in addition to their resilience at times of notable injuries this season (mostly on the blue line). After tough tests against Washington and Boston prior to the All-Star break, the Leafs will also face a relatively soft schedule in February in terms of time off and strength of opposition.
With Washington and Boston on the docket after tonight's game, pocketing a pair of points against a struggling opponent in the Senators (4-6-0 in their last 10) would be a good start to the upcoming stretch without Matthews.
Despite an uptick in their control of the 5v5 play this season, the Senators are scoring on 6.01% of shots at five-on-five, which is remarkably low for a team that added Alex Debrincat and Claude Giroux over the offseason to join the likes of Brady Tkachuk, Tim Stutzle, and Drake Batherson. For context, the tanking 2015-16 Maple Leafs shot 6.36% as a team at five-on-five. The Senators' paltry shooting percentage at even strength is in the ballpark of some of the worst tanking teams in recent history.
Injury troubles for their 35-goal-scorer from last season, Josh Norris, haven't helped, and in addition to some poor puck luck among their top scorers, they are squeezing very little offensive juice out of their bottom four or five forwards up front and bottom three on defense.
That said, their special teams — top five power play, top 10 penalty kill — can win them tight-scoring games, as shown in a 2-1 win on Wednesday night against the Islanders (one for three on the PP, three for three on the PK). They're also hoping the callup of 2020 first-round selection Ridly Greig — who picked up an assist and fired eight shots on goal in his NHL debut vs. the Isles — can give them a spark on a top-six line with Debrincat and Giroux.
The Leafs will have their own rookie centering a top-six line tonight in Pontus Holmberg, who will receive a look in between William Nylander and Calle Järnkrok. We know Sheldon Keefe has Alex Kerfoot as a stopgap C option in his back pocket, but taking a look at Holmberg — who has shown better offensive form and produced more than Kerfoot on a per-minute basis this season — is definitely a worthwhile endeavour.
If it sticks and depending on how it looks over the next few weeks, it will give the Leafs a better sense of the quality of their center depth and if they can shade more towards a pure winger with their deadline pursuits, or if they need a forward who is either a natural center or can credibly provide center cover (the latter certainly seems necessary today, but could Holmberg change the thinking at all?).
---
Head to Head: Senators vs. Maple Leafs
In the season-to-date statistics, the Leafs hold the advantage over the Senators in three out of five offensive categories and four out of five defensive categories.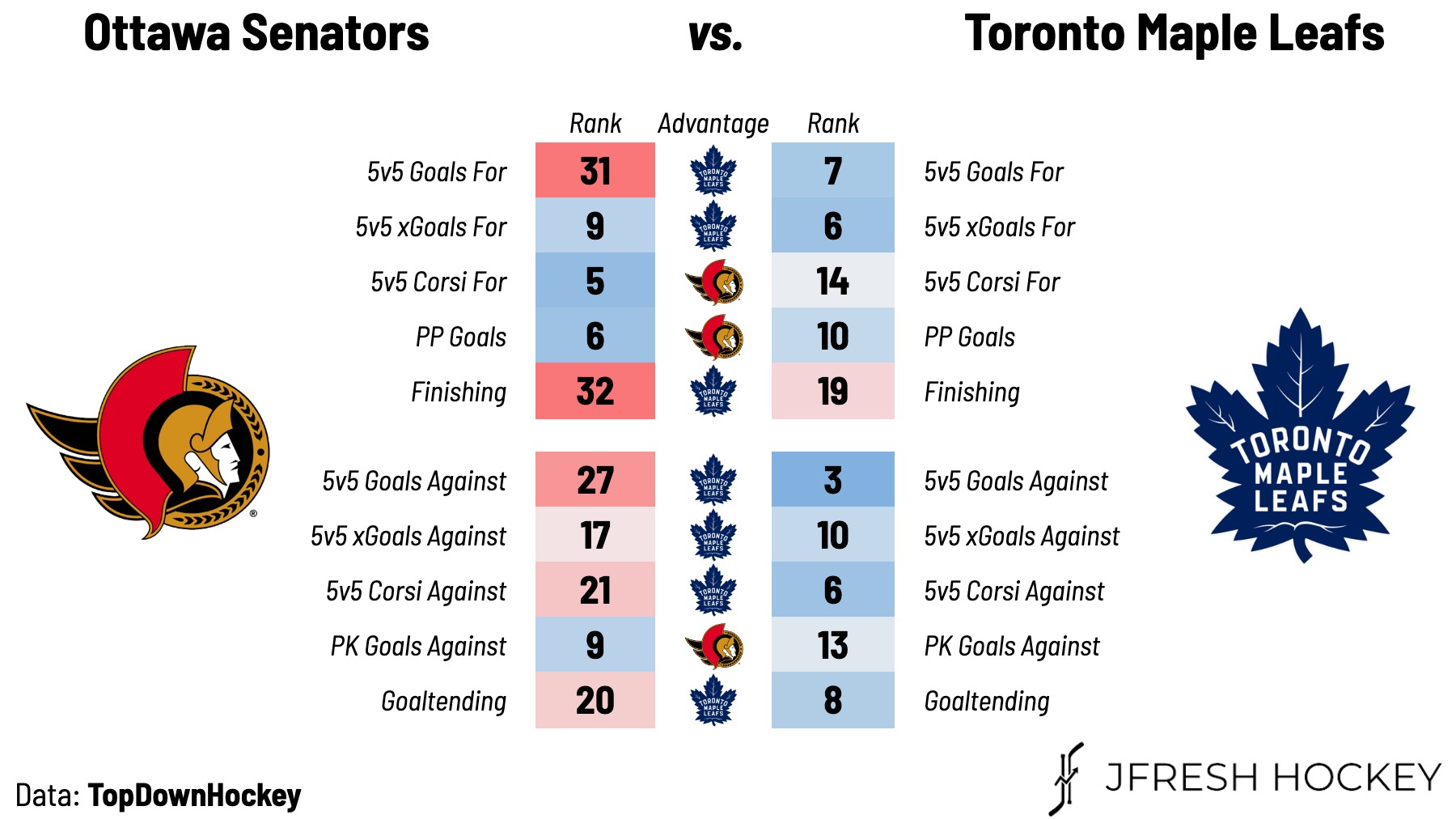 ---
Game Day Quotes
DJ Smith on the challenge against the Leafs and the approach changes without Matthews:
They're an organized team that doesn't give you much. Clearly, they can score, but they're underrated defensively as to what they give up. They play in five all over the ice. Clearly, they're playing well.

No [it doesn't change without Matthews]. We just have to do what we do. Clearly, he is one of the league's best players, and on any given night, the best player. The advantage is better without him, but they have lots of players. He has missed games before, and they have continued on and not missed a beat.
Sheldon Keefe on the challenge against the Senators:
It seems we always get the best version of Ottawa. We expect that to be the case here tonight.

Very dangerous forward group. They play a very hard and structured team. They are elite on special teams, both on the power play and the penalty kill. There are lots of things for us to be concerned with there.

We want to do a good job on special teams today and look to win the five-on-five game. They are a team that plays us really hard, in particular. Lots of respect for them.

To that end, it won't be a challenge to get our guys ready for them.
Keefe on the team's 8-3-0 record without Matthews over the past two seasons:
If there is anything we have learned about our team this season, we have been resilient no matter who has been in or out for the most part. Other than missing Auston for a couple of games, it has been the defense that has been beaten up a lot. I am not sure where we are at in the league in man-games lost, but it has to be significant. It hasn't bothered our team. It seems like we just keep playing.

Obviously, you are a different team, but I don't think you have to play differently other than there being an opportunity for other people to step up and do their job. Everything that gives us success when Auston is in has to continue.

You have to find a way to get that extra goal. That is really what the focus is. In my time here, whether it is Auston or anybody else out, we really don't talk about it. We just prepare as we do any other game.
Keefe on the decision to start Matt Murray tonight:
I think we were just probably pushing it a little bit with the workload for Samsonov. It was a decision we were making the other night, and ultimately, we decided to keep him going. As a result, this is the game for Murray to get back in.

That is really it. We have been really comfortable with how Sammy has been playing. Because of that, it hasn't given Matt as much of an opportunity. He is back in there tonight. We are looking forward to having him there.
Keefe on whether Murray is benefitting from playing in a winning environment this season compared to his time in Ottawa:
I don't know. Obviously, winning cures a lot of things in terms of the emotions of the game, your mood, and coming to the rink every day. That is part of it. He had the injury at the start of the season, which was a stumble for him. Since then, he has been really consistent with his routine and habits.

The schedule is what it is in terms of the way the game falls tonight. Regardless of who the opponent was tonight, Matt would be excited to play.
Keefe on giving Pontus Holmberg an opportunity in the top six tonight in Matthews' absence:
He is a guy that has shown well since he has been here with us both offensively and defensively. He is a guy that has how he can play in the league and help us. There is an opportunity there now.

We do have some other options that we have used in the past, but this is one we haven't necessarily save for shifts here or there. I think it is a good opportunity for him to jump into that and see what he can do. We will monitor it.
DJ Smith on the NHL debut of Ridly Greig in Tuesday night's win over the Isles:
He was real good. He is just so competitive. I hadn't seen him since training camp other than on tape or what have you. His hockey sense is really high. He can skate. He is really competitive. He is a hockey player.

A lot of times, a young guy playing with Debrincat and Giroux would look to pass all the time. It just shows you what kind of confidence he has [putting eight shots on goal]. He is willing to shoot. He is willing to go to the net. He is fearless.

He is going to be a real good player. Over time, is he going to be ready or not? In this game, he was effective.
---
Toronto Maple Leafs Projected Lines
Forwards
#58 Michael Bunting – #91 John Tavares – #16 Mitch Marner
#19 Calle Järnkrok – #29 Pontus Holmberg – #88 William Nylander
#74 Bobby McMann – #64 David Kämpf – #47 Pierre Engvall
#12 Zach Aston-Reese – #15 Alex Kerfoot – #28 Joey Anderson
Defensemen
#44 Morgan Rielly – #3 Justin Holl
#55 Mark Giordano – #37 Timothy Liljegren
#38 Rasmus Sandin – #25 Conor Timmins
Goaltenders
Starter: #35 Ilya Samsonov
#30 Matt Murray
Extras: Jordie Benn, Wayne Simmonds
Injured: Auston Matthews, TJ Brodie, Nick Robertson, Jake Muzzin, Victor Mete
---
Ottawa Senators Projected Lines
Forwards
#7 Brady Tkachuk – #18 Tim Stutzle – #21 Mathieu Joseph
#12 Alex Debrincat – #17 Ridly Greig – #28 Claude Giroux
#61 Derick Brassard – #57 Shane Pinto – #19 Drake Batherson
#45 Parker Kelly – #27 Dylan Gambrell – #16 Austin Watson
Defensemen
#72 Thomas Chabot – #5 Nick Holden
#85 Jake Sanderson – #23 Travis Hamonic
#26 Erik Brannstrom – #22 Nikita Zaitsev
Goaltenders
Starter: #31 Anton Forsberg
#70 Kevin Mandolese
Injured: Cam Talbot, Josh Norris, Artem Zub, Tyler Motte, Rourke Chartier