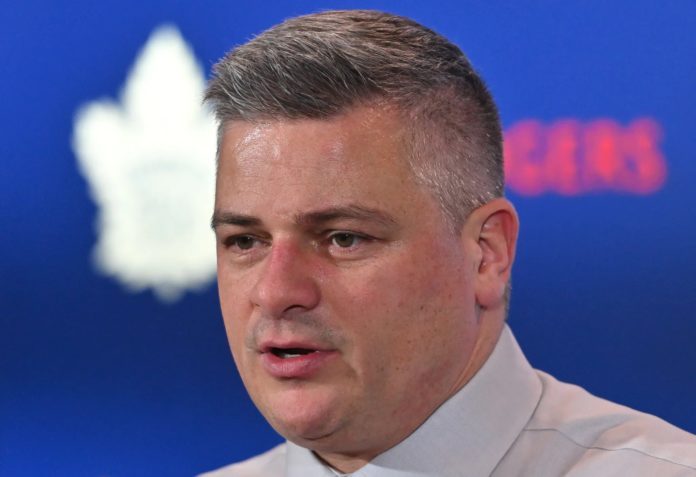 Sheldon Keefe addressed the media after his team's 5-2 win over the Chicago Blackhawks which improved the Leafs' record to 33-14-8.
---
On the team's response after the Blackhawks tied it at 1-1:
Any time that we made some mistakes or some things didn't go our way, we didn't let it snowball or get away on us. We brought it back pretty well. All in all, I thought we did what we needed to do tonight.
On Conor Timmins' performance:
I thought he was good. Great goal. Moved some pucks well. I don't like the penalties, but I thought he did a good job for a guy who hasn't played. I thought he did a good job.

Frankly speaking, it is a game we are not going to evaluate too much in terms of anything good or anything bad. We are going to wash it, move on, enjoy a day off tomorrow, and get ready for Montreal.
On why there was so little to evaluate about the game:
We've got a tired team on a back-to-back. It is a team that… I didn't think the game had much life to it. It is not what you come to expect in terms of what it is like to play in the NHL. There was not a lot of emotion in the game today.

It is a game that we are happy to get through with two points.
On Auston Matthews' first game back:
I thought he was good — especially early in the game when we had to really gain control. I thought when both of the top two lines were on the ice, there was a pretty big gap. The ice was tilted for sure.

Auston, in particular, had some real good jump early. I loved the goal. I thought he had some other good plays, too.

As the emotion of the game sort of dipped in the second half, I thought everybody was just okay from there, but you are just trying to get out of the game.
On Alex Kerfoot's play on the second line:
I thought he was good. He was on the puck. He made some plays. I thought he did a good job on that line.

As I said, we are not going to take much away from this game, but certainly, I thought he brought some positive elements to the line. That line was very good.
On the faceoff play Auston Matthews and William Nylander drew up and executed for the 1-0 goal:
We have been talking to our guys a lot about taking charge. A lot of these guys have been playing together for a long time now. They have a sense of what the structure is. They know what they can do. They get the information on faceoffs. They have a lot of flexibility to call the plays and get organized themselves.

That is what you want. You want the players out there taking charge. They have a sense. They have a feel. That was at the start of the game, but when you are in the game, you have a sense of your opponents. You have a sense of the timing. They have a feel for things that coaches just can't replicate. You need to be able to take charge out there.

If you watch any experienced and championship-calibre team, their people are taking charge of different situations. That is what you love to see: those guys take the initiative and execute.