Few Maple Leafs road games are more anticipated than a visit to Buffalo, especially with both teams currently inside the playoff picture (7:30 p.m. EST, TSN4).
A couple of games after the Brian Leetch and Ron Francis acquisitions back in 2004, the Leafs went into Buffalo for one of the wildest games in the history of this rivalry. Toronto stormed back from 5-2 down in the third period and won in overtime courtesy of a beautiful Tomas Kaberle game-winner, with Leetch collecting three assists in the 6-5 Toronto victory. The game included Alexander Mogilny's 1,000th point (on a tying goal in the last minute), 16 penalties, and a big overtime penalty kill from the Leafs prior to the game-winner.
Coming off of the Leafs' acquisition of former Sabre Ryan O'Reilly, let's hope for similar theatrics inside the charged split-crowd atmosphere tonight. Much like the 2004 classic above, recent games against the Sabres in Buffalo have been high scoring; the two teams have combined for 33 goals in their last four meetings, of which Buffalo won three.
You can usually throw the standings out the window for these cross-border rivalry games, but it's worth noting that the Sabres have the best goal differential of any team in either conference that is not currently in a playoff spot at +14 (and by points percentage, Buffalo currently resides in a wildcard position).
They're much leakier defensively than the Leafs and have not enjoyed the same stability in net, but the Sabres are a more potent five-on-five team offensively than the Leafs to date, led by a Rocket Richard contender in Tage Thompson (36 goals), whose line with Jeff Skinner and Alex Tuch has been on the ice together for 34 five-on-five goals this season.
It was the Matthews line with Michael Bunting and Mitch Marner that drew the bulk of that matchup in the Leafs' 5-2 win over the Sabres back in November, with no blood drawn on the scoresheet at five-on-five in those head-to-head minutes.
The Leafs are not expected to make many changes to the lineup that lost to Chicago in a tired situation on Sunday night. Despite mediocre numbers together so far in a tiny sample of 5v5 ice time (47.5 xGF% and outscored 2-1 in 22 minutes of shared TOI), Sheldon Keefe has indicated a desire to let the Tavares – ROR – Marner line gel for a longer period of time as the captain adjusts to the wing and ROR to his new linemates.
On the blue line, Rasmus Sandin will remain out due to a shoulder injury and Jordie Benn took part in the extra sessions in practice, suggesting that the defense will remain the same as in Sunday's loss, with Conor Timmins in for Sandin.
Ilya Samsonov is looking to bounce back after conceding four to Chicago on Sunday, with Ukko-Pekka Luukonen — who the Leafs lit up for five goals back in November — manning the crease at the other end.
---
Head to Head: Sabres vs. Maple Leafs
In the season-to-date statistics, the Leafs hold the advantage over the Sabres in three out of five offensive categories and four out of five defensive categories.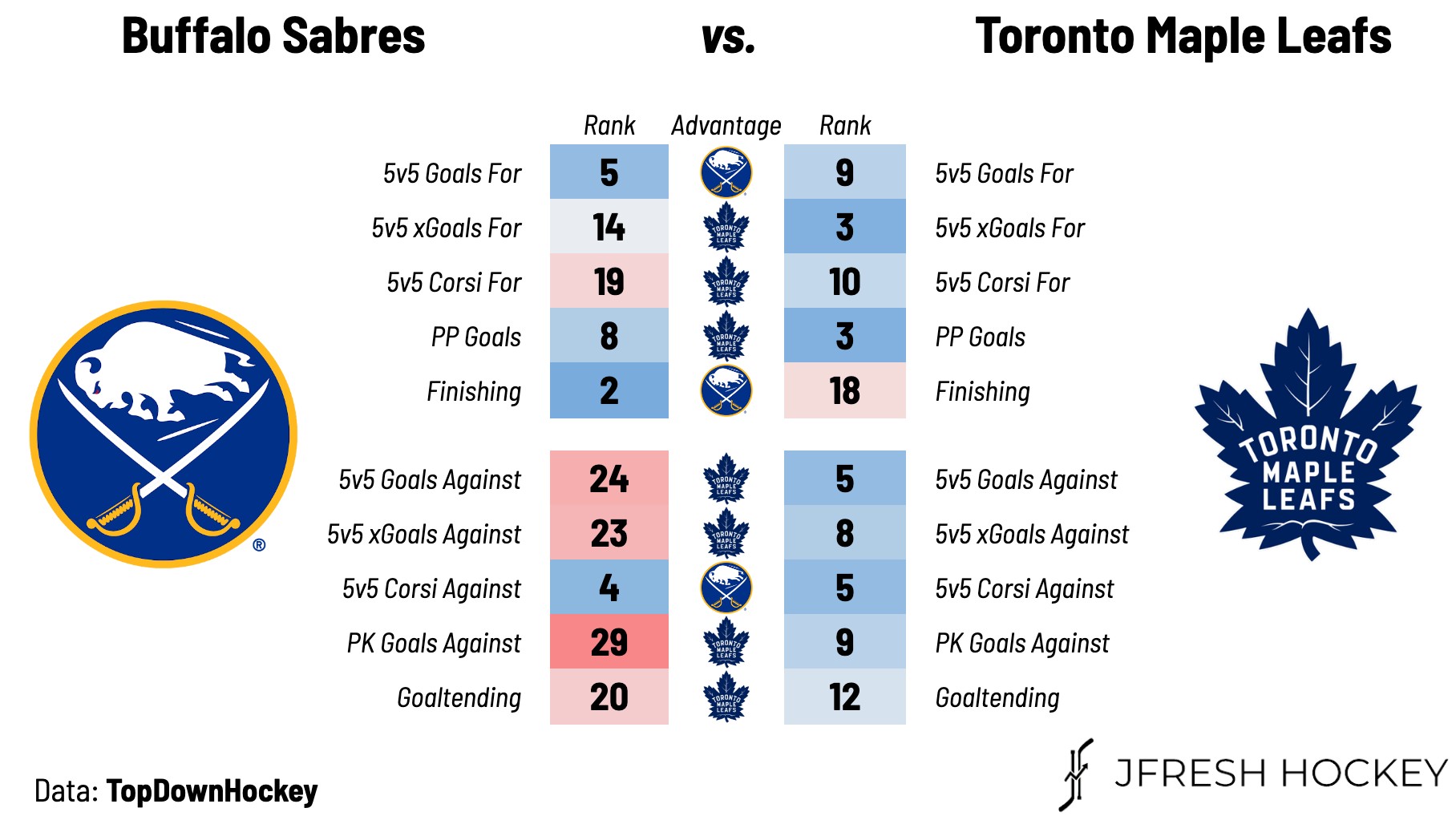 ---
Game Day Quotes
Sheldon Keefe on the challenge the Sabres present:
Incredible skill and speed both on forward and defense. It is an exciting team to watch but a dangerous team to play against. When we played them back in November, I thought we did an excellent job of defending. That is going to be required tonight.

They are a top-five team in the league in goals at even strength. The power play is dangerous. They have lots of guys that can score on different lines. They have two first-overall picks on the backend and a number of top picks on forward.

I don't know how many first-round picks there are overall on the team, but there is a ton of talent that has taken a step and is right there in the thick of a playoff push. By winning percentage, I think they are in as of today, but it is a team we have to be prepared for in all facets.
Keefe on John Tavares' fit on the wing on a line with Ryan O'Reilly and Mitch Marner:
I think he has adjusted fine. I have gone back and watched all of the shifts for that line through two games. I am trying to see if there is something there where there is some difficulty. I don't see that.

He has handled plays on the wall really well. To that end, I think he has done a really good job of embracing it, first of all, and going with it.

The advantage is it is less of a workload. You don't have to skate as much up and down the rink in getting all the way back. To that end, I think there are some advantages for anybody who plays on the wing there that could help them on offense, especially, to have a little extra gas in the tank.

As I said, this is something we would've liked to have tried at some point. I just like the ability to go right to it now. As I told John when we first made the move, it isn't something that is going to be a one-off. We are going to stay with it for a little bit and give it some time to come together.

I thought they had a good night the other night when I looked at some of their offensive chances. They are really close. It looked to me like a group that is close to breaking out. We will see how it is tonight, but I see those guys talking lots. I see great chemistry there that way. We will stay with it.
O'Reilly on his memories of the split-crowd atmosphere in Buffalo for Leafs vs. Sabres games:
It's almost like half and half. The Toronto fans are pretty close here. There is going to be a lot of energy. I am excited about it. I am still kind of getting used to the team and stuff, but it is an exciting game.
O'Reilly on his first few days as a Maple Leaf:
I still catch myself at times. I still can't believe it. With family growing up in Toronto, and actually wearing it now, it feels surreal. It is awesome. It is something I never thought would happen. To be a part of this group — and it's such a good team — there is a lot of excitement.

It is one of the best organizations in sports. You can tell by the way we have been treated. It is at a different level than any team I have played on. It is something different. That is just because I think Toronto is the mecca of hockey.

The organization, the players — it is something very special.
O'Reilly on his chemistry with John Tavares and Mitch Marner so far:
I think we are doing a lot of things well. At times, I think we are still trying to read each other and see how things are playing out. Each game, we are getting pucks back. We're close. I think we're going to see it start to take off.
Tavares on the chemistry with O'Reilly and Marner:
There have been some good things. I think we feel maybe just a hair off at times. We've got some good looks, but getting some more results, it is funny how it can just change the dynamic of things.

Overall, I think it has been really positive considering the circumstances of when the trade happened. It was right into a tough back-to-back. There have been some really good things and also some areas where we know we can be a little bit better, a little bit sharper, and continue to get a sense of reading off of one another and how it all kind of works.
Tavares on playing wing vs. center:
It is different. When you are playing center, you are in the middle of the ice a lot, whether it is offensively or defensively, and it's where you are getting the puck a lot. It is just positioning where you are and making the adjustment.

Throughout my career professionally, I have played the wing. I am continuing to make the adjustment. I am playing with some pretty good players. I just want to continue to get better. I think it is an opportunity where I can thrive in this position.

I have to continue to do a good job adapting to a lot of wall play, offensively and defensively. Also, with O'Reilly's headiness and how responsible he is with and without the puck — the poise he plays with, with the ability to get pucks to his wingers and create time of space with his awareness — it leads to really good looks, puck possession, and time and space.

With the chemistry and the understanding of the way Mitch and I play off of one another, we will continue to grow on that front — especially for me playing in a different position. Playing center, you play in the middle a lot, so it's just making sure I don't get too stuck on the wall and find opportunities to get chances at the net and into the middle of the ice to create chances and get my looks.

It is just a balance of all of those things. I try not to overcomplicate it, but it is a good opportunity for me.
Tavares on when he's played on the wing as a professional:
I would say the World Cup. In the Olympics, I think I actually played mostly in the middle. In the World Cup, for sure, I was playing with Getzlaf and Stamkos there.

The longest period playing the wing was during the lockout in Bern. They put me on the wing basically my whole time there, which was pretty close to 30 games. That was about a decade ago now, but I have had some stretches.
Sabres head coach Don Granato on how O'Reilly changes the challenge against the Leafs:
I think it is the same from the standpoint of it being a team that demands respect going in anyway. But they add him, and that is a bonus for them. They were every bit a team that you have to pay attention to and respect full-out even without Ryan. Add him in, and it is another boost.
---
Toronto Maple Leafs Projected Lines*
*with an optional game-day skate, line combinations won't be official until closer to puck drop
Forwards
#58 Michael Bunting – #34 Auston Matthews – #88 William Nylander
#91 John Tavares – #90 Ryan O'Reilly – #16 Mitch Marner
#47 Pierre Engvall – #64 David Kämpf – #19 Calle Järnkrok
#12 Zach Aston-Reese – #52 Noel Acciari – #15 Alex Kerfoot
Defensemen
#44 Morgan Rielly – #3 Justin Holl
#55 Mark Giordano – #37 Timothy Liljegren
#78 TJ Brodie – #25 Conor Timmins
Goaltenders
Starter: #34 Ilya Samsonov
#60 Joseph Woll
Extras: Wayne Simmonds, Jordie Benn
Injured/Out: Rasmus Sandin, Matt Murray, Nick Robertson, Jake Muzzin, Victor Mete
---
Buffalo Sabres Projected Lines
Forwards
#53 Jeff Skinner – #72 Tage Thompson – #89 Alex Tuch
#77 John Jason Peterka  – #24 Dylan Cozens – #71 Victor Olofsson
#37 Casey Mittlestadt – #19 Peyton Krebs – #22 Jack Quinn
#28 Zemgus Girgensons – #17 Tyson Jost – #21 Kyle Okposo
Defensemen
#26 Rasmus Dahlin – #10 Henri Jokiharju
#25 Owen Power – #23 Mattias Samuelsson
#46 Ilya Lyubushkin – #78 Jacob Bryson
Goaltenders
Starter: #1 Ukko-Pekka Luukonen
#41 Craig Anderson
Injured: Kale Clague