At long last, 2021 second-round pick and stand-out NCAA star Matthew Knies has signed a three-year, entry-level contract with the Toronto Maple Leafs. He's expected to join the team in Florida.
Knies has become the most well-known Maple Leaf prospect since he was drafted 57th overall in 2021, the Leafs' first selection in that draft. At the time, Knies seemed to be a solid and intriguing prospect but not a terribly exciting one. Knies played with the Tri-City Storm of the USHL before heading to the University of Minnesota for his NCAA career.
Once arriving in college hockey, Knies flourished in a way no one could've expected, racking up accolades as a freshman, making the Team USA Olympic team, and putting up numbers that had the Leafs organization clamoring to sign him after just one college season.
The player opted to return to college to try and win a national championship, stitching together a very good second season and helping the Gophers come within one win of that goal. They fell painfully short, but now that means Knies is ready to make the transition to the NHL.
Here's what you need to know about the top prospect as he makes the jump to the pros.
Knies, the backstory
---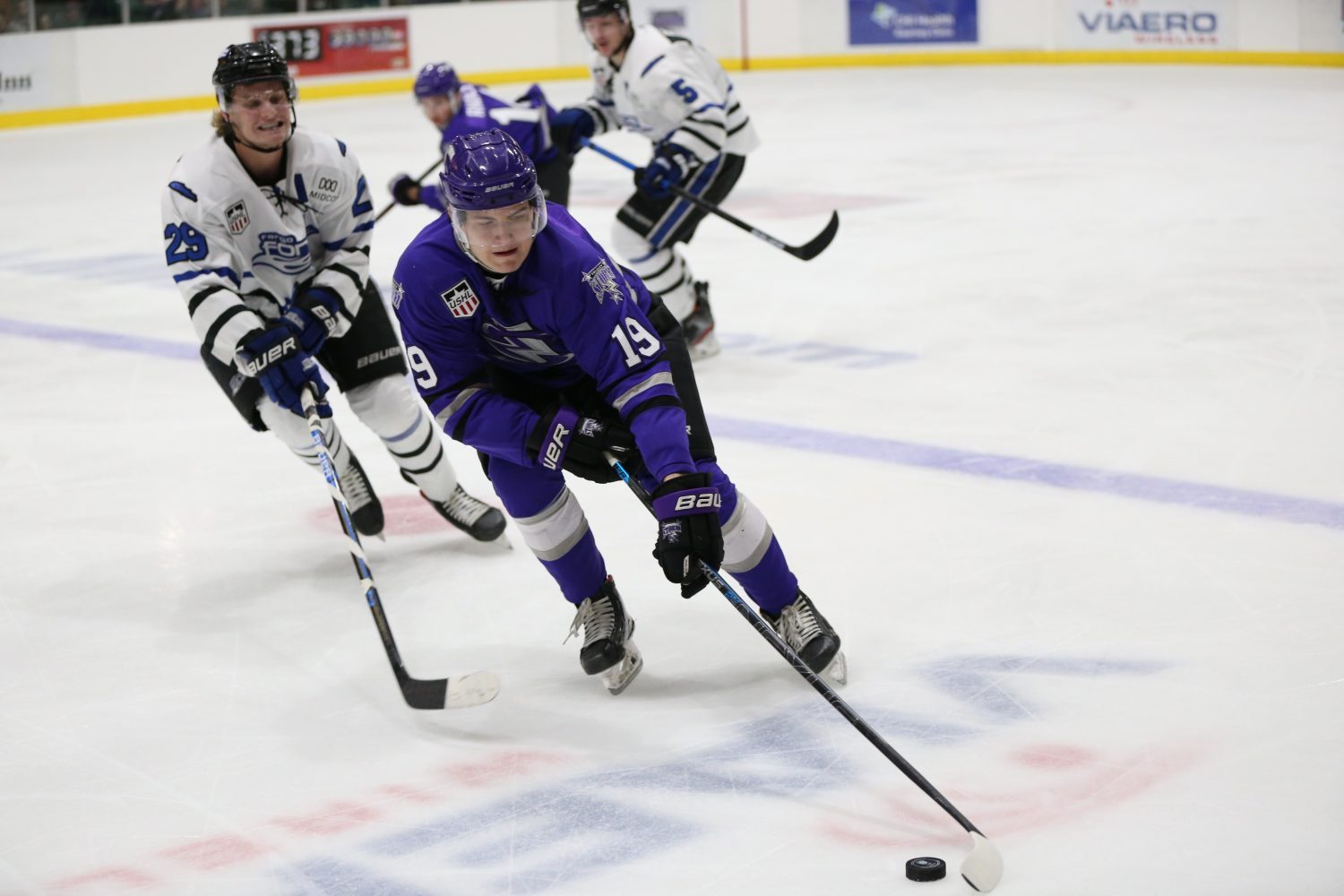 A native of Phoenix, AZ born to Slovakian immigrant parents, Matthew Knies wound up in the USHL with Tri-City and was on track to be a high pick in the 2021 NHL Entry Draft. He scored 45 points in 44 games in 2019-20 — his D-1 season — which is generally the sign of budding superstar status. It was a better clip in the USHL than several of his same-age peers including likely 2023 Calder Trophy winner Matty Beniers, and it had Knies on the track for big-time draft prospect status.
However, in 2020-21 — his draft-eligible season — the numbers stagnated. 42 points in 44 games were fewer than the previous season, and Knies tumbled down the draft board.
Going into the 2021 NHL Entry Draft, Knies was generally ranked 60-80 range by various internet scouts and prospect gurus. The Toronto Maple Leafs, not picking until pick 57 after trading their first-round pick in-season for Nick Foligno, zeroed in on Knies and were not fazed by the stagnant production.
There were some contextual factors at play. Knies missed the start of the season with a concussion and seemingly didn't get healthy until much later. His performance improved as the year went along, and he closed out the season on a heater. The Leafs believed they'd found a diamond in the rough when they grabbed him at 57th overall.
Knies enrolled at the University of Minnesota, where he was an instant hit. He scored two goals in his first NCAA game and racked up 20 points in a 17-game stretch spanning November into January. He was named to the 2022 WJC team for Team USA, and when the NHL announced that COVID cancelations forced them to withdraw from the Olympics, Knies was named to Team USA's roster for the Beijing games (where he recorded two points in four games).
By the time the season was up, Knies tallied 15 goals and 33 points in 33 games and was named to the Big Ten's All-Freshman Team and Second Team overall (Knies was a finalist for Big Ten Freshman of the Year, losing to Luke Hughes and Jakub Dobeš, who were co-winners).
After a better season than anyone could have imagined, Knies met with Kyle Dubas and Brendan Shanahan, who were interested in signing him. Knies, however, wanted to return to Minnesota to improve his game and ultimately win a national championship with the hopes of breaking the two-decade-long drought for one of college hockey's premier programs.
As a sophomore, Knies did not achieve drastically improved production, scoring 42 points in 40 games, but the eye test suggested that he was indeed a better, more dominant player. Knies was the power forward on the NCAA's best line, consisting of himself and two 2022 first-round picks, Arizona's Logan Cooley and St. Louis' Jimmy Snuggerud. Cooley was the dynamic creator and playmaker, Snuggerud the sniper and triggerman, and Knies was the big body to dig on the forecheck, screen the goalie, and finish around the net.
Knies was one of the best players in the B1G and was named to the All-Big Ten First Team and won Big Ten Player of the Year. As someone who covers college hockey, I will note that there was more going on there than meets the eye. College hockey awards have a strong bias towards older players and against freshmen who are poised to be a "one-and-done" en route to the NHL.  This logic is why Jimmy Vesey, who returned to Harvard and praised the NCAA system, won the Hobey Baker back in 2016 over Kyle Connor, a vastly superior player in every way (even at that time).
This is a long way of saying that Knies' status as a sophomore and his decision to return to college is the sort of thing that college hockey voters gobble up and are a big reason why he won Big Ten Player of the Year (and also why Knies was a Hobey Baker finalist).
It's not to say Knies was anything short of very good, but he was definitely not better than Cooley or Michigan's Adam Fantilli (or for the Hobey's sake, Boston U's Lane Hutson). Knies won the Big Ten award and was a finalist for the Hobey because all of those names I mentioned are freshmen while Knies is not. Yes, this sounds insane — and it absolutely is — but welcome to college hockey.
Regardless of award drama, Knies was no doubt an elite player, one of the 10 or so best in the NCAA. He was a leader for the Minnesota team that was #1 in the country nearly wire-to-wire this season. They secured the Big Ten regular season championship and were the top seed for the NCAA Tournament.
The Gophers made it through the Fargo regional and then defeated Boston U on Thursday in the national semifinals. That set the stage for last night's National Championship Game against #2 Quinnipiac, a clash-of-the-titans matchup for all the glory.
The Gophers took a 2-0 lead but surrendered the tying goal with under three minutes to play and the Bobcats won it just 10 seconds into the extra session to win the title. It was a heartbreaking end for Knies, whose journey came up one goal short, but it's hard to find any fault in his accomplishments at the NCAA level.
If there is one complaint you could come up with, it's Knies scoring zero goals and just three assists in post-season play, but he took a crosscheck to the ribs in the first postseason game against Michigan State and seemed to be playing at a bit less than 100%. He was still an effective player in the games; he was just perhaps a bit nicked up and a bit snakebitten. I wouldn't stress about it too much, but it's something to note.
Knies, the player
---
Matthew Knies is a top-tier prospect because he does a lot of things well and has a premium skillset.
The headline trait is one that — as the cliche goes — you cannot teach: his 6'3″, 210 lb. frame. Knies is a big-body forward with a skillset built to complement the size around the net. His hands in tight spaces are excellent, and quite frankly, you don't see too many players his size that can pull off dekes and finish like this:
#LeafsForever prospect Matthew Knies scores a beauty for his 5th goal of the season. pic.twitter.com/i7MopaOgu1

— Nick Richard (@_NickRichard) November 14, 2021
The rare combination of hands and size is a big part of the Knies package. He can drag the puck in tight and put it where he wants it, flashing hand-eye coordination around the net from time to time that is not unlike his fellow Arizonan and now teammate Auston Matthews (e.g. batting pucks out of the air for goals). His shot is good for a college player as well, and this package of skills allowed him to score 21 goals this season, placing him among the best goal-scorers in the NCAA.
Knies showed a penchant at Minnesota for scoring in the clutch with an OT winner over Michigan back in January and a pair of goals — one to tie the game in the final minute and one to win it in OT — against Penn State in February.
Part of his ability to score goals late in games is his willingness to get to the dirty areas of the ice. He doesn't just live close to the net inside the zone; he's willing to take it straight to the cage coming in off a zone entry:
Matthew Knies is a bulldozer#LeafsForever pic.twitter.com/W6vqcDgR3R

— Nick Richard (@_NickRichard) February 11, 2023
Knies uses that size in ways coaches want, banging down low around the net but also hitting people all over the ice. The NCAA has a new rule in the last two seasons cracking down on head contact, and it doles out five-minute major penalties for almost any hit that touches the head of the recipient. It is not a good rule and one that is mighty frustrating for college hockey fans, but I bring it up as an example of Knies' smarts and discipline: he consistently provides a physical force on the ice without crossing the line, taking just one five-minute major the entire season (for non-college hockey watchers, this may sound weird, but trust me — if you play a physical game and only take one major in a season, you're a smart hitter).
Knies' defensive game is okay; he is not a savant by any means, but he was the fourth-most used Gopher forward in ATOI on the penalty kill this season, used there ahead of the likes of his linemates Cooley and Snuggerud. Knies scored two shorthanded goals this past season, including this memorable example showing off his hands:
Beautiful shorthanded goal by #LeafsForever prospect Matthew Knies pic.twitter.com/alLpXfVlw4

— Nick Richard (@_NickRichard) November 5, 2022
Knies also added six PPGs as he was an effective presence in all situations and across all 200 feet. He does a lot of the little things well and his presence in the tough areas of the ice allowed him to make an impact even when he was not scoring, making life easier for his younger and perhaps more skilled linemates Cooley and Snuggerud, who scored a boatload of points in part due to the sacrifices of Knies.
Advanced data is a bit limited at the college hockey level, but we do have this chart via EPRinkside's Lassi Alanen ($) and the tracking data he compiled: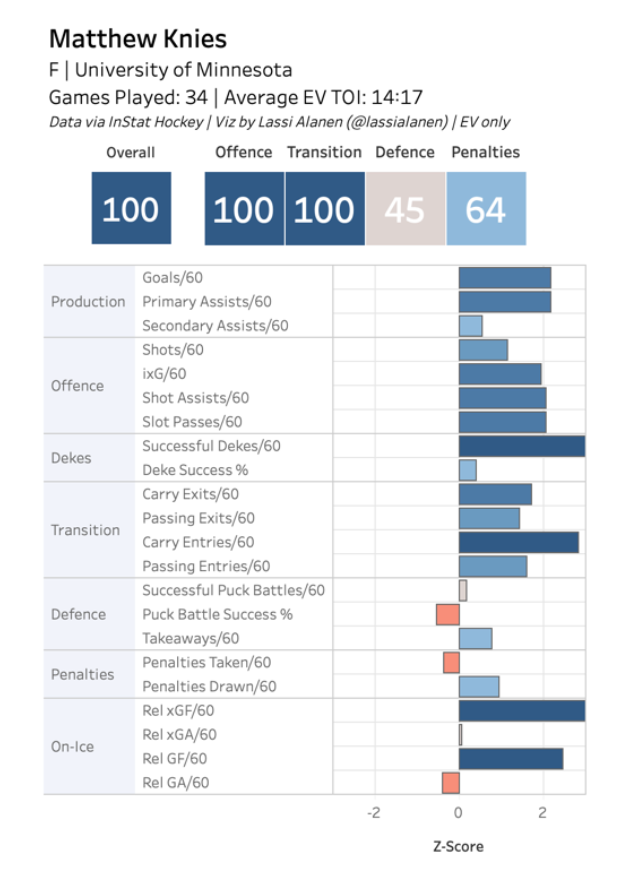 Knies was one of the very best transition players in college hockey, which is rather interesting because the scouting community generally regards Knies' skating as the weakness of his game. I don't think he's a poor skater, but it will need work to make him a great player at the NHL level.
What I think the transition data showcases is Knies' strength and puck-protection ability, his smarts in knowing where to go with it, and the lesser skating ability of NCAA players. For example, he burned Michigan defenseman Keaton Pehrson off the rush for a sweet goal that showcased Knies' hands in tight on goalie Erik Portillo. Pehrson is a serviceable NCAA defenseman, but he's an undrafted player with no NHL interest. Those are the kinds of players a guy like Knies can victimize in college with his current skating. It will be a whole lot harder to do in the NHL.
Perhaps the other area of Knies' game that is not great is his playmaking ability. He's not a bad passer or playmaker; he's just not a high-end one. He had a similar number of primary assists to Cooley (17 vs. 21), but an eye test of their games reveals who was driving offense on the line and setting players up more often.
Knies did perhaps get jobbed by secondary assist luck, somehow accumulating just four to Cooley's 22, but as a whole, no one is projecting Knies to be an elite playmaker or passer at the NHL level. He is a finisher and a forechecker, not a passer. Think Michael Bunting or Zach Hyman, not Mitch Marner.
Knies, the Maple Leaf
---
Now that Matthew Knies is a Toronto Maple Leaf, what should we expect? I would say to keep expectations modest in part because it's an awfully big jump to go from the NCAA to the NHL.
With Calle Järnkrok banged up, the Leafs do not have 12 healthy forwards on their existing roster (Wayne Simmonds was sent down to accommodate Knies' contract), so I see no reason why Knies shouldn't get to play the final three games of the season while Järnkrok rests up for the postseason. That will provide the coaching staff with a litmus test for Knies, and they'll get to see him in action against the Lightning on Tuesday.
I don't anticipate that Knies will be in the playoff lineup to begin the series unless he goes on a heater in the three games this week. It's more likely that Knies will get his toes in the water in the regular season and then will be waiting in case injuries pop up during the playoffs.
With Zach Aston-Reese playing and producing well lately, there isn't a great argument for Knies to be in the lineup now, but should someone go down with an injury, there is a real possibility that Knies should be next up to jump into the lineup ahead of Wayne Simmonds. Again, though, this will depend on what Knies does this week.
I can see Knies playing a role on PP2, which will help put him in situations to succeed. Perhaps they try him with Ryan O'Reilly this week on the third line, giving him a playmaking center to set him up as he had with Logan Cooley at Minnesota.
I think Knies' size and shot will translate to the NHL, but there will still be an adjustment period to an NHL where the opposition is bigger, stronger, and faster than they were in the NCAA.
There is a scenario where Knies struggles mightily to adjust. There's also a scenario where he jumps in and provides a splash right away a la Chris Kreider in 2012 (who is one of the best NHL comparisons for Knies at his future peak).
I was talking to a Big Ten hockey guru back in March about Knies and the NHL, and this person argued that college players are sometimes more effective jumping into the NHL playoffs than they will be in their rookie year the following season (as was the case for Kreider) because the opposition does not have a scouting report on them yet. By the time the opponents start to figure out the rookie's game, it's the next regular season and there is much more room to struggle and a greater margin for error.
It seems plausible that Knies could come in, light the world on fire for 10 games, and then teams start to figure him out, at which time the real growing pains arrive. If that means he played a good series against Tampa and helped the Leafs over the hump in the playoffs for once, I think they will be more than satisfied.
In the long term, I am pretty confident that Matthew Knies will be a good NHL player. How long it takes, I'm not sure, but he's a well-rounded player with a big, filled-out body who doesn't need much further growth or strength accumulation.
As the Leafs' development team improves his skating and he becomes acclimated, I think Knies will be an ideal complementary player to play next to high-end talent as he did with Minnesota. Thankfully, Toronto has plenty of that on their roster.
A similar role to Hyman or Bunting seems likely, although Knies' raw skillset (PK ability, hands around the net, size) is superior to Bunting's. I think there's a strong chance of a 25-goal, 60-point player who every team would love to have in their top six riding sidecar to a superstar driving the line.