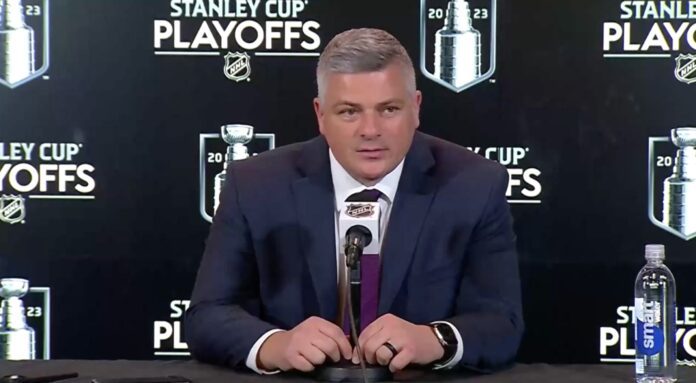 Sheldon Keefe addressed the media after his team's 5-4 overtime win over the Tampa Bay Lightning in Game 4 of the Eastern Conference Quarterfinal series.
---
On the team's ability to turn the game around despite falling behind 4-1:
The second period was good; we just gave up two goals, but we played well in the second period.

The difference in the second and third periods is that we were on top of the puck more. We came up with more loose pucks. We were second to everything in the first period. They got after every loose puck.

I should say that about the second half of the first period. The first half of the first period was pretty even. At the 10-minute mark when they scored, the shots were 3-3. We started the game fine. When they scored, the building gets loud. They get feeling good. They took it to us pretty good the rest of the first.

I thought we were good in the second. We obviously scored a goal to give us some life. We were feeling good. You play better, but you still lose the period. That was tough.

The message in the third period: Don't go away. Stay with it. You are not necessarily at that point are thinking you are going to come back in the game. You just want to stay there and give yourself a chance to come back in the game versus just going away and moving onto the next one.

I just pushed the guys to stay with it, have a positive period, seek to win the period, and once you do that, you start chipping away and you have a chance.

Credit to the group — the spirit of the group — for carrying us through to come back in this fashion. It is outstanding to witness and be a part of.
On Alex Kerfoot coming up big in OT:
He is an important player for the group. He is a very popular guy. The guys love him all the way through the team. He has been here. He has been through some battles with the group.

At times, things haven't gone great for him. At times, he hasn't been happy with his play. His production this year was below the standard we would like it to be at and what we think he is capable of.

There was a period of time, though — it might have been late February or through March — when I thought he was playing quite well. We started to move him up the lineup, and he was playing really well.

The production was still not really there, but he was playing really well. The message was just to encourage him to stay positive, stay with it, keep doing good things, and keep helping the team. I told him at that time that I felt pretty strongly he was going to score a massive goal for us this season.

I didn't know when it was going to come, but I just felt that a guy who works as hard as he does and as good as he is for the leadership and spirit of our team is the guy who usually gets rewarded and should get rewarded.

I was thrilled that he was the guy to get it done tonight.
On whether the team's past playoff experiences helped them in a situation like tonight's:
Of course, they do. The more you go through it, you just become a little bit more comfortable with it. The puck settles just a little bit more for you. Each experience you go through makes you better.

If you win — like the team we are playing, who have won more than anybody in recent years here — you grow and you learn from that. There is a lot that comes from that. There is a lot that comes from going through what we have gone through as well. There is growth inside of that.

Whether it is the guys who have been through it or the guys who have come in to add to the group, collectively, it feels different. I think that is why you end up on the right side of these things.

I don't know. It is a strange game how our sport works out. Certainly, it feels different. Things tend to go your way when that is the case.

But let's not get carried away. We have a tough task ahead to finish this series off.
On the ability to pull off a pair of come-from-behind wins on the road and what it could do for the psyche of the team:
I am very hopeful that we look at it as a positive sign of the spirit of our team, what we are capable of, what we can overcome, and that it feels different.

Once we travel back to Toronto, and there are two days in between now — so a bit of a lull in the series — and then a very important game coming up. I hope that they take that and recognize, "Let's keep pushing here."

The team we found a way to beat tonight are who they are because they very rarely lose two in a row. Obviously, they don't lose three in a row very often. Four in a row is going to be even harder.

That is not lost on us. We will make sure our group is ready. That will be the message: We have to continue to be better.
On the team winning games when it is not at its best and whether it speaks to its improved "killer instinct:"
I don't really know what killer instinct is. I don't know if it is a tangible thing or not. It is sort of a made-up term that describes a team that gets good results and gets it done. We are trying to be that.

We are still trying to find our way. We did it in dramatic ways these last couple of nights, and I think that can only help the spirit of our team even more.

I didn't like the last 10 minutes of the first period today, but the second and third periods I was good with. In the third period, we did a really good job. In the second period, we did a better job than we did in the first. I thought we deserved a little bit more.

The late goal that we gave up was a tough one. I loved how we attacked overtime. That was different from what it was the night before. We attacked overtime. We came out, we were on the attack, and we drew a penalty because we were on the attack.

Willy made a great play coming off of the wall. We had a couple of great sequences. We had three or four shifts where each shift was good. We earned an offensive faceoff that led to the power play. It turns out the second-unit power play gets us going and scores the goal.

That mindset — even from this overtime to a couple of nights ago — there is a difference there. I don't know what killer instinct really is. It is a term that you use to describe a team that closes. That is what we need to be, obviously.

That is the final and most difficult challenge ahead here.
On the feeling behind the bench as a coach when the team started to really push and dictate the game in the third period:
That was the goal in the third period, right? At a three-goal lead, you are not necessarily talking… With a two-goal lead, you can talk about, "Hey, if we get the next goal, we are really coming."

Three goals is a tough task.  To me, you are talking more about process, getting after the other team, not letting them off the hook, not letting the crowd get into the third period, and winning the period.

You never know. When Auston got his second tonight, that power-play goal was huge for us. Now you are right there. You are in that one-shot spot.

You could feel the momentum. The guys were really positive and really engaged. There was a lot of talk on the bench even at 4-1 when we got that first goal there. "Hey, get one more, and it changes a lot." That is how it worked out.

Both games are not how you are going to draw it up or anything like that, but there is a lot to like about how our team found a way and closed these games.
On the team's ability to convert and put so many behind Andrei Vasilevskiy:
I think we have had good traffic. We have had a good mix of goals, right? We have had good traffic. We have had deflections. We have scored on some rebounds.

Auston's goal today is a rush goal. I am trying to think back… Acciari's goal is a rush goal.

We have scored in different ways. I think that is what we have liked.

Today, to find a way, I thought Vasilevskiy looked really dialed in and focused. He looked good through a lot of the game.

It is a real focus for us to get people there, get pucks there, shoot the puck, and all of those kinds of things.

We have been fortunate to get some by him there. He is a guy that you have a lot of respect for. That in and of itself is probably why the guys are so much more attentive to doing the little things that make it harder on him.