The first round of the Stanley Cup playoffs saw the Toronto Maple Leafs perfect the art of losing the balance of play but winning the game. The opening game of round two was the opposite scenario.
Relatively speaking, you could credibly argue that Tuesday night's Game 1 was the second-best game the Leafs have played these playoffs (topped only by Game 2 against Tampa), yet they didn't walk out with a victory. An exceptional goaltending effort from Sergei Bobrovsky of Florida and some tough puck luck combined with a couple of crucial Toronto mistakes to concoct a Panther victory in Game 1. It's not the result the Leafs were looking for, but it was not a worst-case scenario, either.
Turning Points
---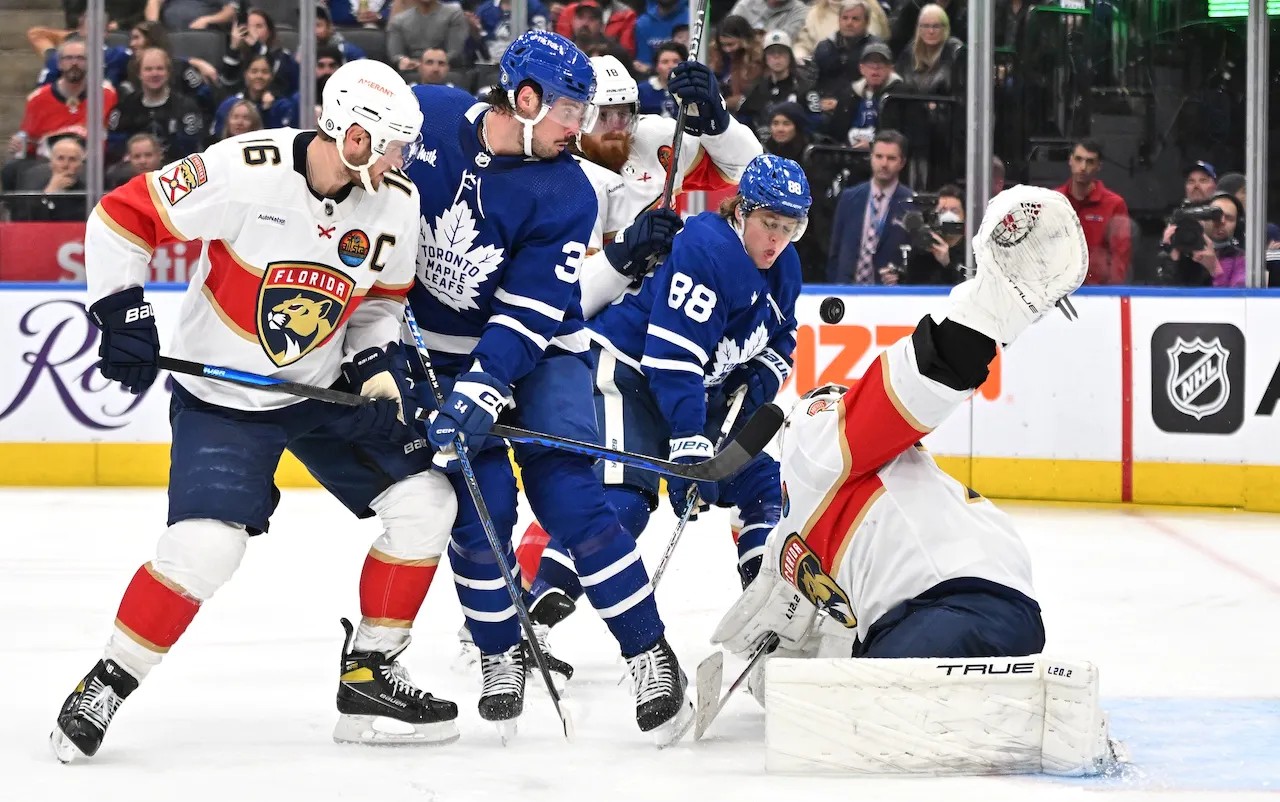 While not a singular moment, my first turning point came in the first eight or so minutes of the game, a period in which the Maple Leafs were quite a bit better than the Panthers yet were not rewarded for their opportunities.
Auston Matthews went on an early breakaway and had Sergei Bobrovsky beaten, but his shot hit the goal stick and deflected out. The Leafs went to a power play with an opportunity to attack Florida's weak penalty kill. There were several great chances, but no dice. Alex Kerfoot and Zach Aston-Reese's rush chance afterward was just off the mark but drew another penalty. The second PP contained more great looks; again, Bobrovsky shut the door.
The Panthers finally generated some zone time in the Toronto end, with the Matthew Tkachuk line matched up on Mitch Marner and John Tavares. As Tkachuk held the puck on the wing, Marner went out to challenge him initially but then diverted away, leaving Tkachuk room to walk right in. Mark Giordano and John Tavares didn't come out far enough to challenge, Ilya Samsonov made the initial save, and Nick Cousins shed Jake McCabe before tapping in the rebound. Suddenly, it was 1-0 Florida in a game that had been tilted heavily towards Toronto. In hindsight, that sequence was a microcosm of the entire game.
The second turning point was the sequence that began the Leaf rally. The Panthers had scored to go up 2-0 on another play that confirmed the Hockey Gods were not wearing blue and white on the evening. A seeing-eye point shot from Aaron Ekblad first deflected off Matthew Knies and then off of Sam Bennett and in, the sort of goal that the Leafs got routinely against Tampa. More air had been taken out of the Leaf balloon, but it was quickly restored by a brilliant play from Auston Matthews and Knies, who finished his first career goal in dazzling fashion.
Right off the faceoff, the Leafs gained the zone and Matthews made a tremendous backhand pass off the wing to Knies in the slot, where the rookie broke in on Bobrovsky, spun around, and flipped the loose puck into the net. The building was rocking again, the Leafs went to another good (but unsuccessful) power play, and they built off of it with an equalizing goal late in the second.
This leads us to the goal that flipped the momentum back in Florida's favour: Carter Verhaeghe's breakaway goal late in the middle frame.
Jake McCabe laid out Anthony Duclair in the neutral zone and then joined the rush. The Leafs had numbers — 3v2 into the offensive zone — with McCabe following up the play from behind. Alex Kerfoot tried a centering pass to Noel Acciari that probably should've been put on net. The ricochet caught McCabe deep in the zone, giving the Panthers 2v1 up high. TJ Brodie then had three options — pinch hard and either keep it alive or risk a 2v0, fall back and concede a potential 2v1 but with good positioning to defend it, or attempt both and accomplish neither.
For some reason, Brodie chose the latter, half-heartedly pinching, failing to cut out the play, and finding himself trapped with Verhaeghe in behind him. On the backcheck, Ryan O'Reilly was out of gas, and thus it was a clear break for Verhaeghe, who made no mistake ripping the shot by Samsonov.
With just over two minutes left in the second, it was a major momentum crusher. The defense should have been better, and Samsonov needed to make a save on what was one of only two great chances he faced all period. The end result was the Leafs exiting the second — a period in which they way outplayed Florida — down by the same margin as they started. Disappointing.
The Panthers defended pretty well for much of the third, scored another point-shot goal, and more or less put the game away after that.
Notable Performances
---
On the positive side, Matthew Knies' goal was a dandy and he continues to make stellar offensive plays that drive results. He was a little out of position on the second goal, but I thought Craig Simpson was harping a bit too much on him for that. Compared to the Marner and Brodie/McCabe errors on goals 1/3, it was a tame mistake. A double deflection point shot goal like that is fundamentally still a pretty puck luck-infused goal, even if Knies should have applied more puck pressure up high.
I thought the other goal scorer, Michael Bunting, played a strong game, too. His performance in this game plus Game 6 are possibly his two strongest games in several months. During the debate about whether to re-insert Bunting after his suspension against the Lightning, there was not enough conversation about how poor Bunting was playing down the stretch of the regular season. The Bunting we've seen post-suspension in these two games is the vintage Bunting — fast, aggressive, engaged, and playing with swagger. That's the player who is indispensable in the Leaf lineup.
Auston Matthews was also pretty strong — unlucky he didn't score a goal, but he played a major part in the Knies one in addition to leading a defensive effort that was far better against the Tkachuk line in periods two and three than we saw anyone put up in the first (more on that later).
It was not a particularly great game for Mitch Marner, who was Toronto's second-worst player in xGF% at 5v5 in this game. His line was battered by Tkachuk in the first and he was the most culpable player on the first Panther goal, flying right by Tkachuk. You cannot ignore the most dangerous player on the opposing team when he's got the puck on his stick deep in your defensive zone. Marner was rather forgettable offensively, too. Needless to say, the Leafs need a better showing from #16 on Thursday.
William Nylander played a pretty odd game in a lot of ways, perhaps emblematic of his postseason. Contemporary Leafs Twitter is divided between those who rightfully critique aspects of Nylander's game while generally commending him as a player and those who are still scarred by the days when Nylander was every radio host's favorite whipping boy and therefore deploy an array of analytics tactics to defend #88 in militant fashion at every turn.
On one hand, Nylander continues to grade out pretty well analytically, Toronto's best player in xGF% at 5v5 last night. On the other hand, his actual production remains heavily concentrated in man-advantage situations (of his seven playoff points, just two are at 5v5 and neither are goals), and the eye test suggests he is turning up opportunities to get to the inside. This was the most mind-boggling example:
ankles were harmed pic.twitter.com/MkKTcnUUJd

— Omar (@TicTacTOmar) May 3, 2023
One of the keys to success for Nylander's breakout this season was his increased willingness to lower the shoulder, shield the puck, and bully his way inside. Nylander is not as big as Matthews, but he's not small and his build is strong and thick. Compared to Marner, Nylander should have a much easier time burrowing his way to the middle of the ice, and it seemed like he'd unlocked that this past regular season. That's why it's frustrating to see him pass up opportunities to drive hard to the net, which we need to see more of in Game 2.
Defensively, I don't have a ton of notes beyond the previously discussed Jake McCabe and TJ Brodie fiasco. They were solid over the full body of shifts, although I suppose we need to talk about the zealous manner in which McCabe engages physically and with offense.
One feature of McCabe's game in his time in Toronto is his aggression jumping up on plays either to lay a big hit or join the rush. Both of those things provide an important element for this Leafs team, and you don't want him to totally back off in either respect. The problem McCabe can run into from time to time is the situational awareness of when to commit to a hit or a rush. That was the case on the Verhaeghe goal, and he also took a penalty after a hit, leading to the Montour goal at 6v5.
If there's a defenseman to knock in this game it might be Mark Giordano, who continues to look very much his age these playoffs, seemingly having aged a half-decade in the span of only a few weeks. His terrific play from the regular season has departed, and especially in this run-and-gun fast-paced game, Giordano's mobility issues stood out. He looked behind the pace and got abused in rush defense by Sam Reinhart, although he was bailed out by his netminder.
I wrote during the first round analysis pieces my hunch that a decent chunk of Justin Holl's remarkably horrendous play was related to Giordano's rapid decline since we observed a similar phenomenon during the 2021-22 regular season when Jake Muzzin's play entered a steep decline. I would be considering possibly giving Giordano a day off and playing Erik Gustafsson on the third pair next to Timothy Liljegren if I were Sheldon Keefe.
Ilya Samsonov did not play his greatest game. It was not a stinker like G1 against Tampa, but he was clearly the lesser of the two goalies, and that's a major reason why the result went the way it did.
To be clear, Samsonov had his moments. He was awesome late in the first and neither of the first two goals were his fault. He made the initial stop and couldn't be asked to save the rebound on the first goal. He was hurt by bad puck luck on the second.
However, the third and fourth were the difference between Samsonov and Bobrovsky. Auston Matthews' breakaway was denied; Carter Verhaeghe's went in the net. Bobrovsky didn't allow any shots from distance to go in; Samsonov was swimming around way out of his net and looked very uncomfortable on the 6v5 Montour point-shot goal.
Evolving Hockey tagged Samsonov with -1.55 goals saved above expected — which is perhaps a bit unlucky — but it was definitely a comedown from his incredible Game 6 vs. Tampa. When the other guy is standing on his head, he's got to be better than that for his team to win.
Storylines for Game 2
---
1.    Containing Matthew Tkachuk. The Panthers' superstar was the best player on the ice last night, driving a line that was dominant and saw all three players on it (Tkachuk, Sam Bennett, Nick Cousins) clear 69% xGF% at 5v5. Tkachuk tallied three assists out of the four Panthers goals and the first period was a major announcement of his presence.
The Leafs needed to scramble their lines after the first period and shift the approach to matching up Auston Matthews against Tkachuk more often to account for him. It was more successful, but the fact that Toronto was recalibrating their strategy 20 minutes into the series says a lot about how well Tkachuk is playing right now.
Tkachuk is in a groove and dominating games. The Leafs' superstars will need to take their play up a level in intensity for Game 2 while the coaching staff needs to figure out how to better deal with Tkachuk. Minimizing opportunities for him to play against the David Kämpf-centered fourth line is one part of it.
It will be pivotal for the Leafs to gain some insight on dealing with Florida's #19 before the series shifts back to South Florida, where Paul Maurice will have the advantage in crafting shift matchups.
2.    The goalie battle. As I mentioned in my point about Samsonov, the goalie battle was a major component of what happened in Game 1. There are interesting stylistic and matchup questions, but at the end of the day, Ilya Samsonov wasn't as sharp as usual and Sergei Bobrovsky played out of his freaking mind. That was my main takeaway from this game.
We can debate about how well the Leafs got to the inside at 5v5 (I thought they were fine, personally), but there's no denying that Toronto got gobs of A+ looks on the PP/6v5 late, and Bobrovsky made save after save after save. He got a bit of luck, too, no doubt, but Bob was fabulous.
This was a random explosion and an exceptional showing even in the context of Bobrovsky's career, too. The 34-year-old Russian has played 699 NHL games between the playoffs and regular season. Evolving Hockey's tracking shows that Bobrovsky's individual game Goals Saved Above Expected was the eighth best out of those 699 games and by far the best of his playoff career (+3.34!!!).
Bobrovsky has not been a particularly good goaltender in the playoffs over his career, and he wasn't particularly good against Boston, either (.891, -0.47 GSAx). This performance was random in the big-picture view (as goaltending often can be).
If Bobrovsky is back to his usual middling self in Game 2, I like the Leafs' chances. If he is still blacking out in the net, we could be in for an infuriating series.
3.   The stylistic matchup. Anthony Petrielli made the point last night in the Game in 10 that the Maple Leafs were a little too willing to play into Florida's hands in playing a more wide-open series, with rushes going both ways and trading chances. I generally agree with that point. The Leafs didn't let themselves get boat-raced, but they definitely were getting a wake-up call as to how different this series is going to be.
Tight checking and painfully tough zone entries were nowhere to be seen in this game. Instead, the Leafs were able to gain the zone with possession constantly, but in the process, they saw the risks of rushes going the other way. Florida is a quick-strike counter team, and the complexion of Game 1 announced how different this series is going to be.
I think Toronto is going to want to slow Game 2 down some and force the Panthers to play their style. Then again, a lot will hinge on if the Leafs score first and can establish a lead in Game 2, something they never did in Game 1. You could argue some of their willingness to play Florida's game was due to the Leafs' need to be in "attack" mode all game as they were always trailing or tied.
Regardless, the contrast in styles demonstrates why — no matter how deep the Leafs go in these playoffs — getting out of the first round was such a massive step forward for this group. Part of winning the Stanley Cup is facing different opponents, playing series with different feels, and adjusting along the way. This core Leafs players (Marner, Matthews, Rielly, Tavares, Nylander) really don't know much about that. Tavares does a little, but the other four don't at all. They've only ever played playoffs where it was one series, one opponent, and one style of play. They are now learning how to tweak their game on the fly and change styles in a new round with a new opponent.
It's pretty rare for a team to go from never having gone deep in the playoffs to winning it all. Gaining this experience and learning these lessons is one reason why. We'll see how quickly this group can adapt.
4.   Any lineup changes? I don't anticipate any major lineup changes, in part because Sheldon Keefe probably likes games where his team wins the expected goals battle over 60 minutes by a wide margin. There are things to tweak as mentioned in storylines 1 and 3, but as a whole, most Leafs fans left Tuesday night thinking, "If the team can simply play with that same effort and chance generation share for six more games, they will win the series."
I assume Keefe is thinking along the same lines, too, and thus will probably not be inclined to change too much. However, it is possible we could see a shift back to 11/7 to take a load off of Mark Giordano. I mentioned the possibility of healthy scratching him, but I don't think that's too likely. What about putting Sam Lafferty back in instead of Zach Aston-Reese to match the skating of the Panthers? All are possibilities to consider.
5.    Puck Luck Gods. Part of me looked at this game and considered it a repayment to the cosmic forces of luck for the first round. The Leafs played a number of games against Tampa where they were getting the ice tilted against them and either yoinked the game away from the Lightning by getting low-percentage seeing-eye point shots to go in or having Samsonov steal the game (or both).
Game 1 was the reverse, with Leafs playing the role of the Lightning. I suspect the Leafs will receive better bounces in Game 2, but again, recognizing that the bounces won't go your way every round and in every game is part of the learning experience of going deeper in the playoffs.