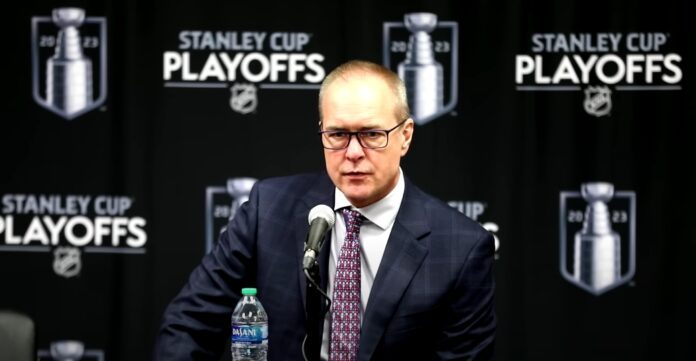 Paul Maurice addressed the media after his team's 3-2 overtime win over the Toronto Maple Leafs in Game 3 of the Eastern Conference semifinal series.
---
On what he would say about holding Auston Matthews, William Nylander, Mitch Marner, and John Tavares to zero goals through three games:
Bobrovsky. That would be the end of that answer.
On holding the Leafs to two goals a game through three games:
All different games. It was a very difficult game for our goaltender to play tonight. We like to open up with about four two-on-ones to make him feel really comfortable. And then there was some quiet time.

Mentally, that was a more difficult game for Sergei than the first two. You got into a rhythm in the second one, and there were flurries of great chances.

These are playoff games. They just turn on the smallest of plays. There is way more offense than you think because every play is dangerous.
On Sam Reinhart's game-winner in OT:
He went from one-on-one to one-on-five into a hole. It was the change of sides that is really impressive — draw people to you, release, and then go to open ice. He does that a lot in the small areas of the game that you almost have to watch on video. The puck support and the recognition of the flow of play are just incredibly good.
On his feeling when the team won it in overtime:
Oh, pretty good [laughs]. I am really happy for [Reinhart] and that line. It has worked hard, done all the right things — all the right "pro" things — and you like to see those guys get the payoff and the recognition of how important they are.

[Reinhart] is a high-end player who happily accepts what you might call a third-line role. He develops two young players with him. No ego. Never once talked about ice time this year. You like those guys to get a payoff.
On getting a power-play goal from Anthony Duclair while avoiding the penalty box the entire game:
It was a bit of a low-event physicality game. As the series goes on, the cost of all things gets higher and higher. It was the least physical game of the 10 we have played because there is just more attention to detail. It was a quieter game with that.

We haven't had a lot of power plays. You can almost see it with the first group. You need a certain block of power plays to kind of feel the other team and what they are doing or where to get an advantage. We just haven't had enough to get a feel for what they do.

That is just a pure ability to get into that hole [from Duclair] — to time the hole and to get into the hole and finish. That is some skill.
On the work of the Luostarinen – Anton Lundell – Sam Reinhart line on the forecheck:
The foundational tell there is that all three of those guys kill penalties for us, and they are really good at it in the section of the time that they go out. They do that, and we have them there because, in some ways, it is their foundation.

Maybe Lundell not so much because he came in as a young scorer. He was prolific as a young player before he got here. It became his game. Young players usually have to become pretty good defensively just to get ice time. They have to do the right things when you don't play them, so they start doing the right things.

All three of those guys have a really strong defensive IQ. They are smart. They know their routes. They don't sit back to run them.

They are almost the polar opposite of the Bennett line. The forecheck is equally effective and completely different in how it is applied. One applies it with a hammer, and the other with a paintbrush, if you know what I am saying — and if you don't, neither do I, so we are even.
On his team's ability to come back from one goal down twice in the game:
It is not a function of Toronto. It is a function of what we have been through. The lead was almost devastating in the Boston series. If you got the lead, the other team had to open its game up, and it went south for whichever team did that first.

We learned in that series that if the other team gets the lead, we are not changing early. If we have to push, it will be real late when we send in our D. We made that mistake in Game 1. We held them to eight even-strength shots through 36 minutes of that game, and they ended up with 22 shots in the back half of that game.

This is not easy to do. There is some world-class high-end skill — transition skill — on that team. I will go back to my earlier answer to say, "Bobrovsky."
On the message to the team with a 3-0 series lead:
Nothing until Game 4. That is the message. Enjoy your night a little bit tonight. Enjoy the locker room. We have a routine for tomorrow done. We have a routine for the practice the next day done. We have a routine for the next day.

We are not going to spend a whole lot of time thinking about yesterday. Handle your day, enjoy life, and enjoy playing.
On Sergei Bobrovsky's current streak in the playoffs:
You want one of two things. You want a veteran guy who has seen it all, who has some scars and can handle it, or a guy who has no idea where the hell he is because he doesn't care. He is going to play for the next 18 years.

Sergei has had a tough year, and I don't mean that in a negative way. There were a lot of challenges going in. Our goaltending struggled early, and then Spencer took over. Sergei came in, and then he got injured and then he got sick. Each time that he has kind of gotten on a bit of a roll, something challenged him. Each time, he has handled it.

Alex came in, and he was great. I threw [Bobrovsky] into a really, really tough game in that Boston series. Earned confidence by Sergei, and certainly, the team has confidence in him.