The Toronto Marlies' reward for a hard-fought four-game series victory against Utica is a playoff meeting with another cross-border NY rival.
Rochester and Toronto have previously met three times in the playoffs with each matchup happening in the first round. The Marlies hold the upper hand with a 3-0 sweep in each series dating back to 2012, 2013, and most recently in 2019.
Rochester might be feeling that 2023 is their year after surviving an epic struggle in the second round against Syracuse. The Crunch won the first two games of the series comprehensively in Syracuse before Rochester avoided elimination by winning their two-game set on home ice. Cue a thrilling winner-takes-all game five in Syracuse in which Rochester led 3-0 and 4-1, but Syracuse forced overtime only for the Amerks to prevail early in the extra frame.
Switching to the regular season, Rochester finished in second place in the division with 81 points and a record of 36-27-09. The Amerks posted almost identical home and road records in a season comprised of streaks.
They began their campaign strongly, winning six of their first nine games, and rattled off six consecutive victories to end the calendar year. On the flip side, Rochester endured a rough five-week stretch beginning in the middle of January, winning just four of 15 games and taking 10 of a possible 30 points. 
One consistent bright spot was the best penalty kill in the Eastern Conference at 81.9%. Rochester was also a well-disciplined outfit, recording the third-fewest penalty minutes (802) in the Conference.
Rochester was able to outscore their problems through the regular season. Three players scored 20 or more goals and a further six netted between 14 and 17 goals each. Lukas Rousek (14G/40A/56P) and Brandon Biro (16G/35A/51P) led the line offensively with the latter producing at over a point-per-game pace. Brett Murray (23G/26A/49P), Linus Weissbach (20G/27A/47P), and Jiri Kulich (24G/22A/46P) all found the net on at least 20 occasions. Kulich enjoyed an exceptional rookie season and is one of Buffalo's most promising prospects.
Rochester's captain Michael Mersch is next in scoring with 45 points (17G/28A) in somewhat of a down-year production-wise, but he will be a key factor in the series. Ethan Prow is the seventh player to crack the 40-point mark and led all Amerks defensemen in scoring. 
The season series between Toronto and Rochester was comprised of eight high-scoring games. A total of 56 goals were scored, with 35 of those netted in the final four meetings.
The Marlies edged the series with a record of 4-3-1, but there was little between the teams in the regular-season series.
Keys to the Series
---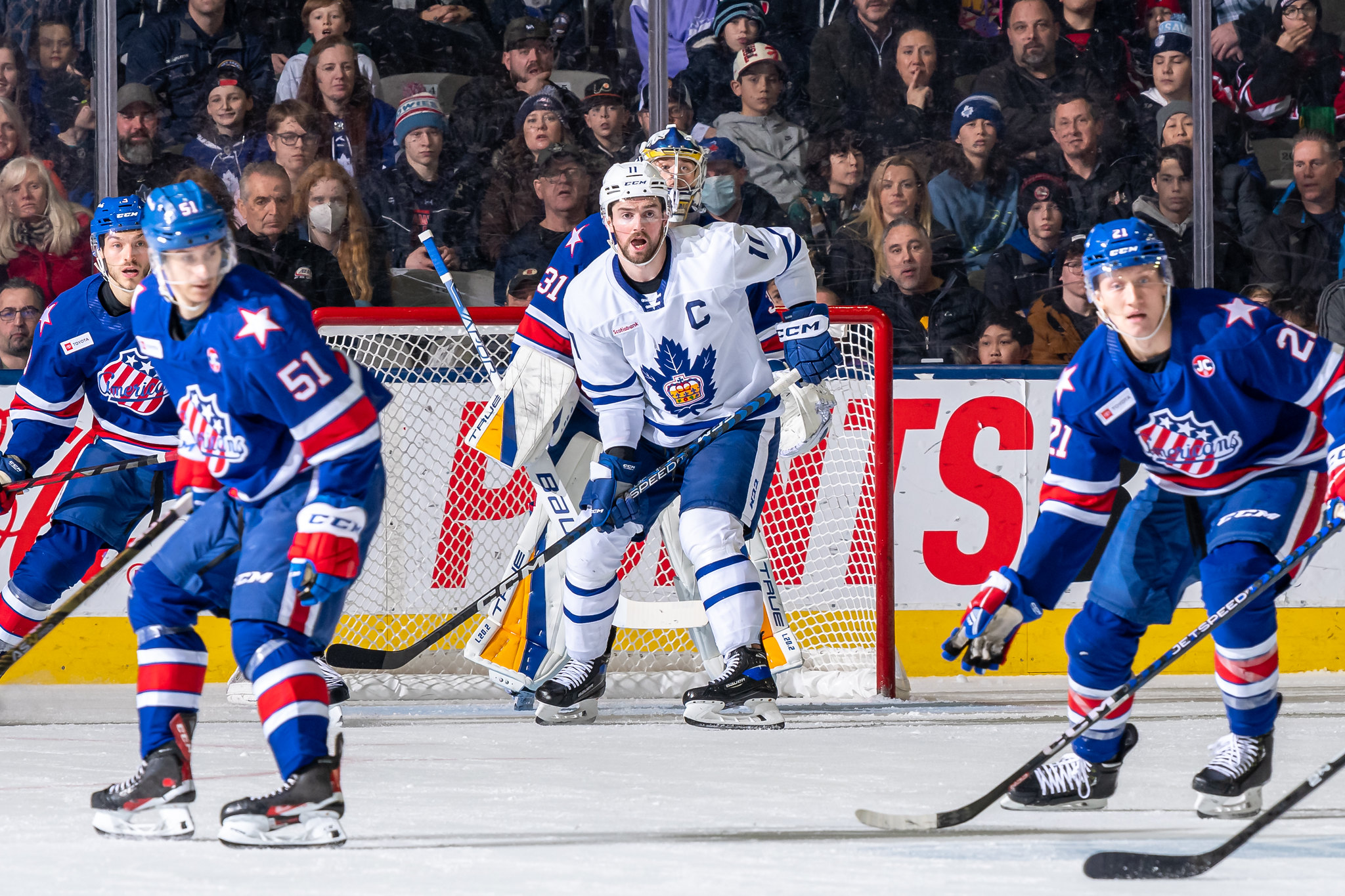 Rochester's potent offense powered the team to second-round success. In three consecutive victories against Syracuse, the Amerks scored a combined 17 goals.
Toronto struggled defensively at various stages through the regular season and in games one and two of the series against Utica. The Marlies tightened up in games three and four, though, giving up three goals in total. Rochester's dangerous offense will look to exploit Toronto's defensive frailties, a battleground that will go a long way in deciding the outcome of the series.
Although it wasn't the best regular season points-wise for Michael Mersch, he enjoyed success against Toronto. Rochester's captain tallied seven points (1G/6A) against the Marlies and began the playoffs with a bang, leading Rochester in scoring with seven points (4G/3A) in five games.
Lukas Rousek feasted on Toronto with four goals and as many assists in eight games. The highly dynamic forward assisted on four goals against Syracuse.
10 Amerks players have scored a goal in the playoffs, a strength in scoring depth that cannot be underestimated.
Both teams enjoyed success on the power play in the previous round. Rochester clicked at 27.8%, a sharp increase from their 20% production through the regular season. Toronto scored three power-play goals on 12 attempts.
The Marlies convincingly won the special-teams battle against the Americans during the regular season. Rochester's power play fired at 14%, while Toronto scored on over a quarter of their attempts with the man advantage.
Naturally, the performance of Malcolm Subban will be a major factor in the series. Rochester relied heavily on the goaltender through the regular season (20 wins in 39 games) and continued to do the same in the series against the Crunch. Subban posted a .921 save percentage against Syracuse despite giving up 15 goals.
In three starts against Toronto in the regular season, the Amerks netminder gave up 13 goals, posting a .851 SV%.
Rochester and Toronto were both in the negative column at 5v5 through the regular season. In the previous round, both teams came out narrowly on top at even-strength play, scoring one more 5v5 goal than their opponent.
Whichever team can assert control in the neutral zone will be key as both create a high percentage of their offense through transition and the generation of odd-man rushes.
Toronto's X-Factors
---
Depending on what happens with the Toronto Maple Leafs, the addition of Erik Källgren and/or Joseph Woll into the lineup would be a huge boost for Toronto.
Källgren was excellent in the two victories on the road against Utica after sitting as an emergency goaltender with the Leafs. As for Woll, his exceptional season has been well-advertised to this point.
Logan Shaw wasn't at his very best during the Utica series, but he still led the way with four goals. He will no doubt be targeted by Rochester, not only for his offensive prowess but also because he's Toronto's captain.
I waxed lyrical about him in the Utica series preview, and Topi Niemelä delivered in the divisional semifinal round. He recorded a goal plus two assists and effectively transitioned defense into attack with breakout passes or as the puck carrier. I can only remember one glaring error of note in the entire four-game series, and he was far and away Toronto's most effective offensive blue-liner.
Pontus Holmberg rediscovered his form from earlier in the season in the series against Utica, leading me to believe he was carrying an injury or was a little banged up. The two goals and single assist he registered do not do justice to his dominance at 5v5. Holmberg drive a ton of scoring chances for linemates and drew some penalties.
Bobby McMann was sighted practicing in a grey jersey on May 1. If he were able to return for the Marlies, McMann would be a true game-changer. The power forward scored 10 goals in seven games against Rochester this season, including two hat tricks.
Semyon Der-Arguchintsev carried over his strong finish into the first round of the postseason. The diminutive forward recorded three points (2G/1A), but his ability to gain the zone at 5v5 and the power play were critical to Toronto's success.
In the last two games of the Utica series, Radim Zohorna appeared to find a groove in his play. When he uses his size and strength to shield the puck down low and create screens in the slot, Zohorna is a nightmare to deal with.
Prediction, lines, and series schedule
---
As previously mentioned, this series ultimately comes down to whether the Marlies can stifle Rochester's high-powered offense. If they can quiet the Amerks down offensively, I see them progressing as Rochester is not a team built to win low-scoring games.
I don't foresee Toronto experiencing any issues generating scoring chances or finding the net, although Malcolm Subban does have the ability to stand on his head occasionally.
The Marlies' penalty kill excelled in the Utica series. Continuing to win the battle in that department will be an important factor in denying Rochester offensive momentum.
Toronto Marlies Lineup
Forwards
Nick Abruzzese – Logan Shaw – Joseph Blandisi
Kyle Clifford – Pontus Holmberg – Marc Johnstone
Alex Steeves – Radim Zohorna – Semyon Der-Arguchintsev
Ryan Chyzowski – Graham Slaggert – Max Ellis
Roni Hirvonen
Ryan Tverberg
Dmitry Ovchinnikov
Grant Cruikshank
Braeden Kressler
Brandon Lisowsky
Defensemen
Jordie Benn – Topi Niemelä
Marshall Rifai – Carl Dahlström
Matteo Pietroniro – Mac Hollowell
Filip Kral
Noel Hoefenmayer
William Villeneuve
Goaltenders
Erik Källgren
Keith Petruzzelli
Dennis Hildeby
Toronto Marlies vs. Rochester Americans - North Division Finals
The Americans won the best-of-five series 3-0.
| Date | Time | Home Team | Result |
| --- | --- | --- | --- |
| Thursday, May 11 | 7:00 p.m. ET | Toronto | 4-3 Loss |
| Saturday, May 13 | 4:00 p.m. ET | Toronto | 7-4 Loss |
| Wednesday, May 17 | 7:05 p.m. ET | Rochester | 8-4 Loss |
*if required