In need of a win to extend the series, the Toronto Maple Leafs played their best defensive game of this postseason, shutting down Florida at 5v5 to snare a 2-1 win on the road. 
Joseph Woll's first playoff start was a solid one, stopping 24 of 25 shots behind a stout Leafs defense that made life easy on him. On offense, it wasn't the most high-octane effort, but they scored the first goal and added an insurance tally before Florida got on the scoreboard. The Leafs never trailed, William Nylander and Mitch Marner scored their first goals of the series, and the two teams are heading back to Toronto for Game 5 on Friday.
Turning Points
---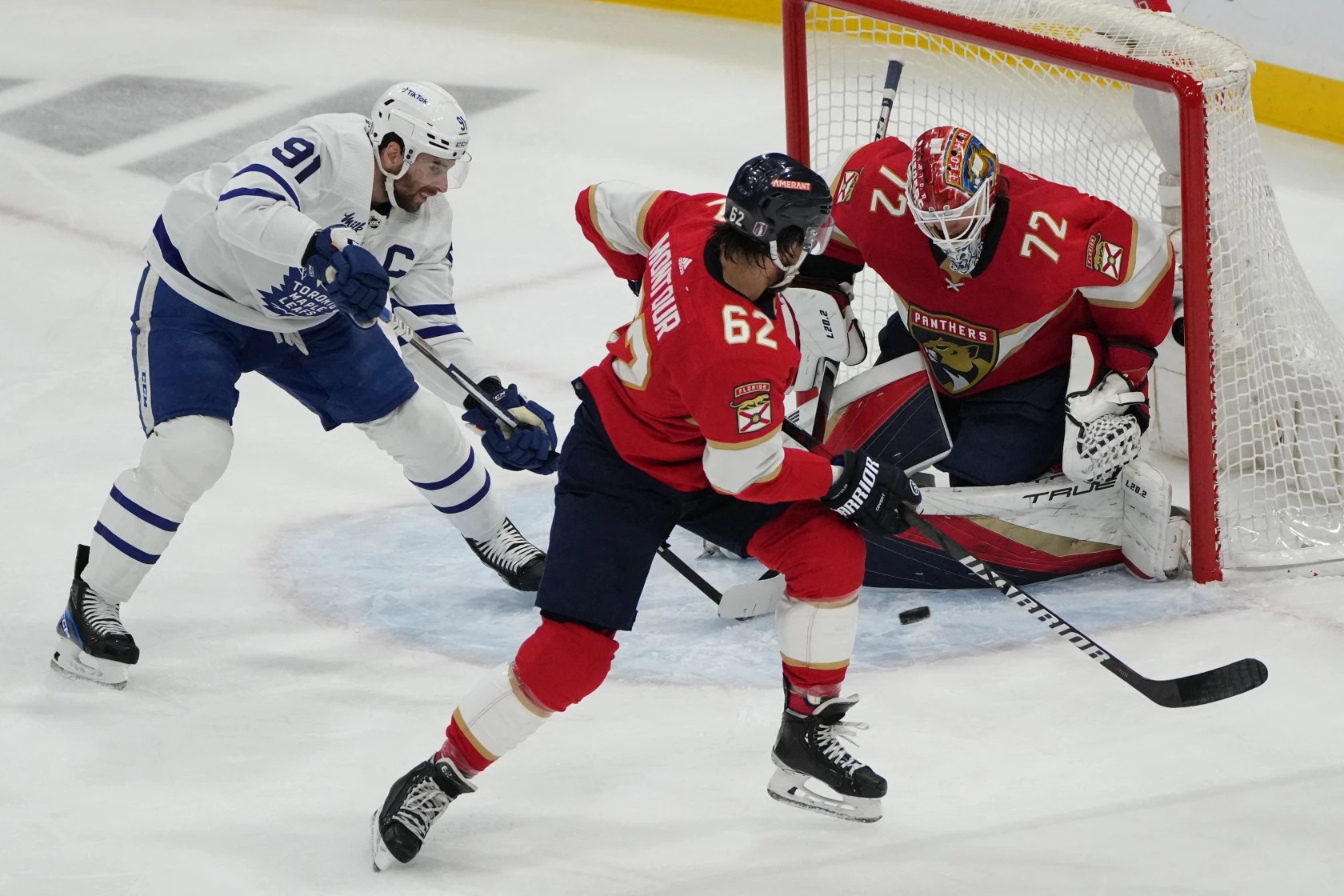 There really aren't too many turning points in this game beyond the obvious (read: the goals). The first period was extremely boring for this series' standards, with a much slower pace and perhaps more conducive to what the Leafs wanted to see at the outset of this second-round matchup. There were only 13 combined shots on goal in the first period between the two teams and 1.09 expected goals, per Natural Stat Trick, which honestly feels a bit generous. It was extremely sleepy.
The game turned with the first goal, allowing the Leafs to embrace their defensive posture much more thoroughly with a lead in hand. The goal itself was pretty lucky, but it was the sort of break the Leafs haven't gotten much in this series after getting oodles of them against the Lightning. A ragged PP without much going on was turned on its head when Michael Bunting's dump-in to the corner bounced off the knee of the referee and kicked right into the slot, where William Nylander was able to fit it by Sergei Bobrovsky.
The goal came only 23.5 minutes into the game, but it allowed Toronto to settle in and play the kind of game they wanted to, protecting the slot like crazy and making life easy on Joseph Woll. This contest likely plays out very differently if the Panthers are able to get the first goal as the Leafs would've been forced to deviate from what was clearly the devised game plan.
The second goal was equally as big. The Maple Leafs had been hammering away at the Panthers for a while, trying to find that insurance goal and getting several looks on their second power play — two looks in front for David Kämpf, a breakaway chance for John Tavares, and a backhander by Ryan O'Reilly, all in the late second period. The third period was rather even-keeled and toned down, the Leafs were still in command and playing strong defense.
The second goal bumped their win probability way up, allowing them to shift into shut-it-down mode at 5v5 and giving them a margin for error (which they'd need after allowing a PPG). Again, it was a rather unskilled play and a lucky bounce, but also an example of the sort of traffic in front of the net that the team has been needing to throw at Sergei Bobrovsky, who remains pretty hot. Mitch Marner got the puck up high and rifled a shot through a Ryan O'Reilly screen that nestled itself below the glove of Bobrovsky and put Toronto ahead 2-0.
The final turning point is the defensive play of the game from Luke Schenn. Carter Verhaeghe had plenty of space after a nice pass from Matthew Tkachuk against the boards, cut to the middle of the ice, and had Woll down. The goalie was square to the shooter if Verhaeghe released it, but he knew to curl around and try and put it in the empty net.  Fortunately, Schenn was in the way:
Schenn swats the puck away pic.twitter.com/OdWCh5zvg7

— Omar (@TicTacTOmar) May 11, 2023
A tremendous play by the veteran defenseman to break the play up, nullifying the final scoring chance Florida created and the only A+ look they generated after cutting the deficit to 2-1. It was the sort of support the Leafs wanted to give their goalie, and once the chance was shut down, it was smooth sailing. The final turning point nailed it down as a dominant 6v5 showing by the Leafs got this one over the finish line.
Notable Performances
---
On the defensive side of things, I want to simply shout out the entire team. This was a superb, disciplined defensive effort from the Leafs. Each of the seven defensemen for the team was pretty solid, doing their job at 5v5 especially, and the buy-in from the forwards was excellent. This play from William Nylander on the backcheck summed it up for me:
Don't tell me about heart pic.twitter.com/jn4r1kPebJ

— toronto maple scumbags (@mostlyleafies) May 11, 2023
Those were the kind of plays the team was getting from their forwards all night long, and when your defensemen aren't turning it over much and are handling the forecheck well, you're going to have a good night defensively. Toronto did, allowing 20 scoring chances to the Panthers at 5v5, and only eight of them were high-danger. In total, Florida generated only 1.30 expected goals against in over 50 minutes tonight at 5v5. Exactly what you want to see.
Let's start with the first goal scorer in Nylander. I thought Willy was the only one of the core four to have a pulse in Game 3, and he was also the best player on the ice in the back half of Game 2, singlehandedly trying to will the team to tie the game that night. He wasn't that level of dominance in this game, but he was still very good. Nylander scored a goal, did his job defensively, created a number of looks for his teammates (one pass to find Michael Buntingall alone on the PP was a dandy), and the team won his minutes. The Leafs owned over 70% of the expected goals with Nylander on the ice at 5v5, out-shooting and out-attempting Florida in that time.
The much-maligned Mitch Marner produced a better performance in Game 4 as well. It was not incredible, and there was still definitely more to give in terms of his puck management (a lot of turnovers and frustrating plays), but his defensive engagement was better, and most importantly, his increased willingness to put pucks on net resulted in the huge second goal. Snapping a goalless drought and scoring in an elimination game is definitely a nice boost for Marner, and after a dreadful showing in Game 3 in which he was legitimately Toronto's worst forward on the ice (not even grading on a curve), the Leafs handily won his minutes.
John Tavares continues to get looks and continues to not finish them. He had a sweet drive to the net on the PP but was stopped in tight by Bobrovsky and then had a breakaway stopped by the Russian in the Panther net. Tavares is not a high-end play-driver at 5v5 anymore, and when that's the case, he's got to bring his value to the team through his ability to finish at a top-notch level. He scored 37 in the regular season but has zero in four games in this series. Simply, they need him to put some of these chances in the net.
The same could be said for Auston Matthews, who is an elite play-driver at 5v5 and contributes in many ways that Tavares just can't anymore, but at the same time, Matthews is supposed to be the best goalscorer in the world. AM34 had the best xGF%, SCF%, and HDCF% at 5v5 in this game among all Leafs skaters — you can't say he didn't make an impact after a dreadful Game 3 — but the pathway to the Leafs pulling off the impossible and winning this series almost certainly includes Matthews experiencing a mean reversion on his finishing. He has taken 18 shots on goal in this series and has scored zero times.
Outside the core forwards, I thought David Kämpf and Sam Lafferty both played very well again and the advanced metrics back it up. Kämpf had the two looks in front right after the Leafs' second PP expired, while Lafferty's speed continues to stand out in this series.
Ryan O'Reilly had one chance right at the end of the second period but was otherwise pretty quiet, seemingly fighting through something injury-wise. Noel Acciari didn't do a whole lot in terms of offense and the Leafs lost his minutes at 5v5, but his toughness and willingness to do whatever it takes to win stands out. In addition to seven hits, he took a missile of a shot straight to the hand while blocking a shot in the third period, went to the dressing room, and was back in the blink of an eye. Gamer.
On defense, Morgan Rielly and Luke Schenn were the Leafs' best pair in this game yet again, but at this point, is it a surprise? On a Leafs defense that struggles immensely with mobility and offense, Rielly's minutes remain a breath of fresh air. Toronto thrived with those two on the ice tonight.
TJ Brodie and Justin Holl were the new shutdown pair for the Leafs and they did fine in that role. Both took a penalty, but Holl's was as weak of a call as you'll ever see, while Brodie's should've been evened up when Radko Gudas rammed Kämpf well after the whistle blew. While things were (encouragingly) very quiet in Holl's minutes at 5v5, I didn't love his play on the PK, failing to take away the final pass to set up the lone goal the Panthers scored tonight. He was a little tardy on the read and has to do something to disrupt that tic-tac-toe play.
The other three Leaf defensemen, Timothy Liljegren, Jake McCabe, and Mark Giordano, were notable in their own ways. Liljegren showed why he needs to stay in the lineup; his offensive IQ is desperately needed on the backend for the Leafs. It was Liljegren's pinch that helped keep the cycle alive on the shift ending in the Marner goal. Liljegren made a great read to hold the puck in and keep it going, putting the pressure on Bobrovsky and the Florida defense. There may be some mistakes when the forecheck bears down in his own end, but the Leafs need the offensive upside that Liljegren offers from someone other than Rielly.
McCabe was pretty choppy in Game 4 and his ice-time reflects that. Heavily used in previous games, he played just 13:55 in Game 4, the second-least of any Leaf. There were some ups and downs — the downs coming defensively, and the ups continue to focus on his willingness to move up on plays and join the rush. His instincts on when to do that aren't half-bad, but his play when he gets the puck in those situations needs work. Whether it's passing or shooting, frustratingly, it feels like he frequently opts for the wrong decision. With McCabe under contract for two more seasons, it feels like an area for the Leafs' player development staff to work with him on over time.
Finally, Giordano played the least of any defenseman on the team, logging only 9:52. That feels pretty much where we're at with Giordano — the grizzled veteran only has so much left to give in his NHL career — but this was one of his best playoff games, for what it's worth. He made a couple of timely defensive plays, including a shocking back-check that closed the gap on Anthony Duclair of all Panthers. Giordano didn't play much in the third period, which shows where he is on the pecking order (and I can't disagree), but at least he did a solid job in the time he saw.
Finally, Joseph Woll was very steady in net. I don't think it was a brilliant effort by any means, but he stopped the pucks he should have and that's awfully important. The Leafs are going to need to get squeaky-clean goaltending games the rest of the way to pull this comeback off, with no room to lose a game when a goalie lets in a soft one. Woll provided that in Game 4. He was a calming presence in net, posted a .960 SV% on the evening, and saved 1.33 goals above expected, per Natural Stat Trick. That's a bit lofty for me and underrates the Leaf defense in front of Woll (the limitations of public xG models), but Woll did what was needed.
Storylines for Game 5
---
1.   Lineup changes? The Leafs rolled with 11/7 in Game 4 and I assume they will be doing so again. It'll probably be the same allocation of positions, and I think the forwards stay constant. However, the only question is whether the Leafs should use Mark Giordano or Erik Gustafsson as the #7. I thought Giordano played well, but his limited ice time does seem to plausibly open the door for Gustafsson. The offense remains concerningly dry at two goals per game for six straight playoff games, and what if the Leafs find themselves in the position of chasing Game 5? Giordano is usually handier to have as the extra in the opposite scenario where the Leafs are protecting a lead, but even then, Giordano barely played in the third period of Game 4 as the Leafs closed it out. It seems unlikely, but it's worth a discussion.
2.   Who starts in net?  To me, it's not much of a decision at all. Joseph Woll should be the guy. By no means was he incredible in Game 4, but Samsonov likely wouldn't be truly healthy even if he were cleared to play. He clearly hasn't been for some time, laboring in the crease, grimacing when he gets up, and showing a decline in the technical side of his game has made this apparent.
After being very calm and steady for much of the year, Samsonov late in the season into the playoffs has become increasingly unglued in his form, swimming around more in the crease (Justin Bourne compared it to a cat chasing a laser pointer yesterday), kicking way out, and finding himself beyond the blue paint far more than usual. Just from a fan engagement standpoint, I felt much calmer with Woll in net — his cool and rock-solid demeanour and economic style in the net is much less anxiety-inducing than recent Samsonov, who was obviously using all the power in his body to fight through something nagging. Woll has a .902 SV% in these playoffs, while Samsonov has an .898. Woll is also the healthier one. He's earned the chance to start in my view, and it sounds like he's goin to get it:
Sheldon Keefe says Ilya Samsonov hasn't skated since sustaining an upper body injury in Game 3

"As of right now, it's Joe Woll and Matt Murray that are available … it will be Joe again [in Game 5] at this point" @TSN_Edge

— Mark Masters (@markhmasters) May 11, 2023
3.   SCORE MORE GOALS. As mentioned, the Leafs have now scored two goals in six straight playoff games dating back to the Tampa series. I thought this was a terrific defensive game by the Leafs, but we would definitely like to see them have a bit more going on offensively on Friday. Obviously, if you could replay this game three more times, the Leafs would be in a good spot, but I do think they'll need to score more at some point if they are to pull off this comeback. I thought Game 4 was definitely a nice piece of evidence for those arguing that the Leafs needed to get more traffic in front of Bobrovsky– it provided the winning goal, and it was good to see — as well as an increased emphasis on shooting for rebounds.
All that said, my point after Game 2 remains the same now: The Leafs have built their roster in such a way that makes it imperative for the elite offensive talent they pay for to deliver on the stat sheet. Yes, Bobrovsky is hot. Yes, they need to make life hard on him, but it's also not unreasonable to expect one of your high-priced forwards to beat him when it's a one-on-one between the goalie and the shooter. Matthews and Tavares have been wandering through the goal desert this series, mired in a desperate drought despite plenty of looks. They've gotta break through and get the Leafs a goal on their shooting talent at some point.
4.   The style of play. I thought this was one of the few times all playoffs that the Leafs made an opponent play a style of game that suited Toronto, one that got the opponent out of their comfort zone. We talked a lot in the previous series about the Leafs allowing Tampa dictate the play; they were too passive and amenable to Tampa's brand of game while hoping to grab a counterpunch chance when possible.
In the first two games of this Panthers series, the Leafs were the better team in terms of chances and expected goals, but it was still not the sort of game that they came in wanting to play; it was much more in the run-and-gun style that suits the Panthers. Game 3 was a slowing down of pace to some degree (not all the way though), while Game 4 cemented it.
Finally, we saw the formula that the Leafs are looking to follow when leading in a game — few rush chances against, minimal odd-man rushes, and defending in layers with few breakdowns in-zone. In other words, simple, boring hockey. That's much more the kind of game Toronto wants to play in this series and whether they can keep it going is something to follow on Friday night.
5.   The Florida Panthers and their mindset. So here we are. After trailing 3-0 in the series and the media discussion over the previous few days centering on how many players will be traded in the offseason and which members of the management and coaching group will be publicly guillotined, the Maple Leafs' 2022-23 season is still not over. They are still on the brink, but they are still alive. The Leafs played a solid game in Game 4, injecting some life back into their team, and now they head back home for Game 5 with a chance to really put pressure on Florida.
Some people may think that when a team gets a big lead in a series, the pressure is on the trailing team. After all, it's now do or die, their backs are against the wall, or whatever cliche you want to use. In actuality, the pressure tends to fall more on the leading team, especially as the series drags on. Right now, the Panthers shouldn't be feeling too much pressure, but if they were to lose on Friday in Game 5, suddenly a ton of weight starts to fall on their shoulders to close it out at home and not leave it up to chance in a final game back in Toronto.
If I'm Paul Maurice I want to see my guys come out flying in Game 5, playing with a sense of urgency and trying to close the series out before things get really interesting. Right now, this is still Florida's overwhelming edge to lose, but if it gets to Game 6, it's a competitive series again and the Leafs are truly alive and kicking. If it goes to Game 7, all bets are off.
For Florida, I'm watching to see how they come out on Friday. Are they energized? Hungry? If you're a Panthers fan, you want to see them play with pace and tempo, grab an early lead, and turn it into that track meet style that the Leafs are not as suited to play.
As for the Leafs, they ought to remain loose and ready to play. There are no expectations at this point. Everyone has left you for dead. As William Nylander said before Game 4, just have fun and play your best game. It's a mindset advantage for Toronto now as the massive underdog in this series. Win on home ice (a rarity in these playoffs) and give yourself a chance to hold Florida's feet to the fire in Game 6 on Sunday.