The Maple Leafs gained some further clarity on their salary cap situation over the weekend when Ilya Samsonov was awarded a one-year, $3.55 million contract. 
After a busy first few days of free agency during which the Leafs added Tyler Bertuzzi, John Klingberg, Max Domi and Ryan Reaves, the Leafs had taken care of almost all of their major business on the roster. Those moves alone left the Leafs around $1.6 million over the salary cap with a 12 forward, seven defensemen, and two goalie roster that includes Matt Murray. Samsonov was the final outstanding player to get under contract, and now we can take stock of the overall cap and roster picture.
Depending on who is rounding out the bottom of the Leafs' roster – be it Pontus Holmberg, Dylan Gambrell, Nick Robertson, Bobby McMann or some other combination of Marlies – the Leafs are just over $5 million above the salary cap limit with a 12 forward, seven defensemen, and three goalie group that includes Matt Murray.
Now, let's break down the options going forward step-by-step.
The Matt Murray buyout
---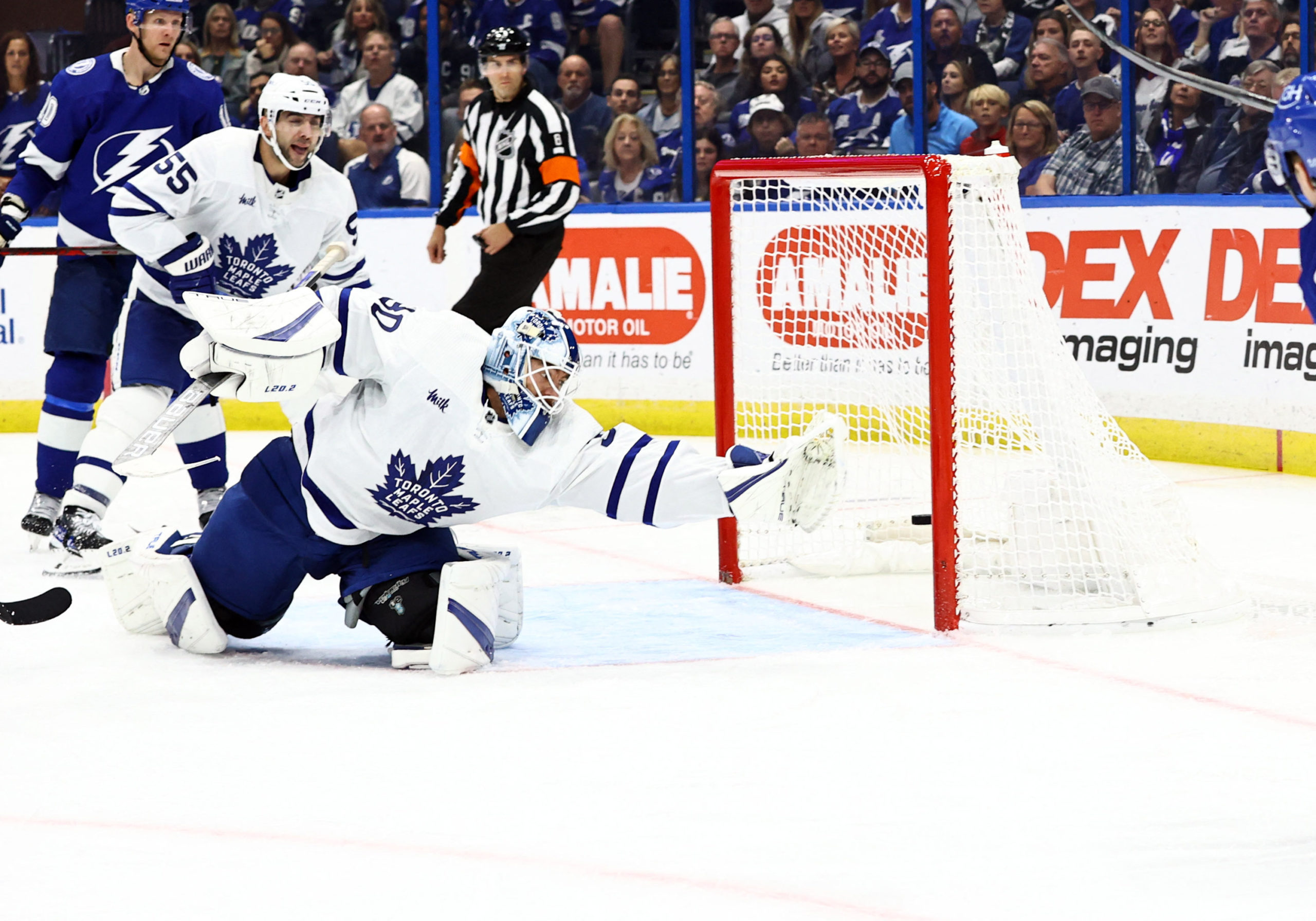 The first matter is the Matt Murray contract. We have been arguing this for months, but the most logical move is to buy him out. It costs the Leafs under $700K for the upcoming season, but there will be a $2 million penalty next season as (presumably) the big contracts kick in for Auston Matthews and possibly William Nylander as well. It would be mitigated by a rising salary cap at least to some degree, and it doesn't make sense to sweeten a deal to rid of Murray's contract for just one season. The Leafs are not flush enough with prospects or draft picks to be parting with them in order to clear the final year of a contract. 
Ultimately, this current predicament underscores one of the worst trades of the Kyle Dubas era, which was entirely clear at the time of the trade when we wrote:
"The Leafs took on this gamble for the price of a 25% salary retention, a third, and a seventh. Even if it pans out, the value gleaned here was poor. They didn't give themselves a big enough salary-cap cushion as insurance, and they didn't sweeten the pot with assets of significant enough value (i.e. netting a player or higher draft picks). 

In fact, I can confidently say this is the least calculated move of this regime's tenure. Kyle Dubas hasn't protected himself at all here. It's a boom-or-bust swing for the fences."
The 48-hour buyout window triggered by Samsonov's arbitration opens on Wednesday.
There has been talk about Murray potentially heading to LTIR, but I am not going to hold my breath on that option. He was the backup against the Panthers in the second round of the playoffs and confirmed that he was ready to go if called upon. He's only 29 years old, and I can't fathom him wanting to do anything but continue his career at this point. 
A Murray buyout puts the Leafs at around $1.6 million over the salary cap with a 12 forward, seven defenseman, and now two goalie roster.
Unappetizing options for clearing space
---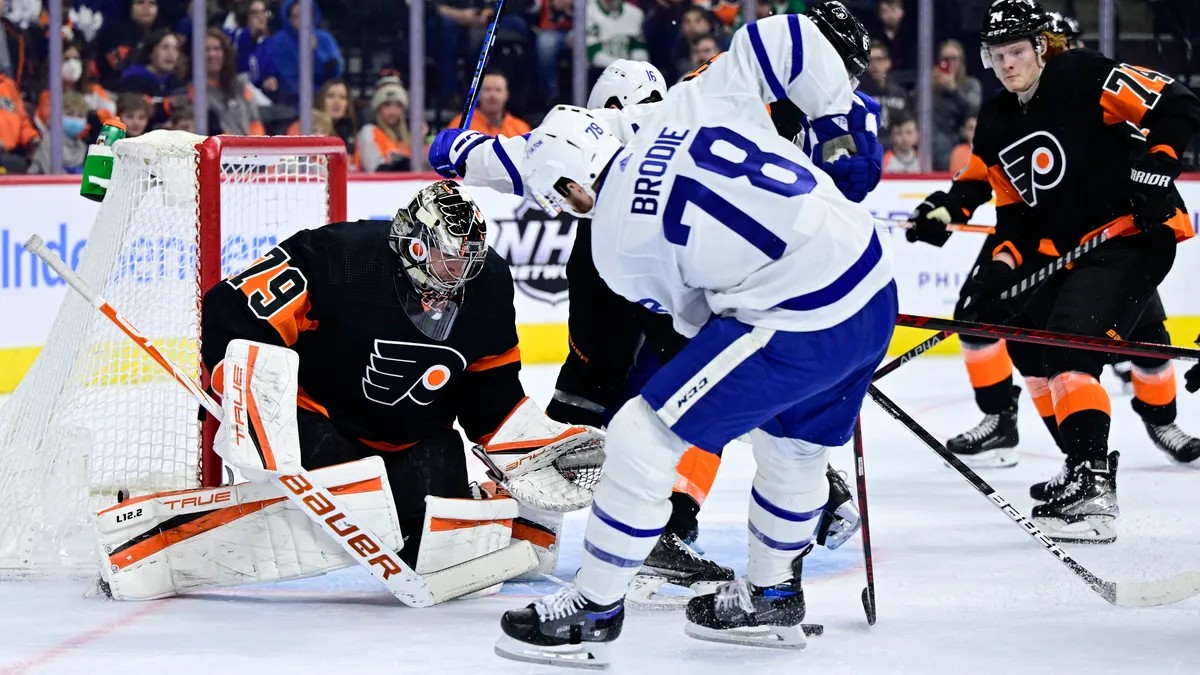 There have been plenty of names and players bandied about in the conversation about how the Leafs are going to achieve cap compliance. Let's flesh out some of those discussions. 
The first is Conor Timmins' $1.1 million cap hit. He is turning 25 this year – he isn't exactly a prospect despite playing only 66 NHL games to date – and he has serious issues staying healthy. That said, the risk is worth the reward. 
Timmins showed real promise with 14 points in 25 games as a Leaf last season. His shot is a legitimate weapon that the team went out of their way to tee up. He's 6'2, a right-handed shot, moves well on the ice, and has legitimate skill with the puck. There is a reason he was drafted 32nd overall. The ability is there if he can stay healthy and string games together. 
On a defense with two right-handed shots at the moment and a top-six group that's slated to include a soon-to-be-40 Mark Giordano – the oldest player in the league – it makes no sense at all to lose Timmins for free. 
Somewhat surprisingly, the other defenseman whose name has been bandied about is TJ Brodie. Unlike Timmins, clearing Brodie's $5 million cap hit via buyout would make the Leafs close to cap compliant. There would be no cap penalty for this season, but the Leafs would be dinged for a $2.5 million cap hit the following season, which they would be eating at a time when they are expected to pay Matthews and Nylander even greater salaries. 
Beyond the cap implications, the Leafs would also be losing a player who finished second among their defensemen in time on ice per game, was their main shutdown defenseman when healthy, and was on their top penalty-killing unit. They have already lost their top penalty-killing defenseman, Justin Holl. Those are difficult minutes to replace across the board, and getting rid of Brodie would leave the Leafs with a top-four defense unit along these lines:
Rielly – Liljegren
McCabe – Klingberg
That's not great. Brodie is a legitimate top-four defenseman who has played big minutes and been on for more goals than against at five-on-five in every season in Toronto. Yes, he struggled in the playoffs – and it is cause for legitimate concern as he turned 33 this summer – but over the course of an 82-game season, he's going to eat minutes, do more good than harm, and help stabilize not just the defense but the team as a whole. It would be fair to explore a trade, but a buyout would be puzzling.
Which brings us to the forward group. 
By process of elimination, this conversation is a pretty quick one. There are four forwards who clearly won't be moving just to manage the salary cap – something would have to break down between them, which is a whole different story altogether. There are three forwards Brad Treliving just signed as free agents who obviously aren't about to be traded, and David Kampf was just extended for four seasons. That is eight forwards accounted for there. If we add depth signing Dylan Gambrell, it's nine, and then there are young players like Pontus Holmberg and Matthew Knies. As waiver-exempt players with upside, they are clearly not moving as cap casualties, and it wouldn't even open up enough cap space anyway. 
The same applies to Sam Lafferty, who did struggle after he was acquired from Chicago, but moving him would not open up enough space, either. You would have to move out another contract like Timmins' as well, and at that point, it makes little sense.
A Calle Jarnkrok Trade
---
After working through the options above, we're left with one contract that would clear enough cap space and might actually make sense all around: Calle Jarnkrok's $2.1 million, which is on the books for each of the next three seasons. Moving his contract cleanly would clear enough cap space to make the Leafs cap compliant and allow them to keep seven defensemen, which is vital to not only get Timmins games but to load manage Mark Giordano. 
It would hurt the Leafs' depth up front. Jarnkrok can capably play all three forward positions, is a good penalty killer, and moved up and down the lineup seamlessly. He finally produced his first 20-goal season in 2022-23 as well. 
Those attributes are also what make Jarnkrok a good trade candidate. He is a contributor with term and a low AAV, which should give some value around the league. 
Rielly Smith, with one year left on a $5 million AAV contract, netted Vegas a third-round pick. Anthony Duclair, with one year left on his $3 million AAV contract, fetched a fifth-rounder and a depth player. Other GMs don't make it easy on their peers facing a cap crunch. The return would not be substantial, but for a Leafs team that has drafted a grand total of 11 times over the past three drafts combined and doesn't own a second-round pick for the next three drafts (or a first-round pick in 2025), every pick helps. 
At forward, there's no doubt it hurts their depth and increases the importance of Matt Knies producing notably as a rookie – or, alternatively, someone like Nick Robertson emerging. In fact, I'd argue it would actually open up quite an interesting roster opportunity for Robertson whereas he'll be in tough to make the starting 12 right now as the roster stands. 
If all of the rookies struggled or battled inconsistency, the only real veteran the Leafs can lean on would be Sam Lafferty. It's not a perfect solution by any means, but it's one that potentially opens up opportunities for youth and the hole could likely be backfilled at the trade deadline if necessary. 
That should probably happen either way, actually, and it's noteworthy that Jarnkrok didn't accomplish much of anything in the playoffs – just like with Calgary the season prior – and he only performed particularly well last season when he was on the top line, which is not exactly a difficult place to produce. With Tyler Bertuzzi and Max Domi added on top of Matthew Knies, the Leafs have three other options on the left side for this role, and Jarnkrok is certainly not leapfrogging Nylander or Marner on the right side at any point in time. 
Barring any sort of move not coming to fruition, it's also entirely possible that the Leafs simply head into training camp over the salary cap limit. Injuries and all sorts of developments (namely, the Nylander situation at this point) almost always play out throughout camp and preseason. While a riskier play, it wouldn't be the end of the world to enter training camp in this situation. But if Treliving can fetch value for Jarnkrok right now, get the team's cap books in order, and enter camp with a settled roster in front of them, it would be ideal.
There's one fairly straightforward way to go about this – buying out Murray and trading Jarnkrok – but we'll wait to see what Treliving has in store.