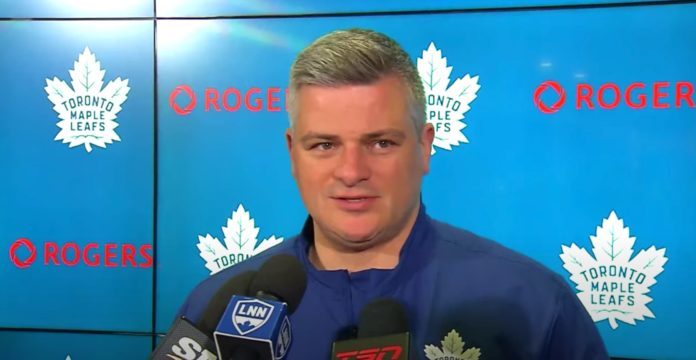 After practice on Monday, Sheldon Keefe discussed the upcoming trip to Sweden, the injury status of John Klingberg and Conor Timmins, and Ilya Samsonov managing the emotional highs and lows of the first month of his season.
---
Practice Lines – Nov. 13
Lines at Leafs practice

Knies – Matthews – Marner
Bertuzzi – Tavares – Nylander
Robertson – Domi – Jarnkrok
McMann – Gregor – Reaves

Rielly – Brodie
Giordano – McCabe
Benoit – Lagesson
Timmins

Samsonov & Woll

Absent: Kampf, Klingberg @TSN_Edge pic.twitter.com/XEUufy1Tr8

— Mark Masters (@markhmasters) November 13, 2023
---
What is the status of John Klingberg and David Kampf, and why did Martin Jones join the team?
Keefe: Klingberg is just on a maintenance day. It is a chance for him to get more treatment. We will continue to monitor his situation. We don't think he will be on the ice tomorrow, either, but he should be okay to hit the ice on Wednesday. With some of the treatment that he is getting, he needs a couple of days to really help let that settle. He will get back on the ice with us.
Kampf is going to be fine. He just needs some of the swelling to go down on his face from the "clean" hit to the head that he took.
With Jones, my understanding of it is that you are allowed to bring a third goaltender on the trip, and that is it. Otherwise, our roster is what it is.
Can you tell us anything about the nature of Klingberg's injury?
Keefe: No.
How is Conor Timmins progressing?
Keefe: He seems to be progressing very well. In fact, he seems to be getting a little ahead of schedule because he has been able to get these practices in — one last week and one today — that was quite fast and competitive. He seemed to get through it without issue.
He will come on the trip with us. He was coming regardless, but it seems like he will be a more active participant. Depending on what we can get out of these practices when we get there, we will be able to make a determination on his status later in the week.
Are you intending to give both of your goaltenders a start in Sweden?
Keefe: Quite honestly, we haven't discussed that at this point. We have enough time to manage those things as we get out there. With the way we have approached it, we have used both guys. Whether it is on this trip or when we get back, we want to keep both guys moving. Both guys will be preparing to go, but we will make the determination later in the week.
Ilya Samsonov has said he has enjoyed working with Nik Antropov recently. What has stood out about Antropov's role in getting him back on track?
Keefe: I think this organization does a terrific job of supporting all of our players and staff who may be going through anything. Whether it is hockey-related or not, I believe everybody here feels supported.
In Antropov's case, he was a great player in the league and a great Maple Leaf. He has become a great member of our community here.
Also, because he is Russian, he has the ability to relate to our players who have come from Russia specifically. Just to be able to speak the language can help with the transition or just help as someone with a familiar voice.
It has been important for us to have Nik around shooting and helping out with the goalie sessions for those reasons: to give Sammy a little bit of a sense of home and to make sure that there is nothing lost in translation at all. Sammy does a pretty good job with the language, but I do think it is nice to have that available.
We have done that for any of our Russian players or prospects who have come in. Any time we feel we need it, we tap into the resources that we have.
Were you concerned at all about some of the emotion that Ilya Samsonov showed and some of the things he's said where he's shown a little vulnerability?
Keefe: I am not aware of quite exactly what he may or may not have said. I can't quite comment on that.
I do know that we have spoken to Sammy about the importance of not being hard on himself and being able to push past anything that might come up and keeping his focus on what is coming next, whether it is the next, shot, save, practice, or game. That is a really important thing.
He has really high expectations for himself. He wants to please and do really well. When that is not the case, he feels like he is letting people down, but that is not what it is about for us. It is more about building people up and remaining confident.
The reality is that he has bounced back every time since he has been here. He did the same thing the other night. There are lots of reasons to continue to believe in himself and move on quickly from anything that might come up.
What is the biggest challenge when you are taking your team overseas for a couple of games in the middle of the season?
Keefe: Obviously, the biggest challenge is adjusting to the time change, but we have ample time. They have done a good job of getting us there and giving us the time to adjust. We should be alright. I am sure the first couple of days will be tough.
I don't have any experience doing such a thing with going overseas to prepare a team. We have lots of people in the organization — players and staff — who do. You are relying on that.
That is the way it is set up the way it is. We are going to go pretty much from the plane to practice tomorrow to keep busy. We will have a quick stop at the hotel for lunch but then head to practice just to help try to keep everybody awake and try to get on Stockholm time. We'll take it from there.
How do you balance it being a business trip while wanting the players to enjoy the experience?
Keefe: It is not unlike any other road trip, quite honestly. When it is time to work, it is time to work. Whether it is preparing for games and taking care of your body, or being in meetings, practice, or time on the ice, everybody is professional and knows what we are going for.
At the same time, any time you have these experiences — just like the 12-day road trip earlier in the season — it is a good time for the group to be together and a good chance to go to a different location.
Our Swedes, I am sure, will be leading the charge in showing guys around. It gives all of us a chance to experience their culture and life over there. I think it is a terrific opportunity for us.
Could it be disruptive to the momentum or rhythm you have developed over the past few games?
Keefe: Sometimes a disruption comes at a good time, and you can work at a few things, breathe a little bit, and get back to it. Sometimes, you want to keep going.
It is not often that you get a break like this in the NHL. We are going to make the best of it. Whether it is a good or a bad thing, I don't know, but I just know it is our reality. We have to manage it as best we can both on our arrival, for the games themselves, and our return back here as we adjust back to get into the regular rhythm of the NHL.
I have talked to some different coaches around the league who have done a trip like this before. There have been various reviews in terms of how it has been handled or how they felt it has affected their group.
The most important thing for us is to enjoy the experience and focus on the task at hand, which is adjusting and taking care of our players when we get there and then kind of ramping up as we get ready for Friday.