Alex Tran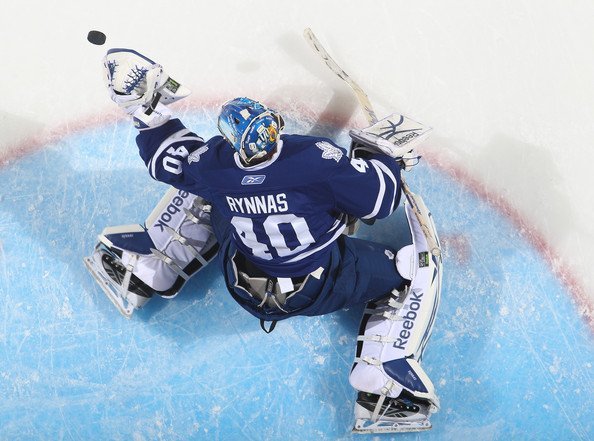 It appears as if goaltender Jussi Rynnas is adjusting well to life in North America after a bit [more…]
Paul Hunter of the Toronto Star reports that the job of  Ron Wilson remains safe for the moment as the Head Coach received yet another vote of confidence from GM Brian Burke. Wilson has drawn the ire of Leafs Nation on a number of occasions over the past couple seasons every time the team has gone into any sort of prolonged struggle, but Burke remained steadfast in his support for his friend:
"I'm told (Wilson) got blasted in the media today. Let me ask you a question. Did Ron play poorly last night? No. Why don't you guys focus on the players who played poorly last night instead of questioning the coach? It's a very bizarre twist to this market place that when players play poorly, the coach gets hollered at. This is new for me. In Vancouver when the players played poorly, the players got blasted so I'm perplexed by this."
So in Vancouver... the fans are tougher on the players than the coach... Interesting. On a completely unrelated note, here's what Burke had to say about the fans booing Dion Phaneuf:
"All the time I worked in Vancouver I don't think I ever had a player booed."
Well, I'm stumped. Anyways...
By laying the blame primarily on the team's on-ice product, it's patently clear that Burke is itching to make a move to upgrade his roster. With both "cap room and budget room" created by the Finger demotion, the club is listening in intently on any possible trade talks around the league. There were rumors swirling a few weeks ago regarding a smaller depth move to pick up a bottom six forward with some size or jam ala Blake Wheeler or David Clarkson, but club's #1 priority remains the search for a bonafide top line pivot to complement Kessel. [more…]
To begin with, I'd like to extend a huge thank you to everyone who took the time to share their wonderfully touching stories and personal experiences with myself and the rest of the MLHS community. I truly wish I had a pair of tickets for every single person, but unfortunately that isn't the case. On the bright side however, tomorrow night is going to be quite a memorable evening for a special young lady, as MLHS reader R.J. Emptage will be taking his two and a half year old daughter to her very first Maple Leaf game. Follow the story after the jump to read R.J.'s submission. [more…]
Everybody remembers their first time... the buzz of excitement in the crowd as you line up to enter the arena... the tiny, insignificant piece of paper in your hand that has now become your best friend... the rush of cold air that embraces your face as you view the ice surface... the majestic sense of unison as 20,000 people stand to honour the national anthems... the incredible skill and speed of the players as they rush up and down the ice... You had seen it played on TV a thousand times, yet somehow, it still hadn't prepared you for this amazingly new experience. [more…]
According to Nick Kypreos, the Maple Leafs could be without winger Colby Armstrong for four to six weeks as he may need surgery on his [more…]
It's been a bit of a tough week with a pair of losses to the New York teams, but that's over and done with. It's Saturday night and there's just something about these games that the Maple Leaf players just seem to get up for. To get you into the hockey mood ahead of tonight's matchup against the Flyers, we've got a FanPost from reader Chuck Johnson, who provides his two cents on the state of refereeing in today's NHL. If you'd like to submit a FanPost of your own, send it to me at [email protected]
Also, I had originally bought tickets to next Saturday night's home game against the Rangers, but have since been invited to better seats by some friends. As such, I will be putting up my purples up for sale at cost on a first come first serve basis. If interested, contact me via the email listed above. [more…]
Greg McKegg has had a bit of an up and down week with multi-point games one night and zilch the next night. However, McKegg is still on pace for a phenomenal season with 19 points through 11 games played and sitting 2nd overall in league scoring behind Niagara's Ryan Strome. Despite his efforts, the Erie captain has had a tough time carrying the Otters to respectability this season, as they currently last in the OHL's Western Conference. The team's poor start has fueled rumors across the league that McKegg could be on the move to a contender relatively soon, possibly to the London Knights. [more…]
On behalf of the writers, I'd like to extend a "Happy Thanksgiving" to all of you wonderful folks in the MLHS community. You guys are [more…]
Not a bad start for the Maple Leafs' 2010 draft class... It was announced on Monday that forward prospects Greg McKegg, the Leafs' 3rd round pick 62nd overall, and Brad Ross, the Leafs' 2nd round pick 43rd overall, were named OHL and WHL Players of the Week respectively for the week of September 27th to October 3rd. Not to be forgotten is forward Josh Nicholls, the team's 7th round pick 182nd overall who is off to a career best start for the Saskatoon Blades. [more…]
Leaf prospect Josh Nicholl's 2010-2011 season had gotten off to such a promising start. Currently tied for 6th overall in WHL scoring with 5 goals [more…]
As we await the season opener for the big club, let's see how some of the kids are doing:
Greg McKegg is off to an [more…]
It was a tough loss last night against a Detroit team that appeared in mid-season form, but there won't be a whole lot of time [more…]