Anthony Petrielli
How many notable Brian Burke quotes has he unleashed for our constant reiteration? Too many to count.
You have your pugnacity, testosterone, and truculent quote, which now might be the three worst words to utter in Toronto. You have your "top six and bottom six" quote. You have your "build from the net out" spiel or the "I don't want to get into the first round just to get my ass kicked" declaration. There's a whole host of other gems, complaints, theories, one-liners to come out of Burke's mouth that are now used to mock him, to cheer him, to evaluate his roster, or as Twitter handles.
But what is often forgotten, and often left not discussed, is his core belief. His central theory to building a team, which is: [more…]
Sometimes, there's really just nothing left to say.
After the Leafs 7-1 loss to the Philadelphia Flyers, they officially hit that point. You can only talk about the same things so many times before it just becomes tiring, old, and frankly, a waste of time.
Preceding Toronto's shellacking to the Flyers, they played about as lackluster a game as you will ever see at the NHL level, in a 3-0 loss to the Carolina Hurricanes. Yes, they summoned some pride against Buffalo and played, all things considered, a solid game. But it wasn't chalk full of meaning in this situation, at this time of year.
Thus, we're changing gears to the summer and some serious things the Leafs need to look at and address. If you're expecting trade proposals, and a guess at what the Leafs roster "should" look like next season, you can look elsewhere. Rather, I want to go through some fundamental, foundational questions the Leafs seriously need to ask themselves in the coming months, and then figure out ways to properly address the problems. [more…]
Remember Alex Steen?
The Leafs drafted him in the first round in 2002, 24th overall. He cracked the NHL in 2005, in part due to the lockout that occurred the year before. Regardless, he played alongside Mats Sundin and had a relatively successful rookie season scoring 18 goals and 45 points. The following season he regressed statistically, notching 15 goals and 35 points.
In that leap from year one, to year two, everyone expected Steen to take "the next step" in his development and grow his point totals playing on Sundin's wing for a second straight year. Unfortunately for the Leafs and Steen, that didn't happen. Alex struggled to rediscover his scoring touch, increased expectations mounted on him, and it basically wasn't the year everyone expected from him. [more…]
Right now is the easiest possible time to dump on the Toronto Maple Leafs, Brian Burke, Phil Kessel and anyone associated with the organization in general.
Call me crazy, but there are a ton of reasons to be happy moving forward.
The fact is, when Brian Burke came to Toronto, the Leafs were a terrible team (roster here. In comparison, here is the Nashville Predators EXPANSION roster) . Some may argue they still are, and that may or may not be valid.
But let's look at what Burke started with compared to where they are now before we conclude his tenure has been a total disaster. [more…]
Another season is winding down with the Maple Leafs yet again on the outside of the playoff picture. The difference this season is that there was legitimate reason to actually think they could break the drought until around a month ago. Alas, a dreadful February has cost Ron Wilson his job and caused every Leaf fan to mutter the ever famous line, "there's always next year."
So let's be honest, these last 15 games aren't going to be fun to watch at all. At this point at least a small part of us is hoping they tank the rest of the way and get as high a draft pick as possible. We're going to have to get through these games together. [more…]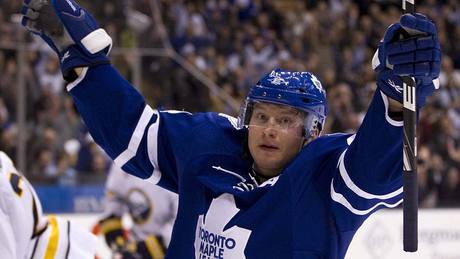 How many different ways can you skin a cat?
Rather, how many different ways can you look at the Mikhail Grabovski extension?
"How is he making more money than Phil Kessel?"
(At the time Phil Kessel signed his deal he was an RFA, not a UFA, and he was making a higher percentage of the salary cap than Grabovski currently is).
"Blame the Oilers and Hurricanes for the money they gave Hemsky and Ruutu."
"He would have got more on the open market."
"Grabovski's never even recorded 60 points." [more…]
Going to cut right to it this week. This was a hard Leafs Notebook to write. Where to start? Talk about why Wilson failed? What's good about Carlyle? How they actually played this week? How about the trade deadline?
There was a lot that happened in a short period of time, so I broke it up accordingly: There is a chart on the teams who finished seventh and eighth since the lockout, that I highly recommend you explore, then I talk a bit about what went wrong for Wilson at the end of his tenure, draw some comparisons between he and Carlyle, talk some lineup changes under Carlyle, and throw in some Don Cherry, just for fun. Enjoy. [more…]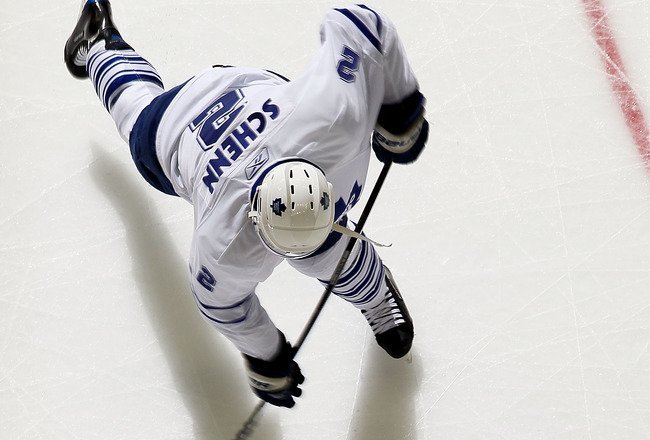 Asset management was really the theme of the deadline for the Maple Leafs.
At the end of the day it appeared Brian Burke and company tried their best to bring in immediate help for this team and add to the roster, but the prices were just too high to justify. No offense to Paul Gaustad, but when he actually netted a first round pick that more or less summed it up.
Had the Leafs stood in say, fifth place, yesterday, I suspect they would have been a little more open to flipping a younger player for more veteran help, but this recent stretch probably caused them to hold back.
Of course, the Leafs did actually make one move of moderate significance, swapping Keith Aulie for Carter Ashton.
The first player I thought of when that deal was announced wasn't Aulie, or Ashton, or anyone currently on the Leafs for that matter. It was Jimmy Hayes.
You know Jimmy Hayes. Drafted by Cliff Fletcher in the second round of the 2008 draft. He's 6'6, 220 pounds and was traded in 2010 for the second round selection the Leafs used to select Brad Ross. [more…]
As always, thank you for the questions, I really enjoy these.
I wanted to quickly clarify a quick comment from Wendelsway (if you don't know what I'm talking about and/or don't want to read, just scroll down to the questions) RE: the goalie situation. At the end of the day, Gustavsson views himself as a starting goalie, not a backup. I don't know what Gustavsson is thinking - he played well enough to run with the starting roll at one point - but the Leafs still didn't afford him that opportunity to really run with it. So in his mind, I'm sure he feels slighted because he's on a different page than management when it comes to his career and his career goals. Which brings me back to the original goalie article I wrote in November; if you want Reimer to be your guy, bring in a veteran who can actually support him and help Reimer's game grow, not keep around a goalie who wants to steal his starting job, as if the guy needs more things to deal with. Hope that clarifies. I look forward to reading your reply in the comments section. [more…]
Hockey is not a sport without its politics.
If there's one thing HBO's 24/7 has briefly shown its viewers, it's that there is a lot of things that go on behind the scenes that affect roster decisions, play, signings and so on that a lot of the times we generally never find out about.
On that note, simply judging a roster decision, a player choice, a line combination and one single game is nearly the equivalent of judging the entirety of an iceberg, just by simply looking at what you can see above water. As many of you know, there's a lot more than meets the eye.
That's why playoff hockey is so great. By the time teams hit playoffs, it's not so much about contracts, status, style points, or whatever, it's about winning. It's pure hockey.
So why is this all being brought about? That's simple, it's James Reimer. He hasn't had a great year, Jonas Gustavsson has better numbers across the board, the Leafs are in the thick of a playoff race, and yet Reimer is still starting over Gustavsson. [more…]
Funny how a week changes everything.
This time last Monday, the Leafs were coming off handling Ottawa easily and two very good efforts against the Pittsburgh Penguins. They took it to two teams who are in the same playoff clout as them and fared very well.
Fast forward to the present moment and they beat a bad Edmonton team, lost to the Jets in Winnipeg, the Flyers in Philadelphia and then at home to the Montreal Canadiens on Mats Sundin night... so naturally, they suck now.
The truth is though, they are essentially right where we thought they would be all along: in a dog race to make the top eight. [more…]
It's a week of celebration, but it has nothing to do with the current Leafs team. Mats Sundin is back, and this is the week to remember him.
This upcoming Saturday the all-time leader in points for the Toronto Maple Leafs is deservedly having his number raised to the rafters.
Surprisingly, there are mixed feelings on Mats in Toronto, but when it comes right down to it he gave everything to this team on the ice and that's all that matters. You know the numbers by now, you know the playoff runs, the overtime goals, the consistency; but above all that, Mats had a special aura about him. [more…]