Declan Kerin
There's no time to lick our collective wounds over a poor 4-1 loss to the Carolina Hurricanes; the Leafs square off against The Washington Capitals tonight (7pm, Leafs TV).
Toronto will be without Clarke McArthur as they visit the Buffalo Sabres. The injury to his pinky finger won't sideline him for long but it does leave the Leafs' LW depth, already missing Lupul, looking thin for tonight.
The Sabres, like the Leafs, are not exactly hot. They have lost three straight and Thomas Vanek was sidelined by a strained muscle in Sunday's 3-2 loss in Washington. The left winger had been on the ice for all 11 of his team's goals prior to that contest, scoring three and assisting on six - one versus the Maple Leafs. [more…]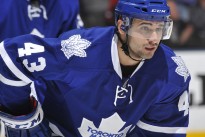 Nazem Kadri was interviewed by the Canadian Press on Friday and was asked a number of questions about his hot start.
While praising Randy Carlyle for his open lines of communication with the young Maple Leaf, it was clearly a shot at former Toronto Maple Leaf head coach, Ron Wilson.
My cousin, Mike Sullivan (wicked guy, follow him on twitter @mickeysullz) and I have been talking about doing some interviews with bands for a while now and we have our first one up. We're proud to have Heavy Metal Gods "Sacrifice" as our first guests. [more…]
The 14th General Manager in Leafs history Dave Nonis sits down with Bob McCown and Damien Cox on Prime Time Sports. Afterwards McCown, Cox, Brian Lawton and Mike Smith have an interesting conversation on the firing of Brian Burke.
[more…]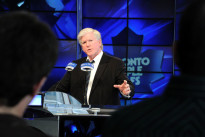 By Alec Brownscombe & Declan Kerin
Shocking, is the only way to put it.
No, this wasn't a move that was waiting in the wings. Last night, Dave Nonis and Brian Burke were taking in a Marlies game expecting to be the assistant GM and President and GM of the Toronto Maple Leafs, respectively, for the upcoming 2012-13 season. It came as a bombshell to absolutely everybody short of Tom Anselmi and some board members. If that's not raising red flags in your head already, it should be. [more…]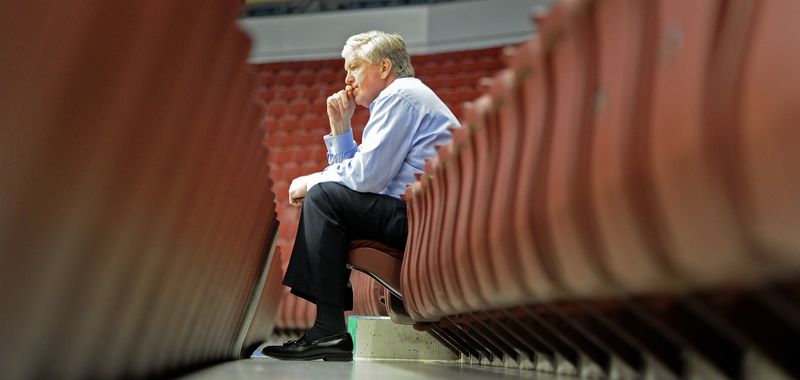 Brian Burke Fired as Leafs GM, kept on as advisor; Nonis promoted


Sources say no recent incident led to Burke's firing.New ownership did not like his "style".

— james duthie (@tsnjamesduthie) January 9, 2013
The Toronto Marlies look to continue their strong play of late (1st in the Western Conference) as they face-off against the slumping Hamilton Bulldogs. Toronto [more…]
The Toronto Marlies (18-9-1) take on the Grand Rapids Griffins (17-9-1) 7pm on TSN 1050 and AHL Live. Depending on how the Charlotte Checkers fare tonight, [more…]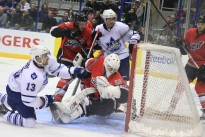 The Abbotsford Heat (13-4-3-2), the top team in the AHL, came into town to face off with one of the hottest teams in the AHL, the Toronto Marlies (13-8-0-1). The Marlies played and won their last game less than 24hrs ago against the Rochester Americans and entered this game on the strength of a four-game winning streak and great play at home (7-1-0-1). [more…]
Dallas Eakins stopped by to talk Marlies on the Jeff Blair Show.
[more…]