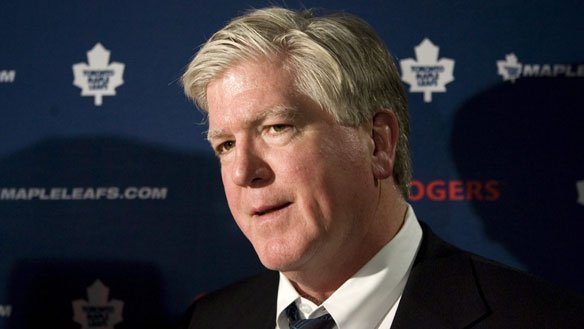 "Championship is the goal. Not to get in the 8th spot and get your ass kicked."
– Leafs GM Brian Burke
You've probably seen this quote before, because it's been repeated by Toronto media and sports fans alike throughout the NHL playoffs.
Now the LA Kings are in the Western Conference Finals and even though the Leafs haven't played hockey in a month, many are back to pointing their finger at Burke and saying "Don't want to finish eighth and get your ass kicked, huh!?"
The difference between the Kings and the Leafs? One team was thought of as a Cup contender before the season started, the other was thought of as a playoff bubble team, at best. I think we all know who each label applies to.
Another difference? The Kings have arguably the best goalie in the world right now on their team. As for the Leafs? Let's just say calling their goalie situation a question mark is being generous at this point.
Goaltending. Now that's a good place to start when it comes to the Leafs, the playoffs and this quote. Because the purppse of this quote constantly being brought up is that Burke should have made trades during the year to make the playoffs, is it not?
So management would have needed to bring in a goalie, right?
There were four goalies traded this year: Timo Pielmeier, Karri Ramo, Curtis McElhinney and Ben Bishop. The Bruins also signed Marty Turco. I think it's safe to say that none of those guys were about to save the Leafs season, but for arguments sake, we'll say Ben Bishop was worth investigating. He cost the Senators a 2nd round pick to acquire. The Leafs already are without their 3rd round pick this year (traded to draft Sondre Olden in 2010) and their 4th round pick (traded for David Steckel) so now they're going to trade their second round draft pick too for yet another unproven goalie who has potential? Might as well just recall Ben Scrivens and roll the dice that way.
But there was one goalie who maybe could have made a substantial difference. That would be Evgeny Nabokov. You know what the Islanders wanted for him? A first round pick. They didn't get it, so they signed him to a contract extension. Would you have wanted the Leafs to trade their first round pick for Evgeny Nabokov, who is turning 37 this year?
Would they have traded the fifth overall pick? Probably not. But a top 12 pick? Most likely.
Even then, we'll say for arguments sake that they did make the playoffs. Would you have been happy trading the 15th overall pick or higher for at the very least a first round playoff match-up with either the New York Rangers where Nabokov would have basically had to out-duel Henrik Lundqvist for any chance of winning, or the Boston Bruins where we all might as well have just considered a three goal loss a moral win?
You know what though? Let's take this one step further. Let's say Burke acquires Evgeny Nabokov for that first round pick and now looks to bolster the roster, too. You know, to ensure the Leafs "don't get their ass kicked" in the first round after squeaking in (and I'm assuming a lot that they even put it back together and make the playoffs, they really tanked the season in the last quarter).
Let's look at some of the bigger names traded this year then, shall we. Kyle Turris was moved earlier in the year for David Rundblad and a 2nd round pick. Some considered Rundblad the best prospect in hockey prior to this season, so what's that for the Leafs? Jake Gardiner? At the very least it costs Nazem Kadri, you'd have to think. Plus a second round pick. The Leafs have already traded their 3rd and 4th officially, and their first in this scenario to get a legitimate goalie. So now they don't have a pick in the first four rounds of the draft.
People who complain about the Phil Kessel trade and the draft picks it costed the Leafs, you can go sit over there now. Unless we're allowing hypocrisy.
Other impact players who were acquired in some shape or fashion that required a second round pick going back the other way? Hal Gill, Andrei Kostitsyn, Nicklas Grossmann, Pavel Kubina, Antoine Vermette, Marek Zidlicky and Johnny Oduya.
Oh yeah, Paul Gaustad cost Nashville a first round pick. Any takers on that move?
But hey, there were other impact players moved this year, too. To get Jeff Carter LA moved a first rounder and Jack Johnson. The Leafs don't have a first rounder, should they have moved next years now too to get him? Say whatever you will about Jack Johnson but he still has a high ceiling (was great in Columbus after the trade) and has always logged a ton of minutes, so again we're back to Jake Gardiner.
In Brian Burke's first two years here he traded Toronto's first round picks to get Phil Kessel. In his next two years would you have wanted him to trade the two following first rounders for Evgeny Nabokov and Jeff Carter, plus throw Jake Gardiner into that?
Oh, okay.
There were a few other names worth mentioning that were moved as well. Michael Cammalleri and Rene Bourque were essentially exchanged for each other. The second time Flame had 19 points in 28 games. The first time Hab had eight points in 38 games. Would they have been that ever so crucial difference that the Leafs so desperately needed?
Or how about Steve Downie? He was traded for Kyle Quincey who was quickly flipped for a first round pick. Best case scenario Tampa wants Cody Franson for him. Worst case? Carl Gunnarsson (Quincey and Gunnarsson log similar minutes, similar age, although considering they acquired Quincey just to flip him, it would have needed Detroit's blessing, too). Would trading Gunnarsson for Downie make the Leafs any better? Even if it was Franson, Downie didn't push the Avs into the playoffs, and they were actually playing decent hockey down the stretch so I fail to see how it would have been any different if he came to Toronto. It just would have meant an even higher first round pick for the Isles after they got that first from the Leafs for Nabokov.
Obviously, there were players who could have been had at the deadline that weren't moved too. What do you think that says about their price tags? So now you want the Leafs to trade a bunch of their prospects that they've spent all this time acquiring and developing for a better chance at making the playoffs? Really? That would have been worth it, to you?
"Championship is the goal. Not to get in the 8th spot and get your ass kicked."
– Brian Burke
So what's the other side of this quote? That Burke is completely opposed to finishing in the 8th seed altogether? Where's the evidence of that? When has he ever said he would rather not make the playoffs, just so he didn't get his ass kicked? All season he said he wouldn't mind getting into the playoffs if it meant they "bloodied another team's noses."
There's a difference between having a team that can, you know, actually compete in the playoffs and thus should be boosted at the trade deadline to ensure they get there, and a team who isn't ready yet. The Leafs were 12-26-7 against playoff teams this year. Now fans are throwing around this sentence in Burke's face as if he should have "stepped up" and traded the future to do what, exactly?
Should I even speculate if these are the same fans and media members who rip Burke constantly for the Phil Kessel deal?
It's not like they are the Buffalo Sabres, who had high expectations going into the season and just tanked. Does anyone think Burke wouldn't have done something to push that team into the playoffs if he were in charge there?
Look, you want to get mad at Burke? There's tons to get mad at him for. But you know what time period of transaction you should be angry about? Try last summer. When he decided to role the dice on two inexperienced goalies, when he signed Tim Connolly to plug in as the Leafs temporary first line center, and so on. Or get mad at him for not selling at the trading deadline. Instead of re-signing Mikhail Grabovski, John-Michael Liles and the bunch, who knows what he could have got for them?
But for not making a push for the playoffs at the deadline? Really? The damage was done at that point. At best Burke could have been proactive in January and made moves when the team was rolling.
No worries, though. Let's bring up this quote because it gives us a good narrative in Toronto as the Kings push farther and farther in the playoffs. As long as there is a good "hook" to bring in viewers, that's all that matters.
"Championship is the goal. Not to get in the 8th spot and get your ass kicked."
– Brian Burke
I never read that as, "There's no way I would accept finishing 8th because 8th seeds go nowhere." I always read it as, "I'm not mortgaging the future to try and fill holes and ruin my plan just so we can get into the playoffs with a team that isn't ready and wouldn't go anywhere, because based on what we've seen we wouldn't."
But maybe that's just me, because I continually look around and see this statement thrown around to spite Burke, the Leafs, their "philosophies," and whatever else.
Maybe Burke should have traded more young prospects and high draft picks to try and squeak into the playoffs this year, because hey, look at the LA Kings, they are in the Conference Finals.
Oh, by the way, there's only five players that were traded this year that are still playing in the NHL playoffs: Antoine Vermette, Jeff Carter, Alex Ponikarovsky, Marek Zidlicky. And Phoenix claimed Gilbert Brule off waivers.
"Championship is the goal. Not to get in the 8th spot and get your ass kicked."
– Brian Burke
Yeah, that looks right to me.