When Lou Lamoriello was hired as General Manager in July 2015, it came out of nowhere. While his exit a little under three years later was nowhere near as surprising, it was just as sudden.
Throughout the first round, Elliotte Friedman pointed out that Lamoriello was showing some actual emotion watching the games, which is a rare sighting from the stoic veteran exec. It's clear now that Lou knew what was going to happen after the playoffs ended. Even if he didn't officially know, he had to see the writing on the wall. The Leafs got eliminated on a Wednesday night and announced the news on Monday morning – that's Brendan Shanahan following a plan.
It is hard to picture anyone but Kyle Dubas being announced as the next GM. Shanahan blocked him potentially going to Colorado last summer and he was discussed as the heir apparent the moment he was hired. Lamoriello was signed to a three-year deal with the mission of righting the ship and grooming the young assistant GM. The contract expired this year, and Lamoriello was not extended in the role.
I'm fairly comfortable in suggesting that, if Shanahan wanted to keep Lamoriello as GM, he could have — there were no indications that Lou was slowing down with age and the team is on the verge of something special. Who would willingly hand over those reigns?
Barring something unforeseen, the plan is to continue to move forward with the succession plan here. But we'll talk about Kyle Dubas if and when he is promoted.
Lamoriello deserves a proper send-off, first and foremost. When he was hired, the team was a disaster on and off the ice. The season before he was hired, we counted 25+ controversies involving the Leafs. On the ice, the team did not set out to tank, yet they finished fourth last. Just prior to Lamoriello's hire, they traded Phil Kessel, conducted a draft, and brought in Mike Babcock.
When the Leafs hired Lamoriello, I wrote about the accountability and emphasis on defense he would bring to this team:
"His best value to the organization will be in righting the ship with the team's structure and discipline. That applies to on-ice play, particularly on defense, and all facets of off-ice behaviour."
In three years, there was hardly a controversy to speak of in Toronto. Lamoriello completely battened down the hatchets media wise; other than the players, only he and Babcock were allowed to speak. I know that drove people crazy at times, but when it comes to the Toronto market, it was a welcomed period of quietude. On the ice, their effort — even in a last-place season — was generally not criticized, which is kind of remarkable in this market (Babcock deserves credit for this too, obviously). The players didn't get into any trouble of note with the media, with the organization managing its availabilities much more tightly.
Over his tenure as GM, Lamoriello's best piece of business was trading a late first round pick and a second round pick for Frederik Andersen and then signing him immediately to a five-year, $25 million deal. Andersen has emerged as a legitimate number-one goalie and workhorse, something the Leafs had been searching for since Ed Belfour.
Lamoriello was also able to trade Dion Phaneuf without retaining salary or taking back a big, long-term contract as a makeweight. Phaneuf played one full season in Ottawa before the Senators asked him to waive his No Movement Clause to be a part of the expansion draft, didn't receive permission, and ended up trading him for a bad contract in return while retaining salary part way through this past season.
This year, 2017 summer signing Ron Hainsey turned in a solid season, leading the league in shorthanded ice time, helping to stabilize a partnership with Morgan Rielly, and playing in the top four at the price of only $3 million in salary. Lamoriello also splurged on Patrick Marleau last offseason; the jury is still out on the remaining two years of that deal, but he scored 27 goals in his first season while playing on the team's matchup line at 5-on-5.
On the negative side of the ledger, the Nikita Zaitsev deal is already proving to be a poor one and it will only get worse as he ages and the Leafs' cap situation tightens up in order to accommodate the second contracts of their star talents. Matt Martin has two years left making $2.5 million per season and he was a healthy scratch down the stretch and in the playoffs. Some will debate this point, but the Leafs also gave up second-round picks in back-to-back years at the deadline in order to acquire fourth-line centers before losing in the first round. That's not exactly tidy business.
But I think Lamoriello's biggest value was in just keeping the organization on course and moving forward, which is hard to quantify or elucidate the specific details of. The team has travelled an ahead-of-schedule trajectory since he arrived — bottoming out, drafting Matthews, embarking on a surprise turnaround season into the playoffs, and then setting a franchise record for points the following year. If I told you that would happen three years ago, you wouldn't have believed me.
Lou shouldn't receive all the credit, but he deserves recognition for cleaning up the off-ice nonsense, helping to establish a new culture and accountability, and keeping the ball moving forward.
Don't Overreact to the Playoffs
---
Preparing for playoff games and series brings about a whole new challenge compared to the gruelling 82-game regular season.
Although both test a team and its depth, the preparation and focus alter in the playoffs. That can emphasize, if not reveal, certain strengths or weaknesses in a team.
The regular season is much more process and big picture oriented. Teams will, of course, pre-scout opponents for basics like faceoff plays, special team formations, and general forecheck/neutral zone play. But for the coaching staff, the focus is really on the team you're in charge of – that means focusing internally on structure, personnel, and doing all of the things that add up to success over the long haul. You aren't worried if your star player hasn't scored in two weeks when he's averaging three shots on net per game; that's just all part of the ebbs of flows of an 82-game grind.
In a short playoff series, the attention shifts. Teams focus on matchups and are quick to adjust if something isn't working – like the Leafs did with their defense matchups after only one game against Boston. The focus on process can quickly go out the window and the results are what matter. Matthews, for example, put 27 shots on goal in seven games. The odds that he's limited to two points in seven games with that many shots on net are pretty slim (more on him below), but that was of little consolation to the player and team in Round 1.
After a long season, teams have all their systems and plays in place, and the focus turns to game planning for the opponent. There is time to prepare properly, unlike in the regular season. The teams also play each other on a relatively even playing field – there isn't one side coming off a back-to-back or at the tail end of a long road trip.
The playoffs are a different animal, and it's important to remember teams can easily make mistakes overreacting to postseason failures.
After the 2013 Game 7 collapse, Leafs management basically tried reconstructing their team as if they were about to play that exact same game again the next day. Last summer, the Chicago Blackhawks, fresh off a first-round sweep, promised big changes and traded a stud top line winger in Artemi Panarin for Brandon Saad (himself a good player, but not as capable of driving production or a line). They also traded a workhorse defenseman in Niklas Hjalmarsson for one with a bad contract that was routinely healthy scratched this season in Connor Murphy. Chicago went from finishing first in the West to missing the playoffs this season (and they were on the outside looking in before Corey Crawford got hurt, although that obviously impacted things, too).
The first rule of thumb here is to not make rash decisions based on one playoff round. The second rule of thumb is that making the playoffs year-after-year is really hard.
A lot of people predicted the Edmonton Oilers would be contenders after their run last season. They were terrible this season.
After the Ottawa Senators were an overtime goal away from going to the Cup Final in 2017, they traded for Matt Duchene early in the year. They were also terrible this season.
Calgary wasn't terrible, but they didn't make the playoffs after adding Travis Hamonic to their core.
We see this story play out every year and there are a million other worthy examples.
The lesson here is that the Leafs should not be trading 60+ point players like William Nylander for a second-pairing defenseman or a couple of hard-hitting forwards. You need his scoring just to make the playoffs. That also means losing Jake Gardiner, who put up 52 points last season and was a key piece on an elite power play, would really hurt. That's not to say either player is untouchable, but they played significant roles helping the Leafs make the playoffs, and it can't be taken for granted. Any move of a big name player would have to include a plan to replace him properly (and a prospect alone is not an adequate replacement for high-end production).
The league is so tight, and the difference between winning and losing is so slim, that the goal at the start of each year has to be to make the playoffs — or if you're a strong team, to win your division — and then to build from there as the season progresses.
This is a good Leafs team that needs to continue to add to its core while reshaping some of its bottom lines – not shake up the core of the roster.
Summer of Opportunity
---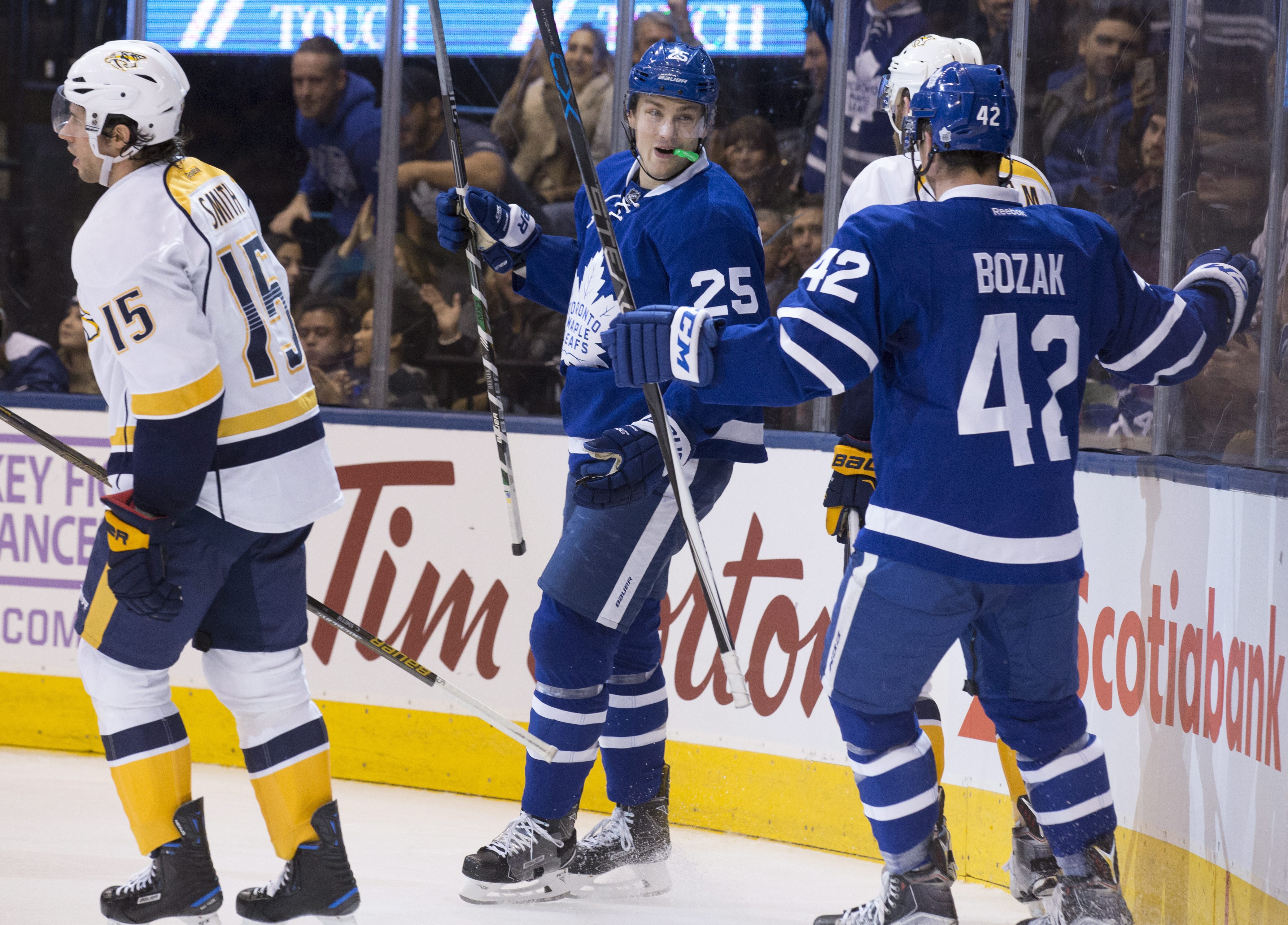 A common theme when the Leafs built their management team, including hiring Mike Babcock, was an emphasis on possession and skill. Simply put, the Leafs did not execute that very well despite a franchise record season in 2017-18. The team is skilled, to be sure, but they were not a strong possession team and haven't been for two consecutive years.
In 2017-18, the Leafs were 17th in shot attempt percentage and were actually slightly underwater possession-wise at 49.86% at 5v5. During the playoffs, against an elite possession team, they finished at 47.77%. What was really evident in the series against the Bruins was how 'one-and-done' the Leafs offense was; they generally struggled to sustain any sort of zone time, whereas the Bruins cycled on the Leafs continuously.
It's true the Leafs were up a goal going into the third period of Game 7. Yet you couldn't ever really feel great about it. How were they going to kill 20 minutes on the road? They had no cycle game to speak of, and they couldn't hold the puck in Boston's end for any length of time, so they sat back and tried to trap instead (which happened often throughout the series).
In the 2016-17 season, the Leafs were 13th in shot attempt percentage, just hanging above water at 50.38%. Obviously, their skill, scoring depth and excellent power play make up for it, particularly throughout the regular season, but I don't think the original plan was to be an all-offense outfit that tries to outscore its problems. The management and coaching staff envision a team that can control games and dominate the run of play.
Part of it is just the young players further developing and learning how to do it. Another part of it is that the defense isn't good enough to transition the puck up ice cleanly to facilitate a strong puck possession game. The third piece is the team's forward makeup.
In regards to that last issue, the Leafs have a real opportunity this summer to reshape the roster and shift towards the dominant puck possession game they're striving for. The Tyler Bozak-led third line was awful defensively – Babcock sheltered them all year, and the saving grace was that Bozak and JVR were part of what was arguably the best power play unit in the league. At 5v5, though, their linemates struggled.
Mitch Marner had a tough first half of the season until he was moved off of that line and up with Nazem Kadri and Patrick Marleau (better linemates, to be sure, but also in a much harder role). Meanwhile, Connor Brown shifted up the lineup and was generally a nonfactor until he was moved off that line in the playoffs.
With both Bozak and JVR pending free agents, the Leafs can redefine their third line conceptually. For the past couple of years, it has been an all-offense, power-play-specialist unit. When Nazem Kadri was suspended against Boston, it created clear matchup problems. The coaching staff couldn't trust Bozak (or his line) in the role at all, and Matthews can only do so much.
That's part of the reason why the organization felt they needed to trade a second-round pick for Tomas Plekanec — they needed defensive help at center. With a stronger two-way center, or even a more defensive one manning the third line, the Leafs can feel better about having a young, sheltered, offensive fourth line comprised of a collection of young players while freeing up Matthews more offensively. Maybe they won't score as much or be as exciting, but they might control play better.
The other option is to double down on offense once again.
Here's a rough outline of where the lineup stands heading into the offseason:
Hyman – Matthews – Nylander
Marleau – Kadri – Marner
______ – _____ – Brown
Johnsson – _____ – Kapanen
The Auston Matthews Nontroversy
---
It would not be a Leafs playoff loss without a finger-pointing blame game from the media and fan base.
Last season, after contracting mono down the stretch, Marner's game suffered in the playoffs and he faced some heat. This season, a not-fully-healthy Matthews struggled up against the best line in the league, a top-flight goalie, and a strong defensive pairing. Zdeno Chara is 40 and has lost a step (or two), but he's still Zdeno Chara, one of the best defensemen of this generation. Matthews isn't his first victim and probably won't be his last, either.
Yes, Matthews had a bad playoff — at 20 years old, against an elite veteran team that has been there and done that.
In the wake of the series loss, Nick Kypreos went on the radio (keep in mind we see radio hits blown out of proportion all the time) and discussed the Babcock and Matthews relationship, mentioning that Matthews wasn't starting periods or power plays. It's a two-sided coin. On one hand, the Marner-led unit was objectively better throughout the season and Matthews wasn't producing at 5v5 in the playoffs. On the merits of his play, he didn't deserve to do those things, but on the basis of being Auston Matthews, you could certainly argue that he did.
At the end of the day, though, Matthews led all Leafs forwards in average time on ice throughout the playoffs. I'm not sure what more he could have asked for here. If the body language was perceived as negative, it was probably more to do with the frustration of not scoring (and possibly his "shit happens" quote being taken out of context and made into a big deal).
I thought Babcock had a great answer in response to this whole ordeal, particularly this part:
"I think Auston and I have a good relationship. I asked him that exactly today. I've told Auston a lot about it – I've really got a ton of respect for Auston's mom and dad. They parent him. When parents give you their children, they expect you to treat them like you'd treat their kid. I try to push Auston to be better every day. I'm very clear to him: If I'm pushing too far, get in my office and tell me."
These two don't need to be best friends. Matthews doesn't even necessarily have to want to play for Babcock, either. We never heard love stories about Babcock, Pavel Datsyuk, Henrik Zetterberg and Niklas Lidstrom. Those Wings teams seemed to manage all right, though.
In fact, we've often heard Babcock was straight-up disliked in Detroit. After Babcock left, Chris Chelios had this to say:
"I think it's going to help a lot and I think it's going to help even more that Babs is gone because those free agents really didn't want to play for Babs. It's nothing personal, but he's a tough guy to play for, especially for a veteran. If you're a young guy I think it's great because of his accountability and if you don't play [hard] you're not gonna play."
How has that worked out for Detroit so far?
This seems like much ado about nothing. Matthews put up over a point per game and most likely would have set a new career-high in goals had he not missed 20 games through injury, and the team established a new franchise record for regular season points. They can't hate each other that much.
What Now on Defense?
---
It is clear the Leafs defense needs to improve – they finished 15th in goals against despite strong goaltending all season, and they were 28th in shots against per game.
The team's breakout strategy was basically to go off the glass and make the forwards do all the work. They relied heavily on a 37-year-old Ron Hainsey, who was solid this season, but it's a stretch to ask him to do that again, and he wore down late in the year and into the playoffs. The team doesn't exactly possess a strong shutdown pairing; they really got by on how good Nazem Kadri is in the shutdown center role.
Here's the thing, though: Five of their six starting defensemen are already under contract for next season. Morgan Rielly and Travis Dermott are obviously not going anywhere. It would also be a surprise if the Leafs decided to move Hainsey after a solid season, knowing what he brings to the penalty kill and the respect the team and coaching staff appear to have him for as a veteran example. It would also be a surprise if another team was interested in taking on the six remaining years of Zaitsev's contract at an annual cap hit of $4.25 million.
That leaves one open spot… and Jake Gardiner.
After a really (really, really) rough Game 7 showing, Gardiner is public enemy number one right now in Toronto. That is not a good reason to trade him, though. He's coming off a career-high 52-point season, posted a 53.6CF%, and led the team in ice time per game in the regular season and the playoffs. In an ideal world, the Leafs can get him (or Rielly) a better partner – maybe even both.
The Zaitsev contract is a problem, though. Complicating matters further is that Gardiner is a free agent after next season. If he throws up another 50-point season, he's going to make $6 million plus without blinking. Is Gardiner palatable at that number with all the other big contracts about to be doled out to the core? I'd argue not.
This is pretty similar to the situation with JVR, who the Leafs are more than likely about to lose for free. They could have traded him and received legitimate value while making their team worse temporarily and giving the spot to a young player to develop. They chose to keep him and roll the dice.
What the Leafs will have to decide is this:
1) Are they comfortable paying Gardiner big money?
2) If not, do they trust Dermott to jump into that role and are they willing to live with those growing pains?
They could get creative here by looking to move Gardiner, finding a partner for Rielly, and sliding Hainsey next to Dermott in a similar veteran-guidance role he filled next to Rielly last season, while also looking for a steady partner to stabilize Zaitsev's game.
Or they could stick with the status quo, essentially, and add one defenseman to this group while hoping for improvement from Dermott. If they were somehow able to add a significant defenseman, it would be a solid group.
Either way, the Leafs will be good enough to make the playoffs with their scoring talent and goaltending. But if the goal is a lengthy playoff run, they have to improve the blue line personnel one way or another.