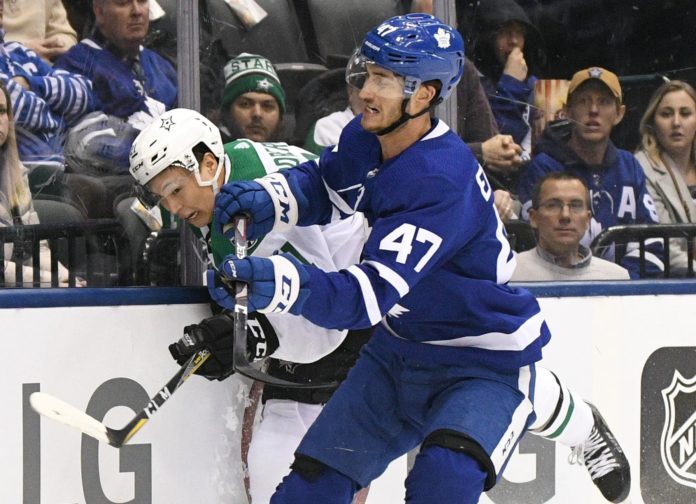 Last week,

I examined whether the Maple Leafs' bottom six,

while composed of valuable role players, offers enough scoring punch come playoff time knowing a lack of depth scoring has been a recurring theme in Toronto's playoff failures.
It's a fair point of criticism and an area of the team many are keying in on, particularly as both goalies have generally played well and the defense is legitimately eight-plus deep.
I want to revisit the following passage from last week's notebook:
"Four of the other spots are all but accounted for at this point: Kampf, Kerfoot, Engvall, and ZAR. Hypothetically, they could have traded one to help match the salaries, but Kyle Dubas has shown no inclination toward trading players mid-season that he actually likes, so I'm going to assume he won't unless he proves otherwise."
While I think it's unlikely the Leafs would move any of those four players — preferring only to straight-up add to the roster — I do think it's worth having a conversation about whether they should. After all, Alex Kerfoot and Pierre Engvall, in particular, have been part of the last three playoff defeats.
Engvall has played in 17 playoff games in that time with zero goals and four assists — three of those assists came in the same game, and two of those came on empty-net goals. Therefore, he has recorded two non-empty-net points in three playoff series.
Kerfoot has actually been more productive than most probably realize with 11 points in 19 games, but he has scored just two goals in that time; plus, he's made a number of egregious mistakes, and he hasn't shown he can produce much when he isn't riding shotgun with John Tavares and William Nylander. 
All told, that's two goals in three playoff runs from potentially two-thirds of the team's third line. Their center, David Kampf, is also not an offensive player. You can argue that's why the Leafs have their top two lines, but again, every good playoff team has two good lines.
If Kerfoot – Kampf – Engvall is the third line come playoff time, they don't produce much, and the Leafs lose again despite their top players performing well, there's a very fair criticism to be made of the team's scoring depth at this point.
The focus here is going to stay on Kerfoot and Engvall, though. Good centers such as Kampf are extremely difficult to find, and he leads their forwards in shorthanded time on ice. He isn't going anywhere. Zach Aston-Reese could hypothetically be moved, sure, but he's making so little in salary that it's not worth discussing. 
There are a couple of considerations to break down here. 
The first is what Kerfoot and Engvall currently bring to the table. Both are top-nine mainstays who play in every situation for the Leafs. Below is their rank in ice time per game among Leafs forwards (note: I'm subtracting SDA and Denis Malgin from the power play time on ice per game as they are not relevant):
| | Even strength | Shorthanded | Power Play | Total |
| --- | --- | --- | --- | --- |
| Alex Kerfoot | 6th | 3rd | 8th | 6th |
| Pierre Engvall | 8th | 6th | 9th | 9th |
Both see ice time in all situations, and Sheldon Keefe likes to use both to close games out when the Leafs have the lead. That speaks to how much the coach trusts each player. Alex Kerfoot regularly moves up to the top six, and in the event of an injury to a center, he's usually the first player to shift to the middle. Engvall is a third-line mainstay, but they have played him across all three positions there. There is an element of versatility that they value in both players.
Both players generally win their minutes in terms of shot share, expected goals, and actual goals, which is noteworthy. Kerfoot's speed is a valuable asset that helps him cover space shorthanded and get in on the forecheck. Engvall is a strong skater through the neutral zone and can drive lines with lesser players by moving the puck up ice. 
There is also the consideration of trading away players that have been part of the team's success so far this season. They are not winning in spite of these players; they are legitimate contributors. As much as armchair GMs casually talk about trading players and making a series of moves, these are not fridge magnets to rearrange. They are contributing players that are part of a successful team. 
In recent league history, there are a few examples of winning teams moving everyday roster players midseason before winning the Cup. Just last season, the Colorado Avalanche traded away Tyson Jost, who was second among all forwards on the Avs in shorthanded time on ice per game.
The Lightning, Blues, and Capitals before them didn't trade away anyone of note.
The Penguins went back-to-back and traded away a number of regulars along the way. They swapped Rob Scuderi for Trevor Daley and David Perron for Carl Hagelin — two huge moves geared toward adding players that better fit their team. In the next season before winning their second straight Cup, Pittsburgh traded away Eric Fehr, who played in 23 of 24 games when they won the first Cup and appeared in 52 games the following season. He was moved to the Leafs, of all teams, to clear cap space so the Penguins could add, of all people, Ron Hainsey. He was vital in their Cup run that spring.
The Blackhawks and Kings traded Cups before that. The Blackhawks simply added to their roster. The Kings made a huge swing each time, trading away a regular roster player both times in the process: Jack Johnson went the other way for Jeff Carter, and Matt Frattin (!) was traded in a package to acquire Marian Gaborik.
Back in 2011, the Bruins traded Blake Wheeler and Mark Stuart to the Thrashers for a package that included Rich Peverley. 
Among that list of moves, we can see examples where winning teams simply upgraded, or at the very least, changed the dynamics of their roster by moving everyday players for different types of players. It's not unheard of. 
The next question, though: What could the Leafs realistically accomplish with a trade of one of these two players specifically?
Kerfoot as a pending UFA would only really be coveted by a contender. Which contender is banging down the door of another contender in order to acquire a player the other is looking to shed? It doesn't exactly give the Leafs much leverage in a negotiation.
It's hard to envision this type of move as anything but a cap dump, and that would be puzzling unless it's absolutely necessary to facilitate a trade. Of the potentially available players — let's throw out names like Ryan O'Reilly, Jonathan Toews, Bo Horvat, etc. — none of their respective teams would want Kerfoot back as a piece in the trade unless it's salary-related. The time to trade him was clearly last summer after a career season with a year left on his contract. Short of Kerfoot producing a monster playoff, that appears to have been a mistake. 
Engvall is in a similar boat as a pending UFA. The Leafs won't have much leverage moving players like this, and the only teams interested would be the ones they're competing with. They aren't likely to use their precious cap space on these two players as plan A, B, C, or D. 
To provide a ballpark estimate of the return, reasonably valuable forwards like Mason Appleton and Frank Vatrano each went for a fourth-round draft pick last trade deadline. Calle Järnkrok moved for a second, third, and a seventh if we want to look at the absolute best-case scenario, but he was enjoying quite the productive season to that point.
Short of being included in a deal to make the cap dollars work, or moved in a separate cap-related trade (like the Avalanche swapping Tyson Jost for Nico Sturm), it's hard to picture a series of moves where it makes sense when those are the types of returns on the table.
It would be a case of selling low, buying high, and hoping the grass is greener on the other side.
Notes
---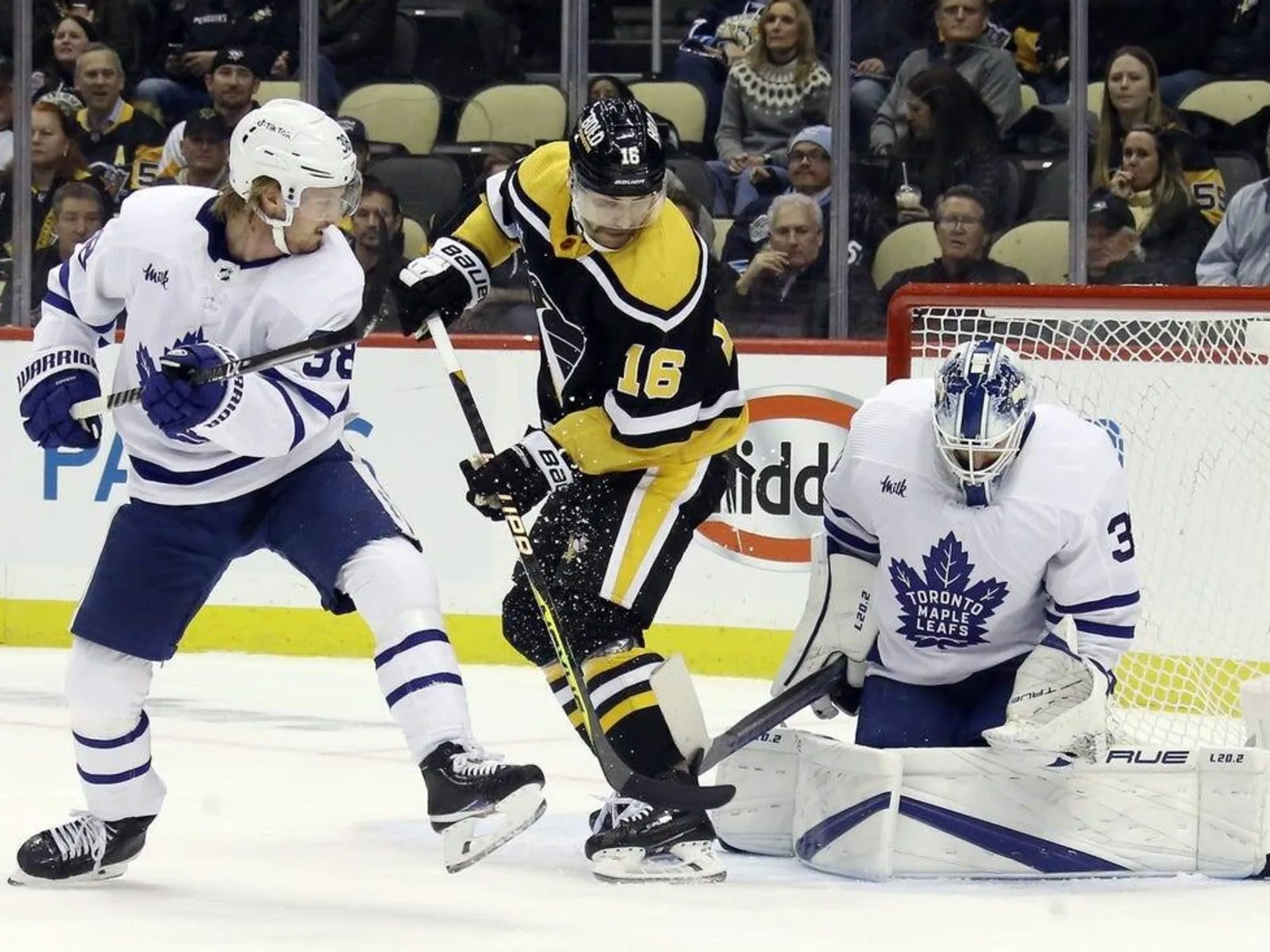 –   Here are Matt Murray and Ilya Samsonov's percentages by month so far, with their games played in parentheses:

| | October | November | December |
| --- | --- | --- | --- |
| Matt Murray | .826 (1) | .938 (6) | .911 (7) |
| Ilya Samsonov | .920 (6) | .937 (3) | .913 (5) |
Last season, the Leafs' goaltending was lights out in November and then slowly dwindled from there as the season went on. I am not saying that's happening again this season, but I am interested to see where this levels off exactly. I don't think Murray and Samsonov are .940 goalies as they played in November. Are they the league-average-ish goalies they were in December? A bit better? A bit worse? 
–    As part of the Nick Ritchie trade, Arizona must inform the Leafs by 6 p.m. on February 24 — seven days before the trade deadline — if they'll be taking Toronto's 2023 third-round pick or 2025 second-round pick. If I was Arizona, I would take the second, but since they have all this time to decide, it slightly impacts the Leafs' ability to make an early trade.  They don't have complete certainty around where they stand with their draft pick capital at this time.
–   It should be noted that the Toronto Marlies have been putting together a strong season so far. Greg Moore is coaching in the all-star game as they sit second in the league. They aren't completely carried by veterans, either. Alex Steeves is second in scoring. Noel Hoefenmayer is 23 and has been an offensive weapon from the point. It's a good situation for Nick Robertson to return to once healthy.
–   Calle Järnkrok has 10 points in his last nine games coinciding with a move up to the second line. His current linemates will get him points, as we saw last season with Alex Kerfoot. Of note, though: When he is a finisher and doesn't have to drive the offense or create it for himself, he is fairly productive. It's natural to wonder or assume that he could drop down to the third line and be effective against weaker opponents, but he wasn't particularly good in that role.
Quotes
---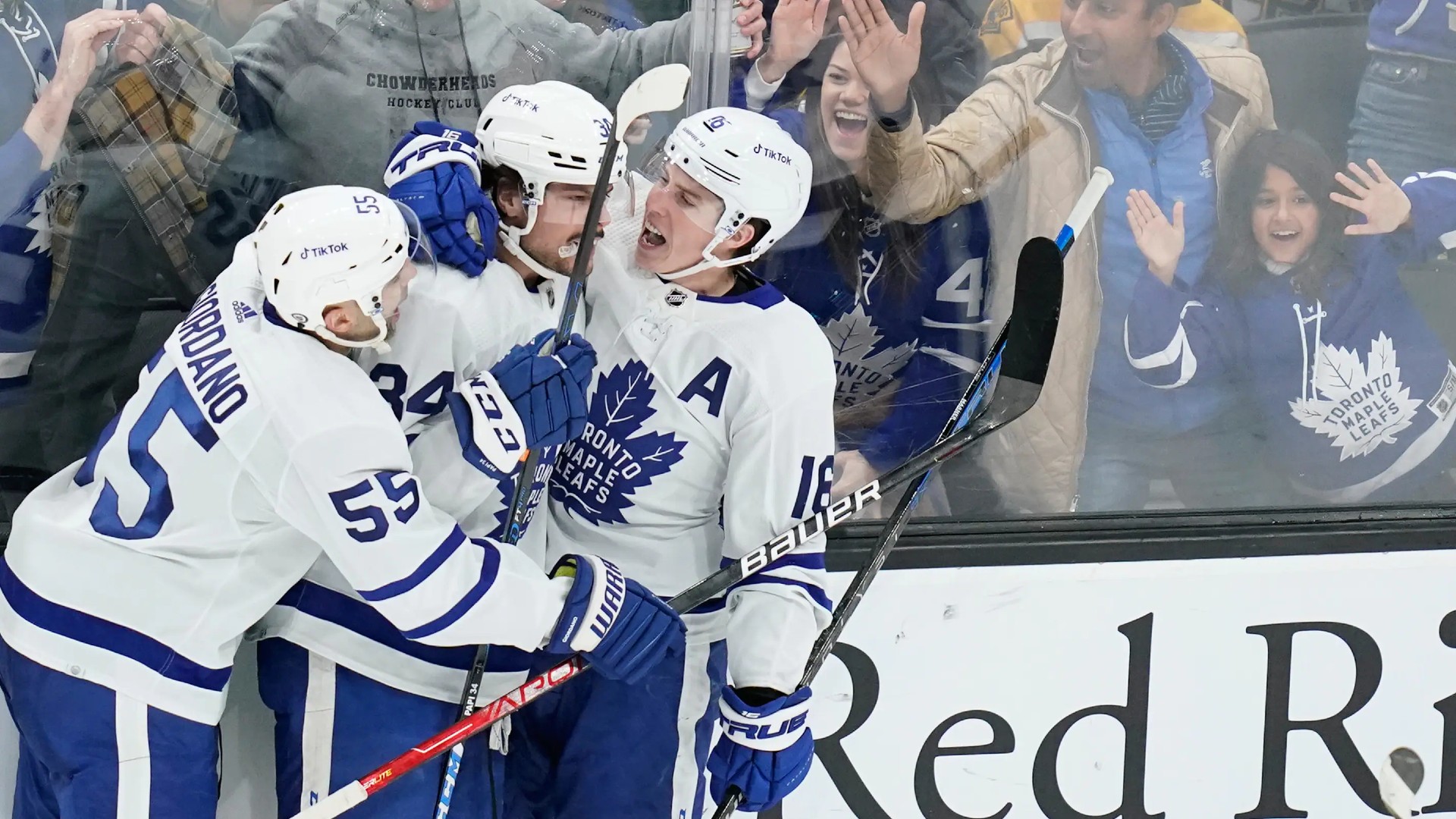 "I've been fortunate to play on really good teams year after year. It's not as much of an individual accomplishment as it is a team accomplishment. Myself and Mitchy (497) are closing in on that, but we're working toward something bigger."

– Auston Matthews on him and Marner closing in on 500 points
After what was essentially a lean decade for the franchise with some very productive Phil Kessel seasons mixed in, it's pretty wild to have two players of Auston Matthews and Mitch Marner's calibre on the team. If they remain Leafs for their whole careers, they are almost certainly going to end up 1-2 all-time franchise scoring.
"We will see. When we went to five forwards, I said I don't see it as a long-term solution, but I have been happy with what we have seen from it. I think we owe it the opportunity to let it grow and really see it rather than overreacting to one thing that might go wrong or might not look good. We need to give it a little bit more time if we are serious about it — and we are serious about it. We have seen enough progress to let it breathe a little bit."

– Sheldon Keefe on putting Morgan Rielly back on the top power-play unit
While I thought that Morgan Rielly would walk right back onto the top unit — it sounded like Keefe generally thought that would be the case, too — it is fair to say the five-forward unit is showing well and has earned an extended look. 
"I took a bad penalty early in the third period, let them back in, and then it's a tie game.… So we just got to limit those mistakes, myself especially."

– Conor Timmins after his turnover and penalty ignited Arizona's third-period comeback
Some will focus on Conor Timmins' assists in that game, but the coaching staff will remember the needless turnover that resulted in him taking a penalty.
Tweets of the Week
---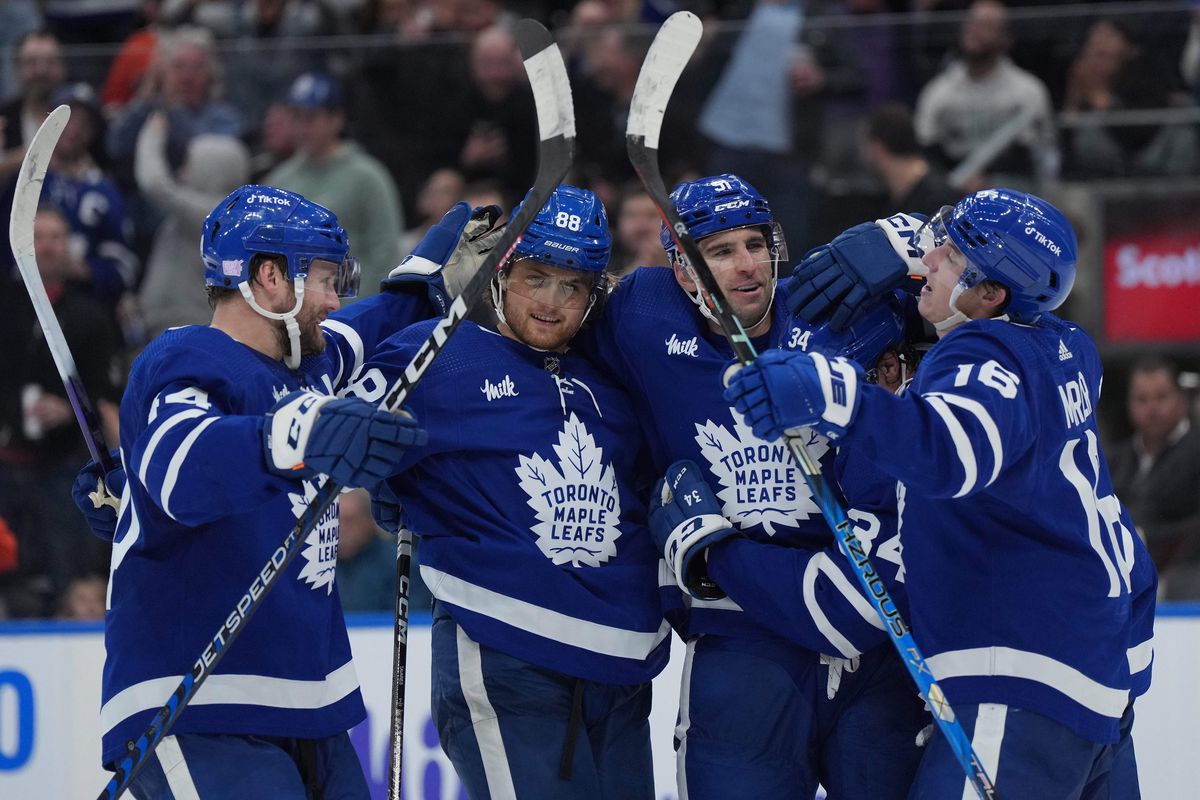 Per the NHL, the #Leafs had 26 comeback wins in 2022, tied for the second-most with Dallas, Edmonton and Minnesota. The Rangers had a league-high 27.

— Terry Koshan 🇺🇦 (@koshtorontosun) January 1, 2023
There is something to be said for never being out of a game. The Leafs are almost never out of a game. 
TOR vs ARIZ in 2022 calendar year:
Jan 10: 2-1 Coyotes
March 12: 5-4 Coyotes
Oct 17: 4-2 Coyotes
Dec. 29: 6-3 Coyotes
Crazy stuff

— Elliotte Friedman (@FriedgeHNIC) December 30, 2022
Sometimes, it is what it is. Some teams have another team's number. If you are a new Leafs fan, they are also very bad in Buffalo. 
Points per 82 GP pace from Leafs forwards:

Nylander 93
Matthews 93
Marner 93
Tavares 75
Bunting 58
Jarnkrok 44
Kerfoot 40
Holmberg 34
Engvall 33
Kampf 31
Aston-Reese 9

— Kevin Papetti (@KPapetti) January 2, 2023
The Leafs are top marks at the top of the lineup, with three players projected to put up 90+ points along with some solid secondary support developing. The pleasant development so far has been Pontus Holmberg's production, which is giving them another legitimate depth scoring option so far this season.
Five Things I Think I'd Do
---
1.    I think the Leafs' current pairings are the optimal defense at this point in time: Morgan Rielly – TJ Brodie, Mark Giordano – Justin Holl, and Rasmus Sandin – Timothy Liljegren. I really liked Sandin – Liljegren when the Leafs were dealing with injuries on the back end, but I am curious to see how they play as a third pairing. It is different when their ice time is reduced and they can't play through mistakes. They'll have to sit on the bench longer between shifts. Sandin recently mentioned that it's easier to just play when he's playing so much.
2.    For all of the talk about the Leafs' defense being set — and I generally agree that it is — it is still not the strongest at the top. Their strength is more in their depth than top-tier players. The Bruins have a top pairing with Hampus Lindholm and Charlie McAvoy, the Lightning have Victor Hedman, the Hurricanes' top pairing is Slavin – Burns, the Rangers have Adam Fox, and the Devils probably have the best collection of right-handed defensemen in the league. That's who we have to compare them to — not the league average. I don't think the Leafs can address this at the trade deadline unless they really think Jakob Chychrun is a stud.
3.    I think reducing Mark Giordano's minutes is the right call. He has played under 18 minutes in back-to-back games. In a stretch between November and December, he played 20+ minutes in 12 straight games. He's the oldest player in the league. Barring another slew of injuries on defense, they have rolled through all of the absences so far and are relatively healthy again now. They need to make sure Giordano is ready to go at playoff time. I wouldn't be opposed to giving him the odd night off, either.
4.    While I think he will be a rotational forward at best, I like giving Dryden Hunt a run of games to settle in. It's easy to come in for a few games and provide a spark; Kyle Clifford has done that more than a few times over the years. How will Hunt look after two straight weeks of playing continuously? Will he still be as physical? Will he make mistakes? Can he contribute with the puck at all? They need to give him a run of games to find out.
5.    I think it makes more sense stylistically to have David Kampf with Zach Aston-Reese and Dryden Hunt and Pontus Holmberg with Alex Kerfoot and Pierre Engvall, but I get why the coaching staff likely wouldn't do it. Kampf is a horse and has become a contributor all over the ice. He's simply effective in his minutes, and they can't justify reducing his minutes for Holmberg, even if Holmberg is probably craftier offensively. The Leafs also use their third line as a checking line, which makes more sense with Kampf there. That said, if they do need an offensive spark, it might be worth swapping those two at some point.