The Maple Leafs are looking to tidy their game up defensively against the league's highest-scoring five-on-five offense as they welcome the Seattle Kraken to the Scotiabank Arena (7 p.m. EST, Sportsnet Ontario).
The Kraken are enjoying a much more competitive season in year two of their existence, but as we approach the midway point of the NHL schedule, there are question marks surrounding the sustainability of their first-half success.
Seattle is shooting over 10% at five-on-five, which is something only three teams have managed to do over a full 82-game season in the last 10 years — granted, two of them came last season (Blues & Wild) with scoring on the rise in the NHL.
Individually, their top three goal scorers are very unlikely to sustain their current shooting percentages deep into the second half of the season: Jared McCann is scoring on over 25% (!) of his shots on goal, Matty Berniers is scoring on nearly 18% of his, and Daniel Sprong is also shooting 18%.
Seattle's 3.05 goals per 60 at five-on-five lead the league currently, but the discrepancy between expected goals (2.66 per 60, 19th in the NHL) and actual goals is the largest among the top five-on-five offenses in the league.
The Kraken are also currently holding down a divisional playoff spot in the Pacific at 20-12-4 despite one of the worst all-situations save percentages in the league (.885, only marginally improved over last season's .880 mark). Goaltender Martin Jones has amassed a 16-5-3 record despite a .890 save percentage this season.
The goaltending could be looked at one of two ways: maybe it costs them more games once the hot sticks cool off, or maybe the team save percentage figure — particularly on the penalty kill — is unsustainably low and improves in the second half. But last season's numbers and the recent track records of Jones and Philipp Grubauer don't provide much reason to believe too strongly in the likelihood of the latter scenario.
The Kraken aren't playing the rest of their season during tonight's game, though, and enter this matchup against the Leafs coming off of two wins in which they outscored the Oilers and Islanders by a combined score of 9-3. A look at their recent heat map charts in those wins shows they're doing a particularly good job of challenging defenses by getting pucks and bodies into the low slot/net-front area.
They play with pace and structure, and their offense brings a four-line balance in addition to contributions from the blue line, which will challenge a Leafs team that is looking to get back into its defensive form from November to mid-December after an uptick in goals against of late. But there are clear vulnerabilities in the Seattle net and on their penalty kill (worst in the league), providing opportunities for the Leafs to continue feasting offensively after scoring at a 4.15/game clip over their last 13 games dating back to December 1 (second in the NHL).
---
Head to Head: Kraken vs. Leafs
In the season-to-date statistics, the Leafs hold the advantage over the Kraken in three out of five offensive categories and five out of five defensive categories.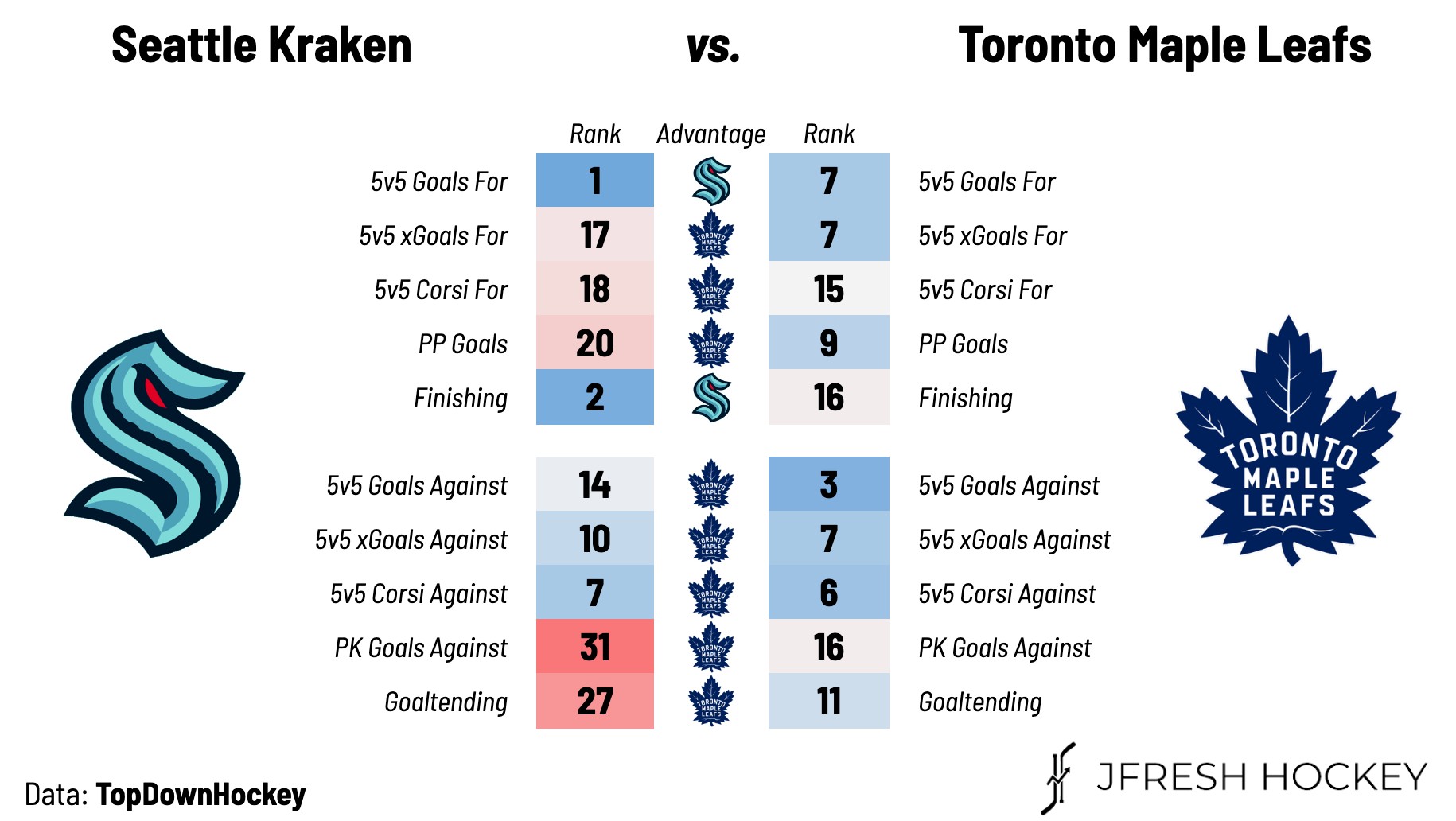 ---
Game Day Quotes
Sheldon Keefe on the Kraken's scoring depth:
They score. They score a lot. Over here in the East, maybe we wouldn't be paying all that much attention, but they are the number one team in the NHL in five-on-five goals. It is coming from all four lines and their defense. Great depth that can make you pay when you make mistakes.

They come in waves. They have lots of quickness and skill. They play very well as a team. There are significant challenges there at five-on-five. Special teams haven't gone as well for them, and that is an area where we need to be better than we were the other night to try to get an edge there.

It is a team that when you look at them statistically or on video, you have lots of respect for them and the coaching staff. But our focus will be on our game and how we can play.
Keefe on the keys to winning the five-on-five battle against Seattle:
I think it is just managing the game and not allowing momentum or fast-break chances. They are very good in transition. Their offensive-zone play is very good. Those are the kinds of things you need to limit — as you do with most teams, but they seem to really generate momentum and come in waves.

They wear you down shift-to-shift. They have guys who are playing well, are confident, and are scoring. It is about managing that, and it is about establishing our game. We can present significant challenges to them just the same. It will be a good game in that sense where two teams will be pushing for control of play.
Former Seattle defenseman Mark Giordano on the improvements the Kraken have made this season over last:
We did a lot of good things. I think we played quick and moved the puck quick. You can see that in their game now. Their transition game looks really good. They look really fast. They have added some nice players to their roster. They look pretty deep throughout their lineup.

It looks like a team that plays really quickly with a lot of pace. We have to be ready for that.
Justin Holl on the team's need to tighten things up defensively tonight:
We gave up too much last game. It is something we had been doing a better job of recently in terms of playing well defensively as a group of five. It was a bit of an out-of-character game for us. We are looking to lock it down a little bit more tonight.
Kraken defenseman Vince Dunn on the challenge against the Leafs' top line:
The same way we went into that Edmonton game [vs. McDavid], it is a mentality and a focus — not just for me but for everyone who is out there. Being responsible with the puck and taking care of the job you have to do out there is most important. We did a pretty good job last game as a team of playing together and playing competitively. We just need to bring it into tonight's game.
---
Toronto Maple Leafs Projected Lines
Forwards
#58 Michael Bunting – #34 Auston Matthews – #88 William Nylander
#19 Calle Järnkrok – #91 John Tavares – #16 Mitch Marner
#15 Alex Kerfoot – #64 David Kämpf – #47 Pierre Engvall
#12 Zach Aston-Reese – #29 Pontus Holmberg – #20 Dryden Hunt
Defensemen
#44 Morgan Rielly – #78 TJ Brodie
#55 Mark Giordano – #3 Justin Holl
#38 Rasmus Sandin – #37 Timothy Liljegren
Goaltenders
Starter: #30 Matt Murray
#35 Ilya Samsonov
Extras: Conor Timmins, Jordie Benn, Wayne Simmonds
Injured: Nick Robertson, Jake Muzzin, Victor Mete
---
Seattle Kraken Projected Lines
Forwards
#95 Andre Burakovsky – #10 Matthew Beniers – #7 Jordan Eberle
#17 Jaden Schwartz  – #21 Alex Wennberg – #19 Jared McCann
#20 Eeli Tolvanen – #37 Yanni Gourde – #22 Oliver Bjorkstrand
#13 Brandon Tanev – #67 Morgan Geekie – #91 Daniel Sprong
Defensemen
#6 Adam Larsson  – #29 Vince Dunn
#24 Jamie Oleksiak – #4 Justin Schultz
#28 Carson Soucy – #3 William Borgen
Goaltenders
Starter: #30 Martin Jones
#31 Philipp Grubauer
Injured/Out: Chris Driedger, Joonas Donskoi