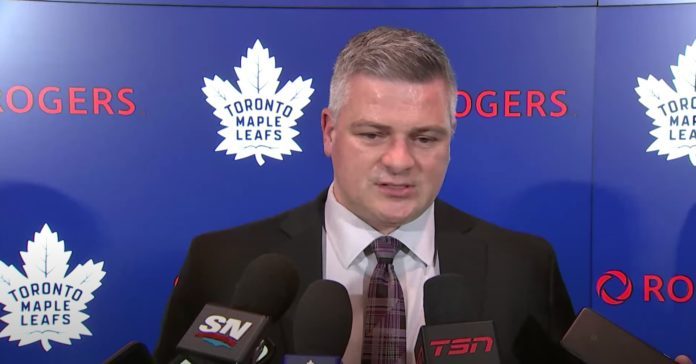 Sheldon Keefe addressed the media after his team's 5-1 win over the Washington Capitals which improved the Leafs' record to 31-12-8.
---
On the team's response to a big night for John Tavares:
It felt good. It took a while for us to get going. Our first period was a bit quiet for us. We didn't get really a whole lot happening with our game offensively. We had a few chances, but nothing was sustained, and we didn't play the way we wanted to. We had some really good skating after that.

They got a power-play goal in the first period. That was the big difference in the period, but I thought, for us to really take over the game, we had to really get skating. That was our message between periods.

I thought we really increased our pressure on the puck. As result, we got a lot more territory, put them into bad spots, and our guys made good on their chances.
On Morgan Rielly bumping the goal-scoring slump:
The guys were excited on the bench. It was a big goal for us, first of all. But Mo is an important player on our team. For him to have a bit of relief there is felt throughout the team.
On John Tavares putting the emotions of the pre-game ceremony aside and performing as he usually does (two assists):
He is a consummate pro. This is a big day for him. It is not a regular game. For a guy like him who is routined and regimented as he is, there would be a lot of stuff happening today out of the norm.

For him to work through that, still enjoy the moment, enjoy the special time with his family, and then go out, play, perform, and be a part of the win the way that he was, it is a great way to finish it off.
On Ilya Samsonov picking up a nice win against his former team:
Not an easy game for him. He has been rolling well. He has been playing a lot more than we would like him to or that we intended to. Obviously, he didn't get the day off that we thought he might. The game doesn't go well for him the other night, too.

There is all of that, and then you bring his old team into town. I thought he was excellent. The guys did a really good job in front of him — in particular in periods two and three — but I thought he was good.

It is a really good game for him, a good win for him, and a good win for our team. It is a good example of what we didn't have the other night in terms of the team taking care of the goaltender.

It was good all the way around.
On how the team handled Alex Ovechkin on the power play:
Like everyone else, you are focused on where he is, but you are mindful of what is happening with the puck. It is so important that you kill the play before they get the opportunity to get it to him.

Each time you get a chance to get the puck back or clear the puck, you want to make good on it. You don't want that shot to materialize. I thought he got a couple off tonight that Sammy was really sharp on. He missed the net on a couple.

Also, Justin Holl has done a really good job any time we have played against that kind of threat in reading the play, flexing out, and making it hard to really rip it. All of those things make us feel comfortable with it.

Just like they have been doing for years, you feel like you have it organized, and then Backstrom steps in and shoots one under the bar. It is not an easy power play to contend with.

I love how our power play responded in kind when we got our next opportunity to even that out for us, and our five-on-five play was strong enough to get the win.
On the "grinder" type of goals the team scored:
The power-play goal was getting the puck to the net and competing hard to get it over the line. There was winning a loose puck on the wall to have it pop out to Mo. Engvall's goal comes to mind in terms of traffic in front with Anderson.

Even Nylander's goal was a three-on-one, but the play kind of gets stalled or fails. There was a second effort there to keep the puck alive. It squirts out, and Willy and Jarnkrok stopped at the net to keep the play alive.  Those are good goals. Good efforts by our guys.

Even the goal to ice the game away in the third period — when you draw it up and talk about a process as a coach, that is what it looks like. You have one line that is out there, controls play in the offensive zone, wears down the opponent, and the opponent is tired. They have to get to the bench. Because we out-changed them, we get a quick-up and a breakaway.  As a goal, that is as good as it gets in terms of a process that is in place there.

For it to work out with our bottom six like that, those are really good results and a good sample of a model we would like to replicate as much as we can.
On TJ Brodie's first game back:
Solid. It is great to have him back.
On Pierre Engvall's season to date:
He has done a good job. He has found his way through some inconsistencies. For me, in the last 15 games, he has really done a good job for us both in transporting the puck, getting the puck to the net, and scoring some timely goals for us. I am happy with his game for sure.

I think he is a guy who can continue to grow and always can give us more, but we have really been happy with the last segment of games from him.