The Toronto Marlies finished the 2022-23 campaign as North Division champions, a feat last achieved in 2018, the year of their Calder Cup championship.
To compare the 2018 Marlies team and the current one would not be a fair parallel. While the 2017-18 roster dominated in every facet, the 2022-23 Marlies relied heavily on early success generated by strong offensive output and high-quality goaltending.
Unlike in 2017-18, the North Division has been much of a muchness this season. Just about every team has shown it is capable of beating any of the others on any given night. This is born out by the fact that Belleville finished seventh with a .500 record and missed the playoffs by just four points.
Toronto and Utica have met just once in the playoffs, back in 2018. The Marlies stormed into a 2-0 lead before Utica clawed back, forcing a winner-takes-all game in Toronto. With Andreas Johnsson and Travis Dermott back in the lineup, the Marlies eased to a Game 5 win in a hard-fought series.
Switching back to the current season, Utica finished in fourth place with 80 points and a record of 35-27-10, with the word inconsistency best describing their season. Their offense fired hot and cold through various stages of the campaign, but only one team in the Eastern Conference scored fewer goals than Utica's total of 215.
The bulk of Utica's success was built on solid defense and excellent goaltending from Nico Daws and Akira Schmid. The Comets held the best defensive record in the North Division, conceding 222 goals.
At the opposite end of the ice, Utica has relied heavily on Graeme Clarke (25G/33A/58P), Nolan Foote (20G/17A/37P), and Nolan Stevens (15G/18A/33P in 48 games). Two defensemen have featured heavily in providing offense for Utica — Reilly Walsh with 41 points (9G/32A), and exciting blue-line prospect Simon Nemec (12G/22A/34P). The latter finished the regular season campaign with three goals and eight points in the last six games.
The season series between Toronto and Utica was six games long, five of which were played by February 20, 2023. The Marlies won the first four games by a single goal, including an overtime success.
Game 5 was a 3-1 win for Toronto in which Keith Petruzzelli was outstanding between the pipes.
The last meeting on April 7 saw Utica run over an inept Marlies team. The Comets cruised to a 5-0 win despite the best effort of Dennis Hildeby, who turned aside 37 of 42 shots after receiving little-to-no support from his teammates.
Keys to the Series
---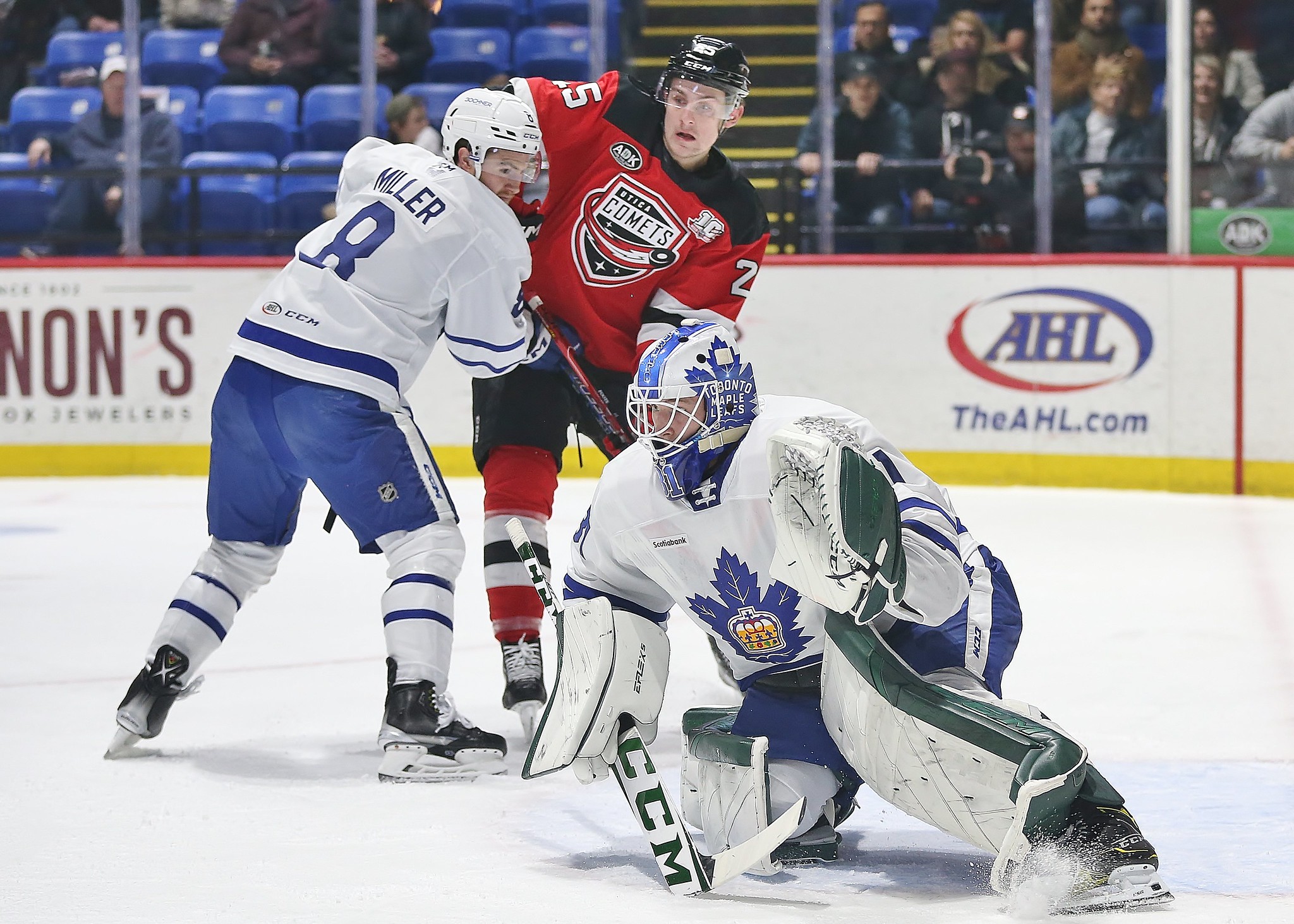 Naturally, goaltending is going to be a huge factor, and it's difficult to predict exactly how it will play out.
Nico Daws is set to carry the load for Utica. The German-born goaltender stopped 57 of 58 shots through two games as the Comets swept Laval Rocket (2-0) in the first round. Daws may have lost three of his four starts against Toronto in the regular season, but he gave up just eight goals and posted a .926 save percentage in those starts.
If the New Jersey Devils are eliminated from the playoffs, the addition of Akira Schmid to Utica's ranks will provide them with extra depth between the pipes.
Toronto's goaltending picture is less clear. Joseph Woll and Erik Källgren are both currently up with the Leafs, although the latter could be sent down before Thursday's Game 1. If not, Toronto will run with the rookie tandem of Keith Petruzzelli and Dennis Hildeby. The pair have played a combined 32 career games in the AHL, with the latter joining the team late in the regular season.
Petruzzelli was in excellent form to begin the campaign, winning his first six starts while posting a .923 save percentage. As technically the more experienced option in the AHL, the Marlies will be hoping he can recapture that type of form at playoff time.
Toronto has to find a new level at five-on-five than they were able to reach in the regular season, where they owned a -17 goal differential. Utica was a +12 at five-on-five, and all five of their goals in their opening series win against Laval were even-strength tallies.
In the Marlies' season series against Utica, the teams were deadlocked at 12 five-on-five goals apiece, although Utica leveled it up by scoring four without reply in the most recent blowout victory.
Special teams, as always, will play a vital role in a short playoff series. Toronto's penalty kill needs to find a way to shut down a Utica power play that clicked at 25% against them (way above Utica's season average of 15.8%). The Marlies' power play scored just three goals on 16 power play attempts against the Comets.
Toronto will rely heavily on Logan Shaw, Alex Steeves, and Nick Abruzzese, who have 20 goals and 51 assists between them on the man advantage.
Toronto's defense has been in flux all season, featuring 16 players, of which 10 have played 18 or more regular season games. It'll be fascinating to see whether Greg Moore continues to show trust in his younger blue-liners in the playoffs despite the lack of experience among the ranks.
Facilitating breakout plays will be key against Utica's stifling forecheck. If Toronto can complete enough zone exits and minimize turnovers through the defensive and neutral zones, it will go a long way in nullifying the Comets' offensive threat.
Speaking of Utica's offensive threat, Graeme Clarke will be the Comets' major menace as he showed in the season series with three goals and as many assists in six games. Nolan Stevens recorded three goals and an assist in four games while Reilly Walsh, Tyler Wotherspoon, and Ryan Schmelzer all produced three points. The latter scored twice in the series against Laval.
This series feels very much like a coin flip. Both teams have proven themselves to be inconsistent through the 2022-23 campaign, and I don't believe the season series will have any bearing on how this best-of-five will play out.
On paper, Toronto has the greater firepower at its disposal, but the question is can they generate enough quality scoring chances against Utica's stingy defense? Toronto will also need to be able to regroup and tidy up the turnovers and defensive breakdowns that allowed opponents to heavily outscore them down the stretch of the regular season.
Utica, in particular, feasted on Toronto when presented with such opportunities, especially off the rush, underscoring how important puck management will be in this series.
Toronto Marlies X-Factors
---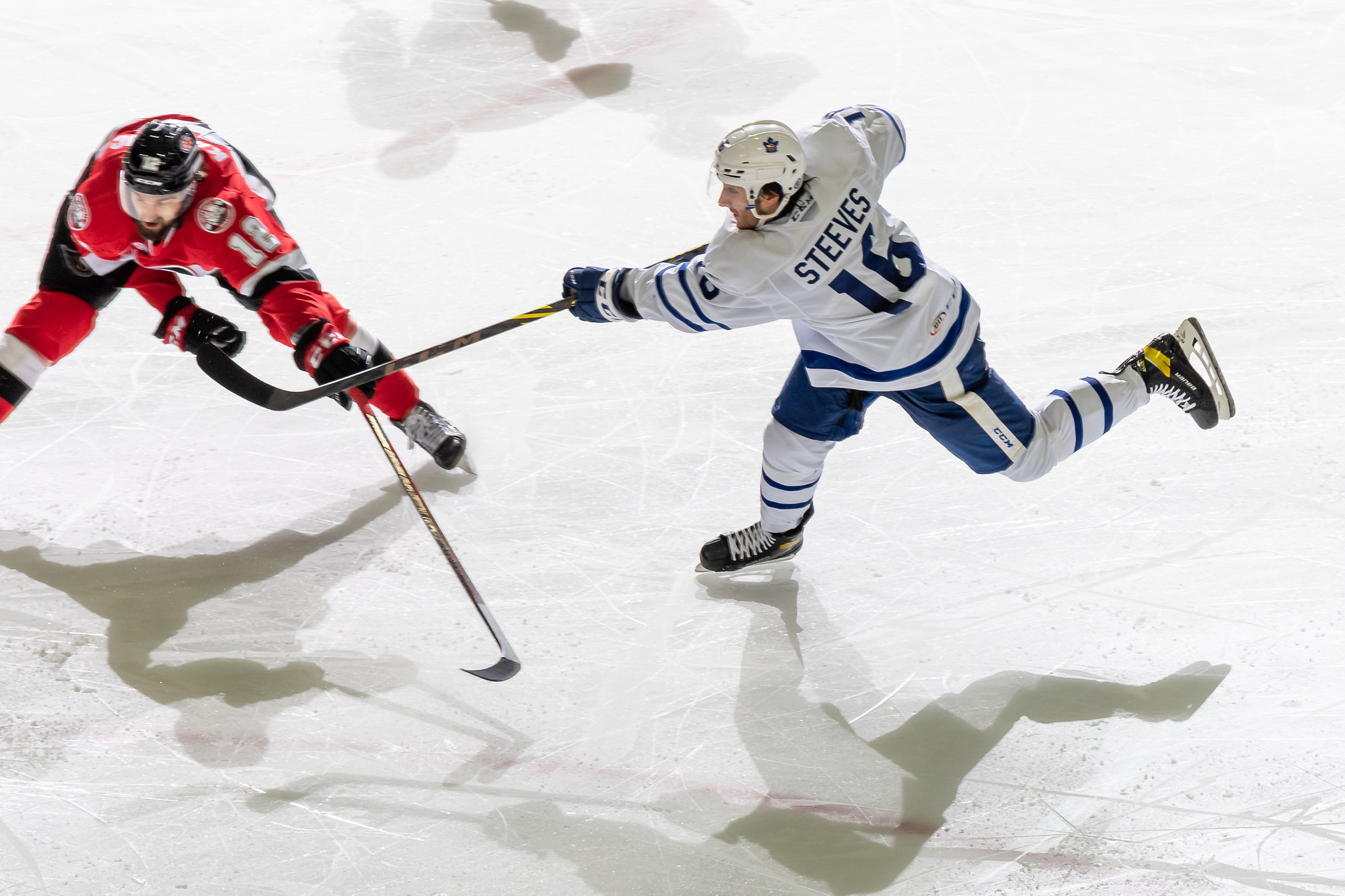 Logan Shaw and Alex Steeves have been unstoppable at times this season, but their form dipped toward the end of the campaign, coinciding with the Marlies' big slump. Steeves, in particular, has been snakebitten in front of goal, but if he can turn it around in the playoffs, he has the potential to lead the way offensively for Toronto.
Similarly, if he can rediscover his form, Pontus Holmberg can be a big factor in this series. It's been a topsy-turvy season for Holmberg following a hot start to the year with the Marlies as well as an impressive stint in the NHL. The 10-day break between the end of the regular season and the playoffs might just be what the doctor ordered for the Swede in his first full season in North America.
Bobby McMann's status is unknown since sustaining a knee injury with the Leafs'. If he were able to return for the Marlies, McMann would be a true game-changer. The power forward produced three goals and six points in four games against Utica this season.
A wildcard is 2020 second-round pick Roni Hirvonen, who was added to the Marlies roster in the last few days. Will the 21-year-old even feature? I would lean toward saying he will knowing the 5'9 Finn provides Toronto with depth at the center position and a potential scoring boost. He arrives with plenty of experience in top-flight Finnish hockey, including 11 games of recent postseason action.
In a season blighted with injury, it's easy to forget that Semyon Der-Arguchintsev has played the best hockey of his professional career. The diminutive forward finished the year strongly with seven points (3G/4A) in the final six games en route to a final total of 40 points in 50 games. His playmaking skill and ability to gain the zone with possession make SDA a possible game-changer for Toronto.
As shown in the Toronto-Tampa series, offense from the defense core has the potential to be a deciding factor.
Noel Hoefenmayer is another player who cooled off in the second half of the season, but he presents Toronto's greatest goal threat from the blue line. The sophomore defenseman contributed two goals and a pair of assists against Utica during the regular season.
Given he's only just arrived with the organization, it almost seems almost perverse to talk about Topi Niemelä as a key cog for Toronto, but the defenseman has made a striking impression through just six games in North America. His ability to transition defense into offense with his breakout passes or as a puck carrier has given Toronto another dimension on their backend.
The Marlies have a great deal of depth on defense, providing Greg Moore with multiple options in regard to his pairings.
Toronto Marlies Depth Chart & Series Schedule
Forwards
Nick Abruzzese – Logan Shaw – Alex Steeves
Roni Hirvonen – Pontus Holmberg – Max Ellis
Radim Zohorna – Semyon Der-Arguchintsev – Ryan Tverberg
Kyle Clifford – Joseph Blandisi – Marc Johnstone
Ryan Chyzowski – Graham Slaggert – Dmitry Ovchinnikov
Grant Cruikshank – Braeden Kressler
Defensemen
Jordie Benn – Topi Niemelä
Marshall Rifai – Carl Dahlström
Filip Kral – Noel Hoefenmayer
Mikko Kokkonen – Mac Hollowell
Matteo Pietroniro – William Villeneuve
Goaltenders
Keith Petruzzelli
Dennis Hildeby
(Possibly Erik Källgren)
Toronto Marlies vs. Utica Comets - North Division Playoff Semifinals
The Marlies won the best-of-five series 3-1.
| Date | Time | Home Team | Result |
| --- | --- | --- | --- |
| Thursday, April 27 | 7:00 p.m. ET | Toronto | 6-5 Win (OT) |
| Saturday, April 29 | 4:00 p.m. ET | Toronto | 7-2 Loss |
| Wednesday, May 3 | 7:00 p.m. ET | Utica | 5-2 Win |
| Friday, May 5 | 7:00 p.m. ET | Utica | 4-1 Win |