One Kyle Dubas quote has always stood out to me as the Maple Leafs have lived and died by their core players for many years now.
After losing to the Montreal Canadiens, the Leafs GM emphatically stood by them:
For better or worse, I believe in this group and I believe that they are going to get it done and I believe that they're going to win. I understand that comes with certain doubt because of the fact that we have not broken through in the playoffs, but it's my belief that they will.

I believe in them as players, I believe in them as people, and I know that decision lies on me and what the risk is for me. We're going ahead that way. So I'm comfortable with it.
It would have been unfathomable to think that the Leafs would be down 0-3 in this series a week ago, but here we are, and it's largely on the backs of a core that has come up empty to this point.
Your game in 10:
1.   The Leafs got off to a great start in this game. On the very first shift, Auston Matthews took a long stretch pass from Luke Schenn and went in on a clean 2v1, beating Sergei Bobrovsky but ripping it off the crossbar.
In the first round, we talked a lot about how Tampa Bay owned the neutral zone and pressured the Leafs quickly. In this series, the Leafs have used the boards as a release valve and have stretched out Florida to the far blue line to open the game up.
A few minutes later, Toronto opened the scoring. This play was interesting; Alex Kerfoot took the puck along the wall on his off-wing, and Morgan Rielly moved up as Kerfoot moved back. All Kerfoot had to do was make a little bank play to Rielly behind his back. The Leafs did this a few times in the first period where the winger got the puck on the wall, sucked the defenseman off the wall, and banked it off the boards to a teammate cutting across.
Rielly passed it right up to David Kampf at the far blue line, where he broke in on a 2v1 with Sam Lafferty. Kampf saucered over a perfect pass on the tape that Lafferty made no mistake one-timing home.
LAFF GETS US GOING!!! pic.twitter.com/8jTkVnQgsa

— Toronto Maple Leafs (@MapleLeafs) May 7, 2023
This is the second straight game in which the fourth line scored right away to give the Leafs an early lead. They are doing their part to chip in. 
---
2.   The game settled in, to some degree, after the Leafs scored. The team looked comfortable with the lead at first, but one of the major storylines of this series has been self-inflicted wounds.
In this case, it came on the back of a turnover — specifically, Mitch Marner holding the puck behind his net and seemingly freezing up as the Panthers took it off him and created some offensive-zone time. A few shifts later, Marner lost it again behind the Leafs' net.  This time, both teams were making line changes, and he held it the whole time until fresh legs came on and took it off of him.
Later on, Marner sent a bank pass to Michael Bunting for an icing instead of passing to a wide-open Auston Matthews through the neutral zone. It was just a horrible start in a big game for a player who hadn't played a good series to date but was playing massive minutes anyway.
In the first period — and through pretty well the whole game — it was the Leafs' bottom six – including William Nylander taking shifts on the fourth line under 11/7 — that looked effective.  Jake McCabe also had a chance on a 2v1 off a nice pass from Calle Jarnkrok.
Toward the end of the period, Luke Schenn saved what looked like a surefire goal when he lifted Anthony Duclair's stick on a backdoor play off of a forechecking sequence.
---
3.   The Leafs got off to a horrible start to the second period in Game 2. In Game 3, it wasn't much better.
The opening faceoff was scrummed before Bunting picked up the puck with a chance to get it in deep and forecheck, but he was weak on the puck, and Florida transitioned it into the Leafs' end.
After the shift, the broadcast showed the Leafs' bench, where you could see Sheldon Keefe was giving it to Bunting about that play. The Leafs did eventually get it out again, and this time it was Auston Matthews not getting the puck in deep. The result was a Florida transition odd-man rush with the potential for an empty net tap-in for Carter Verhaeghe, so Luke Schenn dove and unfortunately slid into Ilya Samsonov. It was clear immediately that Samsonov was hurt.
Let's hope Samsonov is okay. It's a tough break at the end of what really has been a breakthrough season for him. He has flashed real promise at times in these playoffs and had not allowed a goal in this game before leaving injured.
---
4.   There was a Leafs penalty handed out on the play, and to the team's credit, they actually did a pretty good job of killing the penalty initially. The puck was dumped down the ice, and Aaron Ekblad went behind his net to scoop it with 10 seconds left on the power play.
A lot of people are blaming Justin Holl for the 1-1 goal that followed, and while he takes some blame — he should have communicated better — it's really on Jake McCabe. The overhead clearly outlines this.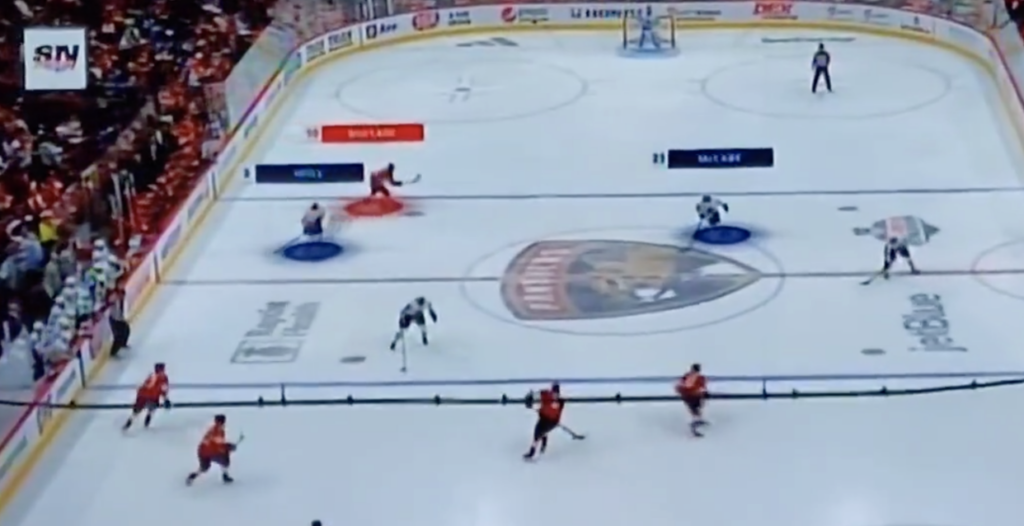 The Leafs regularly line up three defenders at center and eventually across their blue line. We can see Calle Jarnkrok on one side and Holl on the other. This is how they always line up. That means McCabe has to be in the middle of the ice, but he's not. He's actually pushed over to the left side.
If we look at Florida, they don't have a soul over there. Holl is supposed to gap up on Carter Verhaeghe; if the latter receives the puck in full stride and Holl follows Duclair instead, it ends in a similar outcome (he would turnstile Holl on that play).
It is on McCabe to patrol the middle of the ice with Holl on one flank and Jarnkrok on the other, but McCabe was way out of position. Duclair broke in on a full-speed breakaway and buried one past a goalie who had just entered the game.
---
5.   When Florida tied the game, the Leafs had just four shots on net. That's through the start of the second period. They had seven total with about 12 minutes left in the second.
Sometimes, you don't need to talk about shot attempts or expected goals or any of that stuff. Seven shots is seven shots. You need to get pucks on net, and you need to get bodies to the net.  Hearing Sheldon Keefe talk after the game about how there wasn't much space as the Leafs couldn't get traffic to the net or pucks through pretty well sums it all up.
Eventually, Toronto did break through and regain the lead through a nice play by William Nylander to gain the zone, back off defenders, curl, and throw a really nice backhand saucer pass across the ice to a trailing Erik Gustafsson. The latter walked in and tried to make a backdoor play, but it went off the defender and in.
GUSSSSS!!!!! pic.twitter.com/2I5mWQ5hBf

— Toronto Maple Leafs (@MapleLeafs) May 7, 2023
Gustafsson had some rough moments defensively in the game — which was to be expected — but he was dynamic with the puck and made more than a few plays on top of getting credit for a goal. He was one of the only players on the Leafs really creating.
---
6.   The lead didn't last for even five minutes as the next goal against started with another Mitch Marner sequence.
Marner lost the puck in the neutral zone before the Leafs got it back and put it in deep. He forechecked Gustav Forsling, except he did not use his body at all — just a stick check as though it was the middle of November — and Forsling easily turned by him and broke out. It goes without saying, but you have to battle for pucks using your body in the playoffs. It doesn't have to be a big hit, but you have to angle opponents off and fight for body position.
From there, there wasn't much to the actual goal. Florida gained the zone, got the puck to the point, and Gudas walked the line as John Tavares was on the wing — thus covering the point — and didn't block it. The puck went through, off Verhaeghe's back, and deflected in.
This was a large part of the story against Tampa: Good things happen when you put pucks on the net with traffic.
---
7.   The Leafs did come out for the third period with a push. Auston Matthews fired a good shot from the slot off of a nice Michael Bunting pass. Bunting himself had a chance by the goal line. Morgan Rielly fired a one-timer with some traffic.
With the game on the line, Keefe did what he always does by double-shifting his top players. None of them other than William Nylander did much of anything. The Leafs ran a line of Ryan O'Reilly – John Tavares – Nylander multiple times. Sam Lafferty was arguably one of their three or four best forwards, and he played just over 10 minutes in regulation even though the Leafs were running 11 forwards. The only forward that played more than a core forward was, fittingly, Alex Kerfoot. 
---
8.   I felt as though the final 12 minutes of the game generally belonged to the Florida Panthers. Justin Holl committed a brutal giveaway on a D-to-D sequence for a scoring chance. Anton Lundell had a good chance on a bad Jake McCabe giveaway. Anthony Duclair and Nick Cousins put good shots on Joseph Woll, who stood in there.
Worst of all was a Ryan O'Reilly back pass into the defensive zone right onto the tape of Matthew Tkachuk, who then sent in Bennett all alone. Bennett tried to go through his own legs, but Woll made a good play to challenge it with his blocker.
All things considered, I thought Woll was solid. He was thrust into the game on a penalty kill in the second period and immediately faced a breakaway for a goal against. The second Florida goal was a deflection. The Panthers peppered the Leafs down the stretch, but Woll gave them a chance to get to overtime where they were one shot away from a victory. You can't ask for much more than that. 
---
9.   The overtime didn't last long. Other than the first few moments when Ryan O'Reilly caused a turnover — inexplicably followed by not passing to Alex Kerfoot all alone in the slot — it was horrible. The Leafs iced it three times even though they constantly had the time to make plays.
On the goal, Sam Reinhart took a stretch pass, and there were four Leafs in the vicinity. This story has dated back to the Tampa series: The Leafs have simply ceded their blue line. Four Leafs were right there, and Reinhart was somehow allowed to skate up to almost center, turn, and cut right through the Leafs' blue line before rimming a puck to the other side.
From there, TJ Brodie didn't lock him up and then got beat to the puck behind the net. Before Joseph Woll could even figure out where the puck was, it was in the back of the net — a bang-bang play and a tough one to blame Woll for. 
---
10.   For me, one of the stories that will resonate the most from this game was that I can't name five players on the Leafs who were worse than Mitch Marner tonight. He created nothing. He constantly turned the puck over (the list could go on and on, really). And yet guess who led all Leafs forwards in ice time? Marner.
It is one of the stories of Sheldon Keefe's entire NHL coaching career to this point. Ice time is predetermined and good or poor play doesn't change anything. The common retort to this criticism is that Marner is one of their best players, and Keefe has to play him. But he really doesn't, particularly when he's playing so poorly.
It's a disservice to the players who are actually playing well. If you don't think, say, Jarnkrok could have taken some of those minutes and also done nothing with them other than simply not turn the puck over, I'm not sure what to tell you.
On principle alone, Keefe can't trot players out there for big minutes when they are underperforming and essentially wilting under the weight of the moment. We've had this conversation for years now under this coach. It's not just about this one game. It's about accountability throughout the season and playoffs.  He can't simply throw his hands up in the air and say, "Marner is a good player, and we can never bench him because you never know… Maybe he'll snap out of it!"
Clearly, Keefe is not going to change, and it's disappointing — and frustrating — to watch it play out over and over again. 
---
11.   Nine games into the playoffs, the Leafs have been outplayed in at least six of them. They are 4-5 with one win in regulation. 
---
Game Flow: 5v5 Shot Attempts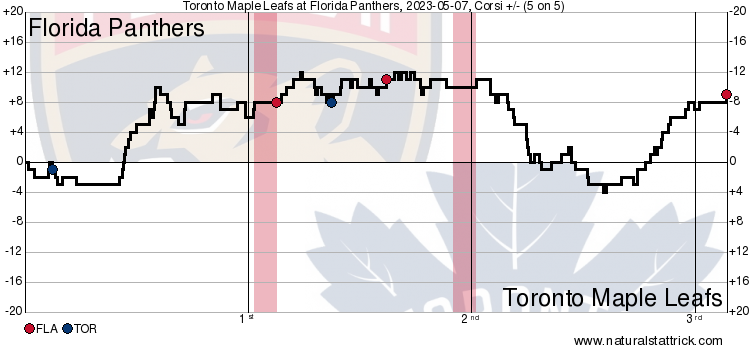 ---
Heat Map: 5v5 Shot Attempts
---