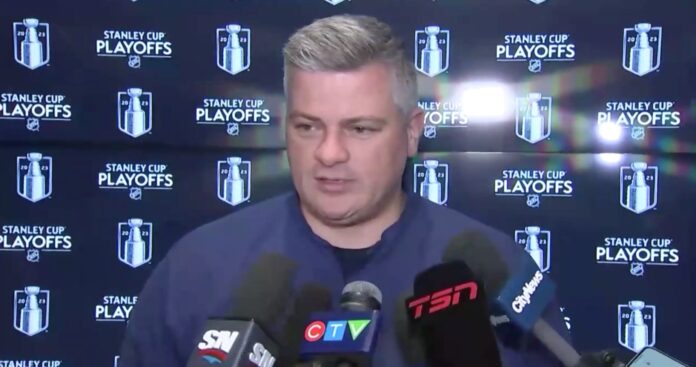 On an off day on Monday, Sheldon Keefe discussed the 3-0 series hole the team finds itself in, the level of surprise his team is in this situation, the performance of his core players through three games in the series, and his message to the team as it attempts to climb its way back into the series.
---
What did you say to your team this morning to keep the level of belief high?
Keefe: Just to focus on what we can control here and what is ahead of us. Our job is to win one hockey game and not get focused or bogged down by anything beyond that. We can't control the big picture. We can only control one game and give ourselves an opportunity to bring the series back to Toronto.
What does today look like for your team both the players and the coaching staff?
Keefe: Pretty normal day for the coaches in terms of meeting this morning, discussions, and a meeting with the players this morning as well. Otherwise, it is an off day for us. The guys are getting treatments and doing all of those types of recovery things.
Tomorrow will be a regular practice day routine for us on the road.
Do you have an update on Ilya Samsonov? What is your confidence level in Joseph Woll to get the job done for you if you have to turn to him in Game 4?
Keefe: Sammy is feeling better today, so that is positive. He is going to get some tests and an MRI done today to get a better idea of what is happening with him. He does have some time on his side today and tomorrow. We will use that time and get a better sense of where he is at.
In terms of Joe, I have great confidence in him. I wasn't fazed when he went in the net yesterday. He backed that up with his performance. I think our group has a lot of confidence in him, and more importantly, he looked really confident and comfortable. He didn't look like the moment or situation was too big for him.
If we need to go back with him, we have lots of confidence and belief in his ability.
A ton of the criticism of Game 3 specifically has centered around your best players or your core four in Auston Matthews, John Tavares, Mitch Marner, and William Nylander, who haven't scored in the series. Whether that is fair or not, is there anything you can do as a coach to help them elevate in the moments with what's left in the series and season?
Keefe: In terms of what I can do, it is to continue to look to put them in positions to succeed. That would be the first thing.
As with the rest of our team, the focus has to be on doing what we can control and focusing on the things that really, truly matter in terms of the process and the details of our game. The moment anybody is bogged down by the fact that they haven't scored or they start to think about things outside of the little details, habits, competitiveness, and work ethic — all of those things that give you a chance to succeed and put you in a position to score — now you are really working uphill.
That will really be it. We will give the guys the freedom to free their minds and focus on the things that they can control. They have had a lot of scoring chances in this series that haven't fallen and haven't gone their way. They were dominant in many ways in Game 2.
It was not as good in Game 3, and yet, particularly the Matthews and Marner line in the third period — especially the first 15 minutes or so — every single shift of theirs was spent in the offensive zone for the most part. They had some good looks, some good zone time, and a lot of positive momentum for them and the team.
Those are the things I want them to be focused on.
There was a lot of talk about how this all felt different in the regular season and playoffs. It did for a while. What have the last seven or eight days felt like?
Keefe: It has felt a lot more like what we have been through in the past. That is why it has been challenging. It has been difficult to understand, and yet it is our reality. It is where we are at.
It has been a mixed bag in this series so far. At times, we have played extremely well and haven't converted or haven't gotten rewarded for it. At times, we are in control of a game and have given up a lead.
We haven't had big leads in this series here, but we have controlled both Game 2 and Game 3. Yesterday, we responded well after they tied the game. We went ahead and got the lead again in the second period. They had one that bounced in off of Verhaeghe's ass that allows them to tie the game.
When I focus on the differences between one series to the next, it has been pretty significant in terms of how it has gone and how the games have gone. It is a matter of us focusing back on our game and recognizing the things that we did well.
Perhaps most importantly, in the Tampa series, it was how resilient we were to just stay with it, even at times when we were on our heels and the opposition was really coming. We didn't make the big mistake. At times, particularly when you look at Game 6, we didn't need a whole lot of offense to win that game.
Our team found different ways to win in that series. We have found different ways to lose in this one.
How surprised are you to be down 3-0 in this series with the lineup that you have? Where does the belief come from that you can get through this and take the first step on Wednesday?
Keefe: We do have a good group and lots of belief in the group that we can win one game. That is really where you have to start.
If you look at the hole you are in, it is overwhelming when you look at it. There are a lot of things working against you. You have to start with one, build positive momentum, and go from there.
Right now, obviously, the Florida Panthers are very comfortable. It is our job to make them a little less comfortable. All we can do is focus on today and tomorrow as we prepare for that game.
I do continue to have great belief in our group. We still haven't played our best hockey, but we have played good hockey and have certainly been in these last two games; we are right there one shot away and leading through a lot of the game. We are not that far off.
We certainly have the ability to put it together. We won three games in a row in the Tampa series. There are a lot of things here, but we are obviously up against a tough opponent. We have a lot of belief in our team, but there is a good team on the other side as well that is going to make it hard.
It is meant to be hard. Anything worth achieving is hard. We will do all that we can to have our group ready to get the win on Wednesday and bring it back to Toronto.