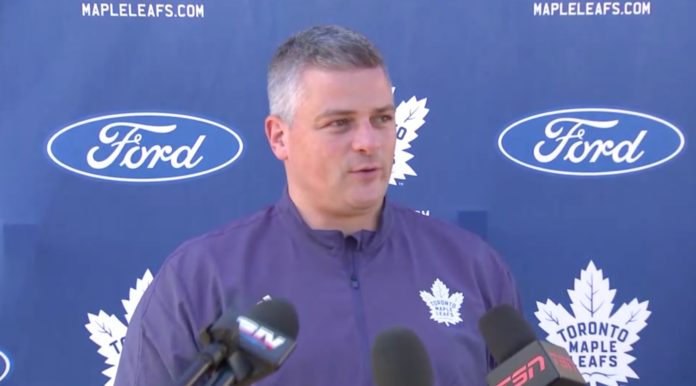 After the third day of on-ice training camp sessions, Sheldon Keefe discussed the team's power-play options with the new additions of John Klingberg, Tyler Bertuzzi, and Max Domi as well as giving Auston Matthews reps on the penalty kill.
---
Power Play Combinations – Sep. 23
PP2 for the Leafs at the start of camp:

•Morgan Rielly
•Timothy Liljegren
•Tyler Bertuzzi
•Max Domi
•Calle Järnkrok

— Jonas Siegel (@jonassiegel) September 23, 2023
---
How do you feel John Klingberg might change the dynamic with that top power-play unit? What is the logic of popping him in there after Morgan Rielly had a lot of success there over the years?
Keefe: In terms of the thought process, we know very well what it looks like with Morgan there. We have a huge sample of that. It is something that we can go to at any time. We feel very comfortable with it.
We don't know what it looks like with Klingberg. There are some different dynamics there. He is a right shot, which is probably the biggest change when you look at it. Klinger has had a lot of success in that position as well over his career.
We just want to use this as an opportunity to help Klinger to get comfortable. There is no better way to do that than to be with our best people. Also, we get a good sample of what it looks like with him in that position.
We will make some decisions as the preseason moves along as to how we will start the regular season, but it is important to have options. It is not just Klingberg and Rielly, but Bertuzzi and Domi have a lot to offer the power play as well. I thought that group looked really good here today in the practice.
We have a lot of really good options there for both groups.
What are the principles you are trying to hammer home in the work you did on the power play today?
Keefe: Every coach has their own way of going about it and installing their principles and concepts. Some like to go 5-on-0 with nothing on the ice. Some like to go to 5-on-4. Some like to go 5-on-4 with the sticks turned over. This is what Guy has liked: to have some lines and direction instead of playing with sticks turned over that are passive. You get the cones out there just to visualize some of the seams and what is available.
I don't think you'll see too much of that as we get going, but for the install here today, it was a good opportunity to give them a little bit of a sense of what Guy has been talking about in the meetings and bringing that to the ice.
The power play has been so good, but Morgan Rielly has said it could be the best. How do you balance wanting to stick to what has worked versus playing with the tweaks?
Keefe: There are a couple of things.
You are always trying to get better. The opposition penalty killers are always going to try to get better. Power plays were generally at an all-time high in terms of efficiency last season. A lot of penalty-killing coaches will be tightening up this offseason and making adjustments. You want to continue to grow that way. With a new coach coming in, it is a chance to add some different looks.
We think we are going to have a good power play again. We are going to succeed a lot. The reality is that even the top power plays come in around 25% or somewhere in that neighbourhood — 25 or 30. You are failing a lot.
We don't expect to take any sort of step back in our success rate. We also want to do better in the times when we fail on the power play, if that makes any sense, in terms of still putting pressure on the opposition, generating momentum, getting the opposition on their heels, and having more pace.
Those are all things you are looking to accomplish every time out. It is not always going to go in the net, but you want to have a great purpose every time out.
Why do you feel now is the right time to give Auston Matthews a longer look on the PK?
Keefe: There is opportunity there. That is the biggest thing. I guess maybe opportunity isn't the right word. For a guy like Auston, you make opportunities generally. I would say more that there is a need. A void is maybe the best way to describe it.
We want to use the preseason for that. We have done this in the past with him to give him the reps. I think this will be a longer look for him just to get comfortable and familiar with it. As I said when we opened camp, ideally for me, Auston is comfortable taking PK reps and the same with Willy, who has killed more than Auston over the last couple of seasons and will take a bigger step this season as well.
We also want others to step up. Depending on what the game is calling for, we can utilize different people in different situations.
Sometimes you want to be able to keep Auston for the first shift coming out of the PK. That five-on-five shift is an important one, and you can get a lot of favourable matchups coming out of that when the other team has just finished with a lot of their top players on the power play.
Of course, Auston excels at five-on-five. If you are going to use him on the penalty kill, he is going to play less at five-on-five as a result. That is all stuff to manage for me with both Auston, William, and even Mitch for that matter. We think we can increase our depth and options with the rest of our forward group.
We will look at that, but I think right now it is just about getting others comfortable with it.
Do you remember a few years ago when you tried Auston on the PK and didn't stick with it? Was it strictly a personnel thing?
Keefe: It was more a personnel thing. We felt we had other guys at that time who could take on those minutes. For all of the reasons I just said, it freed up Auston at five-on-five to jump on the opposition coming out of the kill. I thought we had lots of great options at that time. Our penalty killing was going really well, so we had just sort of gotten away from it for those reasons.
As I said about Willy playing center, Auston can do anything that you ask him to do or anything that he puts his mind to. He has embraced it in the early going. We will continue with it through the preseason.
 What is it like when you have new members of the coaching staff in terms of collaborating and picking each other's brains?
Keefe: It is great. Anytime you bring in someone new, it is a chance to learn more through their experiences and knowledge.
When he arrived here, Spencer Carbery brought a lot to us and to me as a coach. Same with Dean Chynoweth. He comes in from Carolina and brings a lot to our staff that way. Manny Malhotra comes from Vancouver. You gain a lot from those guys.
To add two this offseason while still retaining and having the familiarity of Dean and Manny has been great. Both Guy Boucher and Mike Van Ryn have had lots of success throughout their careers as coaches.
Mike won a Stanley Cup running the D and the PK in St. Louis. As a head coach, Guy has had a ton of success and has a great passion for the power play. He has run the power play with Team Canada at the World Juniors and those kinds of things over the years. It has been pretty natural for him that way. Even when he has been the head coach, he has really been passionate about the power play and has spent a lot of time with it. He is excited for this opportunity.
Both guys have brought a lot to our coaching staff. With the familiarity with Dean and Manny and the way I have been able to delegate the responsibilities, it is as complete of a staff as we have had in terms of being able to provide for the players.
Is it safe to say a lot of kids will be in the lineup for the first few exhibition games?
Keefe: We are going to start with five games in seven nights coming up here. We are going to be moving things around quite a bit.
Are you still obligated by the league to dress a certain number of veterans for exhibition games? How do you go about picking those out?
Keefe: Yeah. I believe the number is eight. We have a lot of guys here. We have a lot of options. In any of the lineups that we have put together while forecasting all the way through, that has never been a concern for us.
We have a lot of options. There are four or five guys who played for the Marlies last year that qualify in the rules for veteran status. We have a lot of depth and guys that fit those criteria.
We have a lot of games here that we have to manage, especially this back-to-back coming up here and the back-to-back at the end of the week. We will be smart about it. Also, there are guys competing for spots and guys who want to get comfortable in our system. We have to get them reps, too.