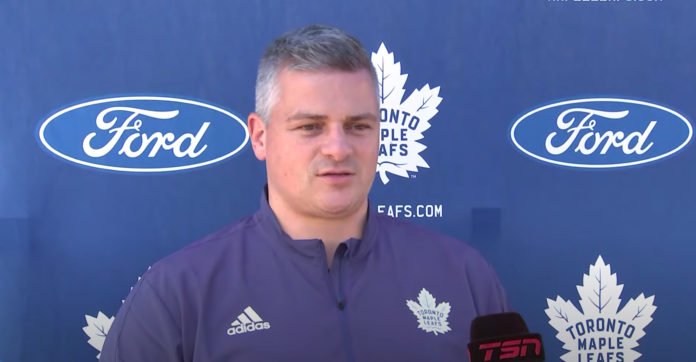 After the second day of on-ice training camp sessions, Sheldon Keefe discussed the defense pairing of Jake McCabe – John Klingberg, Conor Timmins' push to make the NHL roster, and the skill set PTO signing Noah Gregor could bring to the team.
---
Line Combinations – Sep. 22
#Leafs Group 1 practice lines Sept. 22/23

Bertuzzi-Matthews-Marner
Knies-Tavares-Lafferty
Cliffford-Minten-Ellis/Blandisi
Hirvonen-Gambrel-Steeves

McCabe-Klingberg
Giordano-Liljegren
Villeneuve-Lajoie
Rifai-Miller

Woll
Petruzzelli
Hildeby@BodogCA

— David Alter (@dalter) September 22, 2023
Leafs Lines Group 2 Sept 22/23

Only change sees Samsonov in place of Woll

Domi-Nylander-Jarnkrok
Abruzzese-Holmberg-Robertson
Gregor-Kampf-Reaves
Tverberg-Cowan-Shaw/Slavin

Rielly-Brodie
Kokkinen-Niemela
Lagesson-Timmins
Chadwick-Dillingham

Samsonov
Jones@BodogCA pic.twitter.com/Wvfm6deKuq

— David Alter (@dalter) September 22, 2023
---
If William Nylander is a center, does it impact what you are looking for from John Tavares and his line?
Keefe: It gives us increased depth. I don't think it would impact that. To me, we have more real options on wings. We talked about the depth on the left wing yesterday and some of the options that we have there. That is part of why I would want to consider starting camp this way: you can spread it out a little bit better. We saw some of the benefits of spreading things out last year in the playoffs as we acquired O'Reilly.
We have to look at it, but it is about getting Willy comfortable. In terms of how it impacts the team or the flow of the team, I am really not going to have a sense of that until we start playing games, and it is not going to be until the regular season, really, that we get those answers. It won't be all that often through the preseason that they will be all playing together.
You praised Matthew Knies as well as some of your other young forwards yesterday. What was your assessment of them in the scrimmage today?
Keefe: It was a short scrimmage, so it is hard to pull much from that. I thought they had jump. Of the younger guys, Knies and Robertson — who are the older guys of the younger guys — stood out more today. Both guys have lots of confidence. That is a good thing.
There were a lot of PTO options out there. What was the attraction to Noah Gregor?
Keefe: He is not a player I was overly familiar with being out west in San Jose there. Certainly, with Derek Clancey, Tre, and Shane Doan, all three guys are very familiar with the west in particular and have spent time out there. He is a guy that they liked.
The more I watched him on video, he has lots of speed. He is on the puck. He has tenacity. He has the ability to score and finish. I think he may have some more offensive ability than what he has been able to show in the NHL thus far. He also has a good foundation to his game.
You bring him in, give him an opportunity, and see if he can latch onto a role and maybe grow inside of that.
What kind of impact do you think John Klingberg can make, and what do you like about starting him with Jake McCabe?
Keefe: I think he is an excellent puck mover. He can get the puck in the hands of our forwards. He can also be a guy who can join the rush and be involved that way. He is a guy who can finish a chance and create chances for others.
It is a different element than we have had on the backend. He has some work to do in his game defensively. We have talked about that. We are going to be working with him. It is going to take some time, but his attitude has been great. He knows where he is at and where we want him to improve.
We also want him to use what he has. He has some great gifts offensively. He has the ability to transport the puck, distribute the puck, walk the blue line, and get the puck to the net. You want to see him thriving offensively. Over time, we will clean up some of the things defensively that we need him to do.
Jake McCabe is a veteran player that played well for us last year in the regular season especially. We expect him to get off to a good start and be a bit of a stabilizer for Klingberg at the same time.
Conor Timmins is such an intriguing talent offensively. How has he developed through the summer?
Keefe: He has put in a ton of work not just over the summer but from the trade deadline on. He was really in development mode. He's had a great attitude and worked extremely hard.
He is a guy we expect to be in here pushing. In the scrimmage today, he made a few excellent plays. You can see the sense that he has. He is going to play a lot in preseason and get an opportunity to win a job and make things difficult on us.
John Tavares mentioned that you always push him to focus on what he does well in the summers. Why do you do that and how have you seen that help him?
Keefe: I do think that is important. You are looking to add things to your game, of course, but you can do so while sacrificing what makes you great. Sometimes if your attention goes in the wrong direction, you end up disconnecting from what makes you great.
John has some great elements in his game below the circles and below the dots where he is as dangerous and as good of a player as there is in the league and has been for some time.  That is a real strength of his game. The more he and his linemates can get pucks into those areas, it is a real strength of his.
Maybe the biggest difference for John: Over the years, a lot of the things he has added are related ot his defensive play and his commitment to that. His awareness on the ice has improved dramatically.  It is early going in camp, so those kinds of things don't show up, but they certainly show up in his game when we get playing for real. It has improved in the last couple of years. You like that.
I think he has added a bunch in that sense. As he has matured and gotten older, the desire to win outgrows everything else. He is looking to do whatever he can for his own game and to lead our team to win. That has been the most exciting growth that I have seen from John over the years.
What is the latest update on Simon Benoit?
Keefe: I believe he skated today. That was the plan. I haven't gotten any reports. He is day-to-day. There are just some back spasms that have created some discomfort. It didn't make sense to push through at this stage, but the hope was that he would have a good day today and start to work towards joining the group.